Thank you to all of our Patrons!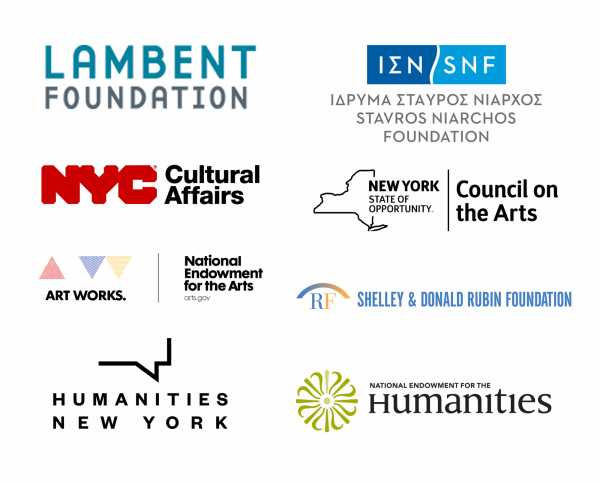 $200,000 and over
Lambent Foundation Fund of Tides Foundation

James Rosenquist, Endowment Campaign
$100,000 and over
Booth Ferris Foundation

Eric Fischl, Endowment Campaign
Stavros Niarchos Foundation, Fellowships
Ugo Rondinone, Endowment Campaign
$40,000 and over
Office of the Brooklyn Borough President, Eric L. Adams
Cary Brown & Steven Epstein, Fellowships
Chris Martin, Anton Kern & David Kordansky Galleries, Endowment Campaign

Horace W. Goldsmith Foundation
Alex Katz Foundation, Endowment Campaign
Barbara Kruger, Endowment Campaign
Lybess Sweezy & Ken Miller
New York City Department of Cultural Affairs
NYC COVID-19 Impact Fund in The New York Community Trust

New York State Council on the Arts

Ed Ruscha, Endowment Campaign

The Andy Warhol Foundation for the Visual Arts
Stanley Whitney, Endowment Campaign

$20,000 to $39,999
Agnes Gund, Oral History Project
Heather & Jim Johnson
David Kordansky Gallery
Dorothy Lichtenstein
Lybess Sweezy & Ken Miller, Future Fund
National Endowment for the Arts
Pace Gallery
Raymond Pettibon, Endowment Campaign

Nancy & Fred Poses
Richard Prince, Endowment Campaign
$10,000 to $19,999

Anonymous
Artcore Fine Art Services, Inc.
Neil Bluhm, the Bluhm Family Charitable Foundation
The W. L. Lyons Brown, Jr. Charitable Foundation
Rosemary Carroll
Pedro Cera
J. Chao
Jennifer Clifford Danner & William Danner
Nathalie & Charles de Gunzburg
Michael DePaola
Robert Dowling
Cary Brown-Epstein & Steven Epstein
Fiddlehead Fund
Helen Frankenthaler Foundation
Humanities New York, Oral History Project

Gladstone Gallery
Martha & David Hamamoto
Paula Cooper & Jack Macrae
Sally Ann Page
Pannonia Foundation
Kirsten & Andrew Pitts
Eva Presenhuber
Shelley & Donald Rubin Foundation
Beth Rudin DeWoody
May & Samuel Rudin Family Foundation, Inc.
Annie Hubbard & Harvey Schwartz
Select Equity Group Foundation
The Seth Sprague Educational and Charitable Foundation

Miyoung Lee & Neil Simpkins
Anne-Cecilie Engell Speyer & Rob Speyer
Angela Westwater, Sperone Westwater

Sue Hostetler & Beau Wrigley
$5,000 to $9,999
Anonymous, Future Fund
Sascha Bauer
Rosemary Carroll, Future Fund
Rebecca Smith & Michael Coffey

Michael Coffey, Future Fund
Jennifer Clifford Danner, Future Fund
Deutsche Bank
Giuliana Bruno & Adam Fierberg
Marian Goodman Gallery

Anthony Grant
Hauser & Wirth
Heather M. Johnson, Future Fund

Gabriella & Jeremy Larner

Ann Tenenbaum & Thomas H. Lee
Renee & David McKee
Almine Rech Gallery
Alice & Thomas Tisch
$2,500 to $4,999

Judy Hart Angelo
Anonymous
Donald Baechler & Kevin Baker
Mahnaz Ispahani & Adam Bartos
Amelia & Vladimir Brankov
Joanne Leonhardt Cassullo
Chelsea Frames
Caroline & Paul Cronson
James Keith Brown & Eric G. Diefenbach

Michele Oka Doner & Frederick Doner
Downing Frames
Kathy Fuld
Sarah Goulet
Larry Gagosian

Max Hetzler
Steven Holl Architects
Ursula & Paul Lowerre
Diane & Adam Max
Nion McEvoy
Minagawa Art Lines
Daniel M. Neidich & Brooke Garber Foundation
Pamela & Arthur Sanders
Ellen Phelan & Joel Shapiro
Steven Henry & Philip Shneidman
Fern & Lenard Tessler
Madeline Weinrib
$1,000 to $2,499
Alexander Adler
Henry Alcalay
Claudia Doring & Alejandro Baez-Sacasa
Elizabeth Baker
Robin Clark & Larry Bell
Jill Bikoff
Karin Waisman & Carlos Brillembourg
Karen Brooks
Deborah Buck
Barbara Bertozzi Castelli

Jais Gardner Cecil
Christie's

James Cohan
Jane DeBevoise
Gabriella De Ferrari
Lisa Dennison
Arlene Shechet & Mark Epstein
The Fifth Floor Foundation
Charlotte Ford
Natalie Frank
Hugh Freund
Shirley Kaneda & Joe Fyfe
Deborah Gans
Garth Greenan
Suzanne Gyorgy
Eva Lundsager & Paul Ha
David Humphrey, Future Fund
Jennifer Coates & David Humphrey
Lucy Winton & Bryan Hunt
Barbara Jakobson
Nicole Klagsbrun
Becca Dorothy Davies & Jeremy Kramer
Bonnie Lautenberg
Raymond Learsy
Anne Bass & Julian Lethbridge
Cher Lewis
Lurie Family Foundation
Schuyler Mack & The Honorable Earle Mack
Dr. Barry T. Malin
Iris Z. Marden
Edward Tyler Nahem
William R. Peelle, Jr.
Galerie Thaddaeus Ropac
Donna Perret Rosen & Benjamin M. Rosen
Lisa Roumell & Mark Rosenthal
Alice & Peter Russotti
Rick Segal
Steve Shane
Alanna Heiss & Fred Sherman
Cindy Sherman
Lowery Stokes Sims
Alison Spear
Kristy Stubbs Gallery
Ann Temkin
Barbara Toll
David Totah, TOTAH
Marissa Sorger Tracey
Thea Westreich Wagner
Andrea Walton
Adam D. Weinberg
Teresa Liszka & Martin Weinstein
Gregory R. Miller & Michael Wiener
WXY architecture + urban design

Marlene Hess & Jim Zirin
$500 to $999

Anonymous
Richard Armstrong
The Asen Foundation
Tina Barney
Carmen Boullosa
Sara Driver
Coleen Fitzgibbon
Shelly & Vincent Fremont
Abby Goldstein & Michael Koehler
Galerie Lelong & Co
Low Road Foundation
Jacki Ochs
Stephen Petronio
Ned Smyth
$100 to $499

Adler Beatty, Elena Alexander-Uglow, Tauba Auerbach, Edie Beaucage, Kelley Berg, A E Bonney, Barbara Braathen, Bob Colacello, Ellyn & Saul Dennison, Lynn & David Evinger, Leon Falk, Claudia Gould, Anthony Killeen, Carla Jean Mayer, Annabel & Anthony McCall, J. Denny McCoy, Sean Mellyn, Huston Paschal, Lucy Freeman Sandler, Michael Selleck, Nell Painter & Glenn Shafer, Laura Skoler, Adam Simon, Seton Smith, Elke Solomon, Aryeh Lev Stollman, Mary Weatherford, Matthew Werth, Susan Wheeler, Timothy Woodward, KK Wootton, Claire Weisz & Mark Yoes

BOMB extends heartfelt thanks to the artists who graciously donated work to BOMB's 38th Anniversary Gala and Auction 2019: John Ahearn, Jane Benson, Lauren Bon, Beatriz Cortez, Shepard Fairey, fierce pussy, Jaque Fragua, Natalie Frank, Ellen Gallagher, Cy Gavin, Liam Gillick, Baris Gokturk, Jessica Grindstaff, Wade Guyton, Ann Hamilton, Maren Hassinger, Mary Heilmann, Roni Horn, Jacqueline Humphries, Samuel Jablon, Marcus Jahmal, Bill Jenkins, Joan Jonas, Brad Kahlhamer, Young Joon Kwak, Julie Langsam, Las Nietas de Nonó, Judith Linhares, James Little, Patrick McMullan, Florian Meisenberg, Sophia Narrett, Shahryar Nashat, Odili Donald Odita, Martin Puryear, Alexis Rockman, Brie Ruais, Richard Serra, Xaviera Simmons, Billy Sullivan, SWOON, Margaret Ross Tolbert, Janaina Tschäpe, Oscar Tuazon, Lina Iris Viktor, Kehinde Wiley, Audra Wolowiec, and Dustin Yellin
Artists are donating significant artworks to establish a fund that will sustain BOMB's legacy of delivering the artist's voice for generations to come. We are deeply grateful that the artists who have played an exceptional role in our history are now safeguarding our future. Donating artists include: Anonymous, Anonymous, Ross Bleckner, Carroll Dunham, Eric Fischl, Jasper Johns, Barbara Kruger, Chris Martin, Vik Muniz, the late Thomas Nozkowski, Adam Pendleton, the late Joyce Pensato, Raymond Pettibon, Ellen Phelan, R. H. Quaytman, Ugo Rondinone, James Rosenquist Estate, Ed Ruscha, Joel Shapiro, Amy Sillman, Kiki Smith, Pat Steir, and Stanley Whitney.
This program is supported, in part, by public funds from the New York City Department of Cultural Affairs in Partnership with the City Council.