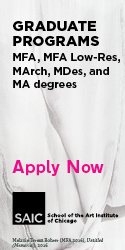 Thank you to all of our Patrons!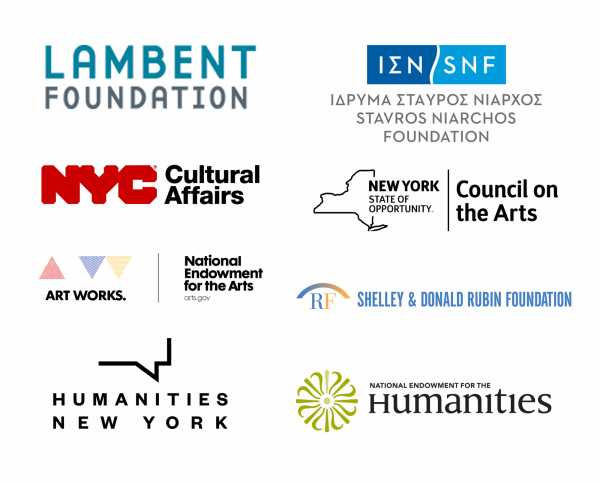 $200,000 and over
Lambent Foundation Fund of Tides Foundation

James Rosenquist, Endowment Campaign
$100,000 and over
Booth Ferris Foundation

Eric Fischl, Endowment Campaign
Stavros Niarchos Foundation, Fellowships
Ugo Rondinone, Endowment Campaign
Pat Steir, Endowment Campaign
$40,000 and over
Carroll Dunham, Endowment Campaign

Office of the Brooklyn Borough President, Eric L. Adams
Cary Brown & Steven Epstein, Fellowships
Fiddlehead Fund
Horace W. Goldsmith Foundation
Heather & Jim Johnson

Alex Katz Foundation, Endowment Campaign
Chris Martin, Anton Kern & David Kordansky Galleries, Endowment Campaign
Barbara Kruger, Endowment Campaign
Lybess Sweezy & Ken Miller
Vik Muniz, Endowment Campaign

National Endowment for the Arts
New York City Department of Cultural Affairs
NYC COVID-19 Impact Fund in The New York Community Trust

New York State Council on the Arts

Ed Ruscha, Endowment Campaign

Amy Sillman, Endowment Campaign
The Andy Warhol Foundation for the Visual Arts
Stanley Whitney, Endowment Campaign

$20,000 to $39,999
Jennifer Clifford Danner & William Danner
Marian Goodman Gallery
Agnes Gund, Oral History Project
Dorothy Lichtenstein
Lybess Sweezy & Ken Miller, Future Fund
Raymond Pettibon, Endowment Campaign
Richard Prince, Endowment Campaign
$10,000 to $19,999

Anonymous
Artcore Fine Art Services, Inc.
The W. L. Lyons Brown, Jr. Charitable Foundation
Rosemary Carroll
J. Chao
Robert Dowling
Helen Frankenthaler Foundation
Humanities New York, Oral History Project

Gladstone Gallery
Carol Greene
Martha & David Hamamoto
Hauser & Wirth
Gabriella & Jeremy Larner
Sally Ann Page
Pannonia Foundation
Kirsten & Andrew Pitts
Nancy & Fred Poses
Shaun Caley Regen
Shelley & Donald Rubin Foundation
Beth Rudin DeWoody
May & Samuel Rudin Family Foundation, Inc.
Annie Hubbard & Harvey Schwartz
Select Equity Group Foundation
The Seth Sprague Educational and Charitable Foundation

Linda & Avi Rosen
$5,000 to $9,999
Beatrice Caracciolo, Fellowships

Deutsche Bank
Giuliana Bruno & Adam Fierberg
Ann Tenenbaum & Thomas H. Lee
Miyoung Lee
Paula Cooper & Jack Macrae
Eleanor Heyman Propp
Toni Ross, Fellowships

Madeline Weinrib
Mary Whitten
$2,500 to $4,999
Anonymous
Donald Baechler & Kevin Baker
Mahnaz Ispahani & Adam Bartos
Katherine Vaz & Christopher Cerf
Lori & Alexandre Chemla
James Keith Brown & Eric G. Diefenbach
Downing Frames
Darby English
Steven Holl Architects
Jennifer Coates & David Humphrey
The Kongsgaard-Goldman Fund at The Seattle Foundation
Ursula & Paul Lowerre
Minagawa Art Lines
Edward Tyler Nahem
Amy & John Phelan
Steven Henry & Philip Shneidman
Robin Zendell
$1,000 to $2,499
Claudia Doring & Alejandro Baez-Sacasa
Elizabeth Baker
Karin Waisman & Carlos Brillembourg
Chelsea Frames
Christie's

James Cohan
Elena & John Coumantaros
Caroline & Paul Cronson
Brian D. Dailey
Jane DeBevoise
Gabriella De Ferrari
Michele Oka Doner & Frederick Doner
Jeanne Collins & John Elderfield
Natalie Frank
Hugh Freund
Iliya Fridman
Shirley Kaneda & Joe Fyfe
Deborah Gans
Suzanne Gyorgy
Eva Lundsager & Paul Ha
Lucy Winton & Bryan Hunt
Barbara Jakobson
Nicole Klagsbrun
Raymond Learsy
Galerie Lelong & Co
Julian Lethbridge
Cher Lewis
Lurie Family Foundation
Timothy Mai
Sylvia Plimack Mangold & Robert Mangold
Martin Z. Margulies
Diane & Adam Max
Sally Ann Page, Fellowships
William R. Peelle, Jr.
Galerie Thaddaeus Ropac
Alanna Heiss & Fred Sherman
Lowery Stokes Sims
Lisa & Steven Tananbaum
Ann Temkin
Marissa Sorger Tracey
Thea Westreich Wagner & Ethan Wagner
Andrea Walton
Gregory R. Miller & Michael Wiener
WXY architecture + urban design
$500 to $999

Anonymous
Richard Armstrong
The Asen Foundation
Tina Barney
Dylan Landis & Dean Baquet
The Steven Buscemi & Jo Andres Charitable Fund
Sara Driver
Marilynn & Ken Evert
Coleen Fitzgibbon
Shelly & Vincent Fremont
Stacey & Robert Goergen
Carol & Arthur Goldberg
Pamela & Richard Hanlon
Marieluise Hessel
Abby Goldstein & Michael Koehler
Jacki Ochs & Jan Kroeze
Judith Linhares
Low Road Foundation
Donald Marron
Henry McNeil
John Melick
Sean Mellyn
Barbara Toll
Lorraine & Adam D. Weinberg
Candace King Weir
$100 to $499

Adler Beatty, Elena Alexander-Uglow, Tauba Auerbach, Edie Beaucage, Kelley Berg, A E Bonney, Barbara Braathen, Bob Colacello, Ellyn & Saul Dennison, Lynn & David Evinger, Leon Falk, Claudia Gould, Anthony Killeen, Carla Jean Mayer, Annabel & Anthony McCall, J. Denny McCoy, Sean Mellyn, Huston Paschal, Lucy Freeman Sandler, Michael Selleck, Nell Painter & Glenn Shafer, Laura Skoler, Adam Simon, Seton Smith, Elke Solomon, Aryeh Lev Stollman, Mary Weatherford, Matthew Werth, Susan Wheeler, Timothy Woodward, KK Wootton, Claire Weisz & Mark Yoes

BOMB extends heartfelt thanks to the artists who graciously donated work to BOMB's 39th Anniversary Gala and Auction 202: Marina Abramović, Amani Al-Thuwaini, Charles Atlas, Rina Banerjee, Sadie Barnette, Katherine Bernhardt, Lucas Blalock, Dianne Blell, Jeff Bliumis, Cecily Brown, Deborah Buck, Sean Capone, Mike Cloud, Jennifer Coates, Bob Colacello, Nicole Eisenman, Elektra KB, Natalie Frank, James Benjamin Franklin, Joe Fyfe, Chitra Ganesh, Jerrell Gibbs, Harry Gould Harvey IV, Dan Graham, Janice Guy, Heidi Hahn, Andrea Hasler, Hugh Hayden, Janet Olivia Henry, Jonathan Herrera Soto, David Humphrey, Ben Jones, Arghavan Khosravi, James N. Kienitz Wilkins, Richard Landry, Thomas Lawson, Eric N. Mack, Sangram Majumdar, Dindga McCannon, Sana Musasama, Wura-Natasha Ogunji, Bruce Pearson, Seth Price, Ronny Quevedo, Lee Quiñones, Cordy Ryman, Kenny Scharf, Jenny Polak & Dread Scott, Jean Shin, Miryana Todorova, Anne Vieux, Charline von Heyl, Carrie Mae Weems, and Marjorie Welish
Artists are donating significant artworks to establish a fund that will sustain BOMB's legacy of delivering the artist's voice for generations to come. We are deeply grateful that the artists who have played an exceptional role in our history are now safeguarding our future. Donating artists include: Anonymous, Anonymous, Ross Bleckner, Carroll Dunham, Eric Fischl, Agnes Gund, Jasper Johns, Barbara Kruger, Chris Martin, Vik Muniz, the late Thomas Nozkowski, Adam Pendleton, the late Joyce Pensato, Raymond Pettibon, Ellen Phelan, R. H. Quaytman, Ugo Rondinone, James Rosenquist Estate, Ed Ruscha, Joel Shapiro, Amy Sillman, Kiki Smith, Pat Steir, and Stanley Whitney.
This program is supported, in part, by public funds from the New York City Department of Cultural Affairs in Partnership with the City Council.