Discover MFA Programs in Art and Writing
Thank you to all of our Patrons!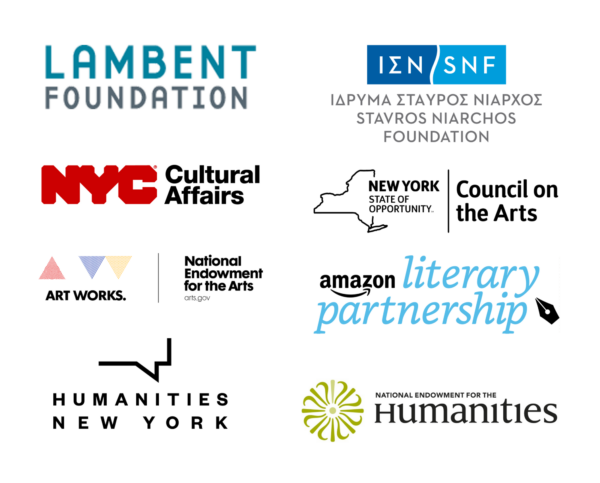 $200,000 and over
Lambent Foundation

James Rosenquist, Endowment Campaign
$100,000 and over
Booth Ferris Foundation

Eric Fischl, Endowment Campaign
Stavros Niarchos Foundation, Fellowships
$40,000 and over
Office of the Brooklyn Borough President, Eric L. Adams
Cary Brown & Steven Epstein, Fellowships
Chris Martin, Anton Kern & David Kordansky Galleries, Endowment Campaign

Horace W. Goldsmith Foundation
Alex Katz Foundation, Endowment Campaign
Barbara Kruger, Endowment Campaign
Lybess Sweezy & Ken Miller, Future Fund
Annie Hubbard & Harvey Schwartz
$20,000 to $39,999
Larry Gagosian
Agnes Gund, Oral History Project
Stephanie & Timothy Ingrassia

Nancy Nasher & David J. Haemisegger
Heather & Jim Johnson
Gabriella & Jeremy Larner
Lybess Sweezy & Ken Miller
National Endowment for the Arts
New York City Department of Cultural Affairs
New York State Council on the Arts
Richard Prince, Endowment Campaign
Katherine Farley & Jerry I. Speyer

The Andy Warhol Foundation for the Visual Arts
$10,000 to $19,999

Anonymous

Amazon
Artcore Fine Art Services, Inc.
The Bay and Paul Foundations
Cary Brown & Steven Epstein
The W. L. Lyons Brown, Jr. Charitable Foundation
J Chao
Rebecca Smith & Michael Coffey
Jennifer Clifford Danner & William Danner
James Keith Brown & Eric G. Diefenbach
Alexander DiPersia
Fiddlehead Fund
Gladstone Gallery
Anthony Grant, Endowment Campaign
Agnes Gund
Martha & David Hamamoto
Helen Frankenthaler Foundation
Stephanie Hodor
Heather M. Johnson, Future Fund
Jill & Peter Kraus
Lévy Gorvy
The Leon Lowenstein Foundation, Inc.
Paula Cooper & Jack Macrae
Donald Marron
Kirsten & Andrew Pitts
Erica & Joseph Samuels
Select Equity Group Foundation
Cindy Sherman
The Seth Sprague Educational and Charitable Foundation
Per Skarstedt
Sprüth Magers

Alice & Thomas Tisch
Angela Westwater, Sperone Westwater
$5,000 to $9,999

Shelley & Philip Aarons

Anonymous, Future Fund
Mahnaz Ispahani & Adam Bartos
Rosemary Carroll, Future Fund
Christie's
Michael Coffey, Future Fund
Jennifer Clifford Danner, Future Fund
Beth Rudin DeWoody
May & Samuel Rudin Family Foundation, Inc.
Deutsche Bank
Humanities New York, Oral History Project
Marian Goodman Gallery
Megan & Hunter Gray
Hauser & Wirth
Ann Tenenbaum & Thomas H. Lee
Anne Bass & Julian Lethbridge
National Endowment for the Humanities, Oral History Project
Almine Rech Gallery
$2,500 to $4,999

Anonymous

Heather Baker
Donald Baechler & Kevin Baker
Claudia Doring & Alejandro Baez-Sacasa
Mahnaz Ispahani & Adam Bartos
Joanne Leonhardt Cassullo
Barbara Bertozzi Castelli
Brian & Paula Dailey Charitable Fund
Giuliana Bruno & Andrew Fierberg
Kathy Fuld
Jordan Goodman
Louic Gouzer
Greene Naftali, Endowment Campaign
Micheline Klagsbrun & Ken Grossinger
Gabriela Palmieri & Scott Harford
Ann Temkin & Wayne Hendrickson
Elizabeth R. Hilpman
Steven Holl Architects
Tina Kim
Raymond Learsy
Dorothy Lichtenstein
Diane & Adam Max
Minagawa Art Lines
Dianne Blell & David K. Ray
Emily Bingham & Stephen Reily
Susan & David Rockefeller
Linda Benrimon & Avi Rosen
Clifford Ross
Alex Rotter
Sotheby's
Candace King Weir
Neda Young
$1,000 to $2,499
Elizabeth Baker
Stephanie Bernheim
Tanya Bonakdar Gallery
Karin Waisman & Carlos Brillembourg
Karen Brooks
Jais Gardner Cecil
James Cohan
Glori Cohen
Willie Cole, Endowment Campaign
Michele Oka Doner & Frederick Doner
Gabriella De Ferrari
Sara Driver
Eva & Glenn Dubin
Arthur Fleischer, Jr.

Natalie Frank
Sara Friedlander
Freight + Volume
Hugh Freund
Deborah Gans
Suzanne Gyorgy
Ursula & Joe Helman
Susan Hinko
David Humphrey, Future Fund
Jennifer Coates & David Humphrey
Lucy Winton & Bryan Hunt
Barbara Jakobson
Meagan & Alex Julian
Paul Kasmin
Ellen Kern
Anthony King
Nicole Klagsbrun, Endowment Campaign
Ken Kuchin
The Ronald and Jo Carole Lauder Foundation
Julian Lethbridge
Carol & Seymour Levin
Cher Lewis
Jane Lombard
Ursula & Paul Lowerre
Susan & Glenn Lowry
Lurie Family Foundation
Atalanti Martinou
Brigitte Mulholland & Howard Hurst, Anton Kern Gallery
Daniel M. Neidich & Brooke Garber Foundation

Claire Distenfeld & Michael Olshan
William R. Peelle, Jr.
Elisa Port
Nancy Portnoy
Galerie Eva Presenhuber
Lisa Roumell & Mark Rosenthal
Janelle Reiring
Anna-Marie Shapiro
Laura Skoler
Katie & Jonah Sonnenborn
Lowery Stokes Sims
Jason Swartz
Diana Bowes & James Torrey
Barbara Toll
David Totah, TOTAH
Marissa S. Tracey
Marina Soloviova & Donald Traver
Madeline Weinrib
Gregory R. Miller & Michael Wiener
Michael Wise
WXY Architecture

Marlene Hess & Jim Zirin
$500 to $999

Anonymous
Richard Armstrong
The Asen Foundation
Tina Barney
Leon Benrimon
Yossi Dina
Anne G. Fredericks & Marc Fasteau
The Fifth Floor Foundation
Austin Fremont
Shelly & Vincent Fremont
Sunny & Brad Goldberg
Judd Grossman
Jane Hammond
Takayuki Ishii
Galerie Lelong & Co
Judith Linhares
Low Road Foundation
Stephen Petronio
Marnie Pillsbury
Alexis Portilla
Maria and Archie Rand
Robert Stilin
Alexandra Tagami
Van Doren Waxter
Suzanne McClelland & Drew Vogelman

$100 to $249

Elena Alexander-Uglow, David Brody, Norma Cole, Susan Davis, Ellyn & Saul Dennison, Lynn Grant, Melinda Wolfe & Ken Indanomi, Andrew Knox, Steve Lentz, Annabel & Anthony McCall, J. Denny McCoy, Carol A. Melton, Michel Negroponte, Jacki Ochs, Huston Paschal, Nell Painter & Glenn Shafer, Adam Simon, Chantal Chadwick & Brian Allen Simon, Seton Smith, Elke Solomon, Aryeh Lev Stollman, Richard Tobias, Thea Westreich Wagner & Ethan Wagner, Mary Weatherford, Susan Wheeler, Lesya Yanush

BOMB extends heartfelt thanks to the artists who graciously donated work to BOMB's 36th Anniversary Gala and Auction 2017: Rita Ackermann, Marina Adams, Miyoshi Barosh, Lynda Benglis, Sebastian Black, Dianne Blell, Katherine Bradford, Peter Bradley, David Brody, Beatrice Caracciolo, Michelle Charles, Olga Chernysheva, Mel Chin, Jimmie Durham, Austin English, James Esber, Inka Essenhigh, Roe Ethridge, Natalie Frank, Dianna Frid, Joe Fyfe, Regina José Galindo, Liam Gillick, Hans Haacke, Camille Henrot, Karl Holmqvist, Sheree Hovsepian, Judith Hudson, Jibade-Khalil Huffman, Bryan Hunt, Samuel Jablon, Steffani Jemison, Jane Kaplowitz, Anna K.E., Angie Keefer, Liz Magic Laser, Louise Lawler, An-My Lê, James Little, Adam McEwen, Mike Metz, Carlos Motta, Sarah Oppenheimer, Bruce Pearson, Adam Pendleton, Nick Poe, Naufus Ramírez-Figueroa, Marina Rosenfeld, Matt Saunders, Dana Schutz, Leanne Shapton, Dasha Shishkin, Jason Simon, Josh Smith, Rebecca Smith, A.L. Steiner, Patricia Treib, James Welling, Audra Wolowiec, plus a one-week stay in Sol Lewitt's Private Family Home In Praiano, Italy, Courtesy of Carol Lewitt
Artists are donating significant artworks to establish a fund that will sustain BOMB's legacy of delivering the artist's voice for generations to come. We are deeply grateful that the artists who have played an exceptional role in our history are now safeguarding our future. Donating artists include: Anonymous, Anonymous, Ross Bleckner, Carroll Dunham, Eric Fischl, Jasper Johns, Barbara Kruger, Chris Martin, Vik Muniz, the late Thomas Nozkowski, the late Joyce Pensato, Raymond Pettibon, Ellen Phelan, R. H. Quaytman, Ugo Rondinone, the late James Rosenquist, Ed Ruscha, Joel Shapiro, Amy Sillman, the Estate of David Smith, Kiki Smith, Pat Steir, and Stanley Whitney.
This program is supported, in part, by public funds from the New York City Department of Cultural Affairs in Partnership with the City Council.