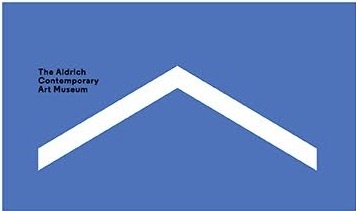 The Aldrich Contemporary Art Museum
congratulates BOMB Gala honorees
James Keith Brown
and Eric G. Diefenbach
37th Anniversary Gala and Art Auction
April 30, 2018
Buy your tickets and tables today.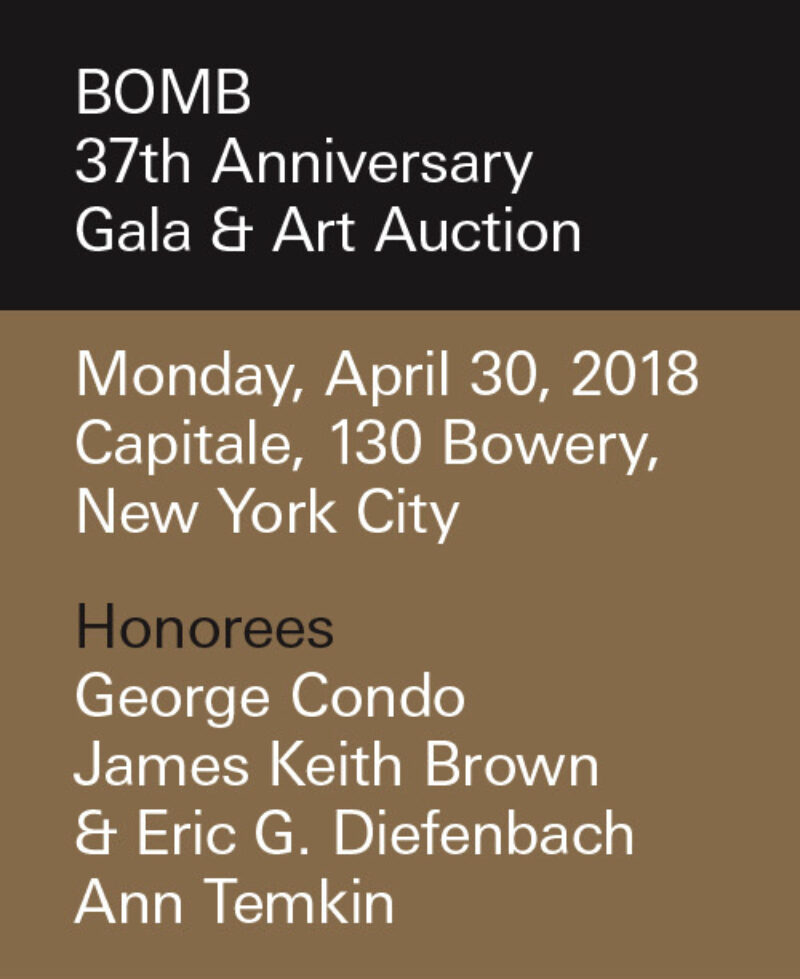 Toasters
Cecily Brown
Lisa Phillips
David Joselit
Co-Chairs
Jeremy Larner
Jessie Washburne-Harris & Michael Lieberman
Erica & Joseph Samuels
Cindy Sherman
Per Skarstedt
Honoree Supporters
Katherine Farley & Jerry Speyer
Honorary Chairs
Amy Sillman
Colm Tóibín
Dodie Kazanjian & Calvin Tomkins
Lawrence Weiner
Buy your tickets and tables today.

6:30 to 8:00pm   Cocktails and Canapés
6:30 to 10:30pm Silent Art Auction
8:00pm  Seated Dinner, Toasts, and Live Auction
9:30 to 10:30pm Dessert and Final Bidding 
Online Auction Sale live on Paddle8. Artists include:
Diana Al-Hadid | Alvaro Barrington | Morgan Bassichis | Jen Bervin | Suzanne Bocanegra | Andrew Brischler | Cecily Brown | Laura Bruce | Steven Charles | Judy Chicago | Willie Cole | Mark Dagley | Pradeep Dalal | Jennifer Clifford Danner | Verne Dawson | Lucy Dodd | Celeste Dupuy-Spencer | Anoka Faruqee | Natalie Frank | Cate Giordano | John Giorno | Michelle Grabner | Joanne Greenbaum | Alteronce Gumby | Barbara Hammer | Duncan Hannah | Rachel Harrison | Rachel Hovnanian | David Humphrey | Kahlil Robert Irving | Iman Issa | Alfredo Jaar | Yun-Fei Ji | Shirley Kaneda | Jordan Kantor | Sermin Kardestuncer | Nina Katchadourian | Ville Kumpulainen | Charles Long | Adam McEwen | Josephine Meckseper | Nabil Nahas | Kambui Olujimi | Lydia Ourahmane | Nick T. Poe | Kanishka Raja | David Reed | Walter Robinson | Lisa Sanditz | Matt Saunders | Alex Sewell | Buzz Spector | Estate of Nancy Spero | Bianca Stone | Miryana Todorova | Fred Tomaselli | Gabriela Vainsencher | Jonathan VanDyke | Darren Waterston | Lawrence Weiner | Summer Wheat | Hank Willis Thomas
Online bidding ends Monday, April 30 at 12:00PM EST at which point all bids will transfer to the live event that evening. If you are not able to attend the live event, a representative from BOMB will facilitate proxy bidding via your maximum bid placed online. For any inquiries or to absentee bid, please contact Sara Wyer at 646-346-3001 or email swyer@livetreichard.com. 
Art Handling, Transport, and Care Sponsored by Artcore Fine Art Services, Inc.