Zombie: Fela Kuti Lives Again by Alex Littlefield
Fela Kuti has become an even more mythical character in death than he was in life; since his passing, his life and work have attracted a surge of interest, most notably in a recent Broadway musical and a forthcoming biopic by renowned British filmmaker Steve McQueen. Alex Littlefield discusses the Fela reissues with Knitting Factory Records label manager Brian Long. Complete with streaming Fela songs and an video interview with Questlove of the Roots.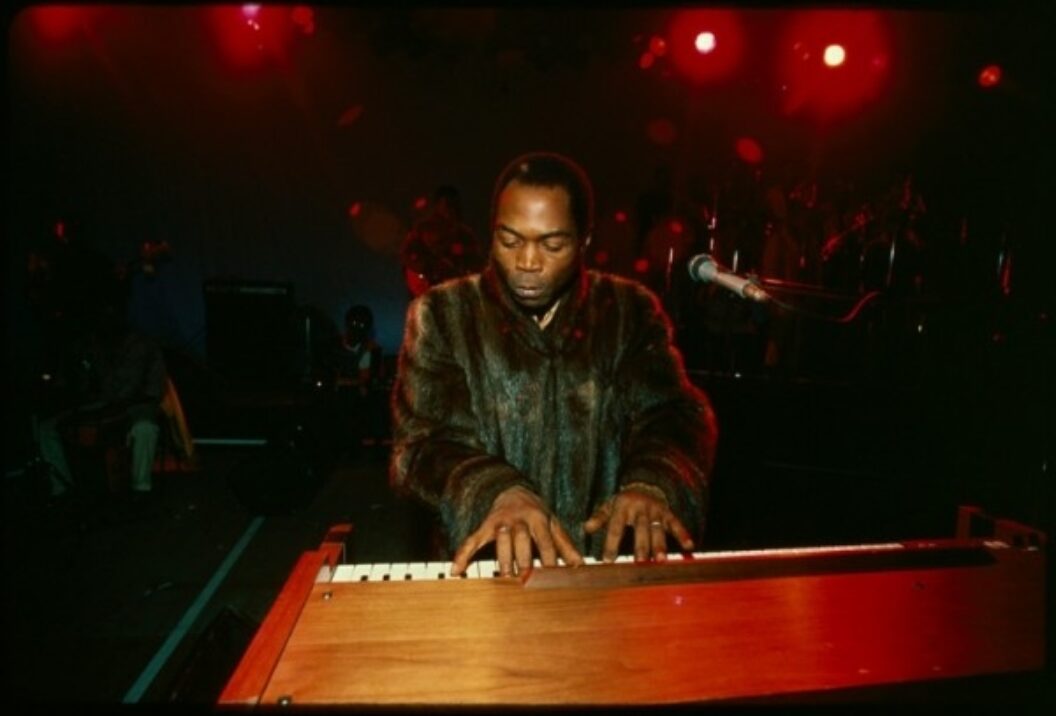 Fela Kuti was Africa's prototypical rock star. Born into a middle-class Nigerian family in the late 1930s, he rose to international fame in the '70s due to both his tribal, jazz-infused style of music—later termed "afrobeat"—and his outsized personal life. A commune leader, political activist, and Nigerian presidential candidate who once had 27 wives, he sang in pidgin English so as to be understood by the most Africans possible, and actively campaigned for human rights in Africa, often at great personal expense. Consumerism, colonialism, and conformity were Fela's enemies, and music was his weapon.
Fela's music has proven a powerful weapon indeed; his lifelong struggle has endured well past his death in 1997, at the age of 58. And Fela has become an even more mythical character in death than he was in life; since his passing, his life and work have attracted a surge of interest, most notably in a recent Broadway musical and a forthcoming biopic by renowned British filmmaker Steve McQueen. Now, Fela's entire oeuvre is being carefully re-mastered and re-released by Knitting Factory Records, a Brooklyn-based label that is also in the process of restarting itself. Knitting Factory is releasing Fela's albums in batches, with the latest yesterday, May 11th.
I got on the phone with Brian Long, label manager of Knitting Factory Records, and we spoke about Fela's legacy, the re-release series, and the label itself.
Alex Littlefield Most people know Knitting Factory as a music venue; what's the history behind the record label?
Brian Long It started in the late '80s or early '90s—the label actually had a deal with A&M back in those days. And since that time the label had purchased a couple of catalogues such as Shimmy Disc and Instinct Records, and then went into hibernation. The vision forward is that Fela is leading the apple cart, like the horse drawing the cart—a way to resuscitate the label.
AL Why Fela, and why now?
BL One of the people who's involved with Knitting Factory entertainment is also one of the producers of the musical. And because of his connections with the estate and with people who work with the estate, he learned that Fela's catalogue with Universal—its license term—was coming to conclusion. And being the massive, massive, massive Fela fanatic that he is, it piqued his interest.
AL Will Smith, Jay-Z, and Jada Pinkett Smith all had producer roles for Fela! —are we talking about one of them?
BL No, these people are more behind-the-scenes than that.
AL Is it just me, or is Fela coming back into vogue right now? The Broadway musical seems like the most prominent tip of the iceberg.
BL We're definitely seeing resurgence in all things Fela. And being in the middle of the vortex of activity gives us kind of a warped perspective, but just strictly from a black-and-white net-sales perspective, we're seeing an increase in Fela downloads and Fela CD sales of the albums we've released already from what the sales histories have been for these titles.
AL And so how did Knitting Factory actually acquire the rights to Fela's music? I would think they'd be in high demand, what with all the renewed interest.
BL Back in '99-2000, I was at MCA Records doing A&R, and was involved in helping get the Fela records released in the US. MCA reissued the entire catalogue back in 2000. So I had some history, and at that point there was a resurgence of interest in Fela that was spawned by his passing in 1997, and club culture was also gravitating toward Fela—people like Rich Medina spinning his stuff. It was kind of reaching a cultural boil.
AL Sort of like what's happening now.
BL It was one those times when an artist who had passed was getting his due on a level that hadn't been seen probably since 15, 20 years earlier. And that's happening again. Two reasons: one, a lot of hip-hop samples include Fela shout-outs and whatnot, but there's also kind of a growing awareness of Fela—I think because of YouTube. You look at the number of plays on some of these YouTube videos for "Music Is the Weapon" and other things, and there are a lot of people who are just fascinated by the spectacle of this man and his performing abilities and the dynamic presence he had.
AL It seems like this interest in Fela transcends both him personally and the style of music—hip-hop, club music, and so forth—that brought his songs back into rotation.
BL There's definitely been an Africa resurgence; in the indie-rock world there are a lot of bands in the last three years or so who have been integrating West African guitar styles into their melodies; that theme has already been percolating through culture right now.
AL And yet Fela seems to stand apart.
BL Fela—being arguably the most famous, and certainly the most infamous, African musician, because his story is in a way the most rebellious and punk-rock—there's a lot more depth to his story than probably many other African musicians. And that resonates, especially when you consider how an icon gets created; it's especially because they live a life, at least in our world, of questioning authority.
AL So how long is Knitting Factory's license, roughly?
BL It runs into the next decade.
AL And during that time, you're going to be representing all of Fela's oeuvre—shepherding it, in a sense. How do you go about distilling and presenting such a diverse and uncontainable life and output?
BL It's kind of like, follow Fela's lead. First of all, the artwork on the original albums is amazing…all of the CDs are in digi-packs, which are cardboard and completely mimic the original album cover artwork. When universal re-released them, the front cover would be one of the albums and the back cover would be another album—most of them were two albums on one CD, which we're doing as well—but the back cover would have this border around it, and it would screw with the actual album artwork. So our packages are all completely true to what they were, just in the CD format.
AL And how has Knitting Factory changed the songs themselves, if at all?
BL We re-mastered everything, because audio engineering technology continues to grow. So they're crisper, there's more bottom end now—it's a bit richer-sounding. But as far as being the shepherd goes, when MCA did it, it was a major label—it was catalogue to them…For us it's the other way around; yes, it's catalogue, but it's also—as I mentioned before—it's the horse leading the carriage for Knitting Factory records. We have the ability, because of the internet, because we can create a voice and a presence, to be curatorial, whereas ten, eleven years ago, especially at a major label, they didn't think in those terms…One word that sums up our relationship with Fela is respect…Giving him his due, and dealing with his catalogue respectfully.
AL Let's go back to this idea of Fela as the horse drawing the apple cart—the cart being Knitting Factory Records. What are some of the apples?
BL There are a few records that are already scheduled for 2010 on Knitting Factory Records. One is by Rachid Taha, who's a French-Algerian singer-songwriter—kind of a French-Algerian Joe Strummer. There's a bunch of other stuff that we're in varying levels of negotiations with, that would come out later in the year on Knitting Factory Records…It will be a dynamic and eclectic record label.
AL Fela Kuti is a wise choice for re-launching the label, then; they don't come more dynamic than him. Is he the only artist that you've released so far?
BL We did put out a couple other records this year; actually one earlier in April, by Gary Lucas. He's a good guitar player who fronted a band back in the early '90s called Gods and Monsters. He was the one who basically set the ropes for…Jeff Buckley; he was the one who found Buckley and nurtured him. There's an actual recording on Knitting Factory, an analog piece, that he and Jeff did before he signed to Columbia. Gary's been in the Knitting Factory family for a while—and previous to his solo work he was a guitarist with Captain Beefheart's Magic Band.
AL So the label is going to have a pretty broad purview—sort of like the venue itself, which started out as a performance space for experimental music of all stripes?
BL For the record label, yeah, it was and it will be broad again. I think the common denominator is that it's going to be left-of-center—it's not going to be alt-rock by the numbers. It'll have a strong world-music element to it.
Listen to Fela songs and watch a video with Questlove of the Roots on the widget below: