Zoe Leonard: You see I am here after all by Marc Joseph Berg
Zoe Leonard: You see I am here after all (2008) documents the artist's two-and-a-half year Dia installation while expanding upon the art of mechanical reproduction.

Discover MFA Programs in Art and Writing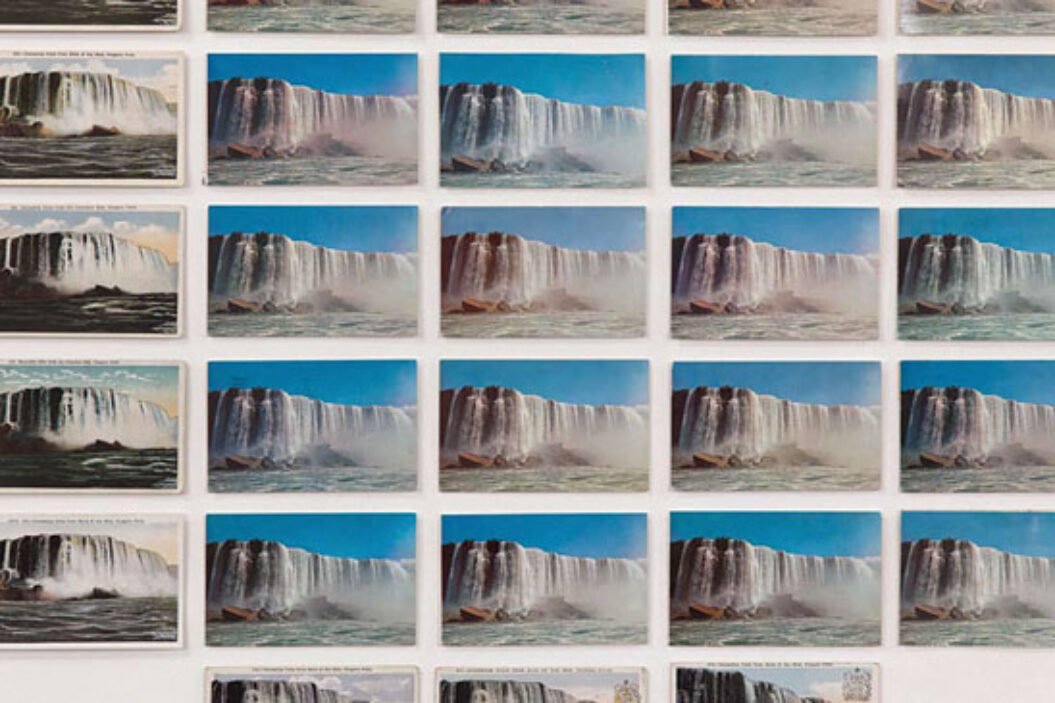 It is not for me to attempt a description of Niagara; I feel I have no powers for it.
—from Domestic Manners of the Americans, Frances Trollope, 1832
DIA FOUNDATION, 2010
For an artist's book to emerge at the tail end of an institutional exhibition seems contrary to the general order of these things, though, in this instance, maybe it's like a postcard sent just before leaving the place visited.
Zoe Leonard: You see I am here after all (2008), an extraordinary two-and-a-half-year site-specific presentation at Dia:Beacon, was comprised of nearly 4,000 vintage postcards of Niagara Falls. They were arranged in groupings along a mid-wall horizon line, based on location and the vantage point of the postcards' photographers, above or below the Falls. Consistent in scope and in scale with the works of other Dia artists such as Sol LeWitt, Bernd and Hilla Becher, Donald Judd, Agnes Martin, and even Richard Serra, the piece shared their rigor, repetition, and pattern—a colossal display of the iconic, industrially produced picture-souvenirs that travelers shared with loved ones and others once upon a time.
Key elements of the project reside in the historical context of commercial printing and reprographics, and in book form You see I am here after all is, indeed, mechanical reproduction squared. Digitally photographed both as landscape and in ultrafine detail by Bill Jacobson (camera on tripod, tethered to a laptop), 41 separate images of the Dia installation re-reproduced in color on these pages take on a phenomenal quality, suggesting sameness, gradations, and the printed postcards' distinct variations. The camera's moving toward and back away from Leonard's artwork gives the feeling of coming in closer to look at the piece—its mechanical and human traces—and, in effect, a sense of moving in for a closer view of the Falls. The almost overwhelming presence of the Dia installation is formatted to a thoughtful, handheld scale for publication, allowing personal possession of this project and an inherently closer read. The handsome, mid-compact book object itself relates perfectly to the form of manual device that a postcard actually is.
Fourteen different texts, spanning from Father Louis Hennepin's 1683 first-person account of the Falls (a reprint of an 1880 reprint) to writings from Frances Trollope; Harriet Beecher Stowe; H. G. Wells; Charles Dickens; Nathaniel Hawthorne; Margaret Fuller; and the working script from the 1953 Hollywood film Niagara; as well as essays by Dia's curator Lynne Cooke and others, represent a qualified history of writing from seeing, reporting before and during the time photography was emerging. Each historical piece points to the same place, but from a different perspective, much as was done with the artwork itself.
Leonard recently performed her own opening text, "This is where I was": fragments gathered from yet more postcards, collected after the Dia installation was in place. Hearing the flow of these threads read aloud, one easily imagined their scrawling authors, the not-quite-specific "where" of their Niagara, while guessing as to their "whens." In print, it is a tender and sometimes humorous, crowd-sourced read; modern-era text messages crossed with Raymond Queneau's Exercises in Style, along a loose narrative of coming and going and seeing and longing. Leonard's live rendition ended, as it does in the book, with a sign-off from someone, somewhere: "Love to all."
Marc Joseph Berg is a New York–based artist and a core faculty member at the School of Visual Arts.
Originally published in
Featuring interviews with Joe Fyfe, Katharina Grosse, Luis Camnitzer, Jim Shepard, Sebastián Silva, Thomas Pletzinger, Robert Wyatt, and Sibyl Kempson.