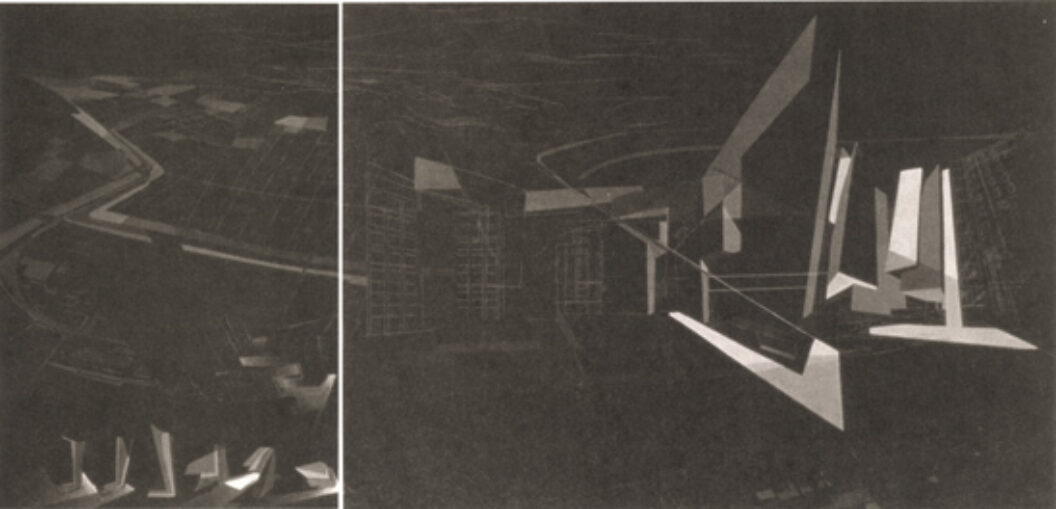 If you go to Rome and ask about Zaha Hadid's plans for the new Centre for Contemporary Arts, people respond, "Yes, she's got the commission, but will the building be built?" An architect's worst nightmare? Probably. But Hadid, who is aggressively autonomous, produces work that exists in two zones: a determined body of paintings and drawings, and the actual buildings themselves. Meanwhile, she has designed the new Contemporary Arts Center in Cincinnati, scheduled for completion in the spring of 2003. It's the first art museum in the US to be designed by a woman. Hadid says the neutral spaces that its exhibition sites purport to offer are "a wishful oxymoron. Individual memory and experience color all space." Her paintings are high-speed maps for 21st-century landscapes, tense and cool, with slashed surfaces reinserted into a perpetual state of flux. Hadid does in painting what multiple cameras do in film and television, offering simultaneous angles as the viewer moves through space. The result is an episodic continuum of interruptions that reduce and expand in perfect opposition. Mixing Malevich with Brunelleschi, Hadid comes up with a truly contemporary version of perspective: dislocation as a way of seeing, a series of simple displacements strung restlessly together.
Born in Baghdad, Iraq in 1950 and currently living in London, Hadid was trained by Rem Koolhaas. She sees the viewer as a combination of personal identity and environmental behavior, who is, according to Walter Benjamin, in "a constant state of distraction." Hadid's paintings are based on an experiential, hyperlinked world, where each passage is a substitution, and a successive frame is a forward movement that could be cancelled out by a backward movement. The painting Azabu-Jyuban-Tokyo: Blue Painting (1986) acts as a snapshot that's not meant to stop at its own edges. Rendered in acrylic on board, the work disrupts the convention of the frontal view, proposing instead an ever-shifting, multiperspectival composition in space. Hadid's paintings, like her buildings, articulate process of repicturing. They are not end products, but variables meant to put the next move into question. Hadid thinks like a choreographer or cinematographer. She is concerned with how the body moves through space, how direction is experienced: "My paintings reorganize orientation; they eliminate spatial hierarchy, falling outside and expected logic of verticality."
The Contemporary Arts Center will house temporary exhibitions. Hadid sees the museum as "one continuous surface between the street outside and the wall inside the museum." She calls this an "urban carpet," an update on Frank Lloyd Wright's ramp that allows both a horizontal and vertical composition to exist simultaneously. The unfolded site study for Cincinnati resembles a rectilinear Slinky that can be cast out, expanded and folded back into its compact state. Hadid's paintings and buildings are acts of public participation based on the theory that art and culture are in a constant state of flux and change. As for Rome, it will be built.
—Cheryl Kaplan
Originally published in
Featuring interviews with Robert Mangold, Brian Tolle, Robert Pollard, Carl Phillips, Colson Whitehead, Kenneth Lonergan, and Guillermo Arriaga.