Work As Gift: Sean Sullivan Interviewed by Paul Maziar
Honoring the art-making process.

Discover MFA Programs in Art and Writing
Sean Sullivan is a Hudson Valley-based visual artist who works between painting, collage, and sculpture, with drawing—inventive mark-making—as a primary method of approach. First seeing his pictures online, I was struck by their deep and lasting resonance. At the same time, Sullivan achieves a sense of ease by way of his chosen palette, a highly cultivated repertoire of forms and the wherewithal to set them in various arrangements. His figures sometimes only elusively resemble living forms, such as the comma-like symbols in Red Eye Noir (2019) that might look like a series of heads or maybe a slew of stylized slot-machine cherries. His settings and scenes are not of this world, yet they're still welcoming, complex but utterly clear. As Sullivan says in this interview, his approach to composition seeks "a feeling … a tone or time." This concern with time is appropriate because his pictures seem torn from it, as if they've been here all along, not yet seen.
—Paul Maziar
Paul Maziar Can you talk a little bit about what you're currently working on?
Sean Sullivan Right now, I'm jumping back and forth between more representational line drawings featuring architectural pieces of interiors and facades and more graphic, abstract pieces—or interludes, as I've been referring to them.
PM Are the abstract pieces collage works made up of slices of paper?
SS No, those abstract pieces are paintings—or technically maybe closer to prints, but I think of them as paintings—which I made using hand-cut stencils, rolling brayers, and oil paint. I began using this method a few years ago to achieve a really flat field of color. The finished pieces resemble silkscreen prints.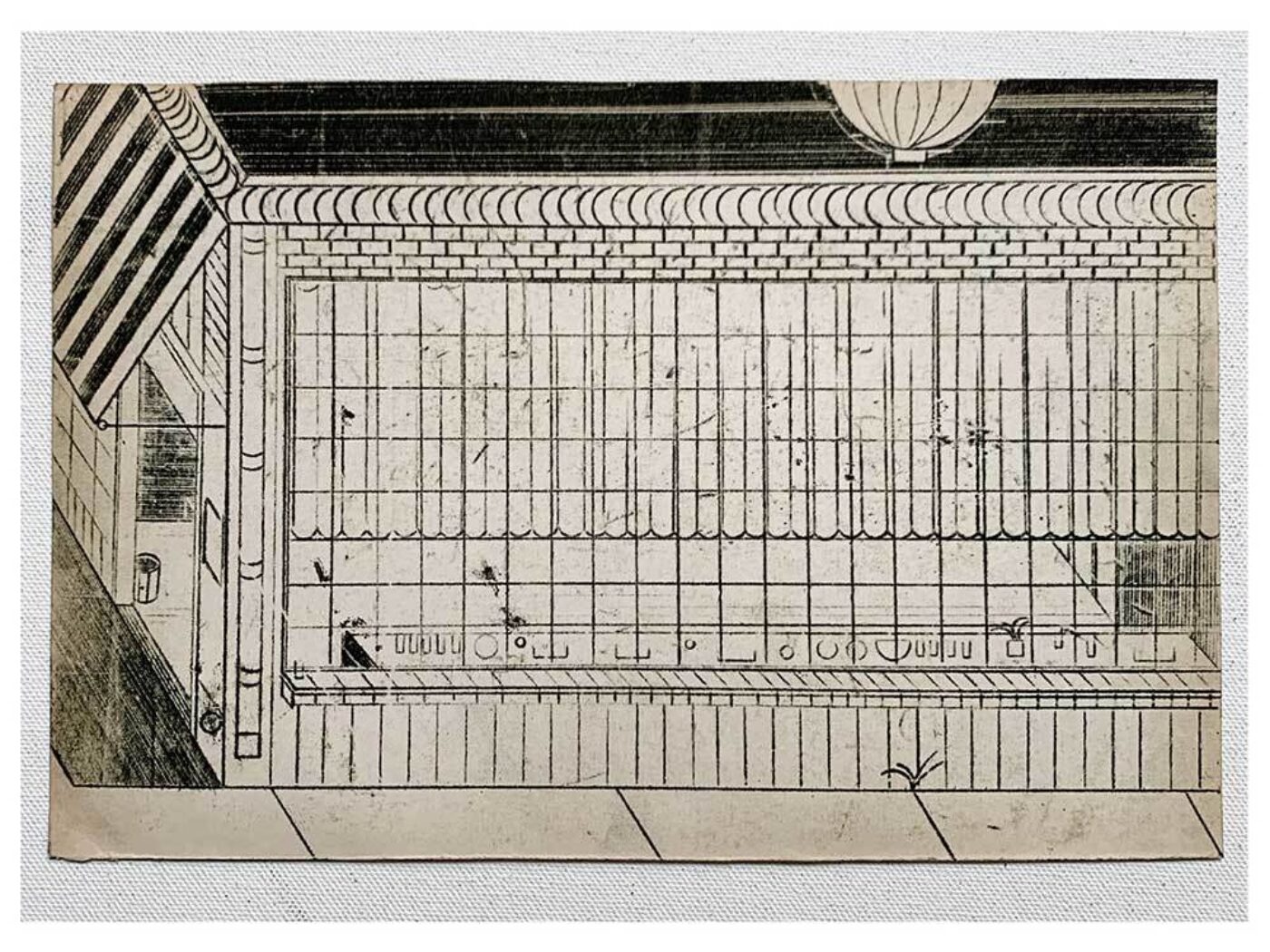 PM Do you have images in your mind before you begin composing your pictures, or do your compositions begin mainly from chance-driven marks?
SS I wouldn't say I necessarily have images in mind, more a feeling I'm going for—a tone or time. The interiors and facades of this particular work provide a basic framework or starting point to hang the drawings on. From there the process takes over. Nothing is planned; everything happens in the moment.
PM That approach is so freeing, letting the process take over. But there has to be control, by way of work, right? Or else it can all come off unhinged. Philip Guston marveled at how sometimes "the brush just seems to go by itself like it has its own life." Seeing that method produce something refined and with a sense of abandon is as satisfying as anything.
SS I'm guessing Guston's brush was a pretty smart brush, and in no small way a result of the hand that was holding it. The ballpoint pen I use is nowhere near as intelligent, but it knows its way around a piece of found paper. It's been at it for years. I think the process is there to allow for freedom but only so much; it knows when it's going off course, and yet hopefully new things are discovered.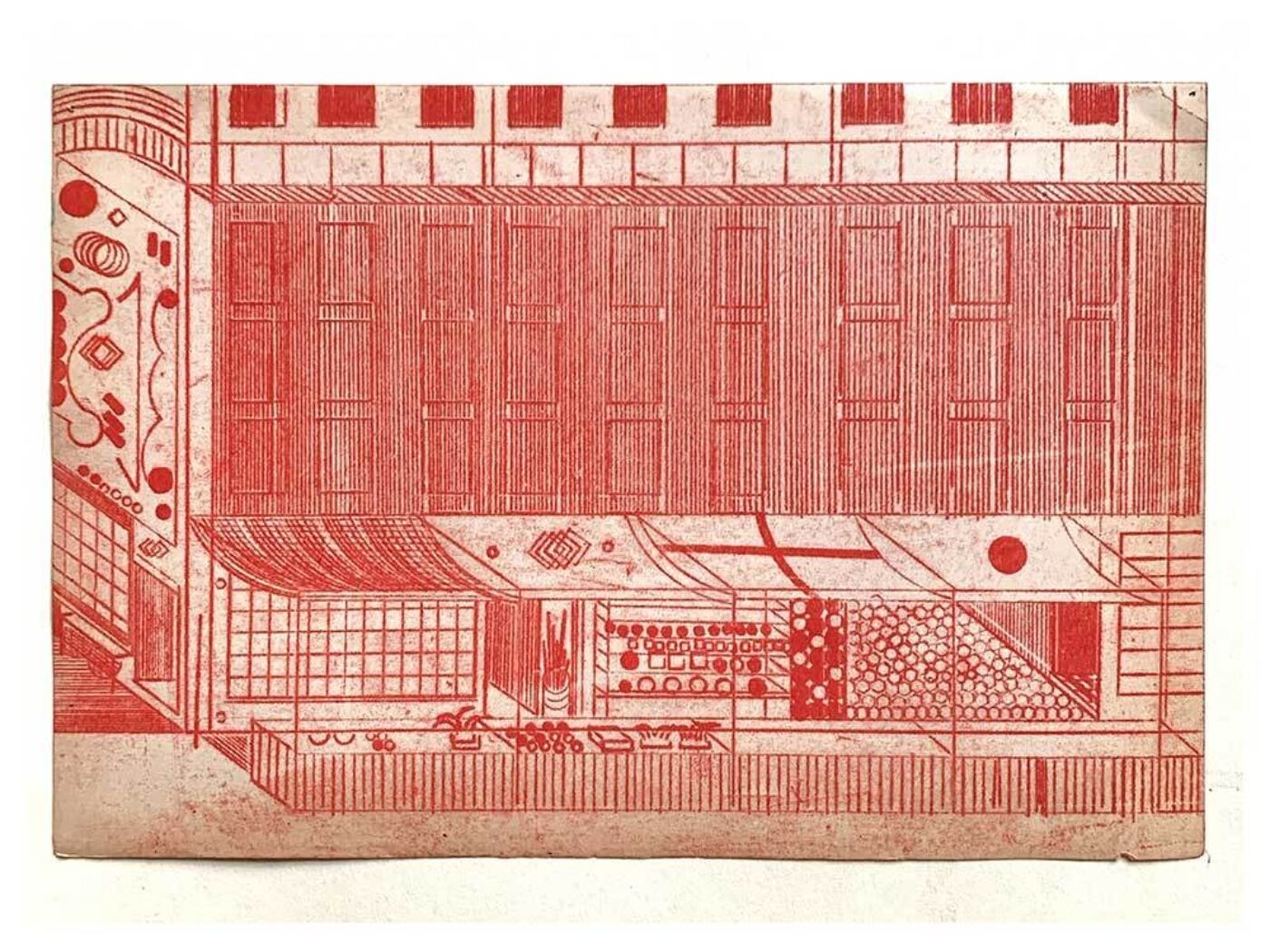 PM
Do you have a lexicon or familiar vernacular of objective forms—awnings and other accoutrements of interior and outdoor spaces—that you can readily call upon?
SS There are certain elements that I return to again and again to help build a narrative. However, there are limitations within the lexicon of objects that are achievable. Pretty early on I decided that these representational drawings made with rulers, washers, and record albums would not expand beyond the marks available to these drawing "guides." In other words, the vernacular objects and forms must exist within the confines of the limitations that these "tools" present within the process. They include awnings, windows, bricks, and other architectural ornamentation as well as ordinary things such as brooms, boxes, plates, glasses, fruit, and signage. These limitations have allowed me to free up the process and at the same time explore environments that suggest the presence of humans without having to depict humans. I've always thought these drawings are similar to photographs of places where humans are just about to arrive or have just left.
PM They lend that impression! Like the guests are about to arrive for a celebration. But it's not just gaiety that's evoked, is it? Maybe more like contentedness. What are some of the tools and methods you use for the architectonic drawings?
SS I used to think I was just "making do" until I could figure out or afford more "professional" materials, space, or time—some "ideal" set of conditions for creating. I feel differently now. A phrase came to me a few years ago that's really helped me to understand and ground my own creative process, including its limitations. It goes like this: "I am a farmer; I am a fisherman." Now, I am neither a farmer nor a fisherman, but it helped me understand that if you get up early every day, bring a seed, a shovel, a hook and a line, and spend the time, you'll get work made, and it will be better than you could've imagined. It might not be a ten-foot painting; it might not make it into a museum. But it is a gift.
The tools, materials, and process I employ to make work are things that are very much part of my daily life. Oil stick, which I make for a living at R&F Handmade Paints, is applied to paper using a silkscreen squeegee producing something similar to carbon paper. This sheet of colored paper transfers marks to a receiving sheet—usually found paper pulled from books. If I need to make a circle, I find a circle, such as a record album, a pot top, or a washer. A ruler makes the line. This keeps it honest.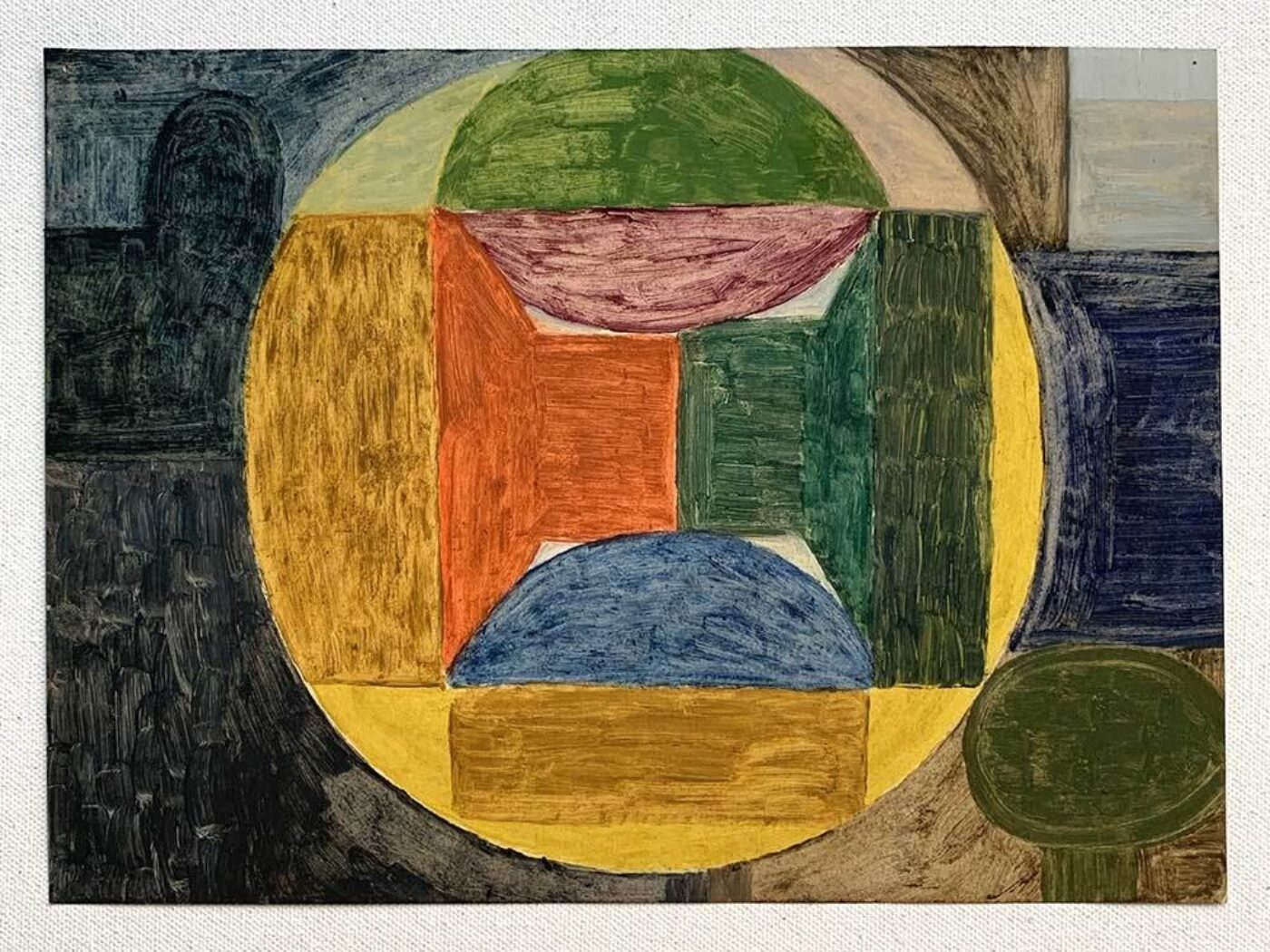 PM Are there certain things that spur your creative modes?
SS A little bit of time in the early, early morning before the day job and sometimes after dinner; my family happy and healthy and close by. Music always, light, and coffee. If I have those things, it's pretty easy to get going.
PM I couldn't find the description of your "Parade-Pimlico-Pearl" mantra that I once read on your website. Would you be interested in talking about the meaning of that phrase?
SS This phrase or poem was originally "parade.pentimento.pimlico.pearl," and it served as a secular prayer of sorts; anything repeated three times is a prayer. A telegraph to the universe to be recited in times of trouble to remind myself what was important. Parade: a reminder to enjoy, celebrate, and commemorate; pentimento: a reminder to value history, my own and our collective history; pimlico: a nod to luck, good and bad, and named after the racetrack; pearl: a nod to the creative process—to remember that beautiful things can be made from things found around you, are made over a long period of time, and are often a reaction to adversity.
Sean Sullivan's work can be seen as part of a two-person exhibition with Spencer Shakespeare at BDDW Annex Gallery in New York City until October 20.
Paul Maziar is a writer. His art criticism can be read in Art Practical, Artcritical, LA Weekly, Los Angeles Review of Books, Oregon Arts Watch, and Whitehot Magazine. A chapbook of his poems, Little Advantages, was published in 2013 by Couch Press, and a pamphlet with visual artist Cynthia Lahti, To the Air, is forthcoming from the Cooley Gallery.