Word-Weapons: Cecilia Vicuña: Seehearing the Enlightened Failure Reviewed by Juan José Santos
An important retrospective collects nearly one hundred artworks.

Discover MFA Programs in Art and Writing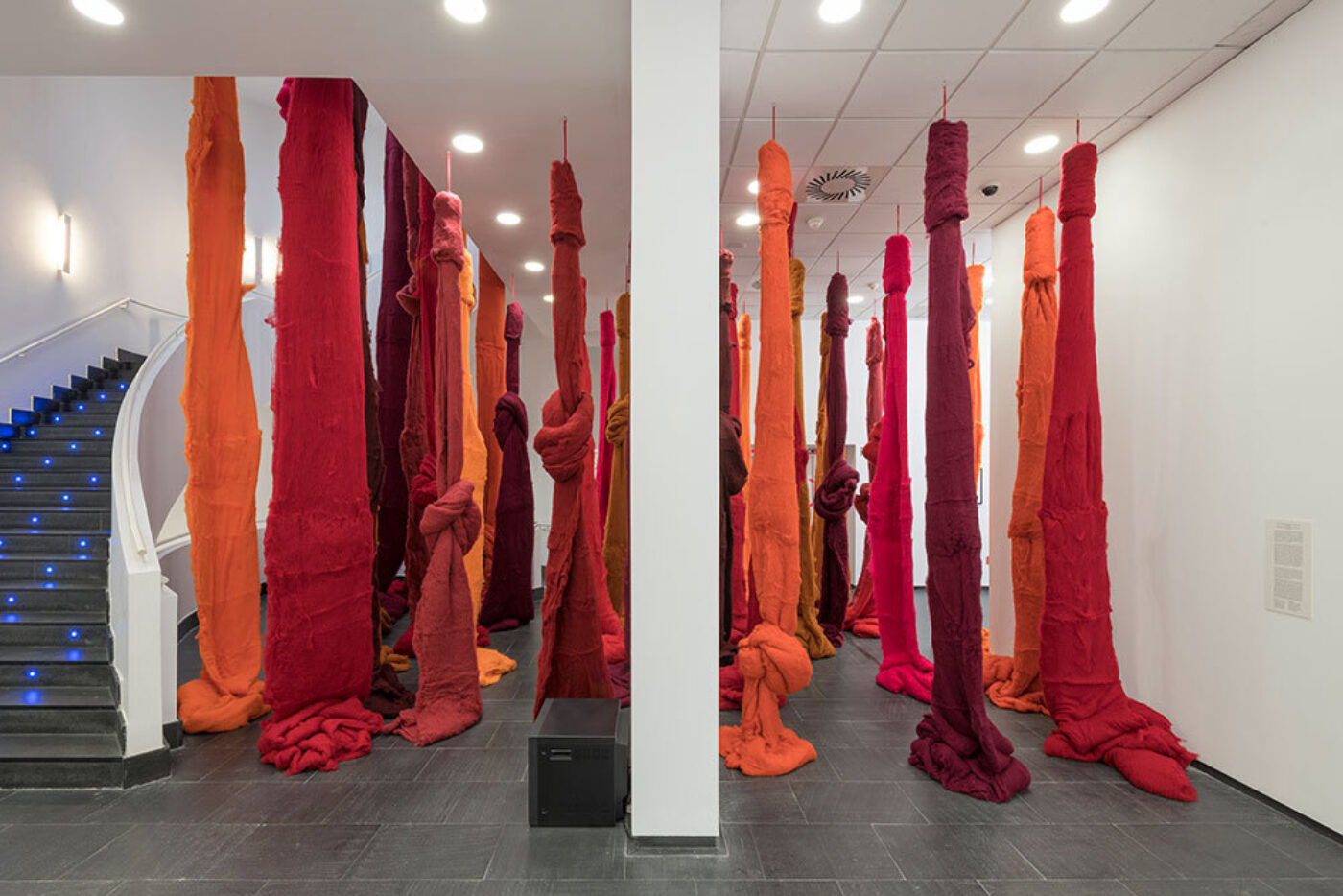 Cecilia Vicuña's first works of art were spatial poems such as Menstrual Quipu (the blood of the glaciers) (2006), which greets visitors to her retrospective exhibition at Centro de Arte Dos de Mayo (CA2M) in Madrid. The works are inspired by the knotted ropes that Andean cultures used to relay information until they were banned by the Spanish as potential and demonic vehicles of secret messages. Colonizers imposed the Gospel and the In principio erat Verbum—but only theirs, of course.
Five hundred years later, Vicuña, a Chilean poet, would return to the quipu as a way of interweaving her struggles with those of her ancestors, and she would twist the verb of the Castilians to configure her Palabrarmas (word-weapons), literary games that transform letters put together into dangerous artifacts. It was the 1970s, a period of revolutions and dictatorships, of hope in utopian socialism, of invasion and of exile.
Vicuña, who has lived outside her country since the 1973 Augusto Pinochet coup, has since charged the written word with meaning, emotion, and three-dimensionality. The title of the exhibition already contains a Palabrarma: Veroír el fracaso iluminado / Seehearing the Enlightened Failure, implying that works of art are seen and heard. While entangled in the initial red quipu, visitors hear a voice that is like a thread and that directs them toward a screen which features Vicuña collecting seeds, composing figures, or pricking a finger while extracting cotton. The blood that emanates is washed in a mountain stream. In addition to being an accompaniment to a field trip by the explorer-artist, Semiya (Seed song) (2015) is an appeal against the genetic editing of seeds. In a few square meters, the main motivations of an artist who was mostly ignored until her participation in the 2017 Kassel Documenta are condensed: ecology, feminism, political poetry, poetic politics, a return to naivety, the precarious, and the common.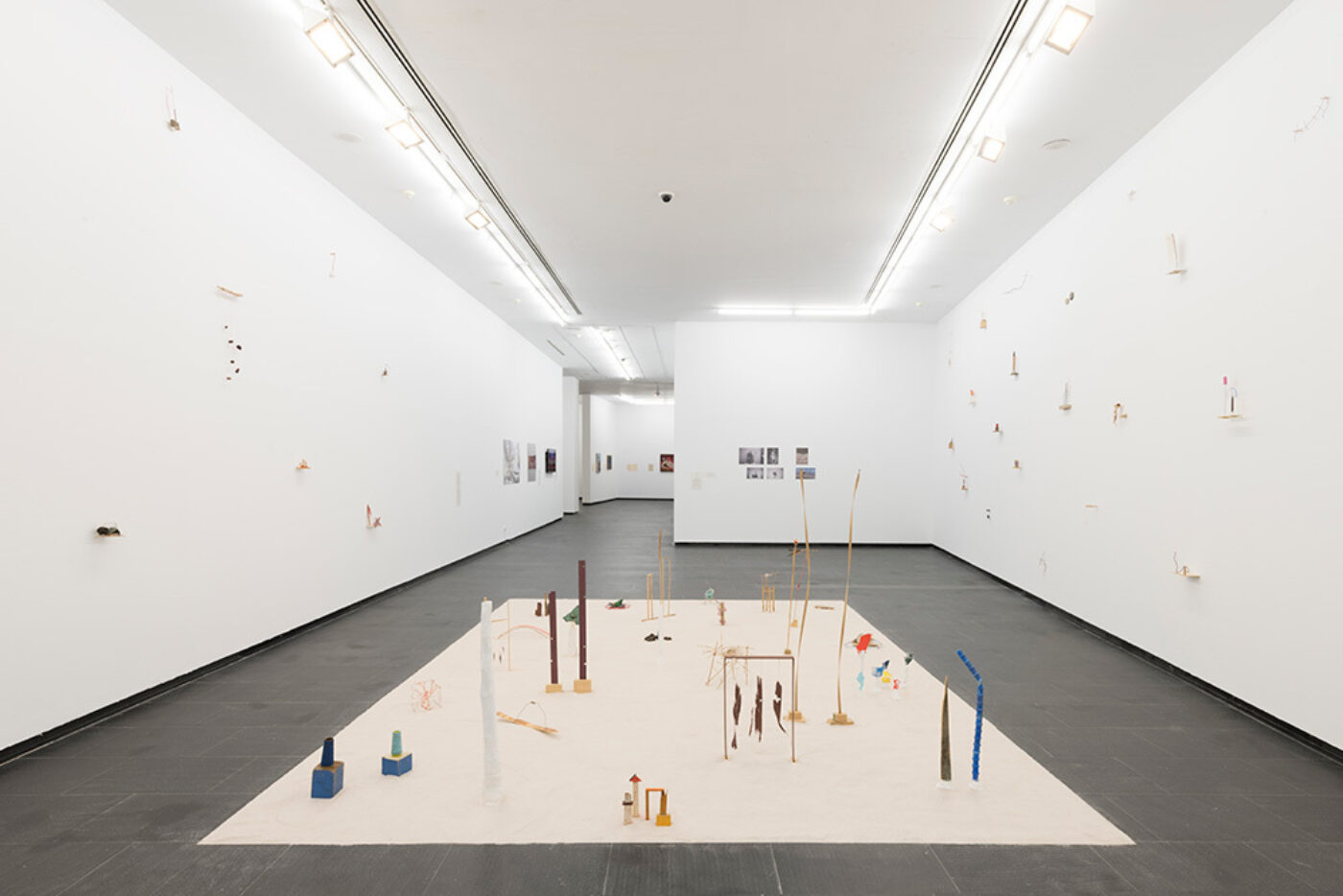 But other entry points to the exhibition can be established, other routes that allow visitors to read Vicuña's trajectory biographically and historically. For instance, the installation Pueblo de altares (An altar-filled village) (1990–2019) contains ephemeral sculptures built from remains that washed up on the seashore and which the artist calls "precarious." This allows the viewer to imagine being transported to Concón, a Chilean beach where the artist first created these temporary objects. The union between the sea and poetry in Chile is very close, as many published books of verse devoted to seascapes attest; yet this union is literal too when the beachfront houses of poets Pablo Neruda, Nicanor Parra, and Claudio Bertoni are considered.
Bertoni is cited in this exhibition due to his and Vicuña's involvement in the collective La Tribu No. In both texts and actions, the group combined hippyism, Beat poetry, and Parra's antipoetry. This initiation period for Vicuña coincides with a time of open optimism and commitment to the ideals of community as well as a political commitment to the Left, and the artist makes this visible in her paintings dedicated to Vladimir Lenin and Angela Davis. These hopes were then truncated by the Pinochet dictatorship, which led Vicuña to stop painting.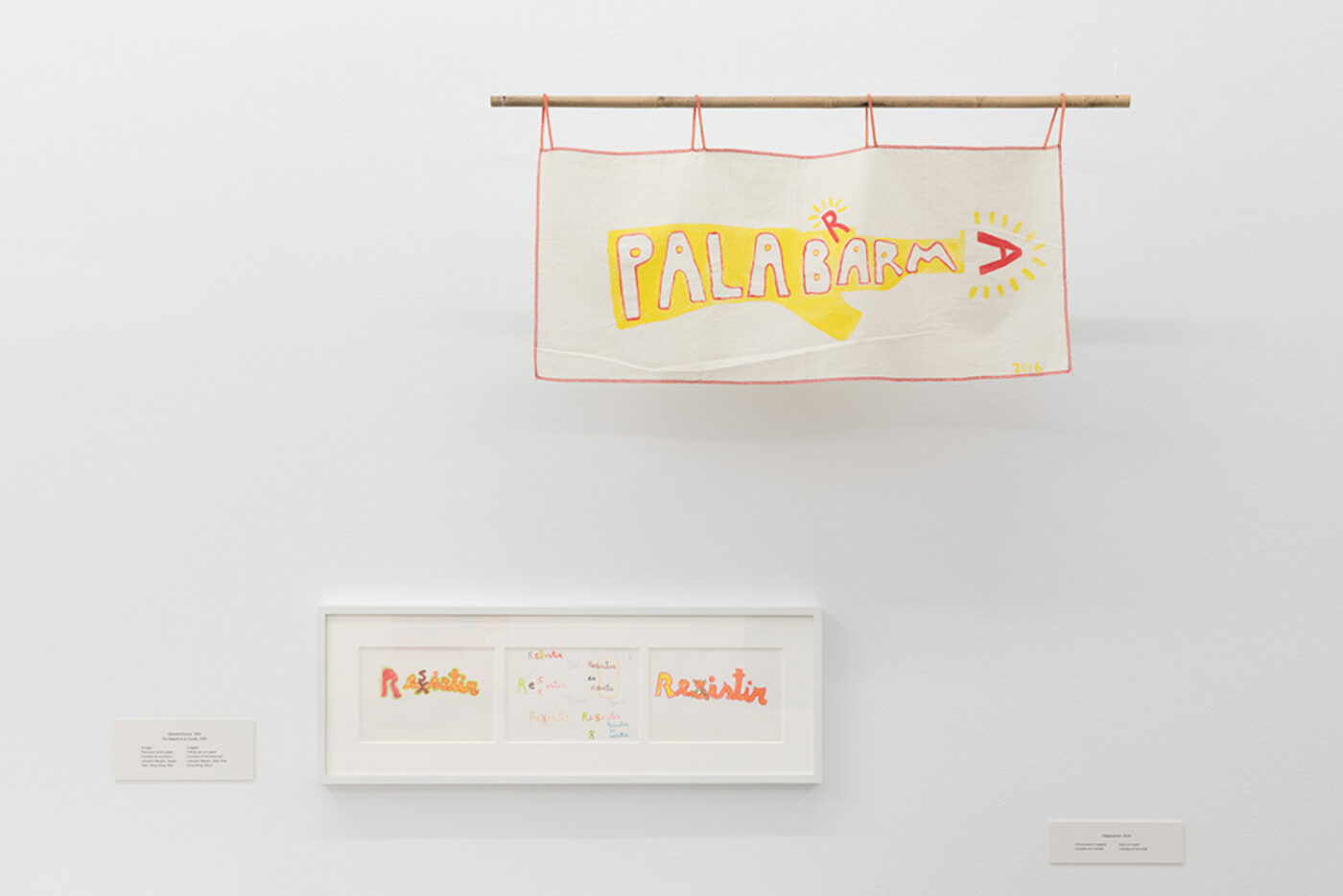 After leaving her country, she turned toward acts of resistance through the Artists for Democracy network and continued with creative work based on a determined commitment to the survival of poetry in contexts of violence (What is poetry for you? [1980]), to a rescue of indigeneity (Paracas [1983]), and to a rereading of the performative capacity of textiles (Cloud-net [1999]) at a time when the gesture of some actors improvising a common movement connected by threads had become an ism.
This tour of the exhibition could end with the video-animation The night of the species (2009), based on drawings by Vicuña in which words merge with a starry sky. This is a beautiful way of recognizing that this singular creator has done more than generate fulsome art with very little in the way of material: she has woven a personal cosmology that, after decades of unrecognized work, is finally being acclaimed internationally.
Cecilia Vicuña: Seehearing the Enlightened Failure is on view at Centro de Arte Dos de Mayo in Madrid until July 11.
Juan José Santos is an art critic and curator, and director of the art criticism platform Art on Trial. He has contributed work to Momus, Berlin Art Link, Spike Art Magazine, and Babelia, the cultural magazine of El País newspaper.