Christine Lagorio reflects on the peaceful Wings for Words: New Bookworks from Korea and Japan at the San Francisco Center for the Book.

Discover MFA Programs in Art and Writing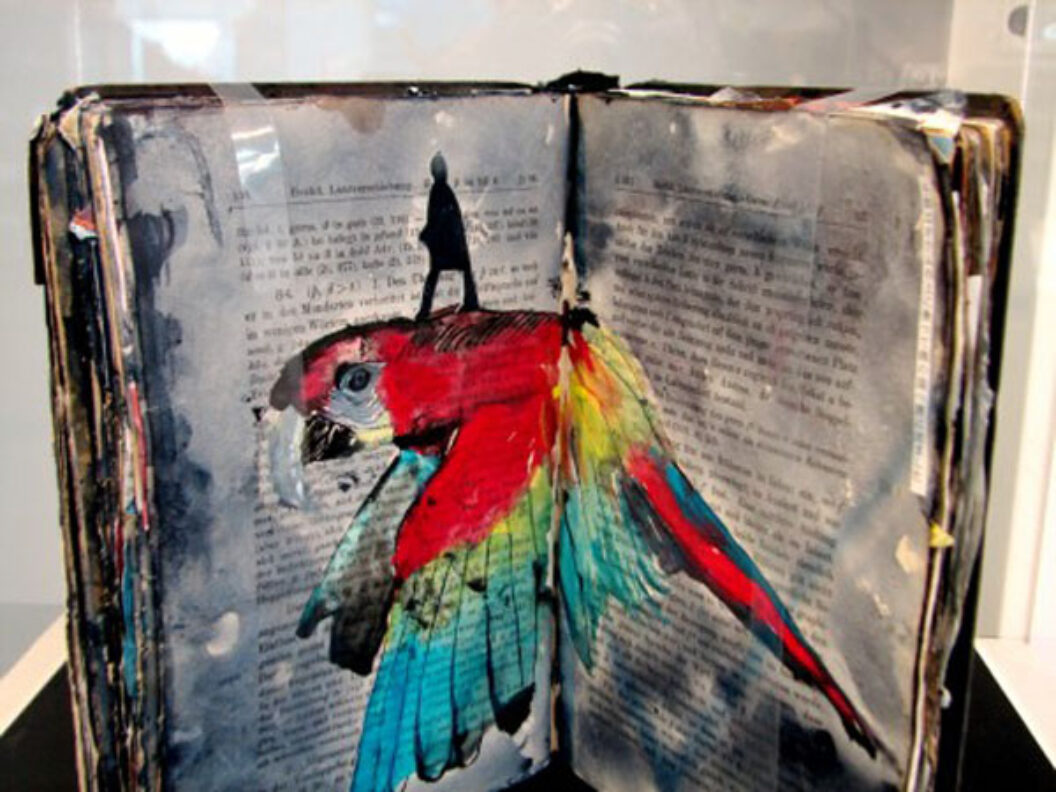 Perched on an upturned corner of a quasi-strip-mall business corridor between the Mission District and the shipyards is the uncannily serene San Francisco Center for the Book. Entering its doors can be jarring to the senses: The roar of buses accelerating and smell of exhaust is snuffed out in an instant by the creaky murmur of a vintage Vandercook letterpress and a faint aroma of ink. A printing studio, where artisans embellish posters, cards, and chapbooks, nearly spans the center's length. Bordering and overlooking the printing studio is the serene Austin/Burch gallery, currently housingWings for Words: New Bookworks from Korea and Japan.
The exhibit, largely composed of paper works, all intricate folds and delicate prints, feels as if it might be best taken in wearing slippers and sipping chamomile. The gentle curation by Alisa Golden hardly renders the bookworks impotent. Each piece—from Hea Lim Shim's trio of wood-carved book sculptures to Ryoko Adachi's textual re-imagining of Jack and the Beanstalk (this time including the possibility for genetically revved-up plants)—thrives here.
In creating the show, Golden implored 14 Asia-based artists to consider the book's form, cultural role, and incorporate personal themes. The exhibit's title is a nod to an apt metaphor: the book's form gives a writer's words, well, wings.
For me, that metaphor calls forth memories. As a young child being entertained by shadow puppets, when a friend opened and closed hands with thumbs latched to form a bird's wings against a wall, I saw instead a book, pages unfolding from the steady spine. And, really, a child's simplest drawing of a gull might as well represent a paperback strewn open. What's the difference between a pigeon and a dictionary? A million things. But here, they'd seem fairly harmonious.
Mitsutaka Tanimoto's 2006 work Karma seems to be a fancifully distorted visualization of my childhood vision. It's an aged, tattered text (a German reference book, perhaps?), plastered with other pre-printed materials and stained with ink. Propped open, it reveals a two-page spread featuring a vibrant, almost hyper-colored parrot, mid-flight.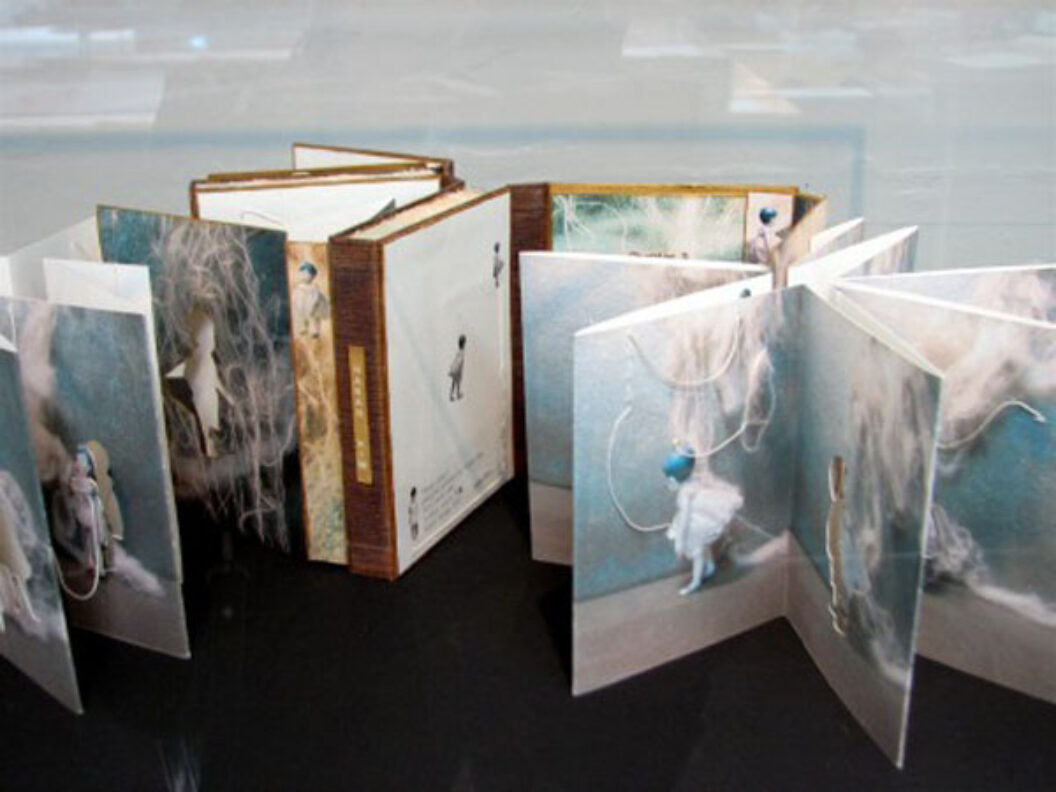 Nearby, a toe-sized image of a clay doll appears to drift through its host of accordion-fold pages, tipping and falling through a whirl of delicate puffs of cornflower blues and turquoises. Will she tumble? Will she be blown away? Why, no, each page answers the singular storyline: she is tethered by a string through each page. The string loosely and metaphorically constrains the doll—and keeps the pages from unfurling too far.
The doll traipsing through the pages of this piece, Windy Days (2007), is the creation of Seoul-based printmaker Haran Kim. Kim based its features on her own childhood traits.
Other artists further re-envision the concept of book. Kyung Hee Kim created long, transparent snakes of squares adorned with blocky prints. Birds are among the images here, but the piece itself gives a feeling of levity, invoking kites, or the slithering motion of a Chinese New Year's Dragon King. Sangmi Chung turns a favorite children's story,Snow Queen, into an origami-like half-snowflake.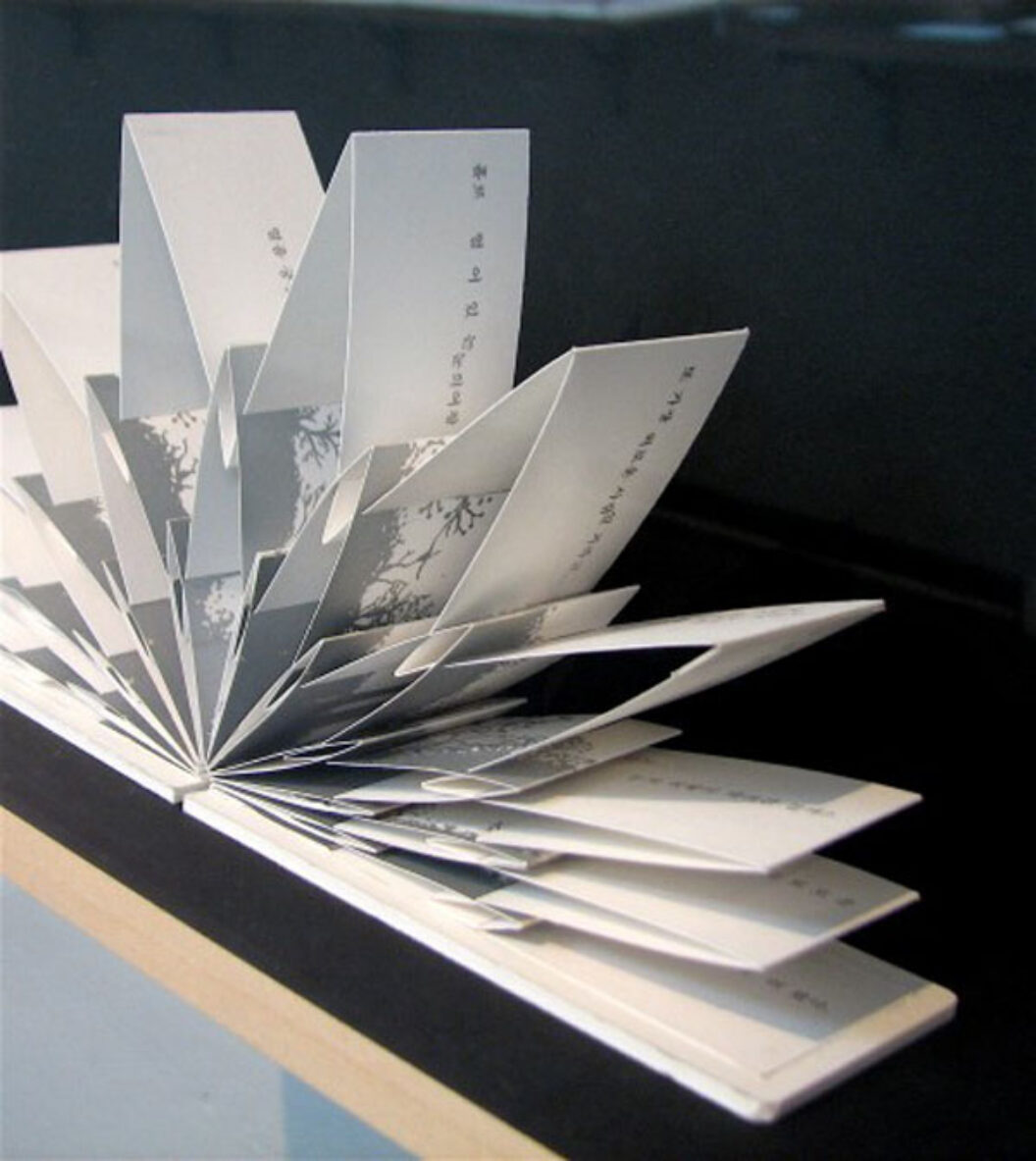 As a writer, reader, and journalist, I find myself drawn to re-interpretations of books as art—from recent shows by Steve Wolfe and Cover Version at Taylor de Cordoba in LA to shabby used books painted over and sold on the street at Union Square in New York. But I also have an urge to push back. Is a text not art enough? If altering form is altering meaning, do I really want a text usurped? Well, usually yes. But there is a hint of worry: if books are art-worthy, are artists anticipating a future without them in our daily lives? Could books take on a kitsch value?
Sure, I haven't yet come to terms with this backpedaling on my part, but perhaps it is worth pondering. For now, a friend's skepticism of this idea suffices: "The Internet doesn't smell as good" as old books. And, amid the printing presses at the Center for the Book, I'm calmed: It smells like freshly inked pages … and there are no Kindles here.
Wings for Words runs through April 17, 2009 at the San Francisco Center for the Book, located at 300 De Haro Street in San Francisco.