"I'm the kind of guy that's trying to get people to work together and make the Earth green."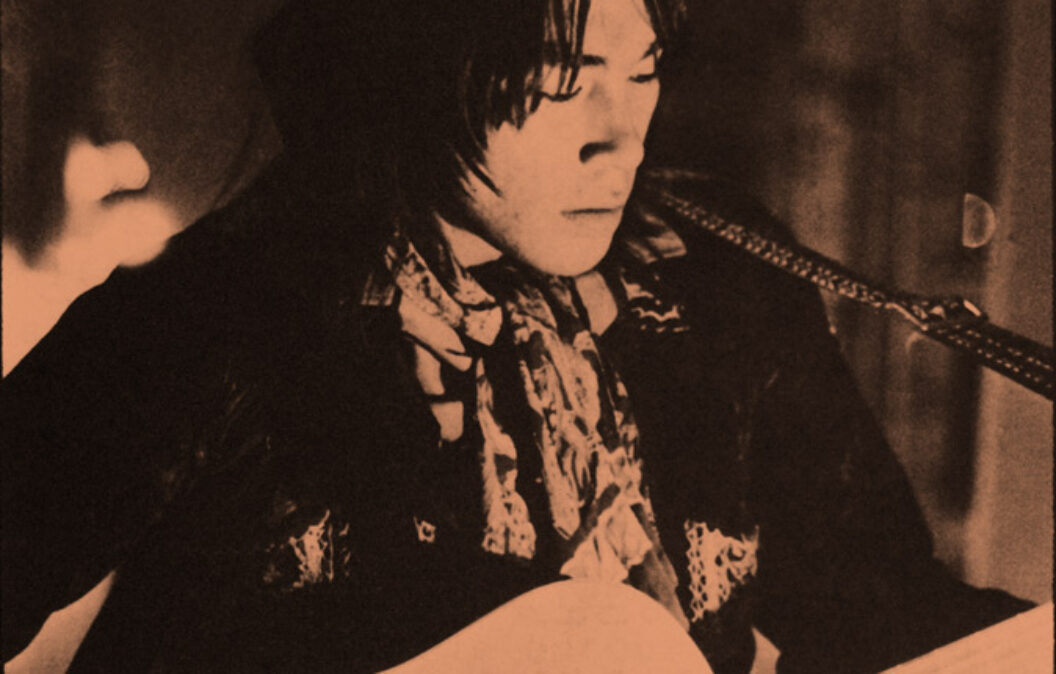 At the forefront of the last year's wondrous Light in the Attic compilation Native North America (Vol 1): Aboriginal Folk, Rock, and Country 1966-1985 is Willie Thrasher's "Spirit Child." Thrasher combines classic rock, folk, and the Inuit chanting of his heritage with a fierce intensity, asking a fatally compelling question along the way: "Spirit child, can I go with you?" The effect is unmistakably emblematic of a phantom rock 'n' roll spirit that must have always been here, just as shaking as Creedence Clearwater Revival's appropriation of the American swamp, and just as bewildering as the first time you hear Mick Jagger's drawl on "Dead Flowers"—but keep in mind this is east of Alaska in the early 1980s.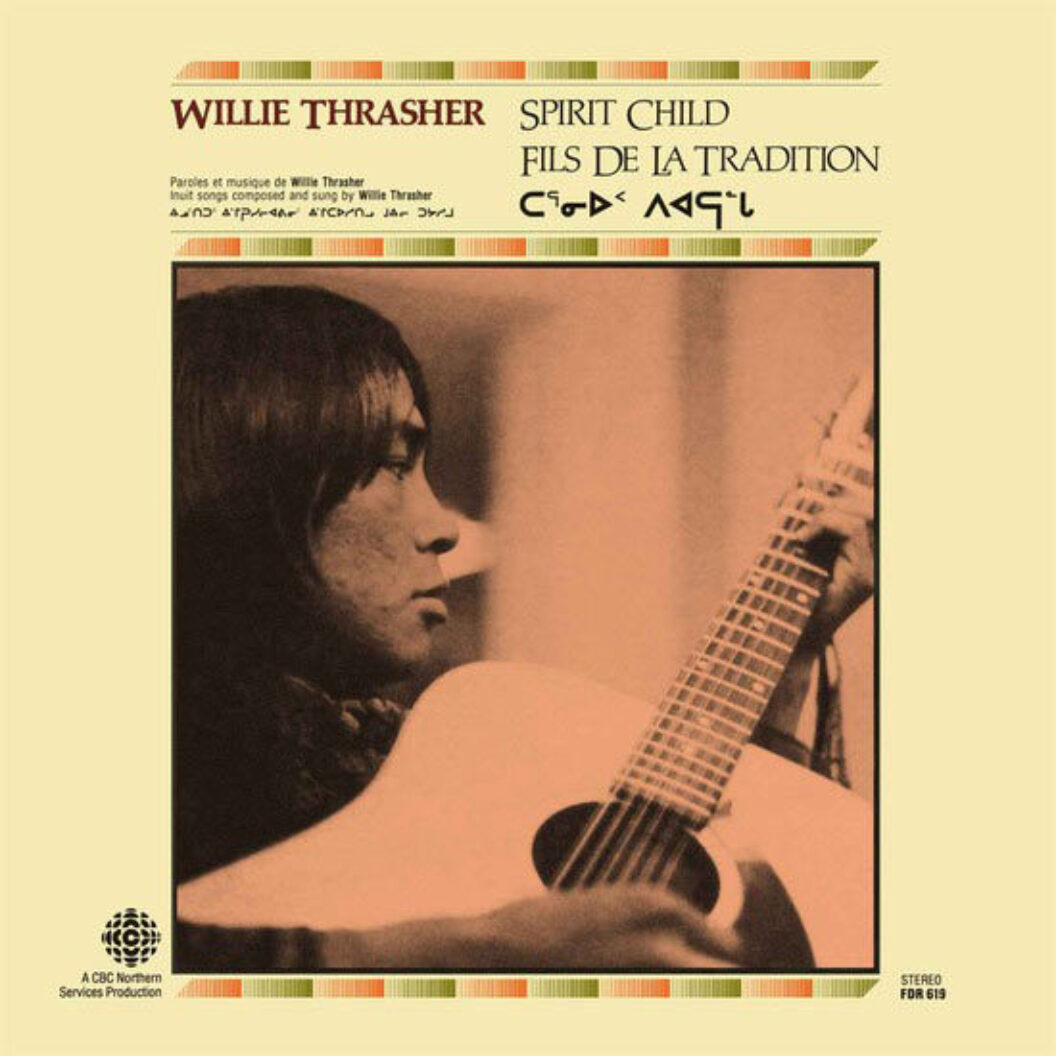 Thrasher, born in Aklavik, the Inuvik region of the Northwest Territories, began his career playing drums in a rock 'n' roll outfit called the Cordells, who quickly won over the town with their lively set of cover songs that got everyone dancing. Following the dissolution of the group, Thrasher endured a minimization of his Inuit culture while attending Canada's Residential School System. Following years of loneliness in Ottawa, it came time to record solo music of his own, songs that could finally reflect his Inuit heritage. An apocryphal tale details an old Inuit man questioning Thrasher after a gig why his music didn't more accurately represent his culture. Initially distributed by CBC Northern Broadcasting in 1981, his album Spirit Child has the sort of outsider feel of fellow Canadian Skip Spence's masterwork, Oar, but multiplied by the rawness of CCR's Cosmo's Factory. "Wolves Don't Live By the Rules" and "Forefathers" are classic rock in an alternate timeline, ultimately reflecting the sprawling and aching sadness of a subjugated Native America. The stark beauty of this record is clearly enduring given its attention this year, and I was lucky enough to speak with Thrasher himself.
Gary Canino You began your musical career as a drummer. Did you ever find that this impacted your songwriting?
Willie Thrasher No, I actually don't think that it affected things. When I was young I always listened to the drums played by my grandfather, uncle, and cousins. I'd sit there and watch them (starts chanting) and it just turned me right on to music. But my family was drumming in a traditional way, and then with the Cordells I was a drummer in a new way: these two ways combined. When it came time to write songs on guitar, I knew the exact kind of drum beat I needed. In the studio, you usually tell the drummer an idea of what to play, but it never affected the way I wrote music. That said, being a drummer was a big turnaround in my life, especially when I began to play guitar. I would try to learn guitar from the guitar players in my band, but they wouldn't let me… because they said it would take the girls away. (laughter)
GC Was that the case with the Cordells?
WT Well, it opened up my mind. At first, I was so shy, then you play in front of 600 people, or 1000 people, all staring at you. After enough time on the stage my fear disappeared and I started going crazy up there with the drums. All of a sudden we're playing "I Saw Her Standing There" or "Get Around" by the Beach Boys. We always got carried away in the Cordells. We worked together as a team and it helped to take the shyness away.
GC How did you get started playing drums?
WT I have a memory of playing a drum set for the first time in my school gymnasium. When A Hard Day's Night came out, I remember watching the way Ringo moved. People in the audience were screaming… and then my interest became high. I knew I was going to be a drummer. I spent one to three hours a day on drums, listening to records, just paying attention to the drums, following the beat. After a year of practicing, trying to make different sounds, and listening to "In A Gadda Da Vida"—which has that long drum solo—I became a drummer. When I became really good we formed a band that eventually won the big talent show, and the Cordells were born. After that, we played all around the Aklavik area, the school dance, and the town's local hall. It was one of the most beautiful times of our lives. We were young, and we rocked.
GC I know the Cordells were well known for their cover repertoire.
WT We learned to play songs that people loved. Anything by The Rolling Stones, "Louie, Louie," the Beatles, "Gloria," Creedence Clearwater Revival, "Baby Come Back"… songs people could dance to. Every time there was a big hit on the radio, people would start dancing to the records. We'd learn the song, and people loved the way we did it. It was the most beautiful time being there with the Cordells, and all of us will never forget the high school days, the shows we played, and the memories we will always treasure in our hearts, as some of members have now passed away.
GC Spirit Child has had a momentous re-release.
WT After the release of the Native North America compilation last year, it's been overwhelming to see this praise all of the sudden. When Spirit Child came out thirty years ago, there were big hits out by Neil Diamond, Neil Young, Moody Blues, Gordon Lightfoot, etc. We were out there at the same time with our songs, but we didn't get the airplay they did. We were young and wild and played at universities, pow-wows, and festivals. But within a year and a half, it all faded away because we didn't have the finance, promotion, or the cushion to be able to tour overseas. Now, thirty years later, Kevin Howe releases this compilation, and we've never seen people loving it so much! It just woke me up and brought me back to these younger days when I was traveling and performing. All of this new attention for aboriginal musical history and recognition all over the world is amazing.
GC I love the first track, "Silent Inuit," which I understand was a minor hit as well.
WT Ah yes, "Silent Inuit," (starts singing)… I left music in the 1970s to go live in Ottawa, and I was so homesick for my family, relatives, and friends. I missed growing up in the Arctic Ocean and going whaling. But there were a lot of problems with the school I was attending, so I moved to Ottawa when I was about twenty-one. I wrote songs, played talent shows in Ottawa, did part-time work with Indian Affairs, washed dishes, and did other part-time jobs in different areas of Ottawa to sustain myself. The guitar kept me going. I'd play in the street. One day, I was so lonely for how things used to be, I took my guitar out at maybe one or two in the morning and wrote the song "Silent Inuit." And that became the most famous song on the album. When I played the song for people they would cry because they really loved it. It brought me away from the loneliness.
GC Who is the female singer on that track?
WT I never met the woman who sings on it. When I saw her picture on the album cover, I didn't even know who she was! CBC picked that photo of her and the child. Everybody thought it was my kid! (laughter) It was really funny at the time, but I had to explain to people that CBC picked the picture. I've heard her name, but I've never met her. At the time the album was released, she passed away. I don't know what happened to her. I wanted to thank her for being part of the song, but I never got the chance.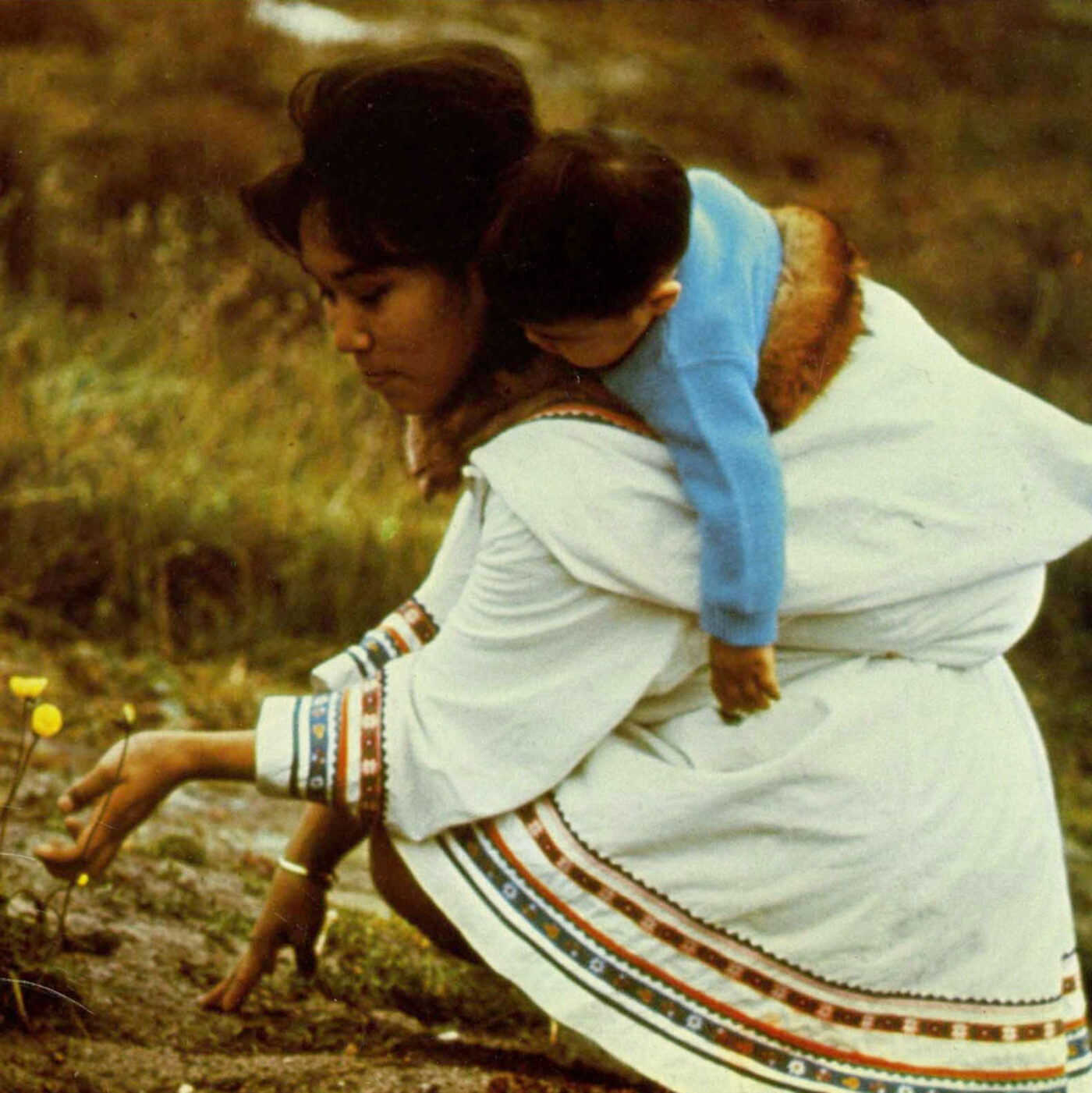 GC There's another guest vocal, that of a man's voice on "Old Man Inuit."
WT He was a famous jigger up in Canada who transferred to work for CBC Montreal, and that's how I met him. I'd ask him to repeat the words I sang in my original language, after I sang them in English. He was so overwhelmed. I lost a piece of my culture and the language I spoke when I was younger, as I would get punished for speaking my original language in the Residential School System. And this man came in and spoke my original language for me! I'll never forget him for that.
GC The album has unique guitar effects throughout that I wanted to ask about.
WT When Spirit Child was recorded, CBC hired all professional musicians, guitar players, bassists, and drummers. Since I never learned to play in time, we recorded everything separate at the studio in Montreal. After my vocals and guitar were done, the lead guitar player would jump in, and the drummer would jump in overdubbing as well. These conventional musicians listened to the songs over and over at home, and they worked on the songs one by one, carefully watching my timing. Eventually they got it.
It turned out pretty good, it just took a little while. The producer did a really good job. The people they picked hadn't played Aboriginal music before, and they weren't used to my timing. I was a good guitar player at the time, but my timing wasn't great. I forgot the names of these men. We were in the studio for a week: we had lunch together, we jammed, we laughed, and when the recording was all over, I never saw them again. We shook hands, said goodbye, and that was it.
GC What is the origin of the name Willie Thrasher?
WT Thrasher is my family name. The original Thrashers were whalers in the Northwest Territories, and they'd go hunting for beluga whales. A hunter fell in love with an Inuit woman, and they were together for a week and a half. When it was time for the hunter's crew to leave, this hunter, my great-great-great-grandfather, saw this woman standing from the shore. He looked at her, took his jacket off, jumped in the water and swam to the shore. He took the name "Thrasher," named after the boat Thrasher.
GC Busking is a major part of your livelihood. How did you get started with busking?
WT When I would go downtown on Main Street I would always see great performers busking, playing the hell out of the guitar, always with big crowds of people around. They'd make a ton of change, loonies and toonies. So then I started busking, and that's what helped me get to be a good guitar player. I've busked in Calgary, Winnipeg, Toronto, Ottawa, Montreal, Quebec City, Halifax, Vancouver, Victoria, and places in between. I did it every year, because it was hard to get a job. I would spend most of my time playing on the streets where all the tourists are. It helped me get by, and I'd sell the Spirit Child album too.
Busking allowed me to buy food, guitar strings, harmonicas, or to help figure out how I'd get to the next town. I traveled with Greyhound over fifteen years, going across Canada back and forth. Those buses were my main transportation. Without Greyhound, I wouldn't be known like how I am today. When I traveled from Vancouver from Halifax, Greyhound was always there, going from city to city. You stay in a place for two or three days, then move on to the next town. Greyhound was sort of like my dog pack. They helped me quite a bit.
GC Do you find that your music is political?
WT The music I do isn't really political. I don't like being in a band that puts everybody down. I try to stay away from that as much as I can. I'm the kind of guy that's trying to get people to work together and make the Earth green. I just want to try to keep spreading the feeling of peace and unity. I love making people dance.
GC I read that you lost your middle finger in an accident. How did that happen, and has it affected your guitar playing?
WT Back when I was living in Whitehorse, I remember walking down the street one day, and there was a big fire happening in the outskirts of town. They were picking up everybody from the street to go help, and eventually they picked me up too. I didn't want to go, but they said, "If you don't come, we're gonna put you in jail," so I had no choice. I went back to fight fires for a week. I had been a firefighter, so luckily I had had experience. They drove me out to fight the fires for a day and a half. One night, I fell asleep around midnight, and I was holding an axe in the permafrost. They had to take half an inch off my finger. At the hospital, the doctor told me I'd never play again, but I didn't believe him. I eventually learned to use my three fingers to play the chords in a different style.
GC I know your last album was a collaboration with your partner, Linda Saddleback. How did you two start to play music together?
WT When I met Linda thirteen years ago, she didn't sing much at the time. Eventually, she started learning all of these songs I play, and it became natural. As the years went by, I didn't even have to teach her the words, she just picked it up and learned it on her own. When we're on stage, we match perfectly, and people just love that. She was part of my show, and everybody loved the way we sound as a duet. Eventually, Linda became the star of the night.
Gary Canino is a musician and writer based in New York City.