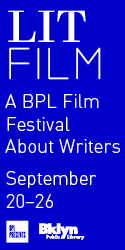 1.
Like those flat stones grazing the water's crest
his thoughts threw themselves in leaps,
curls, and repeats.
Moving ever forward
they hollowed out an intuition, made it rise as poem.
Tonight, at the hour when night tenders
its fabulous veins of dream,
words in wait under his fingers
drift beyond the borders.
With robotic gestures
he claimed to tame the heart of silence,
to subject it to his kneading hands.
To him, hope was a raw child
practicing his do re mi fa sol without la and si.
False musician of the month of March
in his heart he kissed
all the new wives of the world.
He took out loans on schoolboy notebooks
describing the shadow cast from a studious skull.
Open sesame, the shape of his hands
retold the fortune teller's predictions:
promises in high relief,
lovely weather of cinnamon apples,
happy vertigos,
when this or that dreamy girl
will give him the gift of moths,
robbing night to make him ornaments.
Mauve touch of oubliettes.
Burst of lent kisses.
The eyelids' telltale Morse.
Between bone-splinters of silence,
summer passed from least to most,
toward the unsurpassable cardinal points.
And like a troubling vagrant,
vegetal cords braided in time's motif,
touched down in the black orchid garden.
2.
Tonight, the wind dusted the earth.
Hail, pick axe, repeated in submachine gun
the female language of the rain.
Tonight, certain large gestures
didn't even have finality anymore,
barely sketched, all movement stopped.
Beyond the branches' screen,
the last line of the horizon,
where the sun drowses in its blood.
The fireflies' patience
brightens yesterday's blue pages
in the frame of permitted games.
Hushed voices burst forth,
fireworks on the ocean sea.
The text makes joke of exile, rejects it
as a mark on the blotting paper.
The last line of the horizon,
where impatience resounds,
throws him once again into happy sirens' arms.
Beneficent sirens of wandering,
of such magic hands.
Beyond the branches' screen,
a single guitar
plays old and vigilant music for her alone.
Smooth chords that revolt and in counterpoint
sing that old ballad of betrothal,
where the shepherdess marries the prince.
Switch History's partners under a lunar eclipse.
Ancient guitar music!
Beyond the branches' screen,
the hour when night,
having bruised its steps on silent pebbles,
the hour when night tenders its fabulous veins,
he redoes the deduction of planted words.
His seed words, his grafted words,
have borne no fruit, having put down no roots.
Hostile dirt, thumbs not green enough?
The foreseeing hand of a doll,
black hair braided with joy,
the frozen hand of a fetish doll,
often showed him the swerves.
But he saw only the index
finger's moon.
So many sides erased under the khaki gag.
A same compass word,
simmering in the fruit salad of so many years.
Now that his sun is no longer what it was
the time of prologue,
has long been, long since gone.
Ache of all past times,
no new tear under the stars.
Sad, slow splitting of trees.
Now that his autumn
ah! autumn, that unsayable season
when, to sing its swan song,
the entire tree makes flowers of itself
now that his autumn
with slow marauder's steps
approaches winter's trap
dreams smash themselves apart
and somewhere
a clock utters its tick tock, by Christ's eclipse,
under the wood's fireproof flesh.
Today,
the flat pebbles no longer skim the waves
the slow tide soaks them, traps them.
Today, the poem closes in on itself.
Sometimes an unknown hand
excites it, unfolds it with small strokes
and absently crumbles it on the sand.
When writing becomes smoke
the alphabet says its mea culpa,
and math lies down
in the unpublished dust.
Translated by Eleni Sikelianos and Laird Hunt.
Novelist Laird Hunt's books include The Impossibly (2001, Coffee House Press, due out in French this year) and Indiana, Indiana (Coffee House Press, 2003).
Eleni Sikelianos has two new books out this fall: The California Poem (Coffee House Press); and a meditation on her sometimes heroin-addicted, sometimes homeless father, The Book of Jon (City Lights).
—Anthony Phelps, poet, novelist and storyteller, was born in Haiti. A member of the group Haïti Littéraire, he has lived in Quebec since 1964. After 20 years as a journalist for Radio Canada, he retired in 1985 to devote himself to the written word. Phelps has received numerous grants from the Canada Council for the Arts, and twice he has been awarded the Prix de Poésie Casa de las Americas, Cuba. He has written more than twenty books, his work has been translated into many languages, and he has produced and recorded more than 15 discs of poetry read by Haitian and Quebecois poets.
Originally published in
Featuring interviews with Vargas-Suarez Universal and Rocio Aranda-Alvarado, Vladimir Cybil and Jerry Philogene, Carlos Eire and Silvana Paternostro, David Scott and Stuart Hall, Evelyne Trouillot, Sibylle Fisher, Carlos B. Cordova and Daniel Flores y Ascencio, Damas "Fanfan" Louis and Michael Zwack, and Peniel Guerrier and Yvonne Daniel.