What's Going On (or Some Violence To Get Some Good): Ben Jones Interviewed by Jessica Lanay
Painting that works with politics and abstraction.

Discover MFA Programs in Art and Writing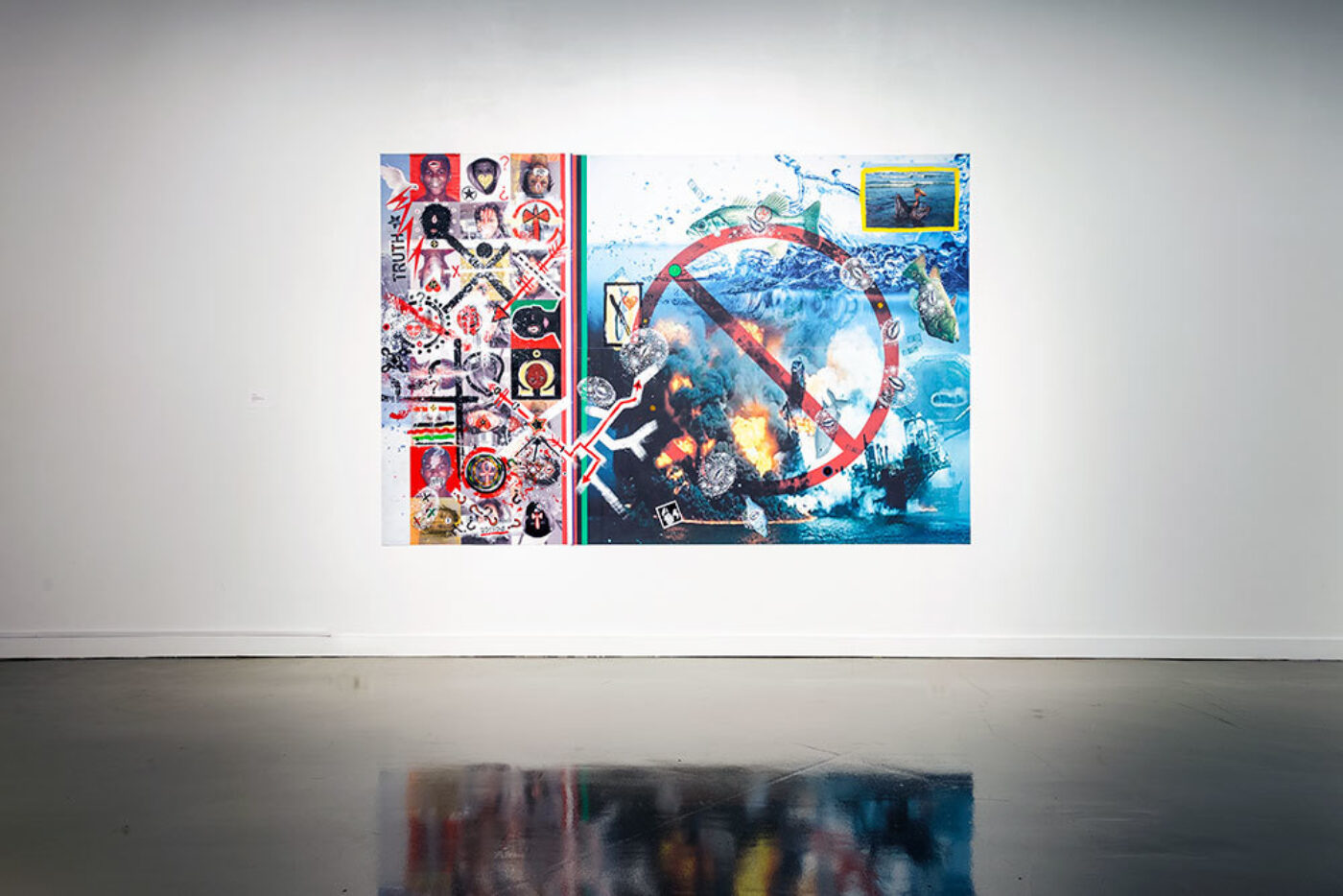 The anatomy of a cloud is accumulation. Through movement, molecules evaporate and become condensed into a symbolic, rolling body. The environment in which that anatomy condenses dictates its form to fulfill a need down below. This is also an adept description for the mind of the multidisciplinary artist Ben Jones. A painter, graphic designer, sound artist, and dancer, Jones reveals relationality among seemingly disparate braids. His praxis is that of a cloud: to accumulate information and formulate it to speak to a need. From Cuba, to South Africa, to New Jersey, Jones's art career is a distillation of survivals and movements, or, rather, it is the grout that assists in holding the tile of each survival and movement together in context. A contemporary and colleague of poets and artists such as Jane Cortez, Belkis Ayón, Amiri Baraka, Chuck Davis, and Elio Rodríguez, Jones has learned and seeks to remind us that it is how we are connected that can make a difference in the next moment, and that politics is everything.
—Jessica Lanay
Jessica Lanay The words politics, spiritual, and environmental appear in almost all of the writing about your artwork. Is there something we are missing in understanding these words as disconnected?
Ben Jones Politics is everything. Politics is making a choice. We can take it all the way from mundane things to complex things. We're somewhat socialized in this country to separate them. This country likes to say, We're a diverse country; to which I respond, Well, yes, we're diverse, but the thing that is interesting to me is how people get separated. So how am I going to get to know you as a human being? Seeing that people are human beings is the most important thing. I think that in a capitalist system we are all individuals, and we are all unique; but it doesn't stop there. What is your connection?
JL In the catalogue for your Museo Nacional de Bellas Artes exhibition, Resistance/Resistencia, in Havana, José Rodeiro uses two quotes to contextualize your work. The first, in reference to Trayvon Martin Wallpaper (What's Going On) (2016), is, "Are we going to be about violence or are we going to be about peace and humanity?" Referring to Malcolm and Fanny Lou: Guerreros de la Libertad (2010), the second states, "You can't separate peace from freedom because no one can be at peace unless he has his freedom." These two quotes seem opposed, with the former calling for nonviolence and the latter for violence. How does your work make room for the existence and usefulness of both violence and nonviolence?
BJ It is the contradictions of life. Life is contradictory. This reminds me that when I was growing up in Paterson, New Jersey, the racism was very strong. During Thanksgiving, the high schools played against each other. East Side High School would play against Central High School. After the game, as the kids were going home, I would always see three or four black boys jumping some white kid who was just innocently walking home. And I wouldn't think, but instead just say, "Stop that. Leave that kid alone. Why would you do that when we are discriminated against? Why are you going to discriminate against him." So the thing is justice.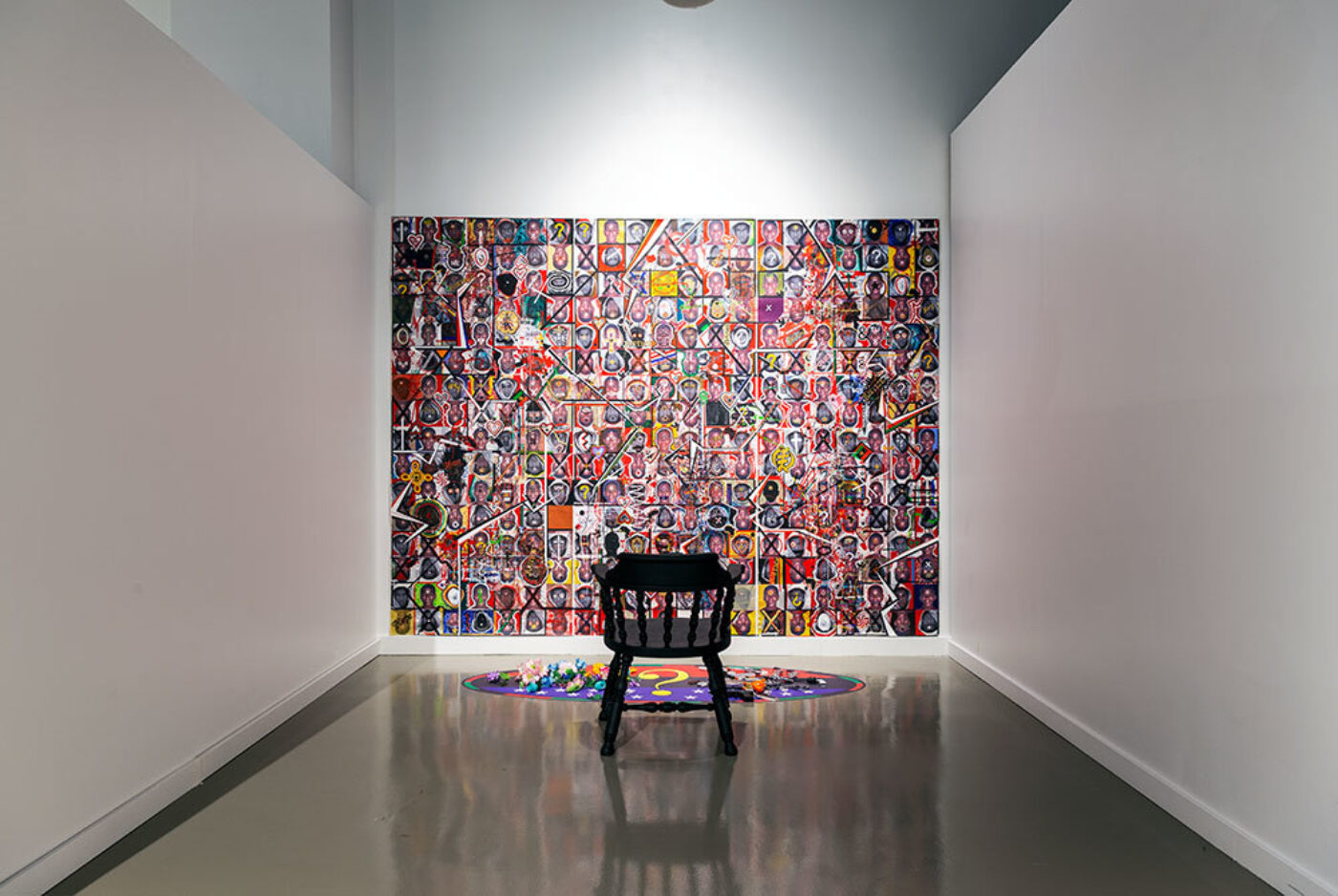 JL Would you say that a cycle of violence and nonviolence is a part of justice?
BJ Well, sometimes you might need some violence to get some good.
JL A just violence?
BJ I would rather see nonviolence. But things aren't this or that. Life is so complex. We have to explore and see what is going on.
JL What do you think of artwork that does not immediately present itself as political?
BJ When you get older, you learn that something might just be your personal opinion. I can't tell anyone what to do for their artwork. I only stand for what I stand for, and I might not like what that other person does, I might think it is superficial, but I don't have the right to say you shouldn't do this. At the same time, I am not quite there yet in terms of dealing with people and ignorance where you can present the facts to them and they still don't want to look at them. You always have to give people respect, but there is ignorance because some people haven't dug deep enough to explore their thinking.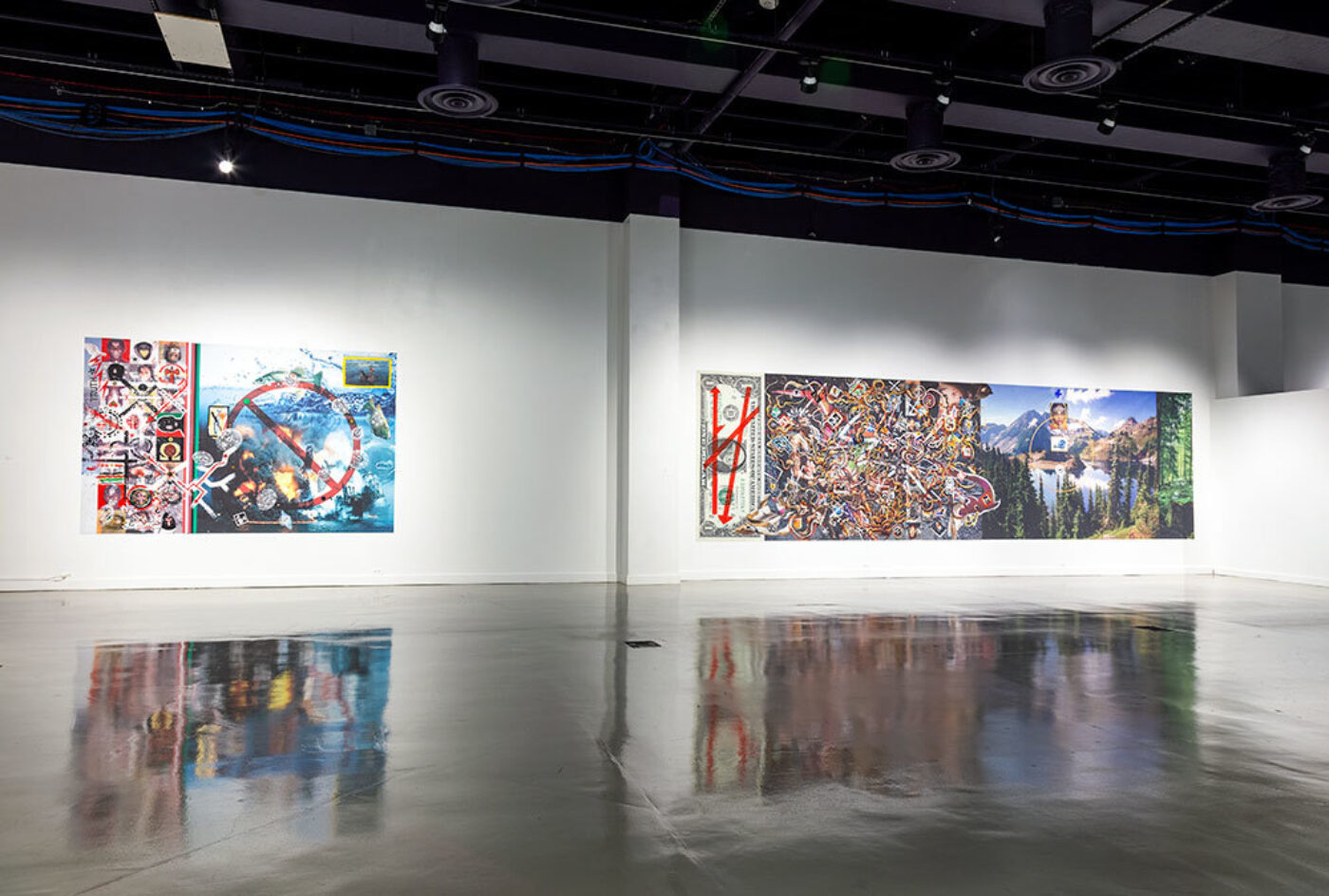 JL The way that your pieces interrogate symbols, eroding them and upholding them, seems particularly Dada to me. Were you ever inspired by Dadaism?
BJ Amiri Baraka wrote an essay called "Ben the Signifier." I used to ask him why he called me the signifier, and he said that it's because you're always implying things, you're signifying things. The older I get the more I know our conscious mind makes us aware of things, but our subconscious is very, very important because it isn't attached in a logical way to things coming into our minds. Like our dreams. We need to encourage people to use their imagination.
JL Some definitions of "post-painterly" describe the aesthetic as a rejection of inwardness and mysticism, but you seem to be interested in addressing those topics. What is your approach to this method of painting?
BJ Rodeiro talks about me and Jackson Pollock and our different takes on abstract expressionism. Sometimes I don't know what I am doing; I just know that I am pulled to go this way. Once when Aretha Franklin was on the Johnny Carson show, after she finished singing, he asked her, How do you sing like that? And she said, I don't know; I am just singing. I relate to that because I love abstract expressionism; it lets a brushstroke and a canvas surface have some life to them. At the same time, I am in my subconscious mind and conscious mind figuring out what I am trying to do.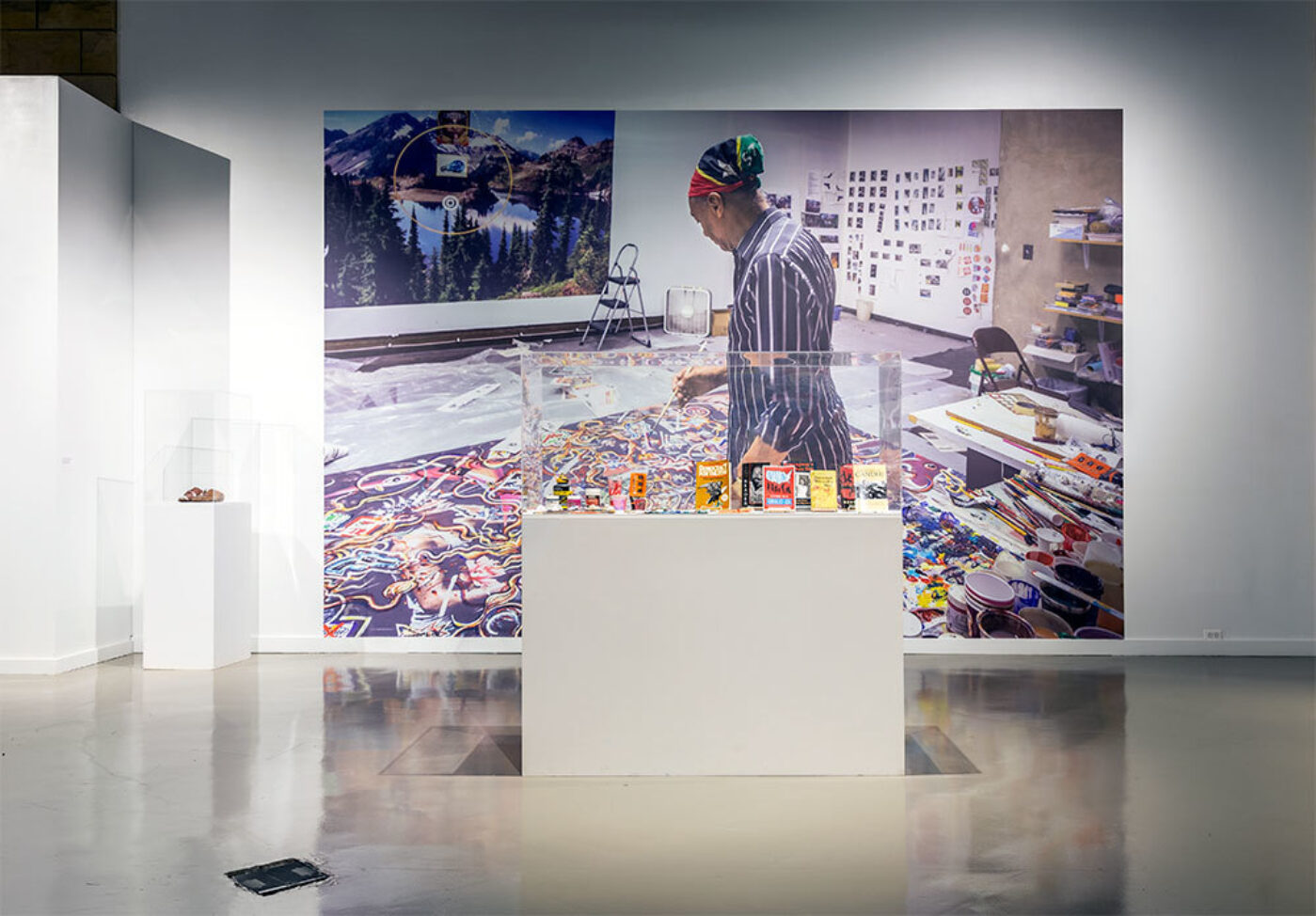 JL In your work, I sometimes envision dance diagrams. How does dance and your lived experience of performance coalesce in your two-dimensional artwork?
BJ Chuck Davis brought me into the Afro-Cuban religion. In the '60s in Harlem we would have bembes. He took me to my first one. It was like we were in another universe. You would see all of these people singing these songs to different deities; people would get up drumming, and it transported you. I was teaching at a university, and I wanted him to come and teach. He came and started teaching African dance classes. Chuck was a big, tall, commanding person, with a strong voice. He was my closest friend and brother. He asked me to dance in his company. Sometimes people see something in you that you don't see in yourself. Chuck showed me that I would make a dancer. So I danced with him for about thirteen years, traveling. I had this evolution that I could be a dancer and an artist at the same time. Again, I always use the word subconscious, because, logically, I don't know how I got all this stuff done. But I did it.
Everything is about rhythm. In the studio when I was younger, I would play popular music; I would get the dancing done but not the art. Now, I just have jazz, or a talk program, or classical music. I love classical music. I find that with classical music and world music, when you don't hear things in the same rhythm or the same inflections, you are discovering another way. Rhythm is an energy that repeats itself in different ways. And in jazz it is very unique because it is not just syncopated; it can change in improvisational ways.
JL If you could make any future, right now, what would it look like?
BJ Justice. Justice. Teach people to have beauty in their hearts, to have regard for all of us. Let's talk about issues; let's talk about policies; let's talk about what makes the world a better place. I am not going to see it all at the age that I am now. But thank God we have some people that are going to fight. It might be many, and it might be few, but we still have to fight for the planet. We have to fight to respect it, respect each other. Be human beings.
Resurgence—Rise Again: The Art of Ben Jones is on view at the August Wilson African American Cultural Center in Pittsburgh until December 15.
Jessica Lanay is an art writer, poet, librettist, and short fiction writer. BOMB is home to many of her reviews and her interviews with artists. Her poetry can be found in Poet Lore, Indiana Review, The Common, [PANK], Prairie Schooner, and others. Her debut poetry collection, am●phib●ian, won the Naomi Long Madgett Poetry Prize and will be published in February 2020 by Broadside Lotus Press. Also in 2020, the opera she libretted, Virgula Divina, composed by Karen Brown, will premiere at the Opera Now Festival and the Pittsburgh Festival Opera program Fight for The Right.