What Sustained Us: Performance
For this particularly challenging year, we've asked Kaneza Schaal, Simone Forti, Anthony Roth Costanzo, Christiane Jatahy, Tina Satter, and Jibz Cameron to tell us what sustained them.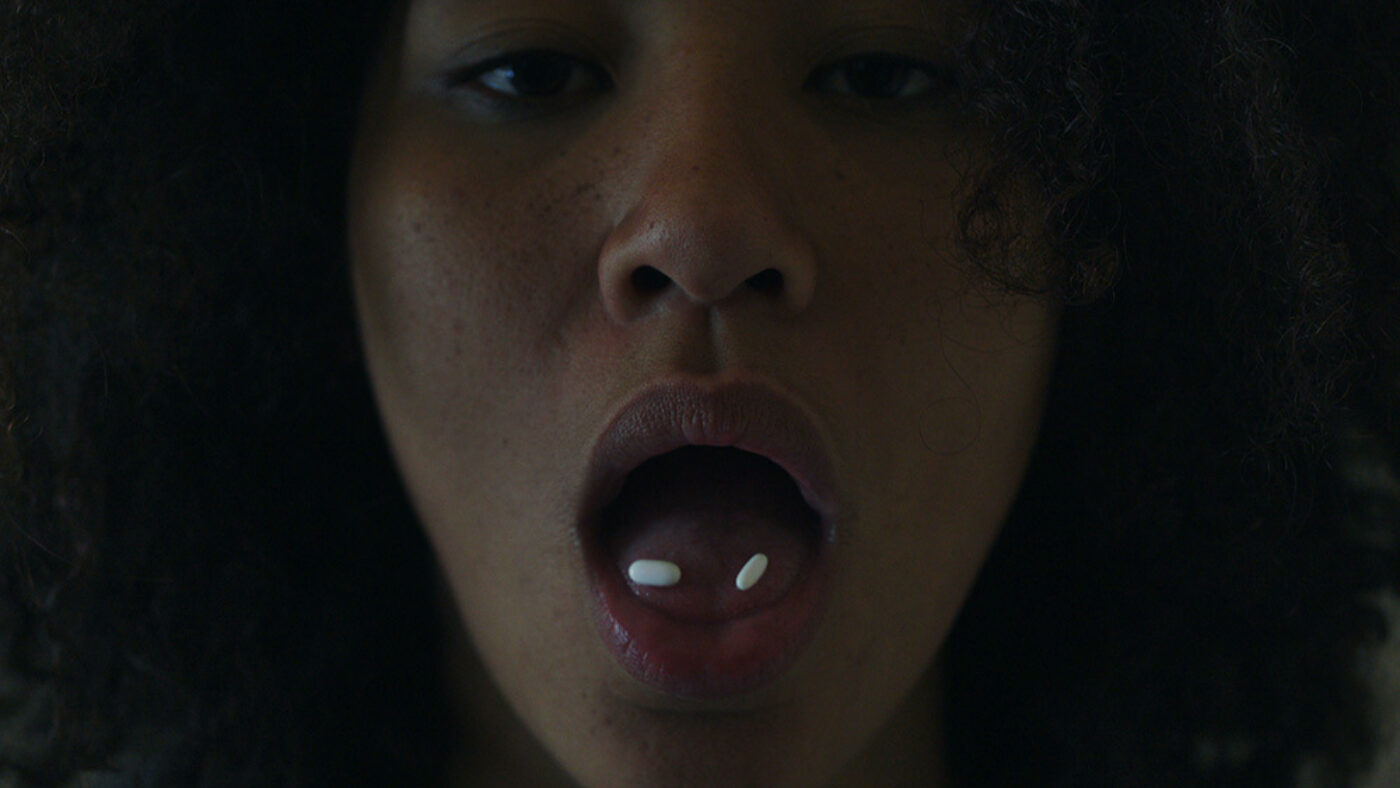 Kaneza Schaal
We are in the bones—of the country, our own psyches, and as artists in the bones of our practices. The moment is hyper-local and hyper-global. Some people are asking for the first time if they know their neighbors' phone numbers or finding a bodega for weekly groceries. We are also in a crisis of global proportion; many people are newly considering their immediate connection to other parts of the world. Theater has always lived at this intersection—a small immediate community sharing big questions about the world. On a good day, I keep falling more deeply in love with these bones. On a bad day … to sustain, I read a poem by Natalie Diaz or Saretta Morgan, watch a short film by Naima Ramos-Chapman or Anisia Uzeyman, or listen to Tanya Tagaq, to help me re-member my own bones.
Read Kaneza Schaal's interview with Christopher Myers here.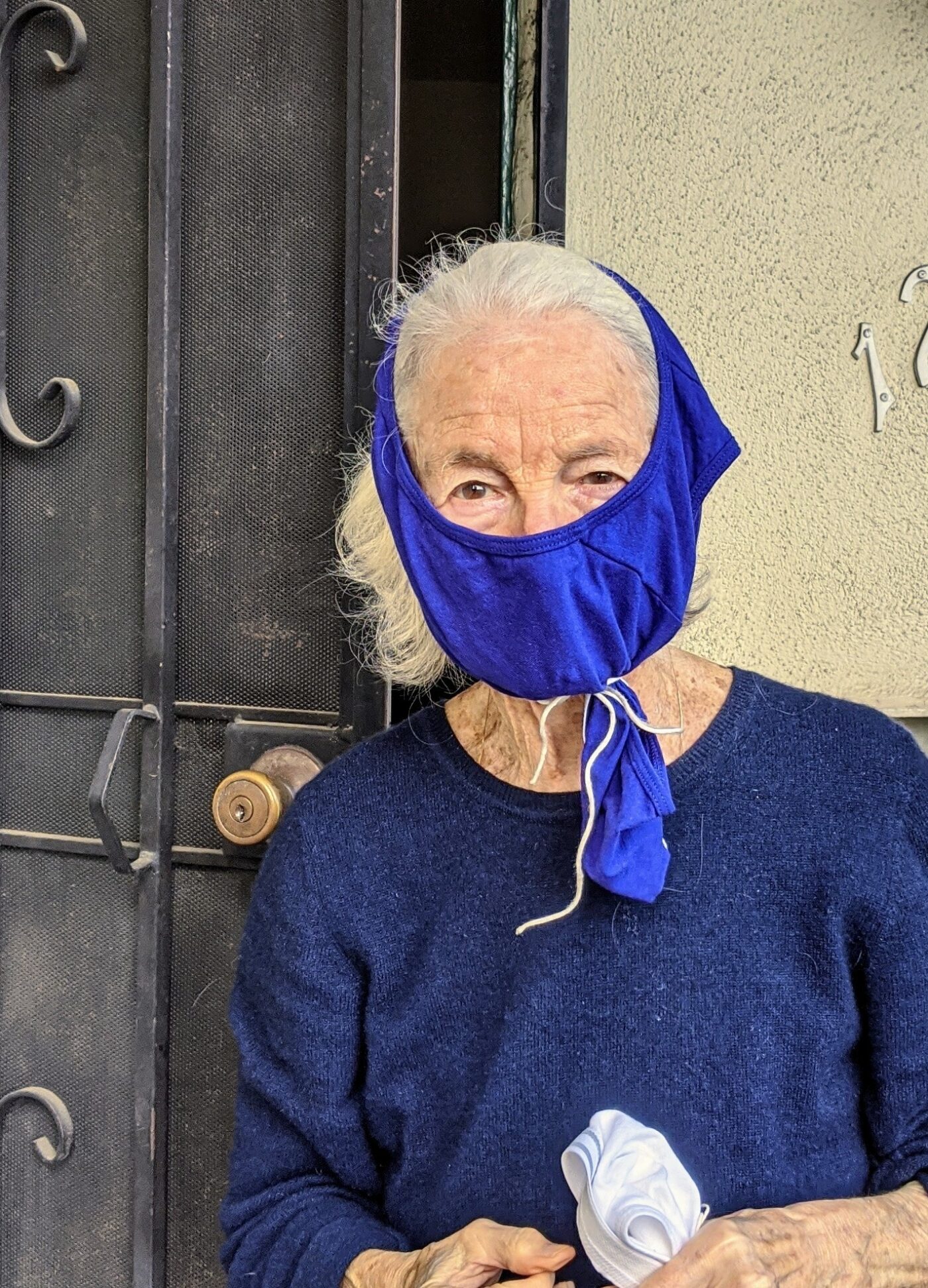 Simone Forti
My night desk, set back between shelves of books and notebooks, is a miracle of comfort. A rock, big as a shoe, sits there where I write, where I read or play solitaire. The rock has a lot of weight to it, so when I pick it up I have a vivid sense of the pull of gravity. Sheltering in place, I watch the news.
Two sirens howling—two ambulances no doubt. Beautiful how they weave their pitches in the night, their phrasing, to the nearby hospital. Passenger inside surprised, scared, feeling sick. From the safety of my alcove, illuminated by a single lamp, I read books from my bookshelves or take up pencil and paper. For ballast, I exchange writings with a friend whose writing I admire.
The cycle of day and night, here it goes again, together with the small tasks, the nightly glass of water. If I can't sleep, I'll seek the comfort of my desk, lay out my Rider pack of cards. I know three games of solitaire. Face up, I watch the odds and evens gather, the two of hearts, red, next to the ace of spades, my favorite card. An ant shows up, insists on being included. We play for dear life.
Read Simone Forti's interview with Tashi Wada here.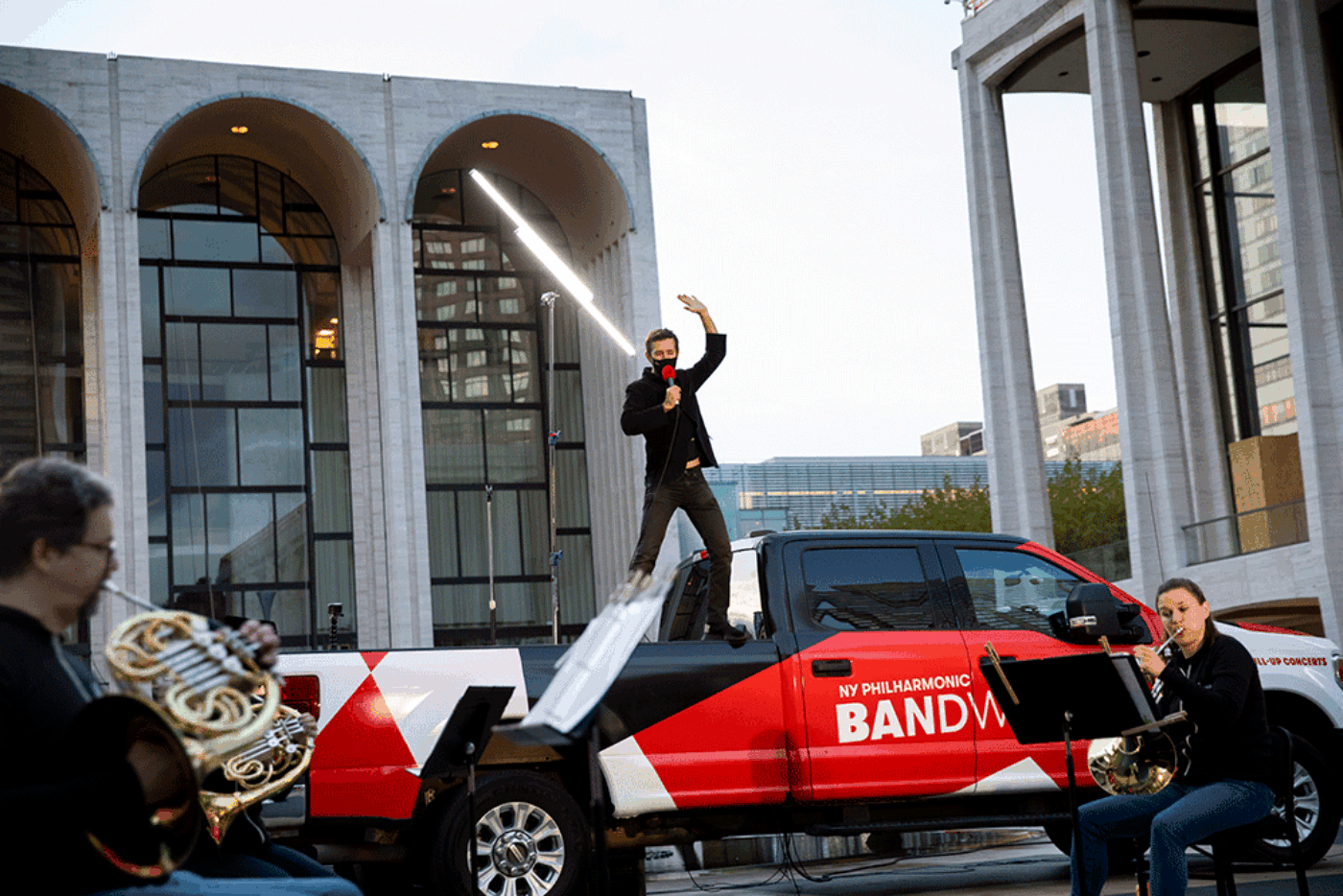 Anthony Roth Costanzo
Normally, I am on the stage of an opera house, carefully watching a conductor in my peripheral vision while I sing in extravagant costumes over dozens of instruments to audiences of thousands. Singing opera has always been ephemeral—the moment you do it, it's gone—but nothing has made it disappear longer than the pandemic. So as I dutifully engaged in virtual music-making online in the spring, I soon realized I desperately missed one thing: communication. Not only between me and my artistic compatriots in the same space, but also with an audience. I was on the phone with Deborah Borda, the president and CEO of the New York Philharmonic, and I said, "How about a pick-up truck?" It could serve as a mobile, outdoor stage of sorts, with small groups of orchestra members performing each week, playing completely unannounced "pull-up" concerts. It was a simple idea, but one we executed well, and thus the Bandwagon was born. The truck was a tricked-out Ford F-250 truck that we took to different neighborhoods in every borough of New York City. There were community partners, special guests, and world premiere compositions. Over the course of eight weeks in August and September, we did eighty-one concerts. And I got to sing something with those incredible musicians on each one. I saw every imaginable manifestation of human emotion: from flowing tears to jubilant dancing. It proved to me that live music is indeed universal; it's primal, and it is necessary because it can help heal us.
Read Anthony Roth Costanzo's interview with Justin Vivian Bond here.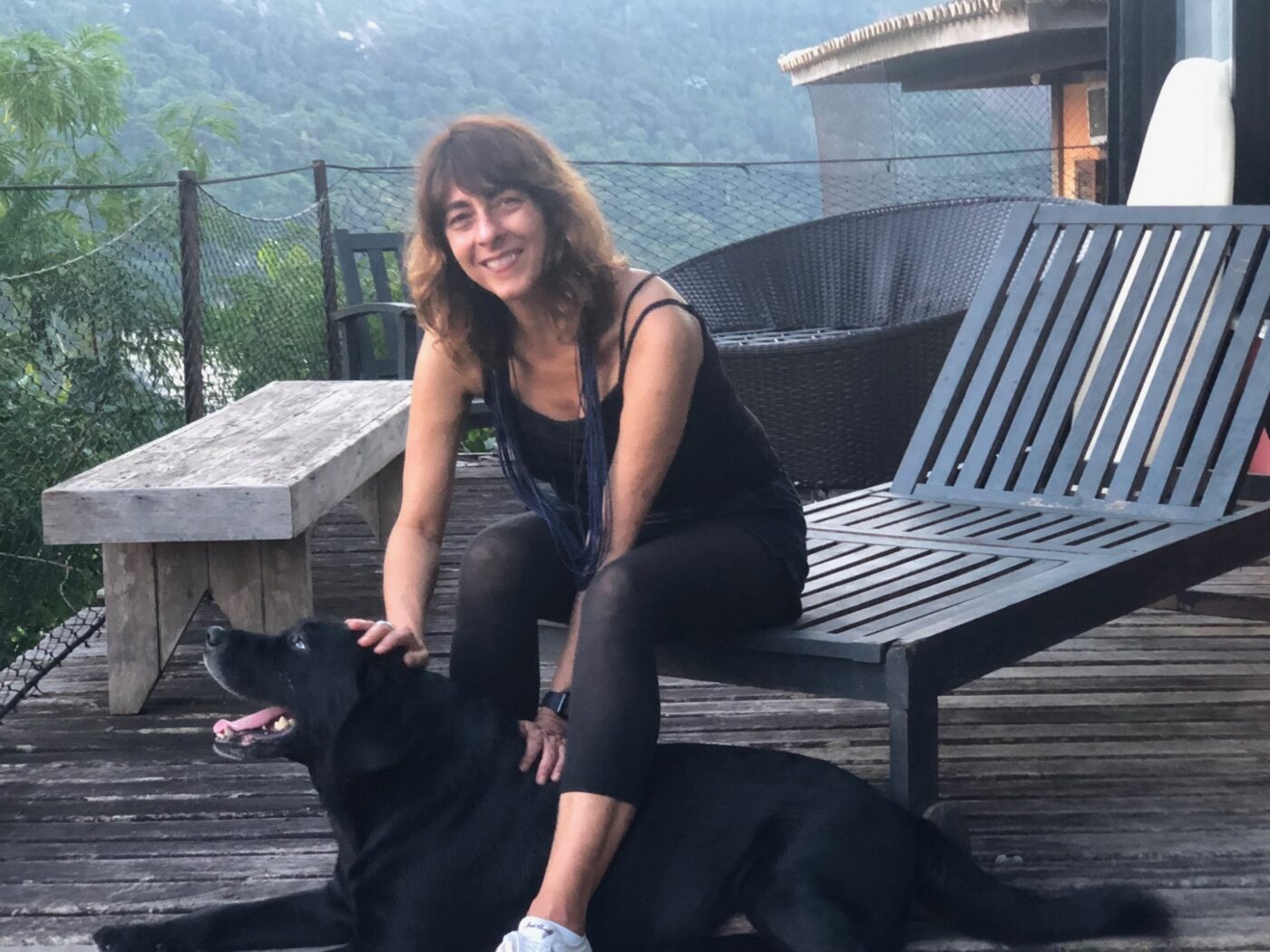 Christiane Jatahy
The year 2020 started with the suitcases packed for a series of international tours and the rehearsals for a new creation in Geneva. And with a sharp rise in the number of COVID cases in Europe. In the second week of March each day another stage of the planned tours was canceled, and with the looming threat of a confinement—which eventually became reality—I decided to return home. To Brazil. The clothes returned to the closet, the empty suitcases tucked in a corner, and the books, films, and writing blocks left the shelves and came into my hands. And instead of heading out, the traveling became inward. Reading, writing, and playing with my dog became the main trails of the 180 days I stayed at home. Difficult to highlight one of them; in terms of hours spent, writing probably came first: a play, a film script, a project for managing a theater, several ideas, some dreams, lists, and many emails. But with each pause in writing, every time my eyes wandered off the computer screen to think, the wagging tail of Joca—my labrador—would pull me away from the desk and drag me to playing, with a ball, or with walks in the garden, or with water from the garden hose. The creations mingled with him, and from these breaks I would always return with a renewed energy to write and with a bit more strength to face the outside, to look at this country that was—and still is—falling apart under the hands of an insane and violent president, destructive in his handling of the pandemic but also way beyond that, the destruction of a people in all its expressions of diversity, of the environment, of hope.
Today, during this second wave, I'm in Europe and rehearsing the play that was scheduled to happen in the first half of 2020. I continue writing, creating, now without the breaks to play with Joca, but with the joy of returning to the rehearsal room. The actors rehearse with masks, but their eyes are glowing with desire. The writing now is on the stage, in space, in ourselves, in the expectation of meeting the audience again. And even more, in the hope of a possibility that this moment of change could guide us to better political and personal choices.
Read Christiane Jatahy's interview with Jay Scheib here.
Tina Satter
Just gonna say it: Fiona Apple's Fetch the Bolt Cutters. Female voices, poetically strange but super true mantras, and people being funny are things that calm me down and incite me to action—and I hadn't had an album, or really anything, do this so fully in years. I'd sit alone in my Bushwick bedroom in the small apartment I was sequestered in with my partner from March 13 until June when we left our block to walk to the George Floyd protests. I'd listen to the album, singing at the top of my lungs. I think the fact she's an enigmatic popstar and I was reading bouts of press about her fueled this too; I can't deny it, I can fall for contempo myths. And I'd think of Fiona in California with the animals in the articles and barking on the record, and I'd whisper "Shameika" along with her (they just reunited in real life and made a remix!). A lightning bolt energy held me and connected to the re-molecularized space through the window teeming with terror and pain that was not abstract at all. When Fiona sang lines like "I resent you for being raised right, I resent you for being tall" and "I won't shut up," I'd get to laugh, but also feel again the first kind of power I'd ever felt inside my body when I knew, for a moment, that the power did come from inside me, not outside me, and you cling to that.
Read Tina Satter's interview with Katherine Cooper here.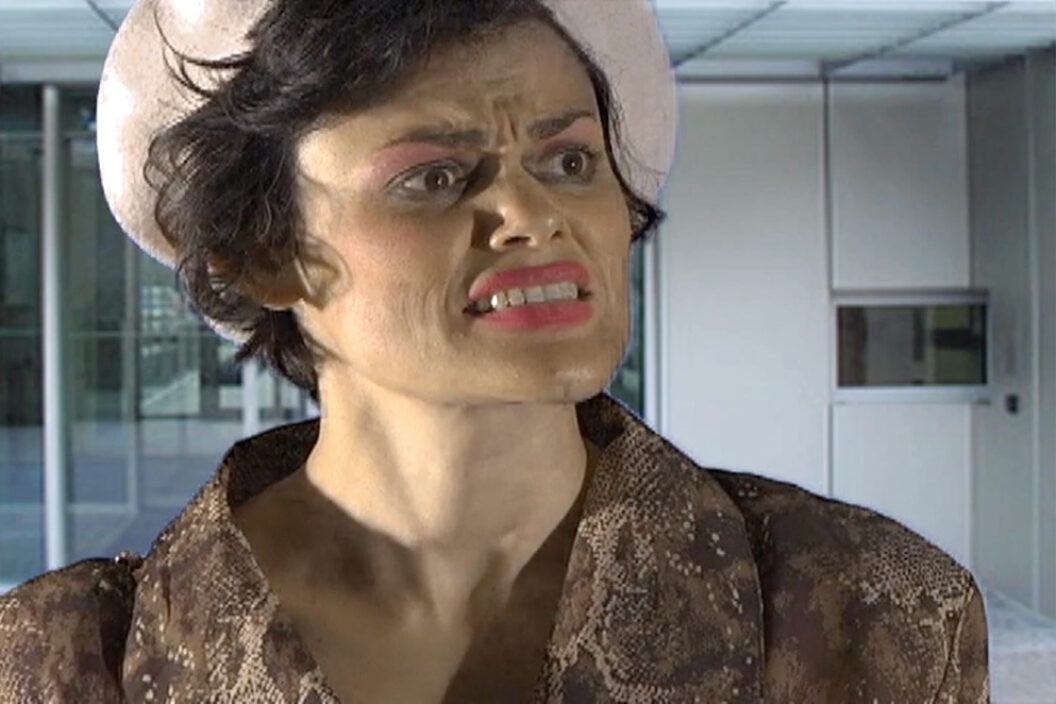 Jibz Cameron
I am only comforted by my stupidity and my lack of power. If I worry, I am only duping myself into thinking I have some control over this monstrous vat of cosmic slop that is going whatever way it pleases. I ask the universe daily to wrap me in "I don't know, maybe!?" but also, "I don't know … maybe not!?" Rather than, "BUT WHAT IF!!??? THEN … AND THEN!!??" Then I can be of use to no one and nothing. Easier saideth than dideth. Godspeed, nerds!
Read Jibz Cameron's interview with Svetlana Kitto here.