Discover MFA Programs in Art and Writing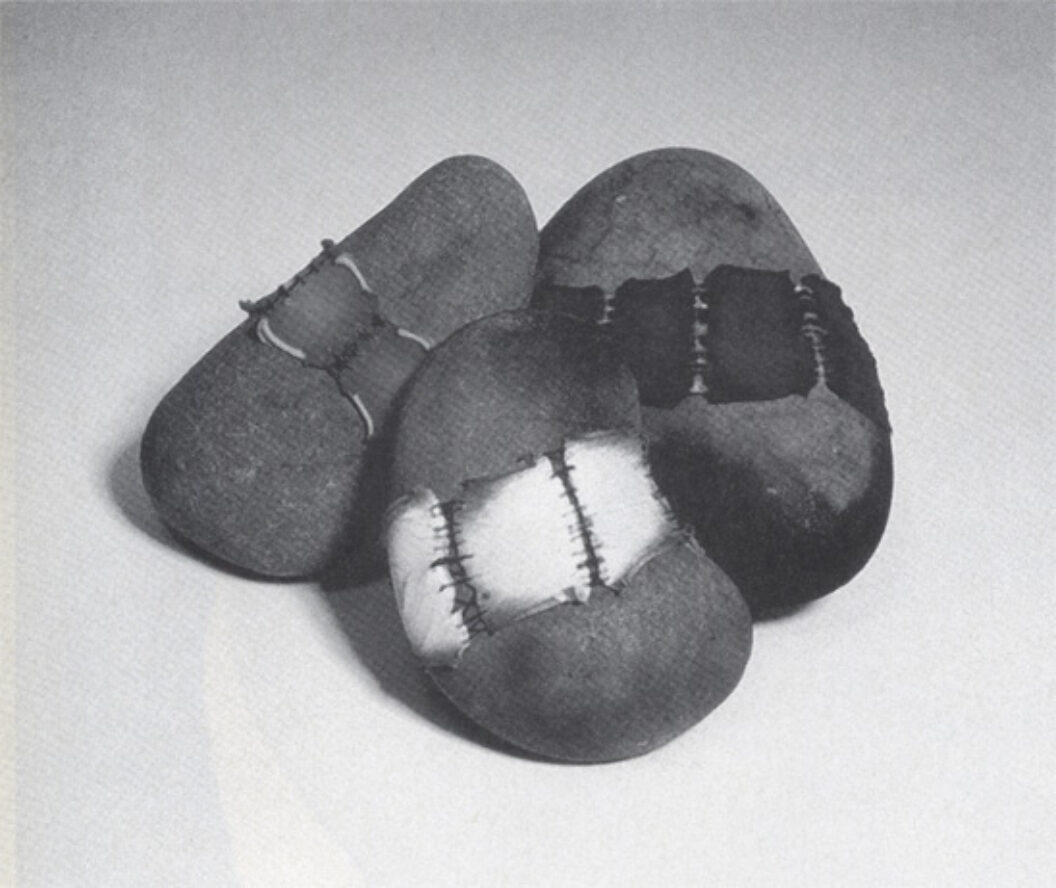 As we grow our skin stretches to contain what lies beneath it; the tiny shimmering webs of stretch marks remind us that our skin expands as we do. Like sausage casing, it is the skin that appears to hold our insides in place, while just beneath the surface our blood continues to rush. Not a hard, protective shell—our skin is soft and permeable; a marker of our vulnerability, our burns, scrapes, and inevitable scars.
Wendy Hanson's installations play with the loaded symbolism of skin by representing it metaphorically. Much of her work begins by plucking fresh rose petals and stitching them into flattened sheets. When dried they resemble the fleshy tones of a body, with its evident veins and imperfections. The stitchings of these petals are not invisible to the eye, but rather are harried patchworks, a frenzy of skin stretched for filling and marking.
In her newest series, Hanson has created an installation comprised of river rocks with rose petals fitted tightly around their middles. The beauty of these objects is ironically undercut as the viewer realizes these petals are fragile corsets of sorts, stretched near to bursting around the impenetrable figures of the rocks, though they are clearly useless, unable to alter the river rocks shapes which lay splayed across the floor. The overabundance of these rocks, their excess, is a marker of Hanson's work—the spilling out of stuff is always measured against a form stretching to contain what lies inside it. Hanson's repeated attempts to make objects that are fixed and stable, that will not fatten or wither, is a futile exercise when set against her choice of ephemeral materials. This work exposes the viewer to its fragility and impermanence, and is suggestive of our own slow and inevitable decomposition.
—Suzan Sherman
Originally published in
Featuring interviews with Frank Stella, John Currin, Jim Crace, Frances Kiernan, Brian Boyd, Marsha Norman, and Arto Lindsay.