We Are More: Nora Maité Nieves Interviewed by Margaux Ogden
Bringing painting into space as an object.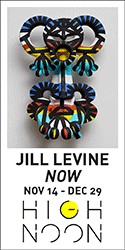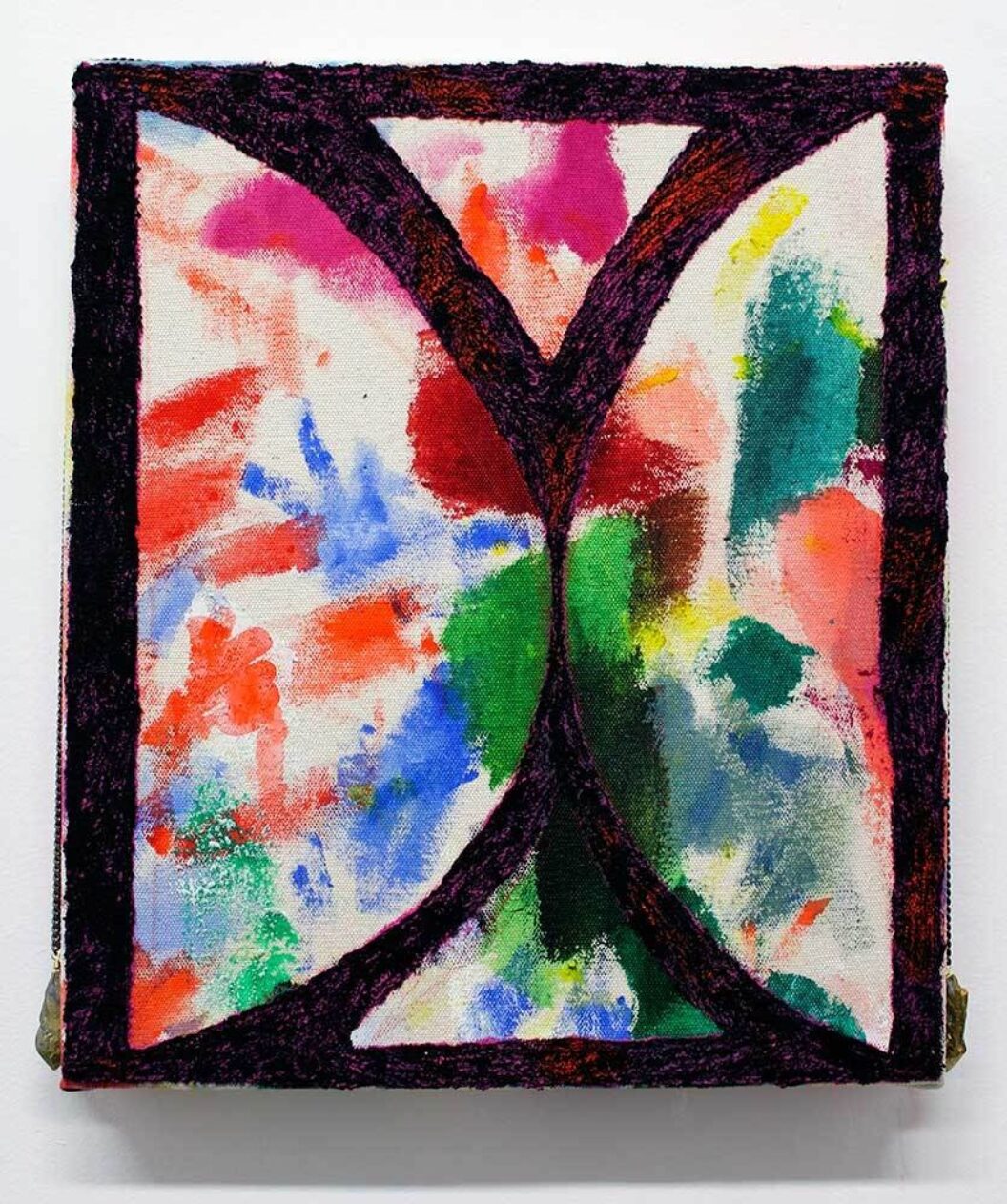 Nora Maité Nieves paintings sieve through systems of contemporary abstraction the architectural nuances of her childhood in Puerto Rico and the spirit of the recent protests there. The resulting works are materially seductive and in the thrall of both social and personal memory.
While there are moments in the paintings that reference the named world—body parts, botany, concrete breezeways—her practice is foremost a love letter to a practice of abstraction that is carefully considered and courageous, but also intuitive. We met in her Greenpoint, Brooklyn, studio to discuss her current exhibition, Full Moon in the Sun Room.
—Margaux Ogden
Margaux Ogden I appreciate how you carry the painting around the edges. When I was younger, people would discourage that because it turned the painting into an object, but that never seemed like a bad thing.
Nora Maité Nieves Painting the edges makes it clear that it is an object because it gives it a continuity. The edges make the painting more sculptural, and moves you from the front of it to its sides. I even like when the painting process is visible on the edges through drips, layers, and fingerprints. Today, I feel like it no longer makes sense to think of paintings as either a window or an object. A painting can be both, and I think of mine as both. My paintings are their own entities.
MO It really opens up how you see the work. What about this painting where you've cut out some of the canvas? I like how the stretcher bar has a prominent role here. As I'm looking, I'm wondering if I'm supposed to be seeing that flashy gold-and-black thing behind the canvas or if it is being concealed.
NMN This painting, Looking at My Neighbor's Yard, feels like a new direction. I paint in layers and build a painting by covering and unveiling parts of it. I decided to cut through the canvas—thinking it could function in the same way as masking—which made me consider the stretcher bars as its starting point. I painted the stretcher bars first, knowing that I'd be able to see one of them once I cut through. It feels a little bit like jewelry, like hidden treasure.
When I was younger, my mentor, María de Mater O'Neill, taught me that color works in layers and to think in the space in between them. That has always stuck in my mind—how color lives in a tangible and intangible space, and how light comes through the color and activates it. This is how I started thinking about space and literally bringing the painting into space as an object. Like this thing is so physical, so present!
MO There is something sensual about the texture and touch in these paintings.
NMN They're a mix of pumice, molding paste, and fiber paste with pigments. I also use resin with pigments and acrylic skins to create the tiles. A friend was looking at a painting recently and said she wanted to get close and lick it. Before, I was painting women and thought I was being critical of the exploitation of women's bodies and consumerist culture, but I was actually just looking at it with the same male gaze. At the time, I was working in restaurants, so I started thinking about how desserts looked like paintings. Desserts drew everyone in; it was like a point of communion with a group of people collectively wanting something. The paintings evolved in that way.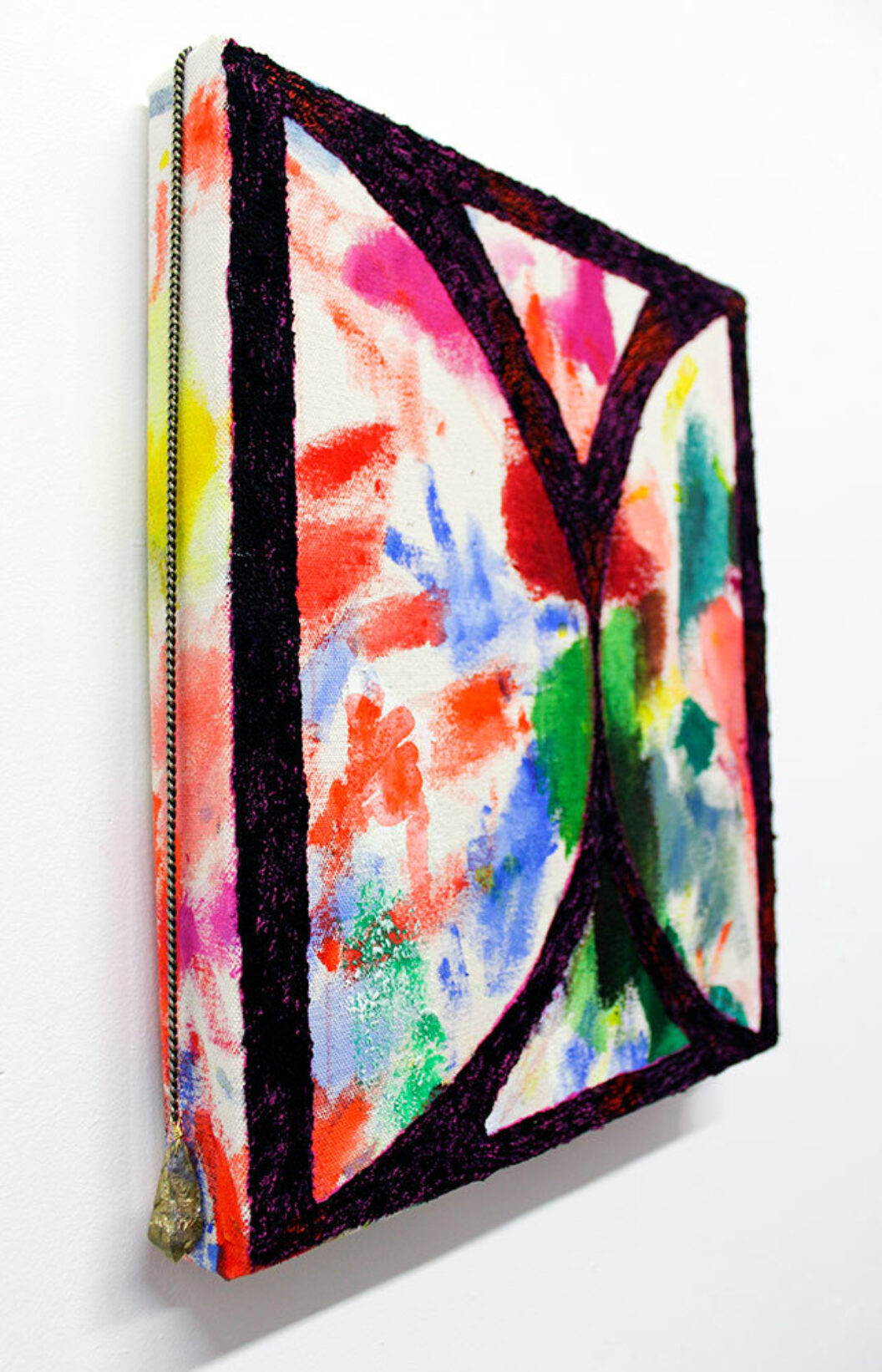 MO You also make jewelry. Do you see it all as one process, or are they totally separate for you?
NMN I've always found them to be separate. Jewelry making is part of who I am too, and for a while I was working solely on jewelry and wasn't painting as much. But it seemed like I was making my paintings through my jewelry, and they weren't wearable at all. It was at that point that I realized I needed to focus on my paintings again. Now, these two disciplines have combined in my art practice. I'm adding jewelry to some work. I see them as ornaments or amulets to protect the paintings. I see jewelry everywhere. I love looking at decorative concrete blocks, or drapery hardware, doorknobs, hinges, radiators—all these objects that have a specific style and shape. I see these elements as the jewelry of a space.
MO What you're describing kind of reminds me of the Barnes Collection and the way all of those paintings are installed, highlighting their relationships to these other objects. You grew up in San Juan, Puerto Rico, so I'm also thinking about the unique architectural embellishments there. Do you think that comes into your work with the tiles, shapes, and colors you're using?
NMN All of that is definitely part of the work. One of the reasons why I started looking at the floor for inspiration was because of those references. I moved a lot as a child, and when you move a lot, especially when you're renting, landlords don't care about the aesthetics of the renovations, so a bathroom might have three different types of tiles on the floor or several different floor patterns in the house. I always disliked it and thought it was ugly, but I started bringing these aspects into the work, owning it, and then appreciating it more. There are fragments in the work, things that remind you of home—in my case, my home—but they're universal, and I like that it can take people to a specific time and space, regardless of where that place is.
MO The bathroom can also be a really seductive place. The enamel of the bathtub, the tiles on the floor, the water, the geometry. There is a delicate balance in these paintings between carefully constructed spatial logic (like the geometry of a bathroom) and an amorphousness.
NMN Most of my references come from memories and using my spatial memory, like how you remember a space or place by walking around it in your mind. The whole map shifts. It connects space with events and emotions. Dimensions and scales get shifted; it becomes like fiction. I have decided to embrace that about memory and deliberately create new floor plans of rooms and architectural ornaments that are not quite real, forming collages that you can navigate visually. I think, for me, ideal spaces in my work aim to be warm and intimate; therefore, they might end up being very seductive.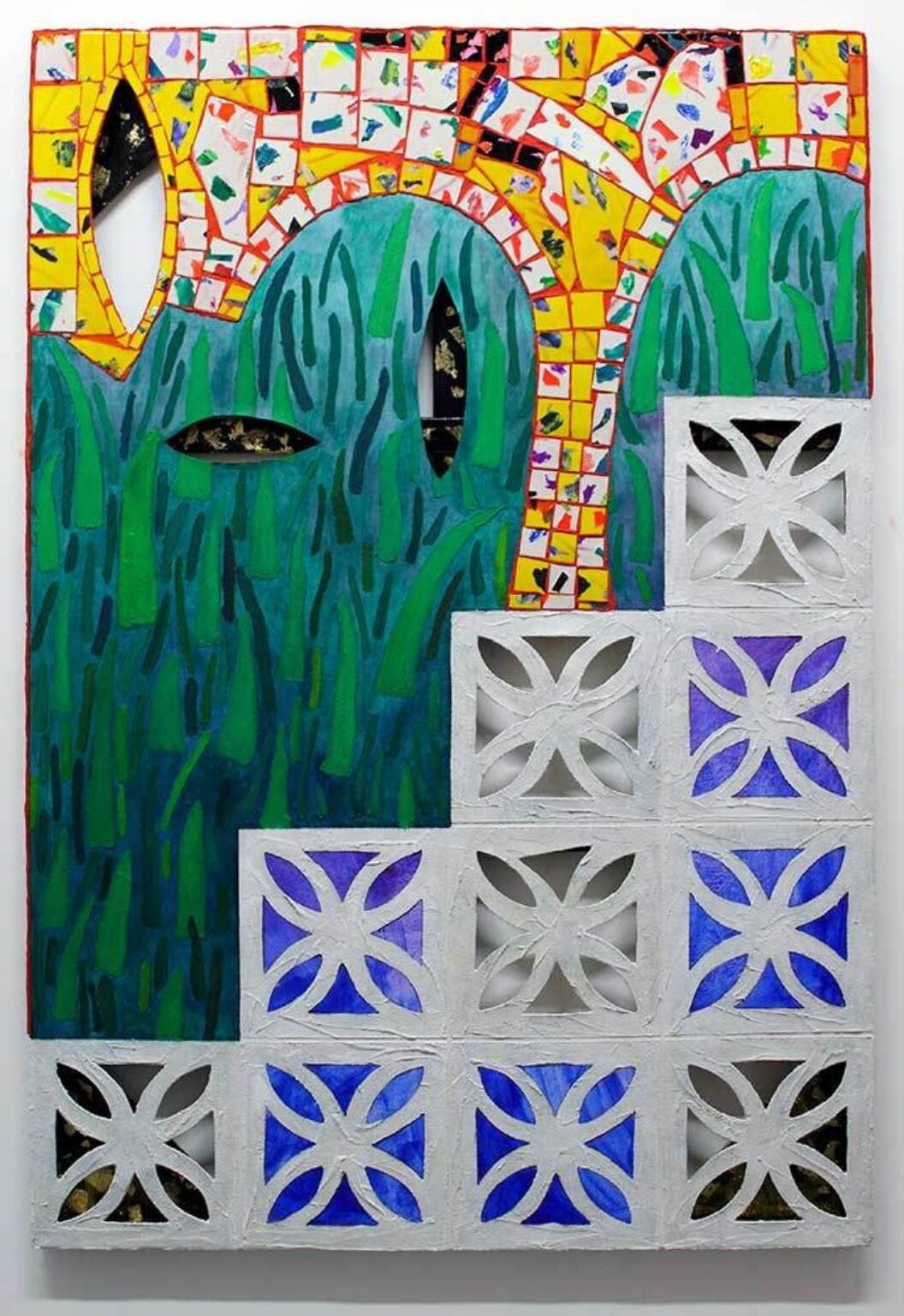 MO There are some low-fi gradients, grids, and areas that remind me of early drawing tools on the computer. Do you have a relationship with any of those programs now or did you when you were younger?
NMN Not in the literal way, but maybe as an analogy. Recently, I've been thinking about collage and how strongly my work is about collage. I reflected on the concept of bricolage in terms of web design. A website is basically the combination of multiple things located in different places, so when you click on a site, it is the connection to all the parts that you see at once flat on a page. That's the bricolage. I think, put simply, my work is like that, the adding and subtracting of parts.
MO There's this teardrop shape that is present in a lot of the paintings. I like how it functions as a symbol throughout the work.
NMN The shape is from decorative concrete blocks that are really common in Puerto Rico, but I've also found them in NYC, especially Brooklyn and Queens. I love finding them in New York because it feels like finding a little bit of home inserted here. It is a joyous image for me, so I started using this part of it. It is like a leaf shape, but it is also like an eye and like a vagina. A very feminine shape.
Sometimes I think of them as a representation of people. There was a big protest in Puerto Rico happening while I started working on one of the paintings, and an image came to mind of these shapes together in the room. It made me think of people marching, and it felt so deep and concrete that I went for it. I'm thinking about naming this painting Somos Más—we are more.
MO What happened in Puerto Rico was amazing. It is easy to get disillusioned and think that protesting isn't effective, but what happened there was really powerful.
NMN For something like that to happen, everyone has to agree to make change. Sometimes I think if we do that here, if we all come together, the same thing could happen. But the country is so divided here, more than in Puerto Rico. The Women's March was really powerful, more as a symbolic action about letting the people know we are here and we don't support the president. But in Puerto Rico, they were marching and protesting to let the government know that change needed to happen now and the people were not going to leave until it did. It was a demand for action. Puerto Ricans come together in a strong way. I don't know if it is the result of being an island. We all feel close, even when so many are far from home. I think after Hurricane María and the financial crisis the people of Puerto Rico felt there was nothing to lose.
I don't make work directly about identity or political views, but Puerto Rico and its history is embedded in my work.
MO I struggle with that too. So much terrible stuff is going on, but making nonrepresentational paintings can be political. The politics don't have to be overt, and you don't have to always point at something; but if it's a part of you, then it's a part of the work.
NMN I think it is important because abstract painting can evoke different emotional reactions in everyone. It also can be like finding a lake in the middle of the desert. Sometimes you need that relief. Abstraction can call out, but it also gives people a place to breathe. You go deep into the painting, but what you find in there is yourself.
Nora Maité Nieves: Full Moon in the Sun Room is on view at Fresh Window in New York City until November 24.
Margaux Ogden is an artist based in New York City. Solo exhibitions include: Rental Gallery in East Hampton, NY (2018); Embajada in San Juan, PR (2016); ltd los angeles in Los Angeles, CA (2015); and Freight & Volume in New York, NY (2015). She received a BA from Bard College in 2005 and an MFA in Painting from Boston University in 2012. In 2018 she received the Pollock-Krasner Foundation Grant. Residencies include Skowhegan School of Painting and Sculpture and Yaddo.