Water Portraits: Carolina Caycedo Interviewed by Louis Bury
An artist working with communities around rivers.

Discover MFA Programs in Art and Writing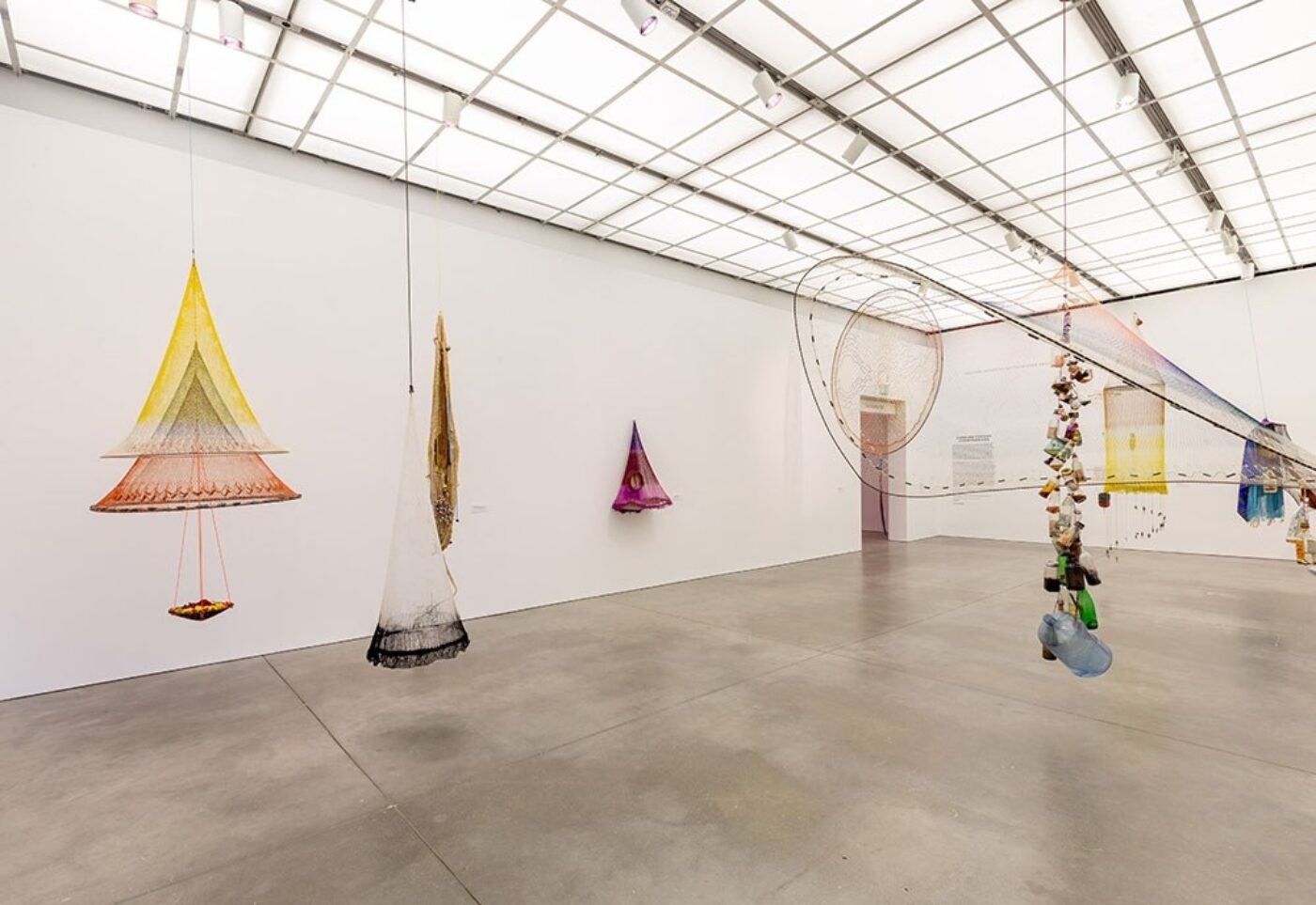 From social practice works that created personal barter networks (Street Museum, 1998–2002; Day to Day, 2002–9), to a multimedia fieldwork-based exploration of Latin American rivers impacted by large dams (Be Dammed, 2012–ongoing), Carolina Caycedo's art proposes alternatives to dominant cultural patterns of making and relation. Be Dammed's Cosmotarrayas series, on view at the Institute of Contemporary Art, Boston, transforms materials given her by riverine community members—handmade fishing nets, gold-washing pans—into hanging sculptures whose exquisite construction affirms the power of reparative care. In To Drive Away Whiteness/Para alejar la blancura (2017), for example, a taut net, whose ovoid shape and shimmering coloration recall an enormous soap bubble pulled by a public park performer, contains a droopy pendant of bottles in its center. The bottles' grimy interiors, in which banknotes float in silt-streaked water, showcase capitalism's soggy dregs; yet the netting overhead elicits the kind of wonder children experience when they crawl under a tent made of bedsheets. The contrast encapsulates the grace with which Caycedo's work confronts injustice, as well as its insistence on beauty and joy in the face of colonialist environmental harms. With courage and imagination, her work models how damaged parts of the world can be rebuilt and reconceived.
—Louis Bury
Louis Bury What were the origins of Be Dammed?
Carolina Caycedo In previous projects, I was committed to interventions in public space, mostly in urban contexts. With Colectivo Cambalache, we run the Museo de la Calle, or Street Museum, a barter and informal redistribution initiative in which passersby can barter secondhand objects in our impromptu street installations. This project celebrates nonmonetary exchange and public spaces as places for the circulation of knowledge and wealth. Be Dammed came to life when I understood that, in rural contexts, rivers function as public spaces, or common goods, that are being privatized by the construction of infrastructure such as dams.
LB What is the project's research and fieldwork process?
CC Be Dammed is articulated in case studies in which I collect information about a particular dam, set of dams, or rivers by digging into archives, including geographic collections, legal paperwork, satellite imagery, and historical accounts. I conduct what I call "spiritual fieldwork," during which I spend the time to develop a relationship with the implicated communities, both human and nonhuman, in order to glean firsthand experience of their lives. My initial case study was the El Quimbo hydroelectric project on Colombia's Yuma (Magdalena) River, because it was the first hydroelectric dam built by transnational capital in the country (Endesa-Enel).
LBBe Dammed is comprised of over two dozen smaller parts, from installations to performances, each of which can function as a stand-alone entity. What's the relationship of these parts to the larger whole?
CCI think about Be Dammed as a constellation in which each piece shines on its own but also complements the other pieces. Long-term projects allow space and time for your ideas and process to evolve and react, regardless of art-world demands. Long-term projects, and their resultant works, tend to be open-ended and porous, which allows me—or even others—to return to them, rethink them, reactivate them, and reinstall them. When you work this way, threads of thought and action from different projects seep into one another. This flexibility is important for me; I understand a work of art not as a closed circle but as a spiral that can shoot in different temporal, geographical, and intellectual directions.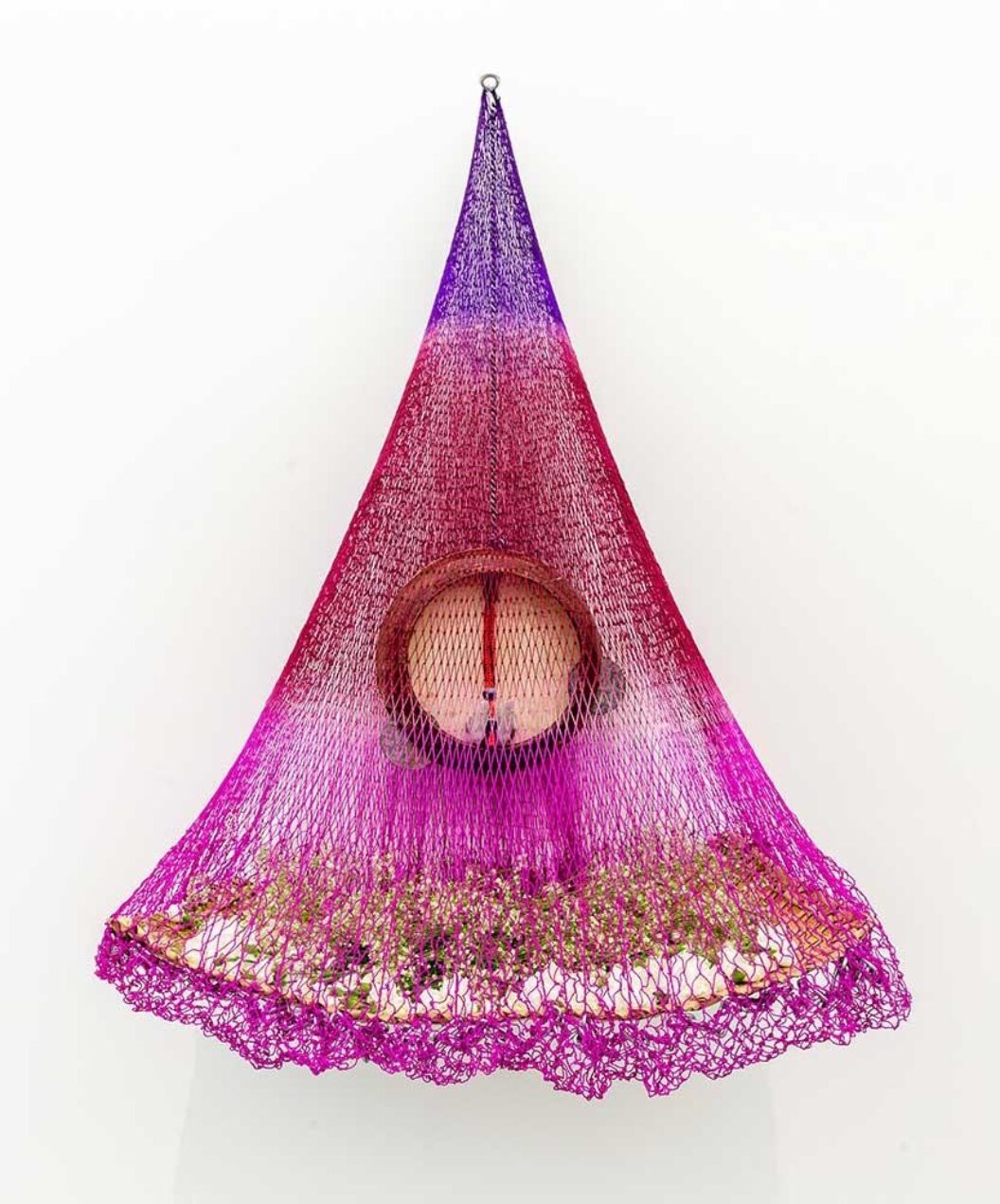 LB Your work is very aware of its presence in space, often with a theatrical sense of scale. What spatial or scalar considerations go into its construction and installation?
CC I grew up in Bogota in the 1990s. As in any Latin American city, its streets were a chaotic place, a stage where all kind of events, good and bad, could happen. In order to be safe, I had to be streetwise and learn to read those with whom I shared the street. For that reason, I feel entitled to public space, to communicate through my presence and by extension my work. I also feel strongly about defending this public realm. I'm invested in making work that can exist in different contexts—not just galleries but also intimate spaces, outdoor spaces, rural spaces, even ephemeral and transitory spaces.
LB What are the affordances of the different sites, as well as the different artistic media, that you use?
CC I make work that has multiple entry points for a diversity of audiences. So while it has aesthetic and conceptual qualities that can be appreciated by viewers with formal artistic training, such as when I depict water through the genre of portraiture rather than landscape, it also has intuitive qualities, particularly through the use of everyday objects, that can be appreciated by people without that training. As a mom, I'm also interested in appealing to younger audiences, such as the basic visual and storytelling techniques I used in my Serpent River Book (2017). That book, with its visual front side and textual back side, is a great example of work with multiple purposes and entry points. It has a sculptural dimension but also functions as a traditional book; it can be used as a workshop resource but can also be appreciated by audiences who can't read.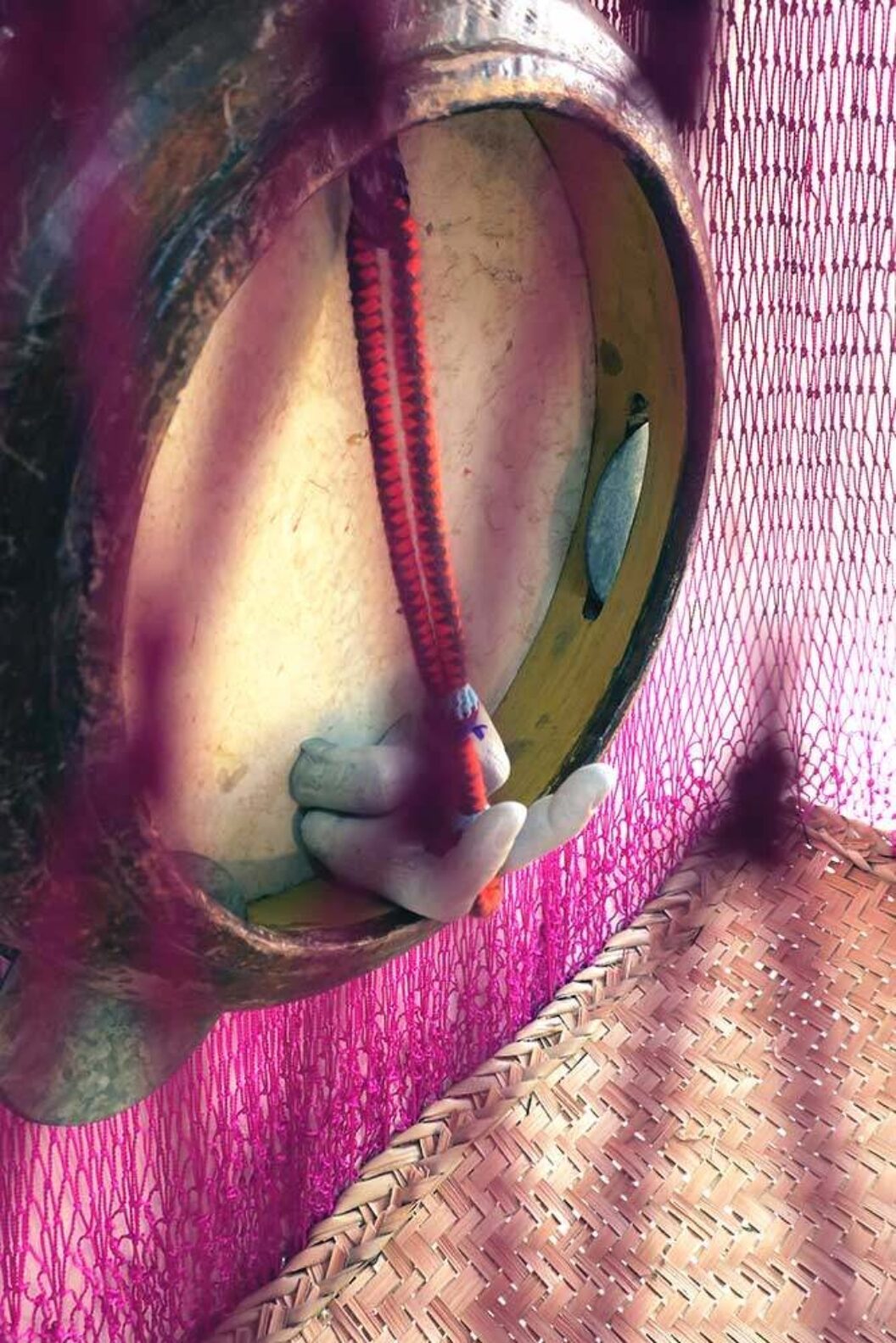 LB You've critiqued the landscape genre for abetting the illusion that the viewer is outside the scene, preferring to use terms such as "Water Portrait" instead. How else are inside-outside dynamics operative in your work? The interplay between inside and outside in your Cosmotarrayas, for example, is complex and fascinating: there are numerous objects on and inside the nets; sometimes those objects are themselves also nets; and as a sculptural material nets create soft, porous exteriors.
CC I'm glad you recognize this aspect of the Cosmotarrayas. They embody a meeting point between my solitary studio work and my collective work with communities! The atarrayas (nets) bring forward the ancestral embodied knowledge, the stories and experiences of fisherfolk, as well as that of the river itself, while the objects have more personal meanings and carry intimate memories from my own life story.
LB What other considerations inform Cosmotarrayas?
CC I first incorporated cast fishing nets into my Geochoreography performances: workshops and collective actions that use the human body as a political tool. I then began to incorporate the nets as a structuring material and concept for sculptural assemblages. Each Cosmotarraya is assembled with handmade artisanal fishing nets and various symbolic objects collected during my field research. "Cosmotarraya" combines the words "cosmos" and "atarraya" to convey the nets' centrality to their users. Each Cosmotarraya is linked to specific people, rivers, traditions, and cultures, just as each net is linked to the individual who wove it. The resultant sculptures are talismanic embodiments of local resistance to corporate and governmental attempts to control the flow of water.
LB What do you see as the connection between feminism and environmentalism, and how does it manifest in your work?
CC Health, knowledge, labor, and, ultimately, life have been historically extracted from women's bodies in the same way fossil fuels, genetic codes, and energy have been extracted from the land, from plants and animals, from rivers. The logic underlying the oppression of women and the exploitation of the natural world is the same. There are three pillars that uphold this double oppression: patriarchal capitalism, a mechanical worldview, and a culture of domination and violence (rape culture). Women and feminized bodies are among those most affected by environmental racism and extractive economies, as are indigenous, black, and trans people. It's no surprise that women all over the world are spearheading grassroots legal, cultural, and academic movements of environmental justice and climate emergency awareness. They are a major drive for me, and I work to inscribe my practice in this lineage of action.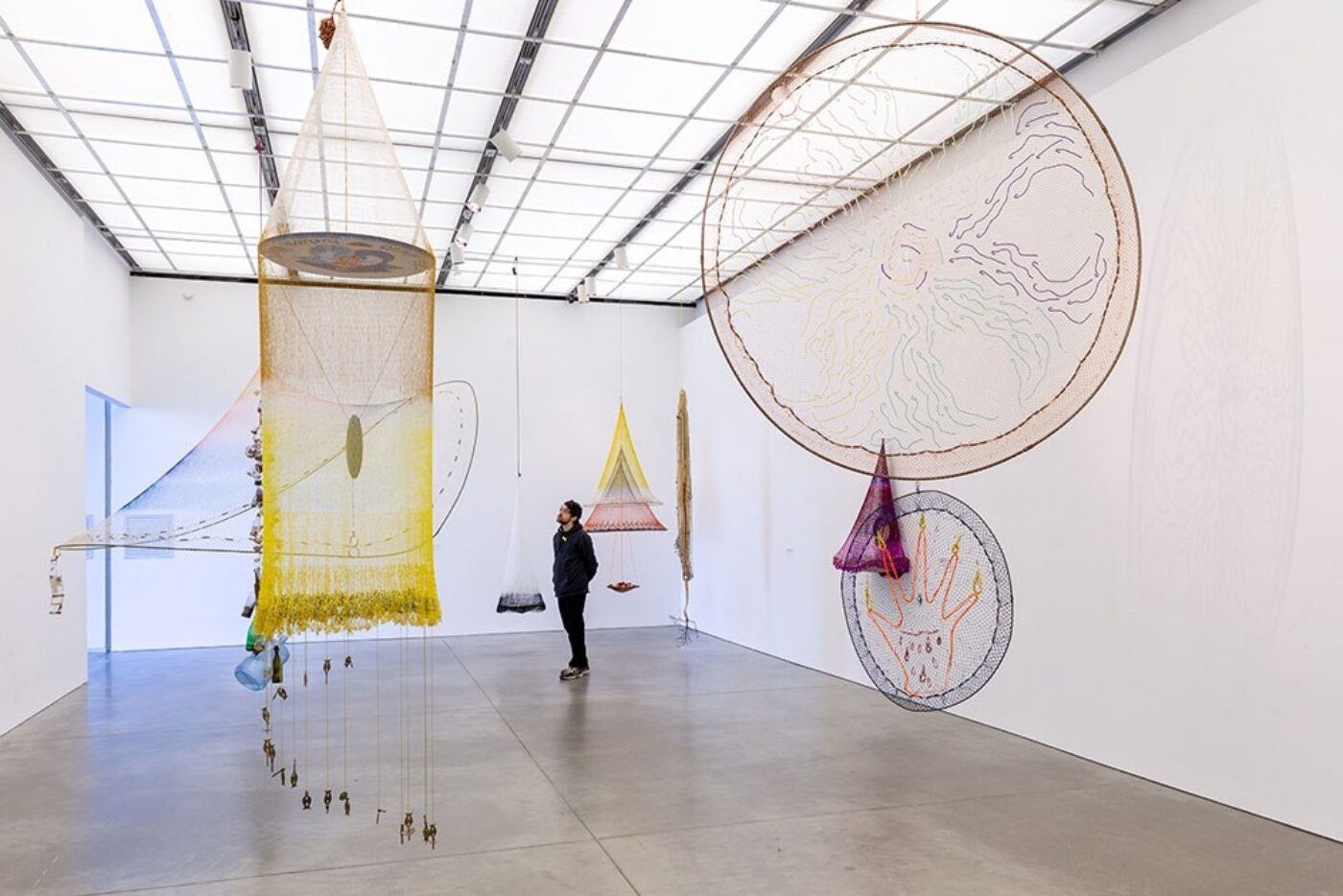 LB Who or what are other influences on you?
CC I've always been inspired by popular-cultural expressions happening in street carnivals and parades, in town or patron saint festivities, as well as in marches and protests. Such expressions take the form of pendants, banners, choreographies, speeches, and direct actions. I like how public space is reclaimed and how cultural differences, such as age and socioeconomic status, blur. In that sense, my early artistic influences include the UK collective Reclaim the Streets and their anarchic celebratory takeovers; Helio Oiticica's Parangole series, developed in conjunction with samba schools in Rio; and Mierle Laderman Ukeles's Maintenance Art, which collapses the boundary between domestic and civic space.
Other, more recent artistic influences include Chilean artist Cecilia Vicuña whose work is rooted both in ritual and in the political, Angelena artist Sandra de la Loza who looks at the overarching implications of land speculation and gentrification, and the collaborative work of Colombian artist Maria Buenaventura who works with seed custodians to reconstruct environmental memory from a rural perspective.
I find my ethical and epistemological grounding through my interlocution with Indigenous Peoples Movements and grassroots social and environmental justice movements in the Unites States, Latin America, and the Philippines such as Rios Vivos in Colombia, the LA Tenants Union and the Sacred Places Institute in Los Angeles, the Carrizo/Comecrudo Tribe in Texas, and Karapatan and Kalikasan in Philippines.
Carolina Caycedo: Cosmotarrayas is on view at the Institute of Contemporary Art, Boston, until July 12. (The Institute of Contemporary Art, Boston, is temporarily closed due to the coronavirus.)
Louis Bury is the author of Exercises in Criticism (Dalkey Archive) and Assistant Professor of English at Hostos Community College, CUNY. He writes regularly about visual art for Hyperallergic, and his creative and critical work has been published in Bookforum, Brooklyn Rail, Los Angeles Review of Books, Boston Review, and The Believer.