Discover MFA Programs in Art and Writing
When I met Walton Ford, in 1981, he was pretending to be a gorilla in the Bronx Zoo. It was his first exercise in Acting Class. So far, he'd sat in the back row, a RISD kid given to sketching our instructor, Prof. Barnhill, undergoing various metamorphoses (Barnhill as bat, Barnhill as bullfrog). Now he took center stage. Before our eyes, Walton's jaw became as prognathous as Brando's in The Godfather, his bare feet (shed of high tops) prehensile, his back bent, his brow a Neanderthal ledge. On forearms, he knuckled his way across the stage, picking up imaginary peanuts with deft, sideswipes of his hand, inspecting them, breaking shells between his teeth.
Prof. Barnhill from his seat: "Bravo! Obviously, Walton has been watching the gorillas."
The scene changes now. It is 1989 and I am walking with Walton in the woods. He is wearing a hunting cap. He looks like Holden Caulfield as an adult. I've got wingtips on. There is nothing alive in these first-growth, suburban woods. Suddenly Walton stops. "Did you see that woodpecker?"
"No."
"Downy woodpecker."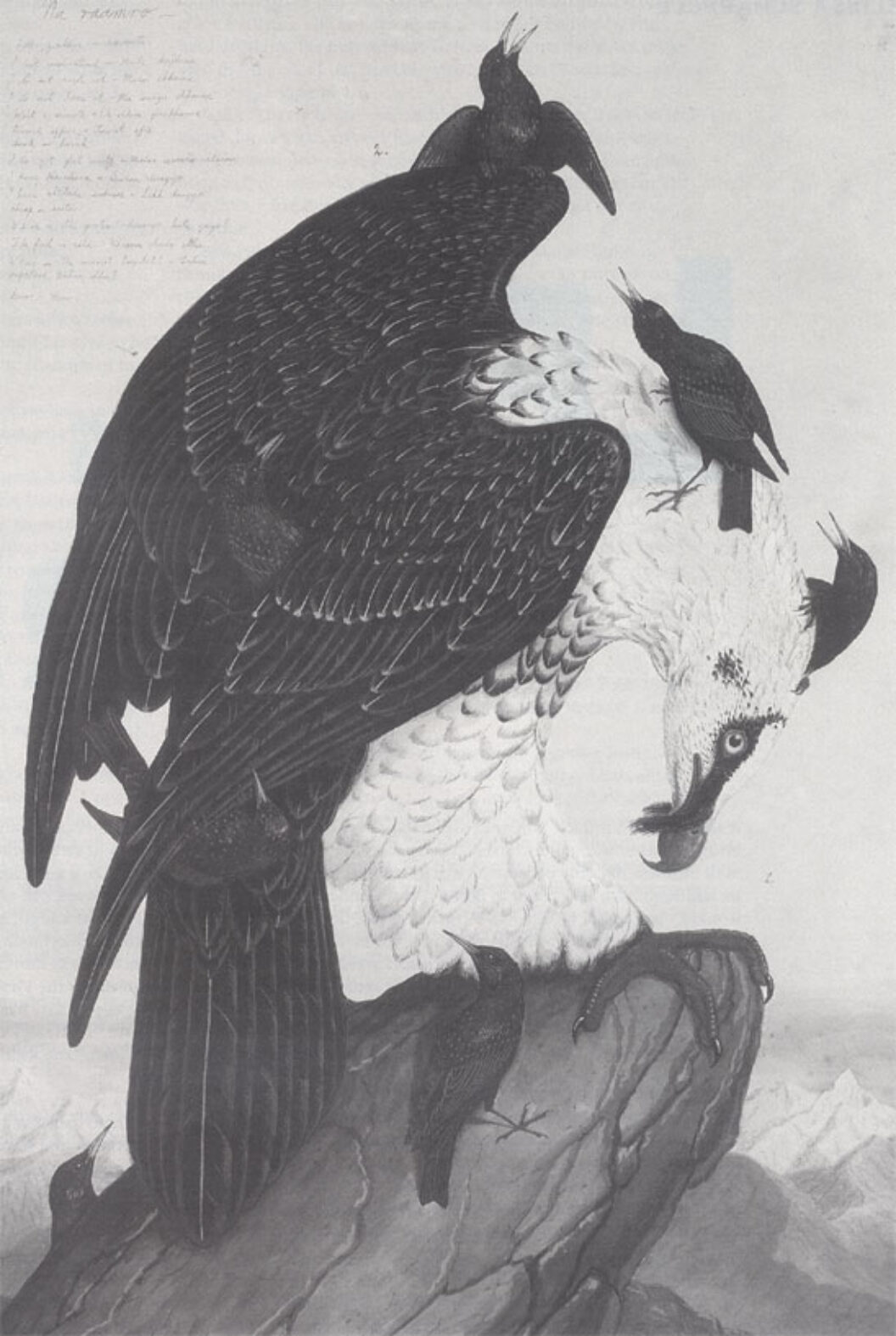 And now it is 1997. Walton is showing me his new paintings, the fruit of a six month trip to India. Oils and watercolors, like pages from a nineteenth century field guide in the pocket of a pair of safari shorts worn, by a guy named Bangshawe. Audobon-inspired allegories of the meeting of East and West as seen through the distorted lens of colonial ornithology. "India was so astounding, at least to someone like me, that the only way I felt I could deal with it was to paint it through the things I know something about. Which is natural history. Everything's so totally outsize and extreme over there. Even the wildlife. We've got one kind of kingfisher in the U.S. They've got like thirty. Ours is this somber blue like somebody in a business suit. Their kingfishers have red bills and hot pink legs, totally mad, pulling out all the evolutionary stops. That was how the whole country felt to me. Or like this other time, I went to the Taj Mahal and I saw this duck in the river. So I checked my guide. It said, 'Ruddy Shelduck. Feeds on carrion.' Feeds on carrion. They can't even have a duck!"
Originally published in
Featuring interviews with Gregory Crewdson, Lorna Simpson, Allan Gurganus, Louis Auchincloss, Marie Howe, Rilla Askew, Rupert Graves, Andrew Blanco, and Paula Vogel.