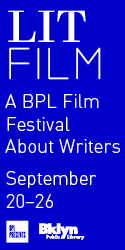 Lyric and experimental are not words that are usually joined in sentences about a poet's work, but then few poets are as lyrical or as experimental as Walter K. Lew. This collection deeply affirms poetry's capacity to re-create language and revisit graphics while tackling some heavy-duty stuff like Korean immigrant culture, American imperialism, modernism's legacies, and the demands of collaboration, as the text is combined with collages by Lewis Klahr. I had the pleasure of reading from "Two Handfuls of waka for Thelonius Sphere Monk (d. Feb., 1982)" at this year's Asian American Literary Awards, where Treadwinds was a winner, and it was a great pleasure to recite the following: "Can no more wander / In his stride, slide and wangle … Close to the end of / the world anyway: What a difference a / Misterio or Epistrophy?" Somehow I can see Monk nod in agreement.
—Patricia Spears Jones
Treadwinds was published by Wesleyan University Press in June 2002.
Originally published in
Featuring interviews with John Waters, Shirley Jaffe, James Welling, Nuruddin Farah, Alma Guillermoprieto, Olu Oguibe, Hanif Kureishi, Ra'anan Alexandrowicz, and Howe Gelb.