Wacky Packages New New New by Nick Stillman
A more brutal pop-art sensibility was taken up by the artists who designed the decals sold by the Topps Company's Wacky Packs in the late '60s.

Discover MFA Programs in Art and Writing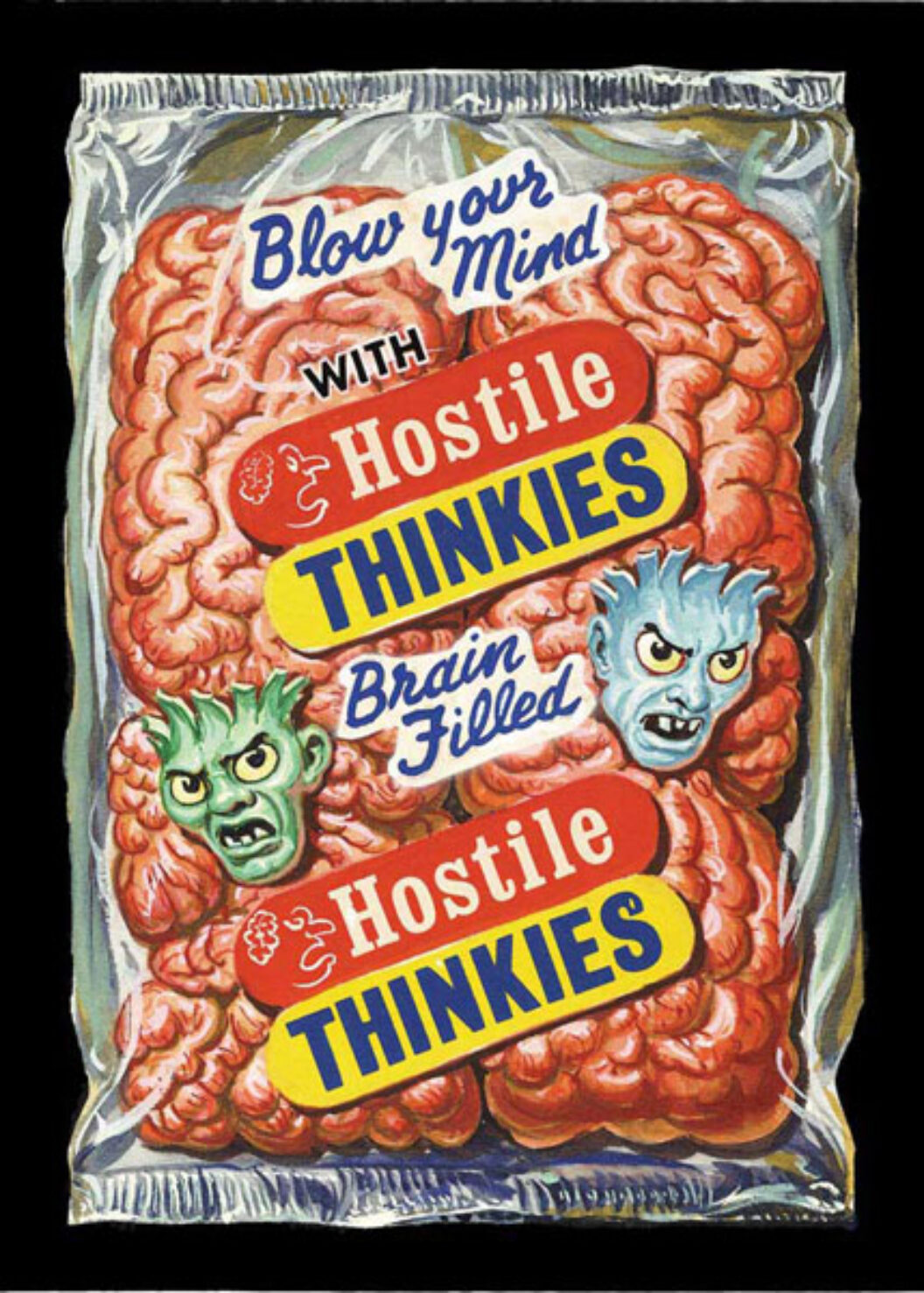 Abrams ComicArts, 2010
There should have been a whole strain of American pop art in the '60s and '70s that never could have been misinterpreted as complicit or celebratory. It would have ridiculed a postwar culture fat with self-congratulation. It would have scorned the equation of consumption with self-consummation. It would have caricatured advertisements that convinced Americans to buy products of suspect quality and egregious health concerns—often made in sweatshops—that they didn't need anyway. This hypothetical pop would have been less Andy Warhol and Roy Lichtenstein, more Peter Saul, Mad Magazine, and countercultural skepticism. Well guess what: it did exist; its finest examples are still available at moderate sums on eBay; and its bathetic, curmudgeonly glory is now collected in two handsome books.
Wacky Packages New New New is the second volume on the history of the Topps Company's Wacky Packs, wax-wrapped packs of stickers that pin-pricked the inflating megaballoon of American commercialism. New New New presents larger than life-size images of the individual cards making up series 8–14 (1974–1975), the height of the Wacky Packs' riotous and subversive power. First appearing in corner stores in 1967, these product lampoons were generated studio style, much in the way old Hollywood scripts were. Artists like Art Spiegelman, Jay Lynch, and Kim Deitch would draw a "rough" (a sketch insidiously miscasting a product like Kentucky Fried Chicken as Kentucky Fried Fingers) that might undergo various concept and design edits before the era's ace commercial artist Norman Saunders painted a final that was then printed as a sticker. The end products were sold to impressionable young American minds.
If pop was considered "low" in its time, Wacky Packs must have been thought deviant at best, artless garbage at their most misunderstood. Their concept was simple: to ruthlessly parody the American national pastime—the slavish pursuit to fulfill a homogenized, corporate-sanctioned vision of the American dream. Some of these are predictable—Crest became Crust, Popular Mechanics became Unpopular Mechanics—and some were terrifically out there, like Twinkies cast as the truly weird Hostile Thinkies ("Blow Your Mind—Brain Filled"). Unsurprisingly, there is a small dose of the politically regrettable in the series, particularly the distasteful penchant for envisioning products "for bums." Still, I'm actually convinced that it isn't hyperbole to consider the Wacky Packs as a modest pedagogical triumph. Advertising is corporate hypnotism, and—with delicious irony—these little products masquerading as child's play helped a generation deflate the unthinking, sanitized blitheness of a culture berserk for buying.
Wacky Packages New New New is out from Abrams ComicArts.
Nick Stillman writes about art and baseball in New Orleans.
Originally published in
Featuring interviews with Charline Von Heyl, Fred Tomaselli, Mika Rottenberg, Thomas Hirschhorn, Adam Phillips, Charlie Smith, David Toop, and Jan Lauwers.