Vivian Vázquez Irizarry and Gretchen Hildebran's Decade of Fire by Roya Marsh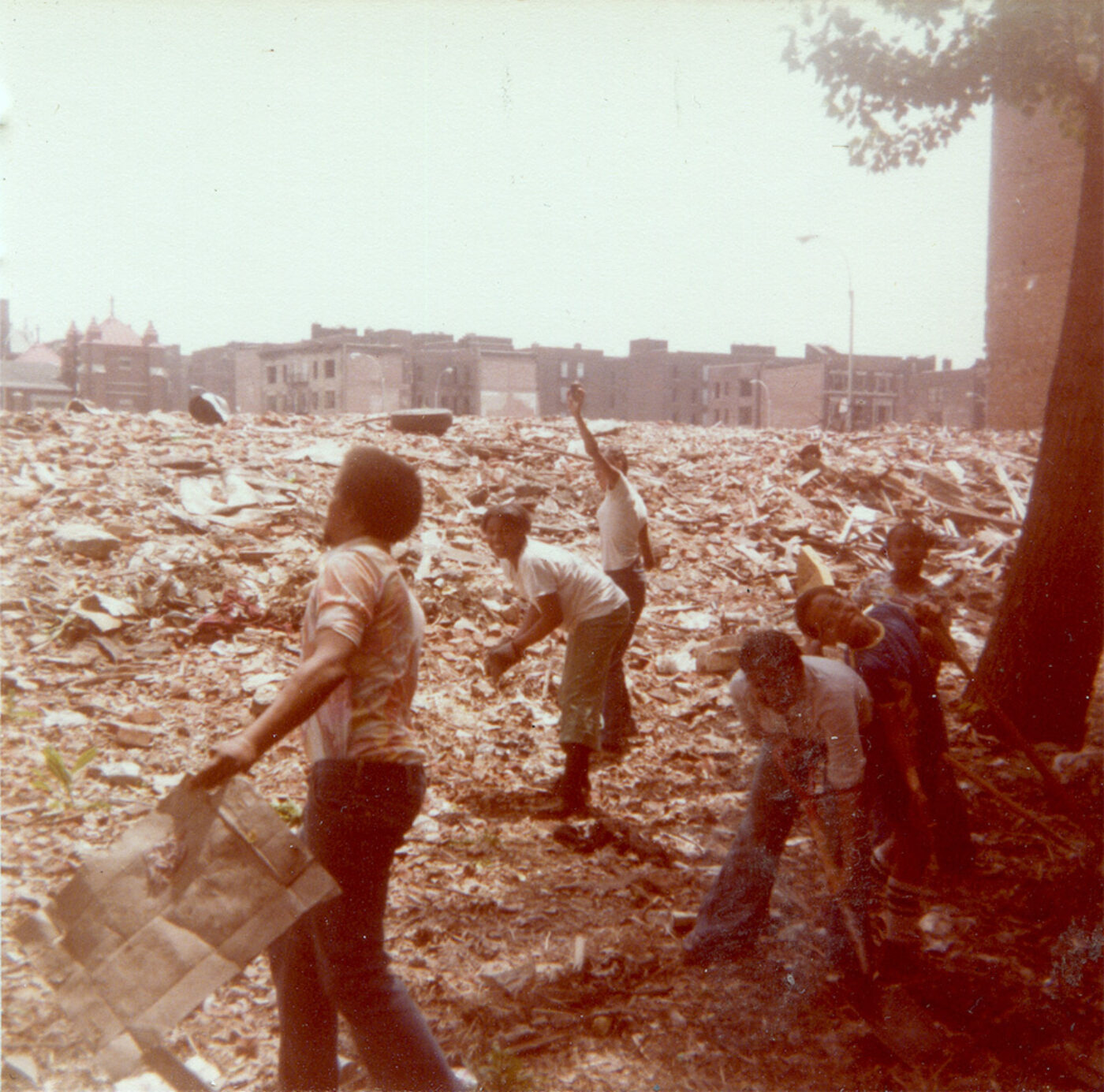 (Red Nut Films, 2018)
Decade of Fire is a remarkable tale of the Bronx's rise from ash, standing to set the record straight about the fires that ravaged the borough in the late '60s and '70s. The documentary, directed by Vivian Vázquez Irizarry and Gretchen Hildebran, zones in on Irizarry's South Bronx upbringing, while the whole of the film covers the Bronx fires and the constant neglect residents faced during that time. A montage of personal video and archival footage, it is one woman's story of persistence and perseverance in a system always ready to nullify her efforts.
New York has been blaming the Bronx on itself for as long as America has been blaming poverty on its victims, and the government has taken zero responsibility for failing its citizens in either situation. Decade of Fire highlights the issues tethered to urban planning and renewal that left some quarter of a million people without homes due to fires that consumed Bronx buildings. Records indicate that on average there were forty fires a day, scorching through densely populated neighborhoods with no available fire companies to tackle the flames. The blame? It was left on the shoulders of gullible and impoverished Bronxites, as young as nine years old, eager to make a quick buck, who in turn found themselves charged with arson.
The directors are strategic in showcasing their investigative work, including the revisiting of archives that logged information regarding the fires and the building owners' insurance policies. Residents report living without functioning faucets and radiators, and with electrical wiring so ancient that the use of simple appliances became a serious fire hazard. Capitalism forced people to live in ruins, among debris and devastation. They built lives within relentless destruction.
As Irizarry recounted her family's journey, I was reminded of my own and that of those before me. This is the Bronx where my mother and her siblings were raised. A city, like many others across the country, where Black and Brown people were denied any decent quality of life or chance for improving their living conditions due to the color of their skin. The perpetuation of racism and segregation birthed new issues such as redlining, which left residents hopeless as properties sat to rot. Redlining meant lack of access to loans, insurance, fire departments, supermarkets, and in some cases medical care, if the residence or the area was considered poor and a financial risk. This kept Bronx residents under fire while New York City was built up and modernized around them.
The media has played a major role in how the world views us—and an even greater role in how we view ourselves. As a Bronx native, I have seen and heard the narratives of self-hatred and blame passed on through generations. Decade of Fire pays detailed attention to the way the media kept portraying us as violent thugs who destroy our own. It was and is impossible for us to thrive without holding accountable the people and systems in power. As the film shows, the government and police stopped caring and either killed us or left us to kill ourselves. The community was forced to take charge for their own survival—gangs back then offered some semblance of protection, acting as firefighters, rescuers, and movers.
The city had hoped to eliminate the Bronx, but its people organized to fight eviction, pooled resources to pay gas and property taxes, and rebuilt their homes from the ground up. The Bronx is a continual work in progress, and we hustle, as always, in the name of viability.
The revolution may not have been televised, but it surely was recorded through the birth of hip-hop as resistance and the work of grassroots organizations that fought to keep the Bronx alive and thriving. Local organizations like People's Development Company and Banana Kelly Community Improvement Association led neighborhood clean-ups. Bronx residents rebuilt abandoned properties while learning construction and money management in hopes of giving people control of housing stock and businesses in the neighborhood. After-school programs sprouted in an attempt to save the block and occupy young people with resources and activities to supplement their in-school learning.
This brings the film into the present where Irizarry is seen protesting the rezoning of a Bronx neighborhood and interacting with young people at the New Settlement Community Campus. I've been fortunate to work with the young women of the New Settlement Community, facilitating poetry and spoken-word writing workshops for the past five years, and I am always amazed at the wonders we create. There is life here yet! Although there has never been a response that comes close to acknowledging the devastation and neglect the Bronx has faced, we end on a high note knowing that the work continues. This fantastic and important film has been added to the canon of work that highlights the Bronx and many of its warriors.
THE BRONX IS WORTH FIGHTING FOR
Roya Marsh is a Bronx native and a writer, performer, educator, and activist. She is the poet in residence at Urban Word NYC and she works feverishly toward LGBTQIA justice and dismantling white supremacy.

Originally published in
Our fall issue features interview with Erica Baum, Billy-Ray Belcourt, Trenton Doyle Hancock, Carolyn Lazard, Nathalie Léger, Martine Syms, and Rufus Wainwright; fiction by Kevin Brockmeier and C Pam Zhang; poetry by Yi Sang and Vijay Seshadri; nonfiction by Lorraine O'Grady and Paula Mónaco Felipe; a special project by Garrett Bradley; and more.