"A thousand clinics could not cure the sense of unreality that haunts Harlem as Harlem haunts the world."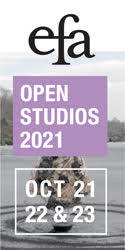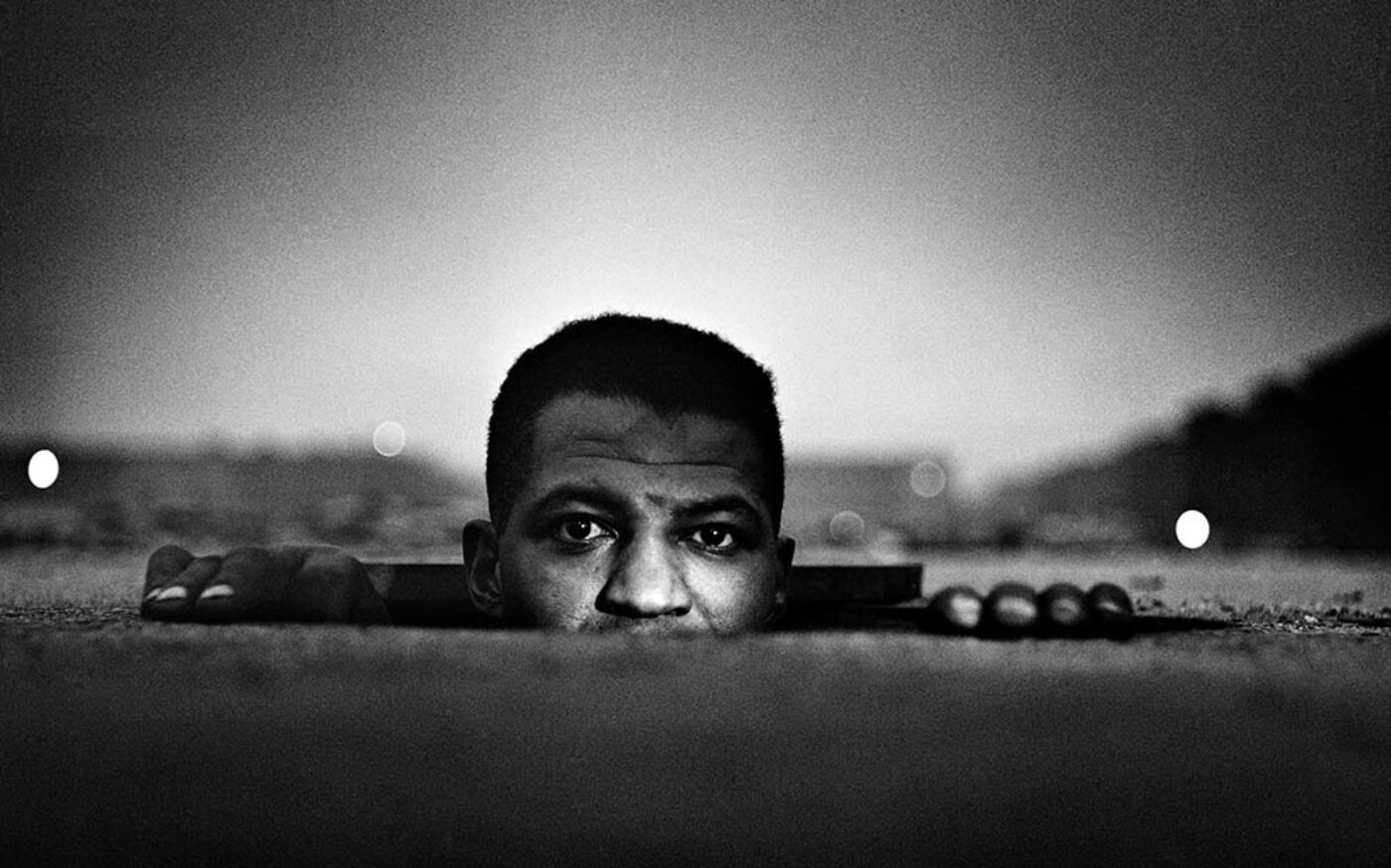 Invisible Man: Gordon Parks and Ralph Ellison in Harlem, which accompanies an exhibition now on view at the Art Institute of Chicago, collects and contextualizes one of the most significant archival finds of mid-century American culture: their hitherto lost 1948 collaboration—an essay by Ellison with photographs by Parks that offers a gritty panorama of Harlem life. Foreshadowing each man's achievements in subsequent decades, the book also reproduces and explores Parks's interpretive photo spread of Ellison's Invisible Man for Life magazine in 1952.
Parks was also an accomplished writer, and Ellison was also a professional photographer—a curiously symmetrical pairing that undoubtedly adds dimension to this reconstruction. They knew how to communicate, and Ellison even printed from Parks's negatives, which is how some prints ended up among his papers. At the time of this collaboration, Parks and Ellison—born in 1912 and 1913, in Fort Scott, Kansas and Oklahoma City, respectively—were running in parallel, both accomplished journeymen in the fields in which they'd find the most success. They'd both had years of significant achievement to look back on, but were still scrambling for steady traction. By 1952, both had achieved national recognition and prominence that would never dissipate. The book straddles that liminal moment when both failure (or at least frustration) and success looked equally possible.
From late 1947 to early 1948 they worked together on "Harlem Is Nowhere," a piece intended to portray the psychological distress rampant (as they saw it) among Harlem's populace and planned for publication in '48: The Magazine of the Year, which went out of business just before the project was scheduled to appear in the July issue. In Ellison's words, many Harlem residents were "refugees from Southern feudalism" and subject to the "blasting pressures" of modernity. The essay was also intended to celebrate Harlem's Lafargue Clinic (subject of this recent book), which was founded two years earlier as New York City's first nonsegregated psychiatric clinic—though, as Ellison notes, "a thousand clinics could not cure the sense of unreality that haunts Harlem as Harlem haunts the world." And the photographs seem haunted as well. "Harlem is a ruin," writes Ellison. London and Berlin were actual ruins at the time, but in a sense Harlem seemed like one to Ellison and Parks. The grim intensity of Parks's photographs reflects the sentiment of Ellison's metaphor: the war had done little to improve the lives of Harlemites and the U.S. had its own refugees and ruins, just like much of post-war Europe.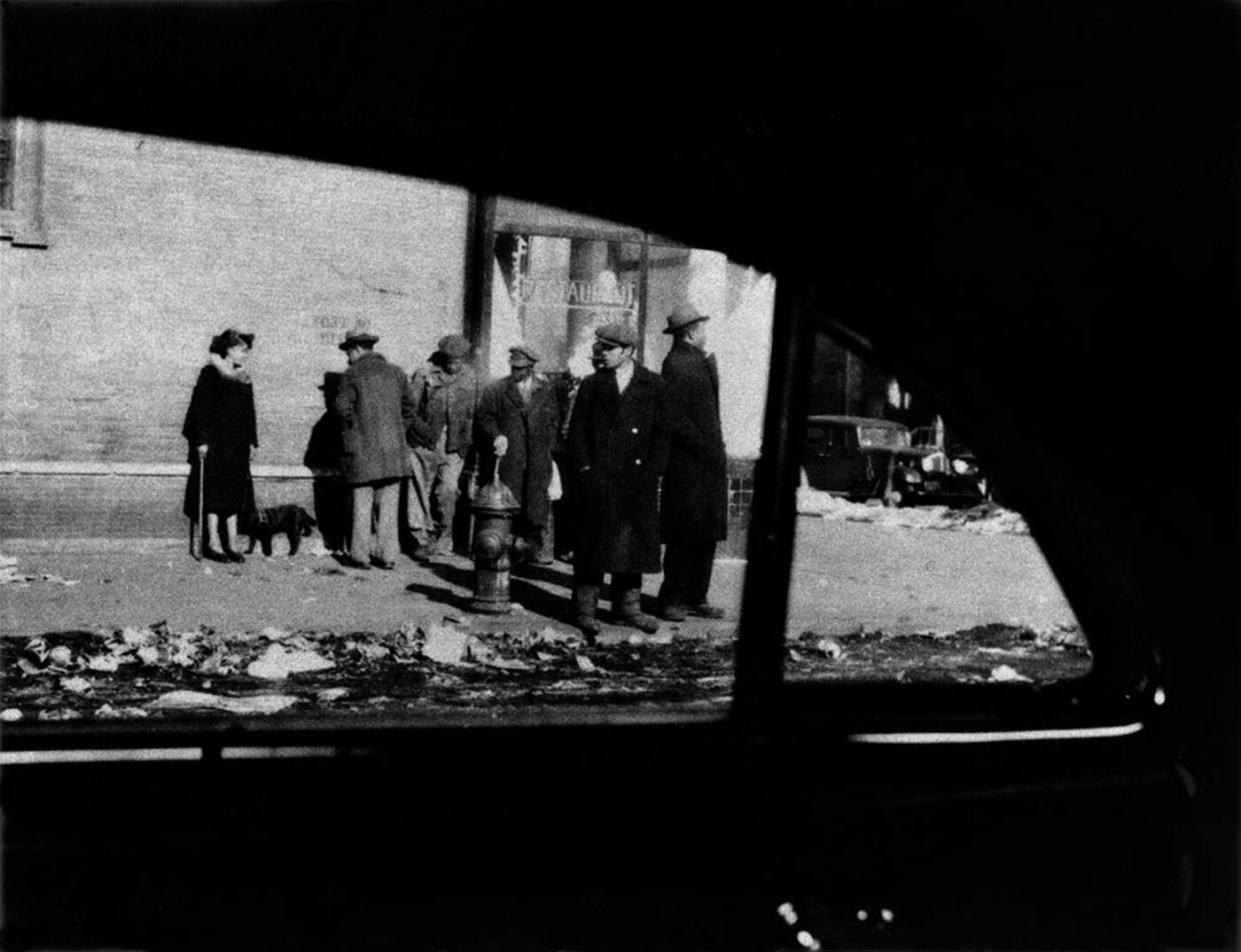 Had the piece appeared, it could have catapulted their careers a bit sooner. The Magazine of the Year was an upper-middle brow general interest magazine that was, in some ways, a reflection of post-war optimism. It was owned by a group of writers. Physically, it was about the size of Reader's Digest and could fit in a pocket. Contributors included diverse luminaries such as Eleanor Roosevelt, Archibald MacLeish, Rebecca West, Martha Gellhorn, Oscar Hammerstein, Albert Einstein, Ann Petry, M.F.K. Fisher, Bertrand Russell, and in quite a few issues, the innovative photographer and filmmaker Gjon Mili (who was also on its board, along with John Hersey, Clifton Fadiman, and others). Seeking to offer a cross-section of interesting voices, it published household names and lesser-known figures. Ellison published the first American excerpt of Invisible Man in the January 1948 issue.
After '48: The Magazine of the Year went under, Ellison pitched "Harlem is Nowhere" to Harper's Magazine in 1948—but sans photographs, which were tied up in the magazine's bankruptcy case. It was rejected, but later solicited by Harper's and published in August 1964, accompanied instead with photographs by Roy DeCarava, and with all reference to the Lafargue Clinic (closed in 1959) omitted. It also appeared in Ellison's essay collection Shadow and Act (1964) and in his Collected Essays (1995), with sections about the Lafargue Clinic restored. Ellison's friend Albert Murray, who sometimes riffed on and counter-stated Ellison's work, published a very different sort of essay, "Image and Likeness in Harlem," in The Urban Review in June 1967, alongside photographs by Fred McDarrah (longtime photographer for the Village Voice). Where Ellison found Harlem's residents in a temporal disconnect and unnerved by not being coeval with modernity, and where he and Parks sought to emphasize Harlem's chaos and poverty, Murray sees Harlemites as indispensable participants in the workings (political and otherwise) of New York City, and thus of the nation and the world. McDarrah's photographs focus on Harlem's architectural splendor and reflect Murray's attempt to de-exoticize uptown environs. (The sections of Harlem that look like nice sections of Manhattan below 110th Street were the result of overbuilding at the turn of the twentieth century. Between the Panic of 1907 and the building of the Queensboro Bridge in 1908, high-end demand for Manhattan housing that far from the financial district and midtown had dissipated.)
In the book's major essay, literary scholar Jean-Christophe Cloutier of the University of Pennsylvania painstakingly reconstructs the history of this collaboration and demonstrates that, contrary to what had been previously assumed, it had in fact gone as far as the layout stage—and thus, Ellison's captions are finally matched to Parks's photographs in the book. It seems as if Ellison took a little break from Invisible Man in order to write the piece. The enormous amount of time and effort they both put into it is surprising in retrospect: busy artists on the make, they seemed to dither over the piece for months. Cloutier makes some large claims for the project's role and for photography generally in Ellison's career. He notes that a few of the captions were "smuggled" into Invisible Man. Undoubtedly, photography occupied much of Ellison's free time—but so did aural concerns, especially the next year, in 1949, while he was rewriting vast swaths of his novel. Ellison was soon to begin working for the violinist and inventor David Sarser on high-end sound system installations (they installed Arturo Toscanini's personal system, for instance) and pondering the philosophical implications of recorded music. In short, Ellison was trying to infuse the novel with the sensibility of visual and audio reproduction, imagining, almost, a kind of multimedia novel just at the moment that Lionel Trilling was lamenting the floundering of the genre. Parks, for his part, included some "Harlem is Nowhere" photographs that he'd retained in his portfolio when he applied for a job at Life magazine later that year. He was hired and the rest is history: he worked there until 1972, becoming one of the world's most widely known and influential photographers.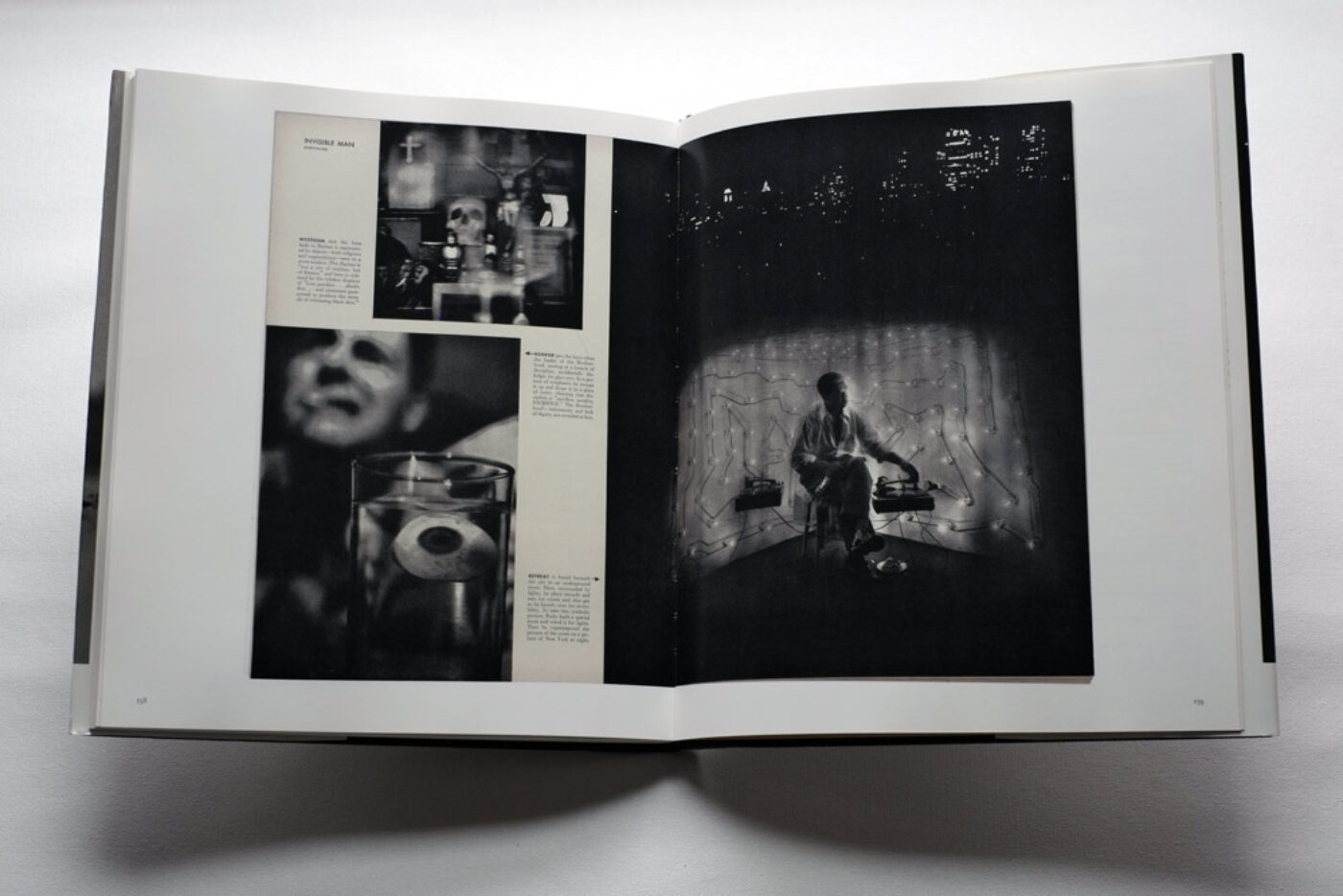 Parks's 1952 spread in the August 25 issue Life, "A Man Becomes Invisible," staged several scenes from Invisible Man, which was published in April to generally positive reviews and had a long run on bestseller lists. It would win the National Book Award the following year. Ellison was not especially keen on the final product and expressed his ambivalence in a letter to Richard Wright: "At best the [Life] essay turned out to be an excellent ad." Ellison's opinion is understandable—perhaps he felt his book could have been better captured in other ways, but this many decades later, it's fascinating and valuable, as it reveals what an Invisible Man film adaptation by Parks (who directed Shaft, among other films) may have looked like. It is also fun to consider the tensions at play in an enormous mass media undertaking such as Life. The cover story of that issue in what must have been a sleepy week for news is "College Fashions: Turtleneck Sweater," featuring an attractive white woman modeling, yes, a turtleneck sweater. Readers could not have been expecting Parks's somewhat disturbing images, which included a glass eye in a glass of water, illustrating a moment in the novel. Also, compare Parks's cool, abstract vision of the Invisible Man's secret basement living space (above) with the sort of "lived-in" realism expressed in Jeff Wall's well-known interpretation.
Curiously, one moment that Parks dramatizes in the shoot, with a determined Invisible Man lifting the manhole cover to emerge from the sewer (which, incidentally, was used as the cover for this important book about the drafting and editing of Invisible Man), was cut from the final version of the novel. The excised portion, nearly fifty pages, appeared a decade later in Herbert Hill's anthology Soon, One Morning: New Writing by American Negroes, 1940–1962, titled "Out of the Hospital and Under the Bar." In the original version, the Invisible Man escapes from a hospital where he's been under observation and restrained, and after a long subterranean chase, emerges onto a Harlem street through a manhole cover. In the published version, after his injury and after his time in the hospital, he receives a settlement check from the paint factory's insurance company and is sent along his way. Parks may not have had a chance to have read the published version by the time the Life assignment was due. He'd probably read an earlier draft, or, just as probably, heard Ellison read from it (as Ellison liked to do). Another possibility is that he knew the episode was not in the novel, but simply admired its dramatic potential.
Or, he could have known it was not in the novel, yet chose to allude to what might have been, thereby perhaps alluding to "Harlem is Nowhere" and that moment, four years earlier, when the Ellison-Parks team looked like it had a bright future. If "Harlem is Nowhere" had been published and well-received (and why wouldn't it have been), and had it led to subsequent collaborations, Ellison and Parks might be thought of in tandem today.