Virtual Viewing: Fantastic Women Reviewed by Karla Kelsey
A new history of Surrealist women artists.

Discover MFA Programs in Art and Writing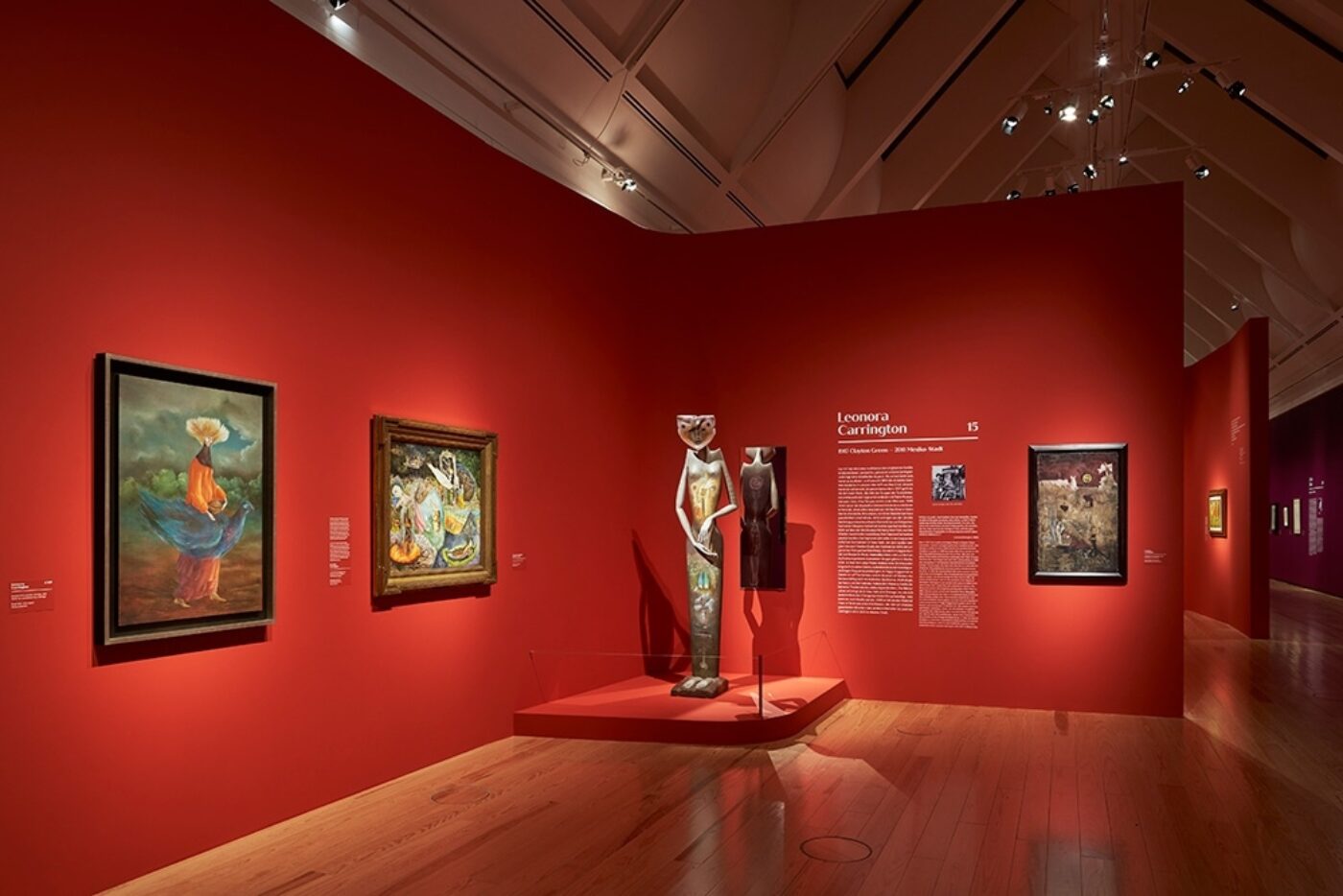 Thanks to the grainy images that surface in a web search for the 1938 Exposition Internationale du Surréalisme in Paris, we can piece together what it would have been like to attend this groundbreaking show of Surrealist art. Black-and-white photographs by the likes of Man Ray reveal that upon stepping into the gallery we would have been greeted by a row of female mannequins in various states of undress. Nude but for a plume sprouting from her pubis, one mannequin wears a birdcage over her head while a velvet gag covers her mouth. Organized and designed by André Breton and his fellow Surrealists, the show featured 229 works by 60 artists from 14 countries and was accompanied by a catalogue and the Abridged Dictionary of Surrealism. The mannequins seem to have been particularly popular objects to photograph, and it isn't surprising that their images have persisted through time, haunting the web as virtual emissaries for the Surrealists' desire to transcend the walls of the exhibition space.
Covid-19's sheltering in place and shuttered cultural institutions have rendered Fantastic Women: Surreal Worlds from Meret Oppenheim to Frida Kahlo at the Schirn Kunsthalle in Frankfurt, Germany, equally dependent on virtual emissaries. Featuring 260 works by 34 female artists from 11 countries, Fantastic Women matches the sheer abundance and international ambition of the 1938 show, from Frida Kahlo to overlooked and forgotten artists who participated in the movement between the 1920s and 1960s. Luckily (and presciently, given Covid-19's abrupt global tsunami), the Schirn also shares Exposition Internationale du Surréalisme's desire to carry the exhibition beyond the gallery walls, providing an online platform containing images from the exhibition; a video tour; instructions for homemade exquisite corpses; a Surrealist films screening accessed on Zoom; and a free, interactive, multimedia Digitorial aimed at educating museum visitors via iPad, phone, or tablet prior to their arrival. With the museum temporarily closed due to Covid-19, this Digitorial has become an important part of the exhibition.
Perhaps as a nod to the phonograph playing a woman's hysterical laughter and the scent of burnt coffee that were part of the Paris 1938 show, the Schirn's exhibition website also includes a free Fantastic Women soundtrack, Schirn Magazine articles about the exhibition (including a piece on cookbooks by artists), and a link to purchase the expansive catalogue. A deeper dive into the Schirn's website via the "Press" link leads to a PDF of the extensive wall texts detailing artist biographies.
With so much to explore, these resources allow for a robust sense of Fantastic Women and provide an experience in and of themselves. The show's scope is conveyed in compressed form by a three-and-a-half-minute video. Gliding through the museum's dark-rose-colored walls to soft techno and a woman speaking a voiceover in German, I despaired at the camera's speed until I remembered that I could pause the tour. Some of the images I recognized immediately as old favorites: Dora Maar's photomontage of a hulking, clay-like headless woman seated before a warped hallway at Versailles (29, rue d'Astorg [1936]); or Toyen's oil-and-collage Le Paravent (1966), a delicate female form draped in leopard skin with emerald gloves and a red-lipped animal face in place of her pubis. Seeing them in the video was like recognizing old friends in a crowd.
Equally surprising were artworks I had never encountered before, whether online or in person. I was quick to pause on a large vitrine containing a woman reminiscent of the Winged Victory: headless, armless, and bare-breasted, she wears a floor-length, white-and-silver skirt. Sequined shoulder straps affix to each nipple. Curious to see more, I was frustrated by the limitations of the online viewing experience: I couldn't magnify the image, take a 360-degree tour of the figure, or see the gallery label that would tell me who made this wondrous object. After I scoured a digital copy of the catalogue, I contacted the Schirn's PR department which kindly sent me information about the artwork: it is Meret Oppenheim's Abenkleid mit Büstenhalter-Collier (Evening Dress with a Bra-Strap Necklace) (1968). If you mostly think "fur teacup" when you hear the name Meret Oppenheim, you're in for a surprise.
The video's shots of crowded galleries and playful museum selfies posted on Instagram to #fantasticwomen accentuate nostalgia for pre-COVID-19 while at the same time recalling the difficulty of focusing on artwork in a gallery full of selfie-takers. Free from the pull of the crowd, my attention was drawn to the online emphasis on the landmark status of the show. While solo shows and other group exhibitions have presented female artists' use of Surrealist techniques, Fantastic Women claims these artists for the movement, presenting "the female contribution to Surrealism for the first time ever." I feel a sharp pang of regret at the fact that I can't be there in person to celebrate. At the same time, I consider the complexities embedded in this curatorial framework. The legacy of Surrealism has always been fraught: several artists represented in Fantastic Women resisted female-only shows and specifically rejected being labeled Surrealists because for all of its revolutionary, anti-bourgeois aims it ultimately consigned women to muse and mannequin.
As such, the question not only of whom is included in the history but how takes on essential importance. The online materials suggest the physical show is careful to maintain the autonomy of the individual artist; the result, from a distance at least, is a reparative gesture, stating for the record women's significant contributions to Surrealism as artists. The digital experience provides a more global view, oriented toward reevaluating Surrealism itself. Known for its white, male, heterosexual, and often homophobic participants, the exhibition repositions the movement's legacy.
This is most immediately evident in the Digitorial. Along with offering a familiar history, the guide emphasizes the female participants' queering of gender roles and devotes an entire section to Surrealism in Mexico, a particularly fertile nexus for female artists. The Digitorial also draws out Surrealist interest in non-European mythologies and artifacts and highlights Surrealist passion for the non-human world. Diverse, gender-bending, and ecocentric, Fantastic Women delivers a radically new world. It's stunning to realize it has been waiting for us all along.
Fantastic Women: Surreal Worlds from Meret Oppenheim to Frida Kahlo is on view at the Schirn Kunsthalle in Frankfurt, Germany, until July 5. The Schirn reopened on May 6 with "compre­hen­sive protec­tion and hygiene measures" in place.

Karla Kelsey is the author of four books, most recently Of Sphere, a collection of experimental essays published by Essay Press.