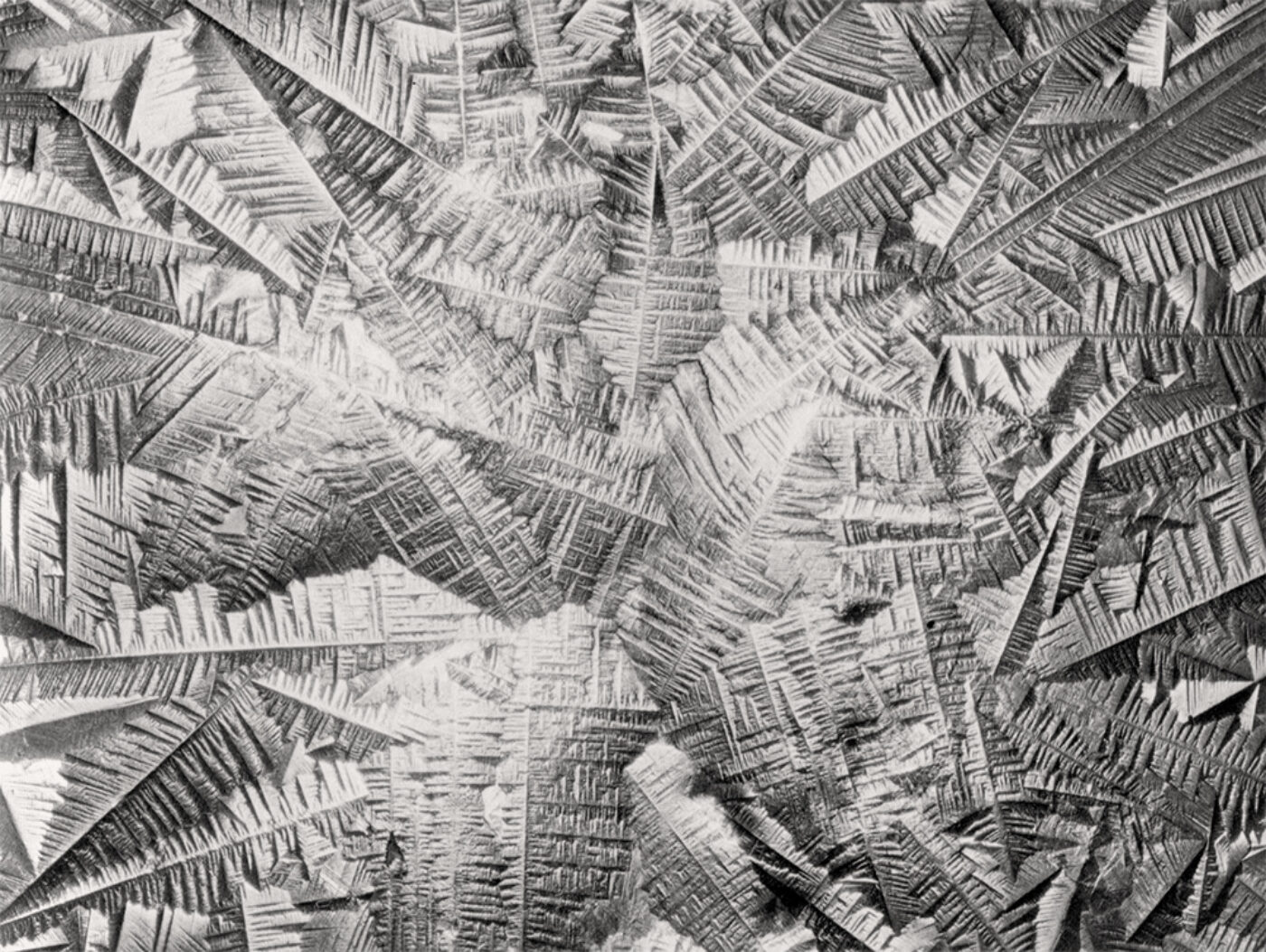 I am alone at a house in the middle of the California desert, looking out a plate glass window. I look past the porch, which isn't really a porch, just a slab of concrete. And while the concrete really is concrete, it could just as well be the ashes of the thoughts of anyone who's ever sat here and contemplated this middle view.

The middle view is perpetually between. It's the scrubby desert plants, the skeletal remains of mattresses propped up as fences, the tan horizontality. It is the kind of view that settles the gaze but frustrates the camera.
"Show us your view!" the call for entries says. The magazine is Dwell, and it's on the midcentury coffee table inside this rented house in the desert. The magazine says it will choose the best view and display it in a future issue. I've tried to photograph the view from the window of this house in the desert, but it looks like nothing. Views rarely translate. Why do they resist having their photo taken? Maybe they're shy, or just wary. Perhaps they know that to become a landscape they have to cease being a world. If that's the case, I understand their trepidation. I've had a long-standing love affair with these sort of views, but it's always felt rather one-sided. If only I could seduce one into being photographed. That would be a great victory, and I haven't won anything in a long time.
I don't sit by the window anymore when I fly, I don't look out now that the Internet is here, two feet in front of my face. During a six-hour flight I search for more information about the Show Us Your View contest and in the process find a list of the Ten Best Hotel Views in the World, according to AskMen.com. The list spans the globe, and the height and width of its architecture, from vertigo-inducing city balconies to the serenity of plains and desert verandas. AskMen bases the merit of these views on their worthiness of being photographed. The Hayman Island Resort Australia has "vistas that will stay with you long after your Kodak snaps have faded," and Hotel Caruso Ravello offers "the archetypal picture-postcard view of Italy, complete with bougainvillea-draped white houses and lush green cliffs offset by the dramatic blue Mediterranean." I know this view. I've stuck it to my refrigerator with a magnet many times. The number one best hotel view in the world goes to a hotel called Commune, in China, which has "unparalleled views of the surrounding mountains, and of course, the Great Wall." This word unparalleled strikes me as strange. Instead, I try to imagine a quite literal parallel view of the Great Wall—something with no vanishing point. But as AskMen claims, it's impossible. The gaze of the countless eyes that have made snapshots of these views immediately collapses them like some kind of foregone conclusion.
On the plane I look at TV on the Internet. I watch "The View"—a show for women. Whoopi, Joy, Sherri, Barbara, Elisabeth!
"Hi everyone, today we're going to be talking about the gaze."
"The gays?!"
 "Ha. Ha. Ha. Whoopi! Joy!"
"No Sherri, the gaze. How it is to look and be looked at. A lot of people talk about the male gaze."
"Yeah, the other day I was walkin' along a construction site and a couple a men were catcallin' me. I could feel their eyes."
"See? That's the male gaze."
"Sing it, Elisabeth!"
"What do you think, Barbara? Do men feel it? Do objects feel it? What about nature? When you put it on a postcard does it feel cheap and tacky? Does it become a kind of pinup girl?"
I close the window on my computer and see what's outside. The clouds are below now, like a floor or a table. To the left and right is blue.
*
I am on a ship making the journey across the Atlantic. I am part of the crew. We aren't allowed to bring cameras or phones with cameras because they don't want us to be distracted while we're working. Every time I see something I want to photograph, I take the picture in my mind, with my mind, and write it down later. Our route is full of contest-winning views. I take a picture of the view from my room below deck.
It looks like this: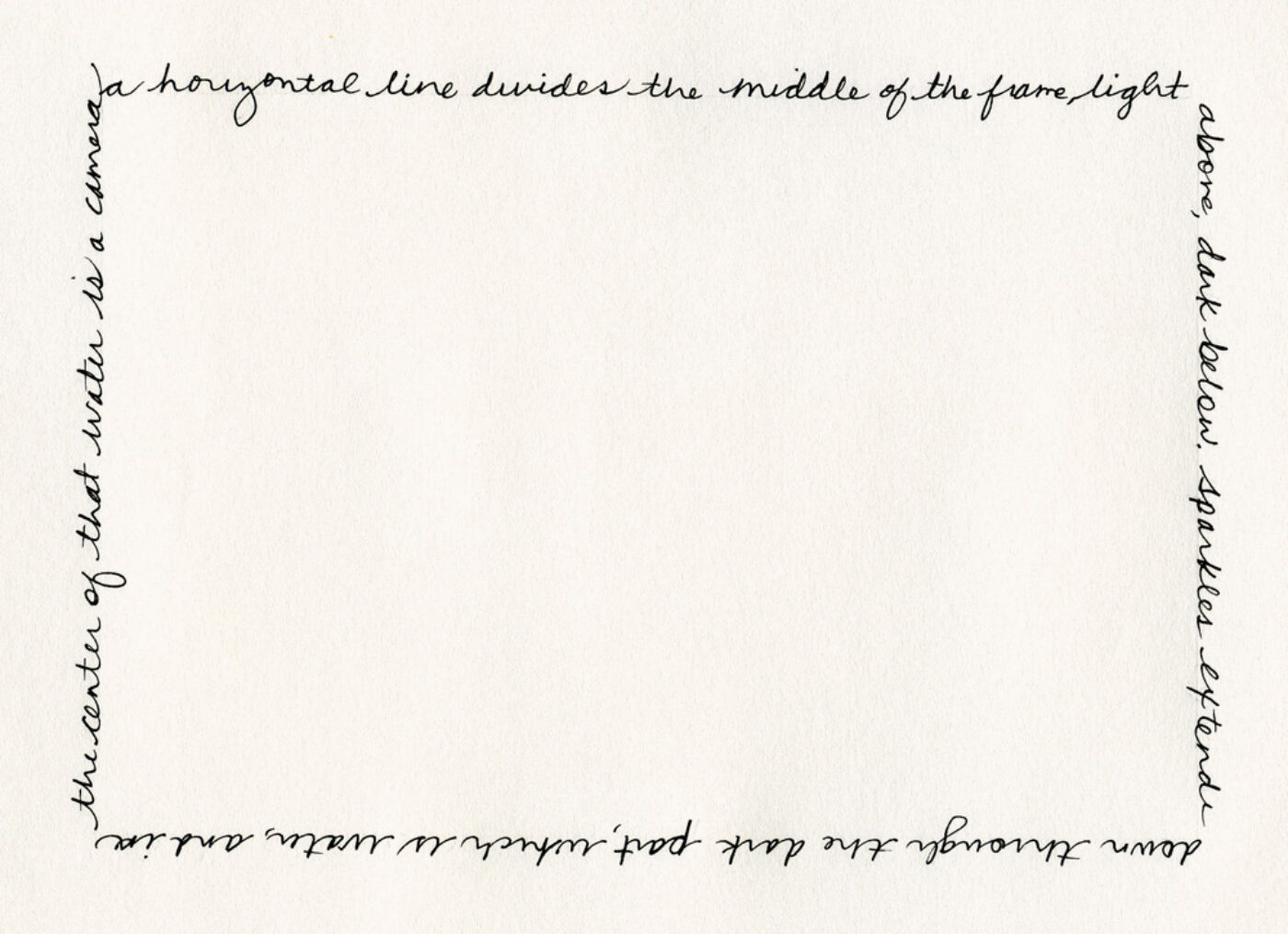 They are like little love letters, these pictures.
On the ship, we wear all-white uniforms because we're not supposed to distract the passengers from the beauty of the places they've paid to see. The white clothes are lovely and blank but difficult to wear. They make it impossible to conceal the friction of the world rubbing against you. In my cabin I take off this uniform, and stand in front of the mirror, making a self-portrait.
Before I was a sailor, and long before my time in the desert, I wore white for an entire year. The whites I wore were mainly threadbare undershirts that had belonged to my father, and baggy white pants held up by a belt given to me by my mother, which she'd purchased at a second-hand store. During this year, I was seeing a girl with long black hair. The girl had an amazing view, and I fell in love with it. She lived at the top of a very high hill above Sunset Boulevard, and from there the glittering lights were vast and without focus. I could breathe.
For her view, I had conquered a longstanding fear of driving. My white knuckles were now relaxed, pink knobs. Little islands at the apex of my hands, fingers curled lightly over the top of the steering wheel, drifting with the tidal movement of my turns. I felt like a prince, perhaps. And her view was my prize. And her hair. It was the sort of black that folds in on itself. It felt good to touch, even with your eyes. Looking at it was satisfying, like closing a heavy linen-bound volume, or hearing the sound of something dropped to the bottom of a well with a thick felt bottom.
How did it end? She moved.
I can't stay on the ship much longer, impotent, without a camera. I have my love letters, but until I show them to someone, they feel like they don't exist. I think I've only felt this way since I fell in love with a photographer.
He left me to go to China, and I left him for the desert, for the sea. I wanted to see what there was without him. From China, he sends back images. Buildings under construction, neat hotel rooms with folded bedspreads. Fish and ducks on platters with their heads and feet on. I ask for pictures of him. He sends Tiananmen Square, Kentucky Fried Chicken, and the Olympic Pavilion, half completed.
I write and say tomorrow I will disembark, and sit down in a tattoo artist's chair and have him put my view on me—a back piece, choppy white lines cutting large swaths of darkness for the sea, and bleached out rectangles for buildings, like one finds perched on a cliff, like women leaning over the railing of a ship's deck.
Leah Dieterich the author of thxthxthx: thank goodness for everything (Andrews McMeel, 2011). Her writing has also appeared in Women in Clothes (Blue Rider Press, 2014) and Cassette from My Ex: Stories and Soundtracks from Lost Loves (St. Martin's Griffin, 2009). She is currently working on a book about coupling, identity, and vanishing twins.