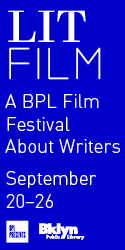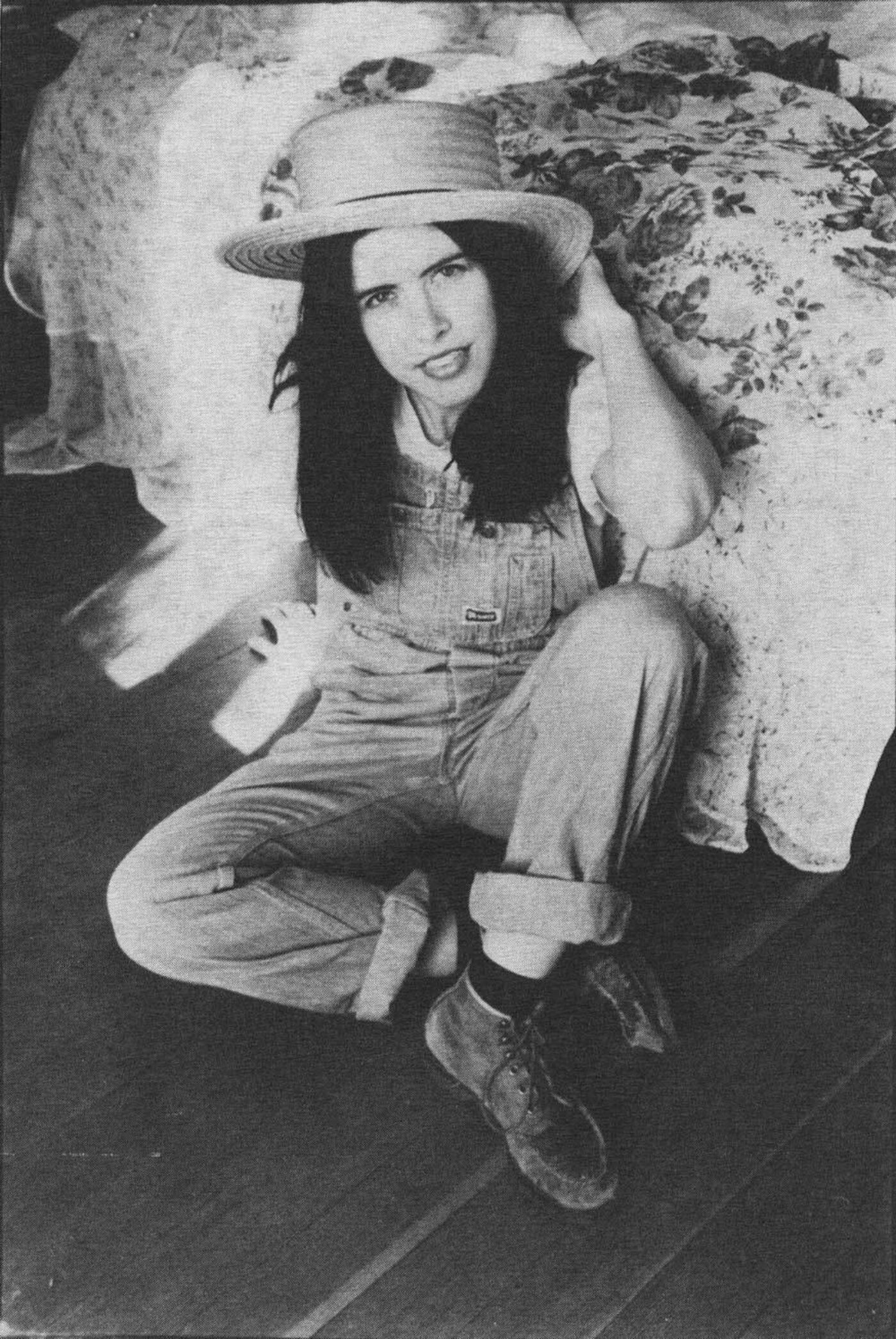 T Bone Burnett describes singer/songwriter, Victoria Williams as "one of those rare and charming Southerners that sometimes wanders away from a town cut off from the rest of the world." Calling on country, cabaret and gospel from her Louisiana childhood, Williams has recorded two completely unique albums, Happy, Come Home(Geffen) and recently, Swing the Statue (Rough Trade).
Like some of her favorite fiction writers' Capote, McCullers, Salinger' Victoria is a natural storyteller, with a literary attention to detail and a winsome, stream of consciousness delivery, on and offstage. It's not surprising that D. B. Pennebaker and Gus Van Sant directed videos of her songs. This fall she'll make her feature film debut in The Rapture, written and directed by first timer Michael Tolkin.
The last time I saw Victoria, we were on our way to what she thought was a gospel performance and what turned out to be a huge party for an R&B/rap group at the South Street Seaport. I went to dance and didn't catch up with her again until she was back home in Los Angeles.
Lynn Geller Where did you go that night? Typically, I lost everyone we came with, but I had a great time.
Victoria Williams Oh, I went to a bar with the wonderful Brian Cullman.
LG I figured you'd be fine. This is going to be hard, but let's try to do the interview and not just chat. So, how old were you when you first wrote a song?
VW About 15. I wrote out a lot of thoughts before that.
LG Do you come from a musical family?
VW Somewhat. My father plays clarinet. My great aunt Judy was a pianist and Eula or Alma was a singer.
LG Who?
VW Great aunts.
LG Growing up, you were surrounded by family?
VW In Shreveport, yes. My father's father was a doctor, but his father came on a boat from Wales, a sea captain. He traveled up the Mississippi River to Shreveport where he settled and painstakingly picked out every board from the lumber company and built a house on Louisiana Avenue near the train station. An interstate came in and they had to make a loop so they tore down the old homeplace. When Mama and Daddy built our house, they took pieces of the homestead and put it in ours.
LG How did you begin getting into music?
VW It was just a release, an outlet for expression. There were these parties at night. A whole group of people would go down and jam under the moon out on a sandbar on the Red River.
LG Your music seems informed by lots of things, including hymns. What were you listening to?
VW It probably is such a mesh of influences. There is definitely white church gospel from when I sang in choir and then black gospel when I'd skip out on church and go listen to the black music. I really dug that. I joined a black choir when I moved to Los Angeles in '81, '82. I met a girl whose father-in-law preached in a church where they had a singer called The Louisiana Woman. A lot of the people in the church were from Louisiana. They said they needed people for the choir, so I joined up and started taking a bus down to Watts, though I didn't know it was Watts at the time. I'd go down on Tuesday nights with her for practice, and we'd sing on Sunday. We sang at different churches and at the Ebony theater.
LG I'm still not clear on how you got to L.A. in the first place.
VW Well, the first time I went with this producer from the Louisiana Hay Ride, this big barn dinner theater. It's a kind of defunct thing where Hank Williams and Elvis and all those guys started out. I was playing with Michael Grady, a good old Louisiana boy. Actually, I heard one of his songs might be cut by George Jones. Something about being in the doghouse.
LG I love that expression, being in the doghouse, like Blondie chasing Dagwood with a skillet.
VW Like buying doghouse flowers, to make up with someone.
LG You just went to the desert to write.
VW God, it seems like I was gone an eternity, but it was only a few days. I went out there to cool out and write, but I wrote a little and got sick. I read a J. D. Salinger book though, that I'd never seen before, Raise High the Roofbeam, Carpenters and Seymour, An Introduction. He's one of my favorite writers.
LG It makes me sad that he didn't keep writing.
VW I think that suicide of Seymour's was almost like a suicide of himself as a writer.
LG When you do your own writing, are you ever inspired by books that you read?
VW Yes. I've written some pieces, though I haven't recorded them, that were inspired by books. And I even wanted to make musicals out of some books, like The Grass Harpby Truman Capote.
LG Gus Van Sant wanted to cast you in Kelly Lynch's part in Drugstore Cowboy, do you regret not doing it?
VW No, I just figure if I was supposed to have done it, I would have. I liked the film, because it showed what a nowhere scene "where's the next high?" is. When I read the script, I thought this was exactly what I hated about people who did drugs that way. I knew so many people like that, just on the edge. It was definitely realistic.
LG Are you going to work with Gus Van Sant again?
VW He's asked me to work on Even Cowgirls Get the Blues. But first he's going to do another movie, Private Idaho. I really liked Cowgirls in high school' I have to re-read it.
LG How did Gus Van Sant find you?
VW He'd seen the film that Pennebaker did and thought I'd be right for the part. Pennebaker's film started out as a video for a song called "Merry Go Round." But Pennebaker just kept shooting and it became a little docu-film, set in Louisiana that includes a lot more songs. It's available on video and they play it sometimes on PBS' on a series about location, called, Time and Place or Place and Time.
LG A lot of your songs, like "Tarbelly and Featherfoot," seem to reflect your environment, a very personal landscape. What inspired that?
VW That was a song that helped me one night when I was feeling stuck by two parts of my personality. It's really about remembering the gifts of childhood, the bit we need to recapture to see life in the best way.
LG My favorite is "Boogieman."
VW Some people don't like that, it gives them the creeps.
LG Oh, I like it. It reminds me of how things look to you when you're a kid.
VW It's got an underlying message about not judging people by their outward appearances. I wrote the beginning with this little girl who was being raised by her father, a real burly kind of mountain man. His wife had run off with his best friend and left him to raise the little girl. She was the sweetest blond, curly-headed child, but the other kids would make fun of her and say, "Where's your mommy?" So it was a song telling them that her father wasn't really the boogieman just because he was wearing old overalls and always had a layer of dirt on him.
LG How did you know them?
VW I met them when I lived out in the country. I left home when I was 16 and spent a lot of years living with a band of musicians outside Shreveport. The man and his daughter were drop-ins, visitors.
LG How did you end up leaving Louisiana?
VW Well, when I came back from Los Angeles, to get the band, it seemed like everything had changed. People were hunting and doing drugs. One night I decided I had to leave, and the next day I got in my car and started meandering across the country. I got a Martin guitar in a pawn shop in Baton Rouge. And when I got to L.A., I stayed at a friend's place, but I often lived in my car. There were three of us' with my friend and her boyfriend' living in a garage behind Lana Turner's old house, and I felt like a third wheel, so I'd park my car out where sunset meets ocean and sleep there. A lot of people were doing that at the time.
LG How were you supporting yourself?
VW I played music on the boardwalk and then I worked in a flower shop, then in a candy store, painted some houses … And I used to meet a lot of Los Angeles musicians at the "jam" nights at Cafe du Grand.
LG Is that where you met your ex-husband, Peter Case?
VW No, that was through a drummer named Bannister who I met right before Rough Trade sent me to Europe to open for Jonathan Richman. When I got back, we became buddies, hanging out, going to the beach. One day, Bannister brought me over to Peter's house and we fell in love. It was a quick romance. We all went out in an old blue car. Peter has a song, "Old Blue Car," on his album.
LG Did you work on his stuff, too?
VW On Peter's first solo record, we collaborated on a few songs. And on the second, we wrote one song together.
LG Were you working on your own music at the same time?
VW Somewhat, but the first year we were together, I was just waiting for a deal I had signed with E.M.I. to expire. The week after I signed it, the Vice President and his A & R guy quit, so I had to wait it out. Peter used to be in the Plimsouls, a popular L.A. band, but when I met him he wanted to be a solo artist. The divorce just came through in May, but it's been over for a couple of years.
LG So this album is really solo.
VW Yes and so is my life. On my first album, I went to New York to record, and I wanted him to come and play harmonica. But he wouldn't and we nearly split up then. I kind of thought I'd quit playing music, because I had the idea that if I did that, our marriage would work. So I quit until I realized it wasn't going to work anyway. It's almost like I used my marriage to not look at my work as much as I needed to.
LG What are you working on now?
VW I've been asked by Atlantic to do a children's video. I've written three children's stories, just to give my nephew, and I thought one of them might work as a video. So I'm pondering that and I'm going to drive across country making lots of stops on the way.
LG Let's talk about The Rapture. It's an apocalyptic movie?
VW Yeah. I play a faithful person, a believer. It's about the Rapture, but it's not completely biblical.
LG The Rapture refers to a part of the Bible?
VW Yes, Matthew XXIV' the signs of the age' war in diverse places, earthquakes, famine, and all those things will be the beginning of the end. After the movie, I'll probably go to Georgia to work with a wonderful songwriter named Vic Chesnut on his album. Then, on October 24th, I'm playing the Coliseum, opening for Midnight Oil, to benefit the homeless with Orphan Train. That's a band we started just to play benefits. The Orphan Train was a real train at the turn of the century. There were so many homeless orphans on the streets of New York that a man began rounding them up and taking the kids across country, distributing them to families who really wanted them.
LG I'd take one, but I'd have to find someone to financially adopt me as well. And you must be working on your new album?
VW Yes. I write all different ways, because I write all the time, sometimes to music, sometimes not. You write, and it all starts becoming clearer and clearer. It's not really about getting in touch. I search for whatever truth I can find within me, not just what's on the news.
—Lynn Geller is a writer and a music supervisor on films.
Originally published in
Featuring interviews with Al Pacino, Ian McEwan, Dr. John, Harvey Keitel, Vikram Seth, Dorothea Phillips, Thulani Davis, Victoria Williams, Bella Freud, Jo Shane, Campbell Scott, and Dorothea Tanning.