Vesuvius in Your Mind: On Joan Jonas's Early Films by Mónica Savirón
Uncovering the artist's innovations and legacies.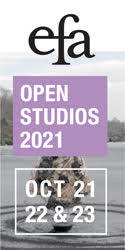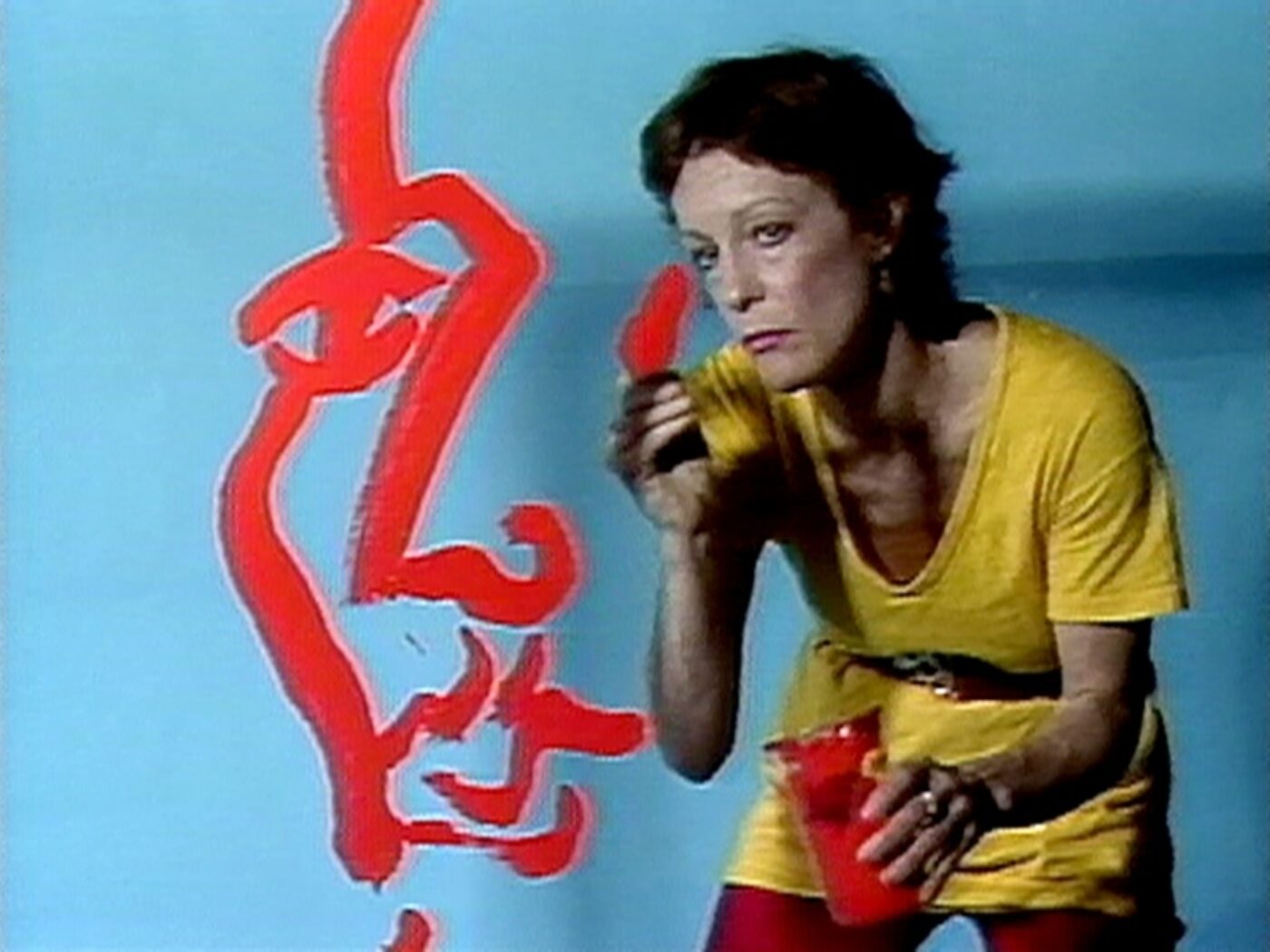 Like a modern character from Crete's ancient Minoan culture, trailblazer artist Joan Jonas weaves symbols and media to transfigure feminist and psychological themes. Her work juxtaposes sculpture, painting, film, video, and performance as forms not to escape, but to scale. Surfaces become screens from where to measure slim chances, and transform poetic structures into cinematic phrasings. This month, Anthology Film Archives and Electronic Arts Intermix present a screening of her 16mm films, including two collaborations with Richard Serra, followed by a selection of her videos. Jonas will attend and introduce both shows.
The programs begin with newly-preserved 16mm prints of Wind (1968) and Songdelay (1973), made from the original reversal materials. Wind, Jonas's first film, reinterprets visual formulas explored in Oad Lau, her first public performance, from the same year: On the stage of Saint Peter's Church in New York, Jonas and Keith Hollingworth walked arm in arm, back and forth, in restless crossed transit. Big electric fans blew on the ghost-like couple from a distance, swinging their winter attire sewn with hanging mirrors. For the silent film, Jonas transplanted the scene near the waters of snowy, windswept Jones Beach on Long Island. The Atlantic gales swayed the game, pulling and pushing the dancers in and out of the camera's frame. Projected at regular 24 frames per second, but shot at slower speed, the film is reminiscent of early cinema. Thirty years before Wind was conceived, Robert Flaherty had filmed the fictional documentary Man of Aran, which portrayed fishermen battling against the gusts of Inishmore Island. In Jonas's film, these forces are to be embraced—if not with delight, at least with placating humor.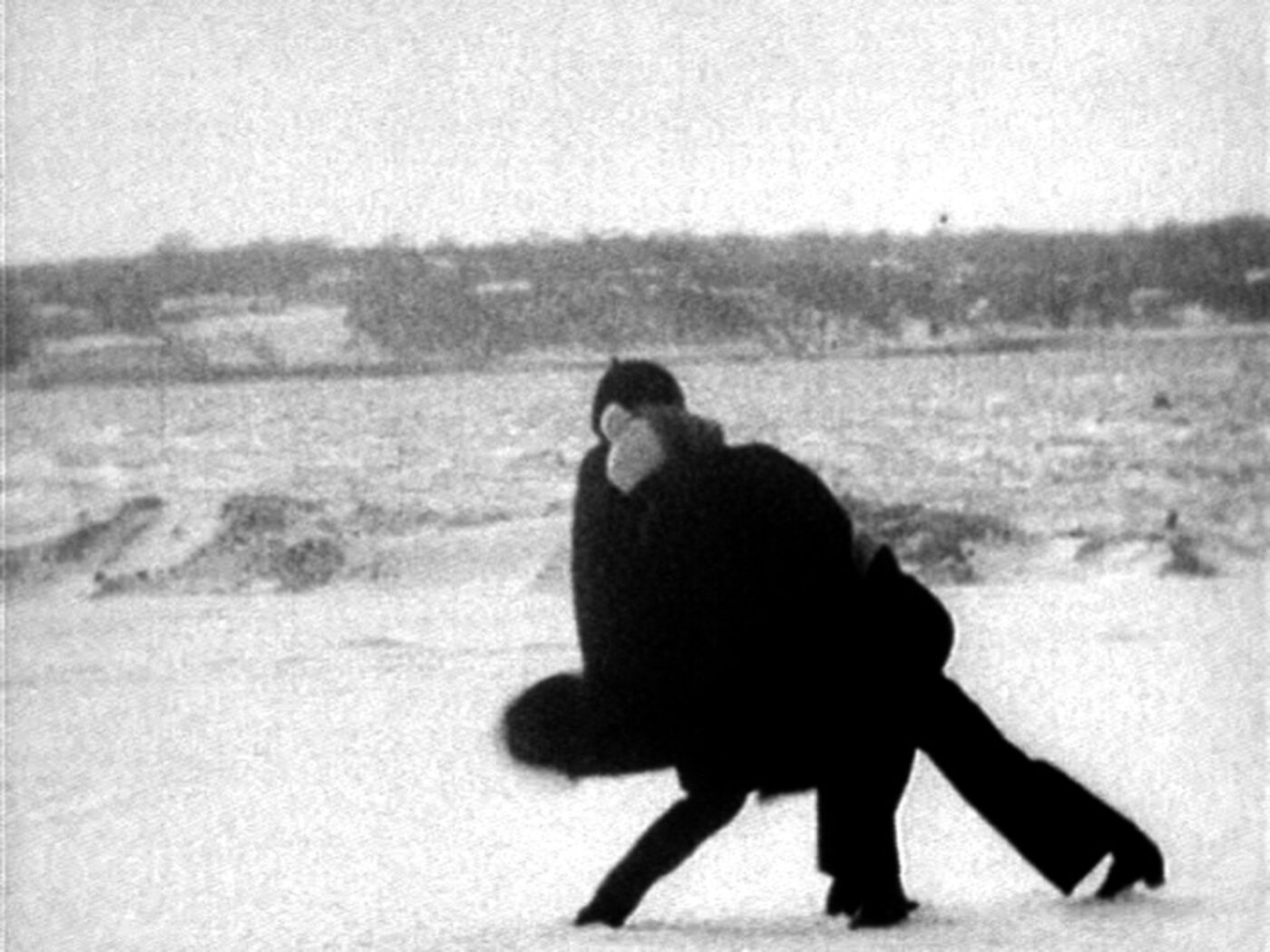 Much of Jonas's cinematic explorations approach sound as a reminder of dislocation and ambiguity. In films like Songdelay, out-of-sync sound is not the result of editing manipulation. Instead, the camera is the element that questions sound directly. Alterations of perception appear as illusory tricks in a magic show by framing movement with wide-angle and telephoto lenses at long depths of field. Jonas is interested in the performance of phenomena, the time that sound travels the distance between spaces, and the varying separations from what was said to what is heard.
This dooming of the senses and their understandings are also central to Paul Revere (1971), made with Serra. Structured in educational fashion, the film analyzes Revere's transmission system for signaling light towers. "This process may tell something about the nature of sanity and, by extension, insanity," Jonas recites, her voice-over reflecting on the apparently straightforward but highly complex ways of effective communication. When positioned in front of the looking glass, objects such as lanterns, bells, clocks, light bulbs, and title cards become symbols that stray our judgment, splinters of thought to brook and burrow.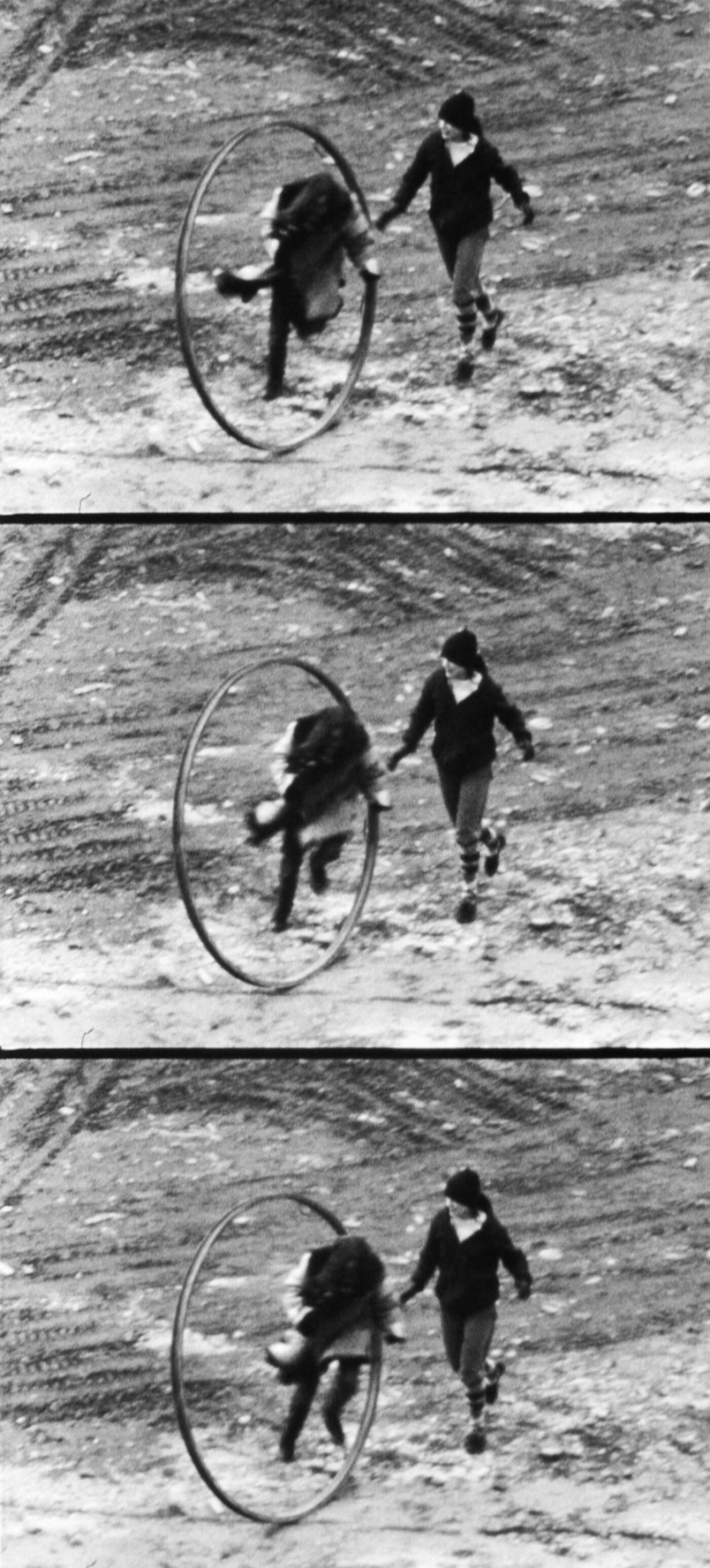 In the same year Jonas and Serra created Veil, a black-and-white, looped, and silent reinterpretation of Kenneth Anger's Puce Moment (1949), an homage to the women of the silent film era. In Veil, Jonas uncovers her closed eyes from numerous layers of richly textured blankets, one by one. Shot in a single take while the camera moves slowly towards her, the process of unveiling resembles a succession of editing transitions, wiping a shot into the next.
Montage, as a metaphor for rearrangement, remembering, and erasing, is also the poetic vehicle of Jonas's film Mirage (1976), a work originally designed for the screening room of Anthology Film Archives' previous incarnation on Wooster Street. Inspired by Maya Deren's unedited footage of Haitian Vodou rituals, Jonas draws figures on a blackboard, over and over again, only to erase them with her waving hand, dashing dazzling possibilities with each interruption.
Duet (1972) opens the program of Jonas's video works. She howls at a television monitor that reflects a pre-recorded image of herself barking back, like a double from another mindscape. This distorted mirrored image evinces the gap between materiality and illusion: the two sides of the same reality achieve simultaneity only as time-based experiences within the video's frame.
Earlier that same year Jonas created Organic Honey's Visual Telepathy with her newly-acquired portable video camera. She occults her face behind an erotic, plastic mask to become her alter ego Organic Honey. Like the otherworldly Lady Wakasa in Kenji Mizoguchi's film Ugetsu (1953), Jonas winds her body with a tunic of embroidered butterflies. Visual cuts occur by turning the light on and off, as if in flutter.
Jonas's films and videos elide unreal and surreal worlds, always in cumulative reinterpretation. For her, our most appealing powers, tales, and memories stand unparalleled and unmeasurable. This is also true in Double Lunar Dogs (1984) and Volcano Saga (1989), where Jonas creates a unique cosmology, from post-apocalyptic to medieval. These videos of intense color are a celebration of analog special effects, time capsules of chroma-key backdrops where Spalding Gray and Tilda Swinton perform along multi-screened NASA footage, Icelandic landscapes, and dream-like songs by Alvin Lucier.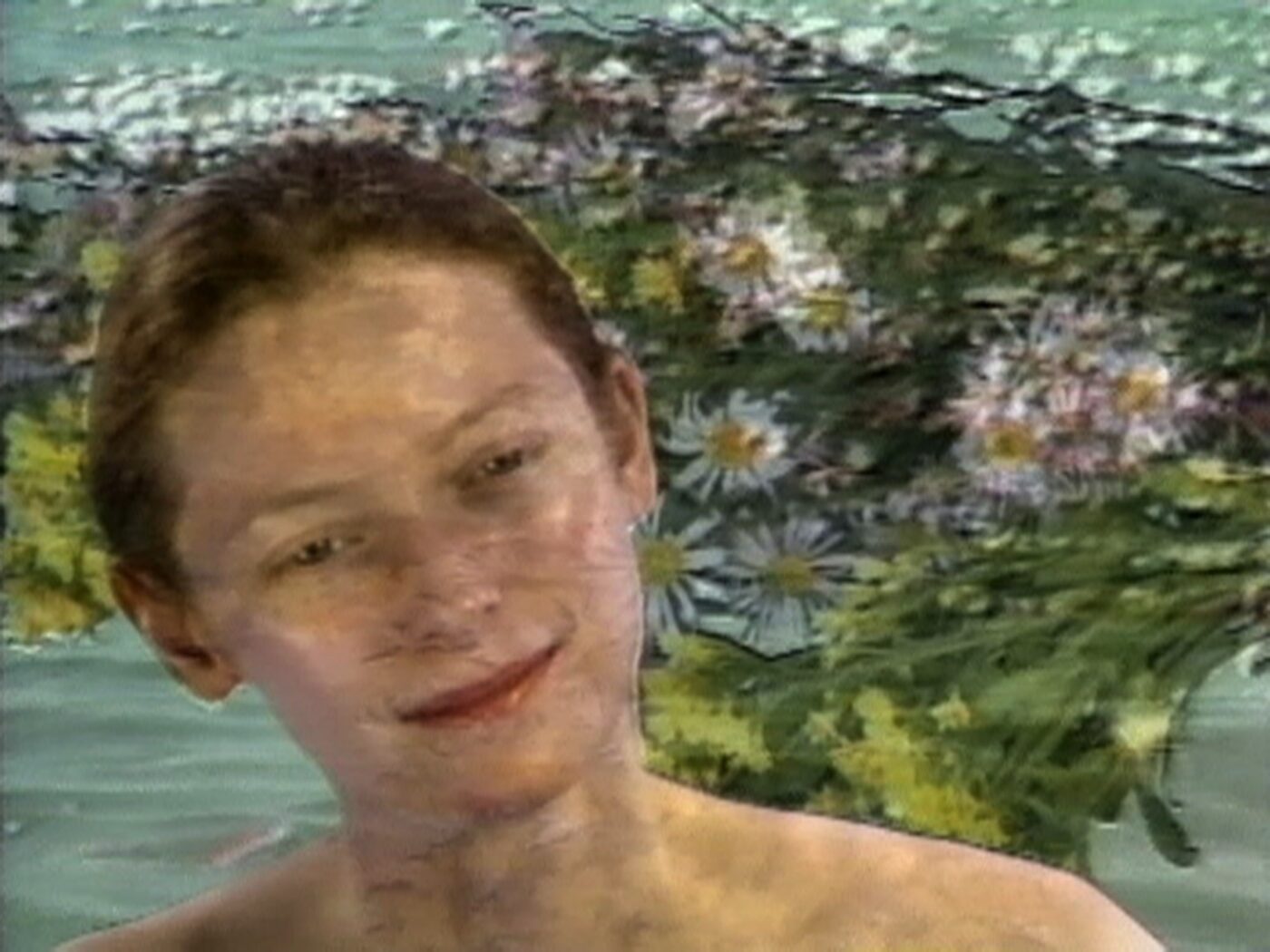 Experiencing these works today, one realizes that Jonas still leads the most revealing explorations on vertical montage, even though its maximum exponent, Vertical Roll (1972), is not included in these programs. Ravel Ravel (2013), by the Albanian artist Anri Sala, is one of the recent works that take on this legacy, where the cuts, in the center of the screen, are aisles of union or separation, and the frames above and below are chambers where anything can happen, visually and acoustically.
Jonas's films and videos remain mysteries crafted in the Dickinsonian mode, the Vesuvius in an artist's mind whose doors haunt open for those willing to look at the world differently. In Volcano Saga, she held a measuring stick while narrating an accident that actually happened: sudden winds had blown her and her car off the road, leaving them upside down, dauntlessly clearing the frame—for the artist to start over again, seeing anew from a not-so-distant here and now.
Joan Jonas will introduce a program of her 16mm films on September 20 and a selection of her videos on September 21, at Anthology Film Archives in New York. The film program repeats on September 24.
Mónica Savirón is an independent curator, writer, and filmmaker from Spain, based in New York. Her work explores the cinematic possibilities of avant-garde poetics.