Soviet filmmaker Dziga Vertov, whose works are now being shown at MoMA as part of a major retrospective, spent the 1920s developing many of the techniques of avant-garde cinema—in the belief that the new technology of film would help the working class transform reality.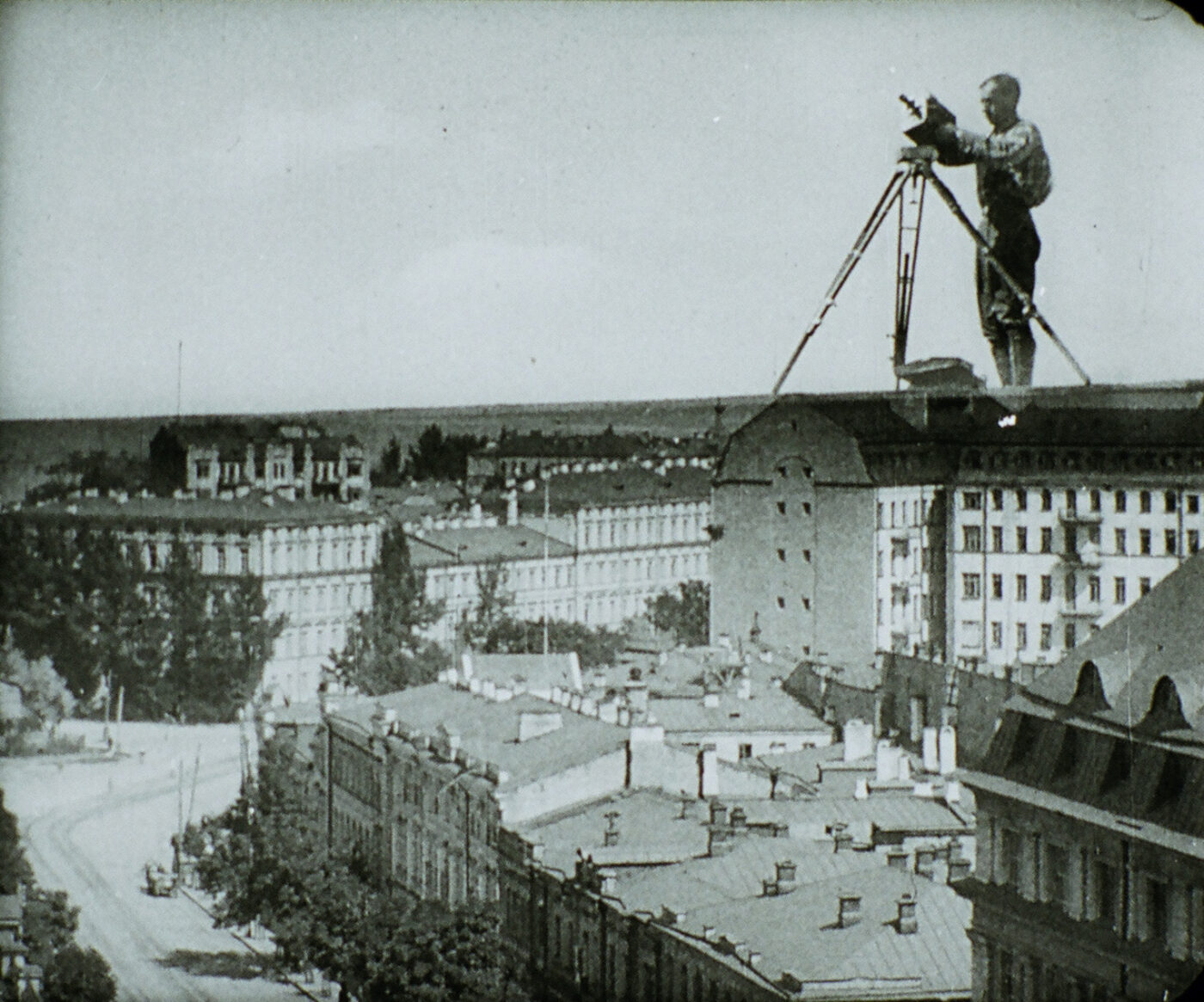 The name Dziga Vertov suggests a spinning top to a Slavic ear. The young David Abelevich Kaufman picked this pseudonym and used it throughout his career as a revolutionary filmmaker—or perhaps a revolutionary and filmmaker—while making technically innovative and deeply ideological films. Vertov's pieces enact his eponymous metaphor's contradictory promises of perpetual motion and rapid acceleration until a sudden stop.
Professor Yuri Tsivian, introducing the films at MoMA, called Vertov's work "a time-lapse movie showing the growth of Soviet avant-garde cinema." Like many a bright Jewish boy, Vertov started off a medical student. At the Petrograd Psychoneurological Institute, he began to play with recorded sound, and, after the Revolution, worked on agitprop film. He moved up to editing the newsreel Kino-Pravda (Film-Truth, a video analogue to the party newspaper Pravda as well as a statement of purpose.) There, he experimented with film technique, considering it part of the Soviet effort to use mass media for political education. He began to make longer films, silent "factographic" works that we might call documentaries even if they have little in common with other films classified as such. Vertov's first feature, Kino-Eye (1924), subtitled Life Off Guard, follows a troop of Young Pioneers—essentially Soviet Boy and Girl Scouts—as they struggle against bourgeois elements, and experiments with jump cuts, hidden cameras, and reversed footage. The Man With The Movie Camera (1929) blends images of city life in Moscow, Kiev, and Odessa—streetcars, crowds, a woman giving birth in a hospital, workers playing chess in a proletarian club, the physical activities of humans and machines—with images of a cameraman with his device and the editing of the film; superimpositions of the cameraman as well as double exposures and split screens emphasize the role of the filmmaker in the creation and perception of reality.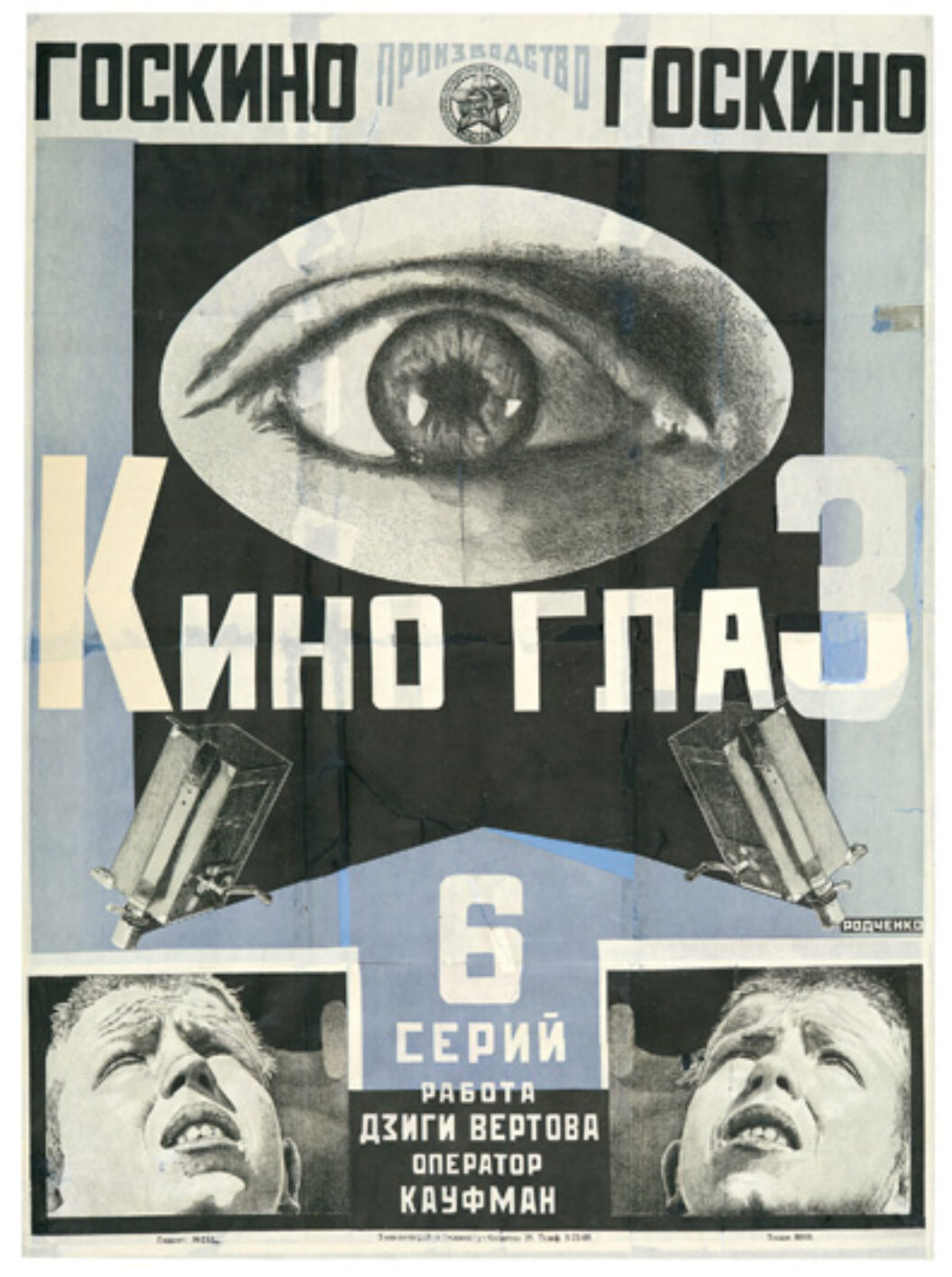 Vertov believed in a cinema of "fact"—in his "factory of facts," films would be constructed from recorded actualities. An introductory statement to Man With The Movie Camera called for "the creation of an authentically international absolute language of cinema… on the basis of its complete separation from the language of theatre and literature." Vertov denounced the subordination of film to narrative and filmed without actors, scripts, or plans for shooting (though some scenes in Kino-Eyeand Man With The Movie Camera were evidently staged). Instead, that superior mechanical eye, the camera, would capture life as it was actually lived. Despite this apparent willingness to follow the course of events—traveling with a troop of Young Pioneers around the city, Kino-Eye notices the arrival of an elephant, and proceeds to go follow it instead—Vertov's works are woven together carefully, with "real life" tightly under his thumb.
Most directors, then as now, aim for seamlessness when splicing clips together. No matter when and where the footage was shot, it should be put together in a way that minimizes the inherent awkwardness of editing. Vertov's view is the reverse. He wants to draw attention to the editing process, to make sudden moves and jarring jumps, because any transition that appears disjunctive is actually a specific political or aesthetic argument. Early episodes of Kino-Pravda, according to Tsivian, pioneered dialectical editing—for instance, news reports on famine give way to the expropriation of wealth from the Orthodox church, which is then used to finance relief efforts. Such sharp contrasts and their attendant ironies demonstrate the interrelationship of events. In The Man With The Movie Camera, jumps from poetic images of urban life to the production of the film emphasize that the film, like life, is essentially something made, artificial, all part of a process of mutual surveillance.
Vertov's camera lingers lovingly on machines, as if to say that the cinema is an industrial art, whose productivity has been increased, made more efficient. His images are militaristic: the camera is to be "filmed like a gun," say notes from the shooting of Man With The Movie Camera. Yet his experiments with reversed film are thrilling. The mother of a Pioneer buys meat from a private seller instead of the cooperative: Vertov gives her a do-over. An intertitle announces "Kino Eye moves time backward." This time she makes the right choice. So film has the power to correct reality, to direct people towards socialist ethics. But then we keep going. The meat goes back to the slaughterhouse, Vertov gives the bull back his organs and skin and brings him back to life, and then leads him all the way back to the countryside. Another sequence, "Kino Eye shows you the right way to dive," is simply joyful: Vertov slows down the descents of divers and then, after the splash, undoes it and calls them back to the diving board. His sense of amazement with what he is able to do comes through (though such images of the human form should also be seen as paeans to the strong and healthy Socialist body.)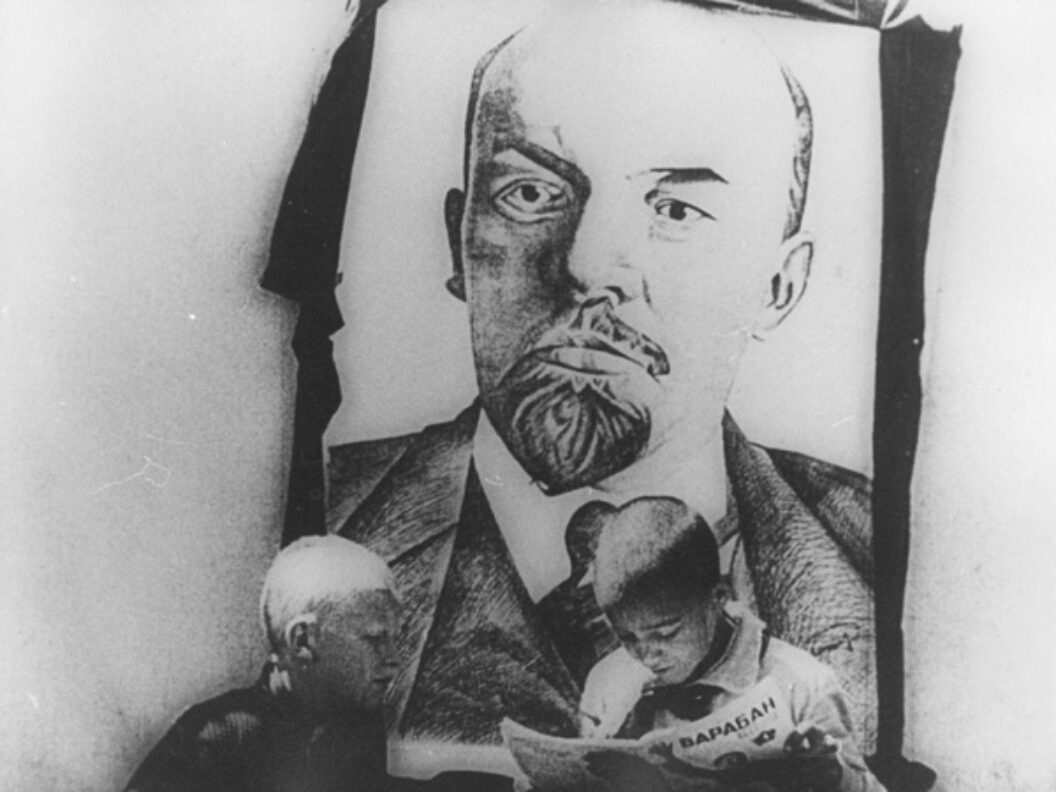 Of course, Vertov's work is highly ideological and propagandistic, ranging from the trite—children call adults who drink and smoke allies of tuberculosis, which itself is a symptom of capitalism—to the chilling; the proletarian justice of the 1922 trial of the "rightist" Socialist-Revolutionaries, rivals of the Bolsheviks, depicted through mass crowd shots and scenes of popular enthusiasm for punishment in addition to courtroom drama, presages the show trials of Stalinism. Vertov fell from favor as official Soviet aesthetic pronouncements criticized his "formalism." Still, art and propaganda do not always inhabit separate spheres. The most radical creative impulses of the Soviet avant-garde of the 1920s emphasized the supposed ability of art to control and reshape reality, a belief having much in common with the project of the creation of a New Soviet Person, and Vertov, like many of his peers, glorified the power of the state. Film was first and foremost a weapon for political struggle.
The appeal of Vertov's work today, though, is to get another chance to see the full extent of possibilities available to anyone with a movie camera—the feeling of unboundedness that appears to someone who can edit space and time.
MoMA's Dziga Vertov retrospective runs from April 15-June 4, 2011. See a schedule of screenings here. Anthology Film Archives will also be showing Vertov's films as part of the Essential Cinema program April 22-24.
Zack Friedman is a writer based in New York.