Mick Turner (who has a new album out soon) and Jim White discuss the Melbourne post-punk scene of the '80s and '90s, as well as their transition to playing in Dirty Three.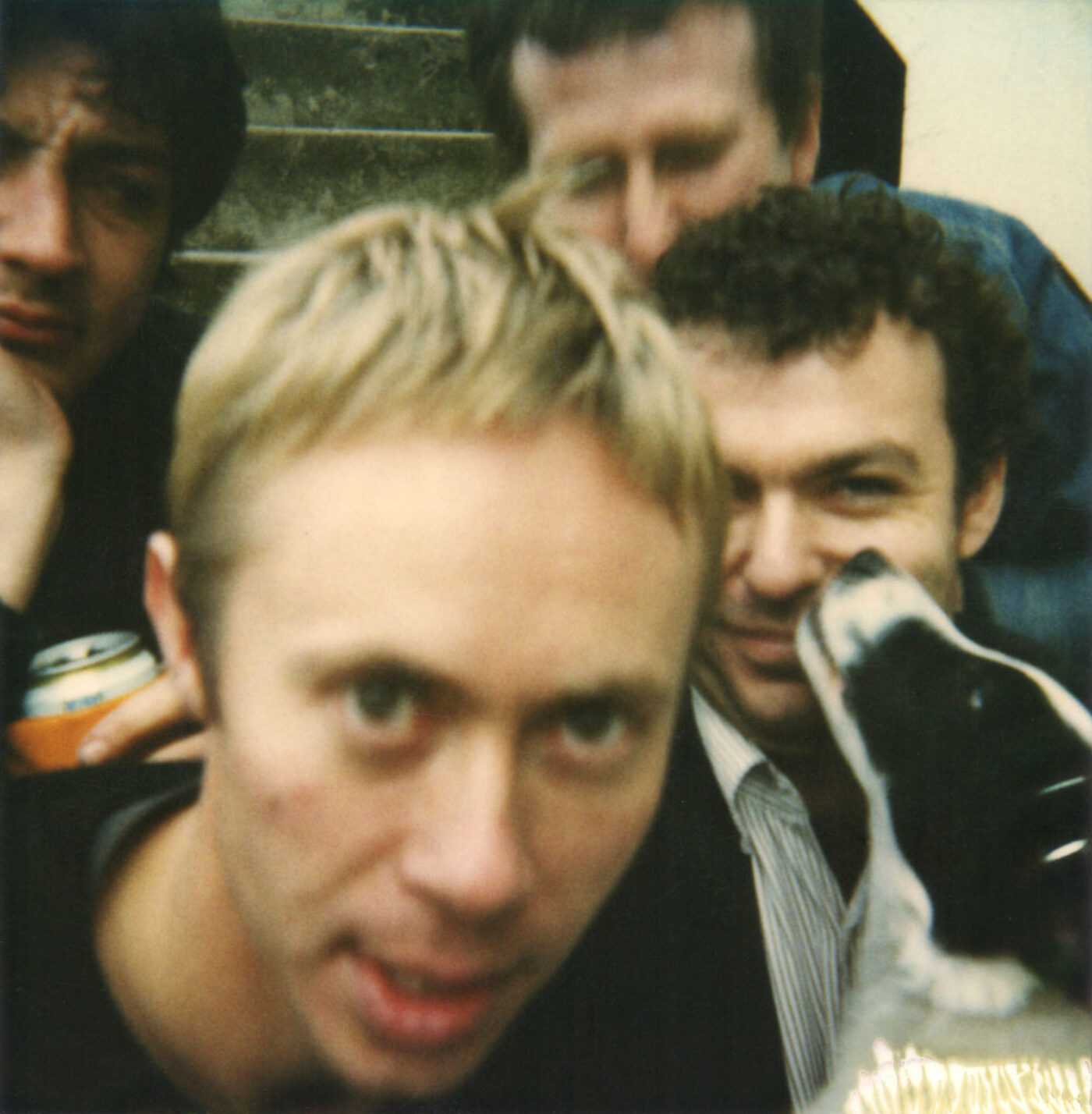 Melbourne's Venom P. Stinger might best be described as the deviant offspring of two prevailing climates in the Australian underground of the 1980s: too tough for the art-drenched status quo, too formally estranged from the American-indebted hardcore emerging earlier in the decade. When the band was formed in the mid-'80s, Drummer Jim White (who, with guitarist Mick Turner, now comprises 2/3 of Dirty Three) had envisioned a project opposed to what he considered the "hegemony of chords [and] notes" in underground music, while still retaining the shape of a rock'n'roll band. He recruited Turner after hearing a cassette by the guitarist's post-harcore band Sick Things and, along with Fungus Brains throatist Dugald McKenzie and bassist Alan Secher-Jensen, assembled Venom P. Stinger.
The result was nothing less than the rapid decay of rock music into VPS's unique brand of discordance, punctuated by McKenzie's guttural snarl: "I started swimming in my own blood/I saw my friends get taken/I don't even like swimming/I wish I wasn't tripping." This summer, Drag City reissued the complete McKenzie-era recordings, from their debut LP Meet My Friend Venom (1986) through to the Waiting Room EP (1991). Mick Turner's incredible new solo album Don't Tell the Driver is out November 19 (also on Drag City).
I recently corresponded with Turner and White about the cloudy history of Venom P. Stinger, post-punk in Melbourne, and the band's transition to the Dirty Three.
Tyler Curtis How did you two come together for Venom P. Stinger?
Mick Turner We knew each other from the music scene in Melbourne, and often shared the stage in various bands. I had recently returned from living in the UK and playing in the Moodists. Jim approached me about joining a band with him, Dugald, and Al. I already knew Dugald from playing with him in Sick Things.
Jim White Fungus Brains and People With Chairs Up Their Noses played together on some bills. Around that time, I'd heard about Sick Things and tried to see them, but they'd broken up. Mick and Dugald had gone on to be Spew Forth. I bought a Sick Things cassette from the counter of Greville Records, it was on Mick's label Maxcass. Anyway, I really liked Mick's style, also we both loved the Laughing Clowns. I went around and borrowed the Laughing Clowns record from him to tape. It wasn't until some time after that we played together, after he joined the Moodists, went overseas, and came back.
TC Mick, you left the Moodists to make more music with Fungus Brains, and then formed VPS a bit later. How did your time with the Moodists pan out? There's quite a dissonance when you hold the Moodists up to VPS and Fungus Brains. Jim, the same can be said for People With Chairs Up Their Noses and VPS.
MT I joined the Moodists in 1983. We left for UK and lived there for two years, made a couple of records, played some very memorable shows. I had a great time and I loved playing with them. I'm really not sure why I left, I think maybe I missed the Melbourne scene with its lack of attitude, because London was full of it. I like London, but it's a shit place as far as a music community goes. We spent the whole time hanging out with other Australians.
The early-'80s Melbourne scene was small, and anyone who was doing anything left-of-center or rare were all in it together. Many of us were playing in several bands at the same time, often with disparate styles. At one time, Jim was playing in a country music band, a punk rock band, an experimental noise band, etc., and often sharing the same stage on one night. There was none of "You have to play this style or you're not cool." Nobody gave a fuck. If someone was interesting, I'd go and see them play to see what they'd do, and most were interesting because they were misfits. People who were well-adjusted drifted away, for there was no money or future in any of it. The rest of us wallowed in it, playing as much as possible for nothing and joining as many bands as would have us. It was a reckless, beautiful, creative time, with no rules or cliques to worry about. That's what I always thought the punk rock wars were about, to bury the rules, but I think by the end of the '80s the scene had grown and was splintering into factions. The hardcore people made their own exclusive scene, the rules came back, genres had their uniform codes. I think VPS got left out everywhere.
JW VPS was never part of the hardcore scene, nor part of what I think of as classicist, Velvet Underground/Suicide vein, nor the overtly Birthday Party-influenced bands.
It was the first band I formed and I knew some things that I wanted it to be—one difference for me from playing with People With Chairs Up Their Noses and Feral Dinosaurs (a country band) was that I had this idea for the drums where they would be intrinsic, the drums were to be in the DNA of the song. I wanted to have parts, but of a particular nature, maybe a kind of a specificity, maybe as sort of an argument against my then-perception of the hegemony of chords, notes—but still being a rock band, not some exercise, if that makes sense. Plus it was about wanting to play with Dugald and Mick who just had it: lyrics, sound, attitude. Nothing put-on or trying-it-on. Mick had that free energy. And having a relationship with a bass player like the one that Al and I developed where we could try these ideas out and see what it was about. Venom P. Stinger didn't really fit in anywhere, and that was fine with me.
TC Sick Things did a lot of covers, including Cockney Rejects, Discharge, the Partisans, and Black Flag.
MT I only knew of a handful of people who had these records back then, but Dugald had them and he introduced me to a lot of music. We were also listening to Germs, Adolescents, Flipper, Cramps, Crass, Flux of Pink Indians, the Damned, the Saints, Dead Kennedys, etc. They all influenced us.
TC International Exiles' Rob Wellington said that Melbourne was more than anything influenced by the Saints. Wellington noted one particularly seminal show in 1977 at the Beverly Crest Hotel in St. Kilda. Rob, Chris Walsh (of the Moodists), and Nick Cave were there.
MT I wasn't there, I was 17 then, too young to be in a pub, and living in an outer suburb and doing my final year of high school, but I knew and loved the Saints. I had seen them on television and was an instant fan and bought their album, I had to buy another a couple of years later because I wore it out.
JW I was too young. Unfortunately, I never saw the Saints with Ed Kuepper until a recent reformation. Actually, I saw them once way back with him on bass. I love the Saints's first three albums. Mick and Warren love them, too. Hell, who wouldn't? One of the greatest of all bands. I like the idea that they were a big influence on Melbourne music.
There was a TV show on every Sunday called Countdown which had all the pop songs of the day and people miming in front of a live audience. There was a short segment in the middle where the guy would gossip about what Elton John was doing on his US tour or something, and play a few seconds of clips that I guess he couldn't or wouldn't get on in full for whatever reason. One day he played a few seconds of the Saints's I'm Stranded.Just those few seconds were a big influence on Australia, I reckon. They were on me, anyway.
We had the Saints's first three albums, either my elder sister or I did. I knew every note on them. I learnt to play the drums playing along on the lounge room floor to Prehistoric Soundsand Do Right Woman by Aretha Franklin. When I graduated from high school, I went to university for a year. One day at lunch time, this band played and it blew my mind completely. It was the Laughing Clowns featuring Ed Kuepper and Jeffrey Wegener.
The Laughing Clowns—Kueppers' post-Saints band—I think I saw nearly every show they did in Melbourne, and they were fantastic. Jeffrey Wegener, their drummer, was a big influence for me. So elegant and exciting.
The Birthday Party played shows every summer in Melbourne, and they were monumentally good shows, just larger-than-life exciting. The Fall came to Melbourne and played seven shows in a week and they were fantastic. They made a big impression in general, what with the two-drummers lineup.
TC The later, early/mid-'90s period of VPS featured a new singer, Nick Palmer. Where was Dugald McKenzie at that point? How did Palmer get involved with the band?
MT It was 1991. VPS had been going several years and going nowhere. I was craving adventure and so was Jim, I think. Jim was going to USA to see his girlfriend, who had left several months before. I had been there with the Moodists briefly in 1984 and wanted to go back. Music from USA had always attracted me more than the music from Europe, so I was keen when Jim suggested we try and do some shows. Dugald was in a dark place, we didn't hang out socially anymore by then, but I believe he was in with some bad people and he had some personal issues going on. Me, Jim, and Al said to him, "Look, we're going to the USA and going to do some shows. We want you to get your shit together, get a passport and come. We will buy your ticket and pay your way." We gave him a deadline, but he didn't come to the call. I don't know why. He was in a state where no one could know, none of us could anyway. I only ever saw him a couple times after that when he came to see us play with Nick, and I didn't really get to talk to him. Very sad. When he died it had been ten years since I'd seen him.
We arrived in USA with a handful of gigs and no singer. Nick was a fan of the band from Melbourne, in NYC on holiday, and he knew all the lyrics to the songs.
JW Venom P. Stinger was stuck in a rut. I decided to go to the US and asked the band to come too, to make something happen either way. There was some interest in the States, although a release by Byron Coley that was in the works didn't happen due to some money problems to do with a distributor crash. What's Yours Is Mine had been released in Europe, but I wanted to go to America—I think Mick shared that view. Mick and I went to New York. Dugald wasn't in great shape, and shortly after, it became clear he wasn't going to make it over. Al wanted to come anyway, but it seemed pointless. Then, somehow, Nick Palmer was in New York and he knew all of our songs.
We made an album of new material together in Melbourne, Tearbucketer. A radio show we did in Davis, CA was released by Karl Ikola. He organized one of Dirty Three's first shows in America. Dugald later moved to Adelaide, and passed away a few years ago now. He was an amazing person, highly intelligent, charismatic, and generous, as well as a great singer and lyricist.
TC What about Harry Butler's DNA Fanzine? It featured VPS more than a few times.
JW Venom P. Stinger would go to Adelaide regularly and had a good following there. DNAwas great. DNA had that real completist approach when they got their teeth into something. A thorough document of the Adelaide music scene as seen by Harry.
Having Bruce Aberrant—who put the records and these fanzines out, which were real works of art—interested in us, was great to me. Anything to help get us out of just playing in Melbourne was something I always wanted to do as a band, turn up in another city and be what you are.
TC Simon Grounds produced both Venom P. Stinger and the Slub, which also featured Ellis at one point. He's something of a legend among Australian underground music. What was it like working with Simon?
MT Simon is a nice guy, eccentric. Another misfit who was into recording and the equipment it requires. He turned his whole house into a low rent studio of sorts. In the days before digital and computers, recording was an expensive game, so people like Simon made it possible and cheaper. I saw him yesterday at a gig. He's still around doing what he's always done.
JW Simon was in a great band called Shower Scene From Psycho, which had absolutely nothing to do with Venom P. Stinger musically at all. He had a studio in his house, a lovely man. We had all the songs worked out, as we always did when we went in the studio (apart from "Jaws 2"). It was a different session. Meet My Friend Venom was done in KAJ, now Sing Sing, a 24-track studio and great playing room. I think Meet My Friend Venom was done in two days. Saturday recording, Sunday mixing. Walking About/26 mg happened out of a call we got to come in and be the band for someone doing a project for a sound recording course—something like that. So that was probably four hours in all. Set up, play, mix. What's Yours Is Mine was done in bits and pieces as I remember it, at Simon's house in Collingwood. Simon was a big part of Melbourne music scene and still is, I think.
TC What was the relationship like between Sydney and Melbourne?
JW The relationship changed at different times. There were migrations both ways but at one point in the early '90s it felt like musicians were turning up in Melbourne from Sydney and Brisbane. Earlier, the Sydney Trade Union Club was a place to play that people were at. Later, there was the Black Eye People. Peter Read did our front of house sound, I think. A lot of people in Sydney bands we knew were from other parts of Australia. Sydney was great. bigger, seedier. Different histories still working , but dialogue—I'm not so sure. I don't think anything going on rubbed off on us.
Radio in Melbourne is better, and I think at some point that might have made a big difference to the cities.
Walking About/26 mg and What's Yours Is Mine were released on Aberrant Records out of Sydney, and as well as them being a really good label to work with, it was great having it be in different city. We'd play in Sydney regularly, and made it to Brisbane once, as well as Toowomba, where we got run out of town. We also played Adelaide a bunch.
TC Can you talk a bit about what it was like playing around St. Kilda?
MT Crystal Ballroom was a great venue, a beautifully run-down, once-glorious building. Last time I played there was 1984 with the Moodists opening for PiL. VPS never played there, but Sick Things did. At some point it just stopped having bands. It was renovated and turned it into upmarket bars and a movie theatre. Bound to happen. Other venues opened elsewhere. Prince of Wales Hotel and Esplanade became the main St. Kilda venues, they too were great venues and both still have live music. St. Kilda as an area and as an artist community has changed, it was an area infamous for drugs, prostitutes, rooming houses, and artists. Now, as it has become gentrified somewhat and rents have gone up, artists have mostly replaced by backpackers. Rooming houses turned into apartments. I haven't lived there since 1992.
JW St. Kilda early on was a cheap and great place to live. A faded, grand beach town. The seedier side of Melbourne. The Crystal Ballroom had great shows. When I grew up in Clifton Hill, it was mostly Greek and Italian immigrant families. There was a place called the Organ Factory where Philip Brophy and Tsk Tsk Tsk would play. People like that, conceptual art music place.
I had the run of a squat in the city for a year or so—Venom P. Stinger would practice there. Venom P Stinger weren't a St. Kilda band, though, but St. Kilda was a community. When Dirty Three started, we got together at Warren's place in St. Kilda with a vacant lot next door where we took our first photo before the rehearsal. We already had the show booked, but we played all over Melbourne inner city; Abbotsford, then Fitzroy, Richmond, St. Kilda, a lot of the night life was in Fitzroy by then.
TC What was the reception like when Venom P. Stinger finally made it to Europe? The US?
MT VPS only ever played in Europe in 2010 at ATP, after a gig in Brooklyn with Tim Evans from Bird Blobs on vocals and Shahzad Ismaily on bass. We did maybe five shows in USA in 1991 with Nick Palmer singing. The reception in 1991 was pretty much no reception as far as I can remember. Met some great people, though, and had mostly a great time.
JW Venom P. Stinger never really made it to Europe [aside from ATP], although, What's Yours Is Mine was released there. We played a few shows in the US (New York and California) and Karl Ikola released a radio show we did in Davis as an album. I stayed in New York for a while, Mick went back to Melbourne a bit before me and met Warren. When I got back, Warren and I started playing together in a bunch of bands and the three of us got Dirty Three together.
TC Jim, can you talk about using traditional grip? What dimensions did that add to VPS?
JW I think the traditional grip, for me, allows the left hand strokes to open up the space before the hit, and that's something I developed a lot more in Dirty Three. But take "Walking About," as an example. The drum part is largely based on the difference between the stickings: right rest left left and right rest right left. I think the traditional grip allows the discrepancy between the two stickings to be emphasized and the space between the right and left of the second sticking to stretch to give it that feeling of freneticism and then that space can stretch out on another trajectory. I'm not saying you couldn't do that with a matched grip, but I feel the traditional grip is conducive to that.
The traditional grip stems from marching drumming, where the drum is held to the side of the body. They use a lot of rolls, and there's a lot of rolling going on in Venom P. Stinger, an avenue partly influenced by Jeffrey Wegener's beautiful and really exciting snare drum playing. Plus, the roll is one solution to the issue of note lengths in drum kit playing, and the tambourine rattles in Dirty Three is another.
TC Warren says that some of your initial songs at the start of Dirty Three's career were based on some stuff Mick wrote and recorded on cassette towards the end of Venom P Stinger's stint in the US. You played much more aggressive music with prior to that. Where was that coming from with those initial demos?
MT I'd actually been making 4-track recordings at home for a few years before Dirty Three, on this cassette 4-track machine that was really the first kind of affordable home recording multitrack device available.
Quite a few tracks became Dirty Three tunes. I've always liked all sorts of music, and always liked experimenting and recording. No intention but art for art's sake. I see no point in being exclusive, it's stupid. Those days in the early-'80s cemented that idea for me.
TC Blackeyed Susans featured both Jim and Warren. How would you characterize your earlier collaborations with Warren versus Dirty Three?
JW I got back from the US and met Warren. Mick and he had met. Warren was in a band I started to see and the drummer went overseas with the Beasts of Bourbon or the Surrealists and I filled in. Warren had attached a pick up to his violin and was generating this amazing sound. Some shows it was essentially feeding back the whole time in the greatest way as he was wrangling it. Then we started playing together in Charlie Marshall's Body Electric with Warren on Rhodes and violin. With Black Eyed Susans, we both started playing with Kim Salmon, and Dirty Three started to play in a small bar in Abbotsford.
Dirty Three was different, it was our band, the three of us. That Mick and I had played together for years informed it, as did all the playing Warren and I were doing but the music really emerged naturally from the starting points and from playing together and developed rapidly with all the playing. It's been very inspiring playing with Warren and Mick from the beginning and still is.
TC Dirty Three and Low played on each other's tracks for the split EP, In the Fishtank. How did that come about?
MT We did a USA tour together and became friends. We had the same booking agency in Billions, I think, so long ago now. I really enjoyed seeing them play on that tour, we were so shambolic, chaotic, and intense, and they were so subtle, slow, and measured and such beautiful and affecting music, watching them after we had played was the best way to wind down ever.
TC Jim, how did you get involved with Bill Callahan? What have your collaborations been like?
JW I first heard him when a girlfriend would play The Doctor Came At Dawn and Red Apple Falls, which got me interested.
Then one time, I was asked to fill in for a JJJ Radio session in Melbourne, and I did. And that version of "I Was a Stranger" appears on an EP.
Later it happened that Bill and I were both living in Chicago and I put my foot forward to play on a tour via his violin player at the time. I think it was the Rain on Lens tour. Later I did a tour for Accumulation None and I got to play a bunch of older songs that were new to me. He has so many good songs. It's such a pleasure to play with him.
I played on a couple of albums. Bill came with the songs written, complete. For A River Ain't Too Much To Love, we rehearsed a few times, Bill, Connie Lovatt and I, then went on a short tour. Then we made the record. Parts were mostly down but also still developing when we got to the studio. Supper, I think, we had a run through or maybe two, making up the parts on the fly in the studio. Still, the songs are so good, they're going to sound great with or without you.
I haven't played with Bill for ages now, but there's talk of it. He's a good friend.
Drag City recently reissued Venom P. Stinger's back catalogue, which is available here.
Mick Turner's new album, Don't Tell the Driver, will be released November 19.
Tyler Curtis is a writer living in London.