It was different then. You could be standing by a burned-out lot, waiting for no one and nothing, not even for a lonely red bus. You'd be just there, studying the rubble of a building along Avenue C. Charred bricks and shrieking plasterboard, a bathtub naked on its side, and through its drain, a lone sunflower, sulfuric yellow and furred like a honeybee screwing upward toward a whirling yellow sun.
Standing there at that corner, you could say hello to the wildest strangers as they passed you by, because down there, we were all loose change tripping the streets, the coins falling where they may, liberty dimes and buffalo nickels mixing promiscuously, without a thought, on some blue curb below Tenth Street.
"Hi, Jack. Hi, Jill." You'd give a little salute, and most times, they'd wave back or smile or come over and ask about where to crash, about where to score, sometimes just to have a chat with a stranger. We recognized who we were at a glance—all irregulars from the drifting nation of dreamy youth. We're ghosts of those times now, just nicked, straight-edged razors heaped in pawn-shop drawers. Don't get old. Don't die. Kill despair. Keep hope.
How easily flowed the day in those old times, when I was most alive, my blood running casually and forever. I'd be letting the hours pass in a drowse, drinking, sleeping, now and then shooting pictures for love and for the truth in them, every frame a hedge against oblivion, the never having lived—I believed things like that in those days.
I used to sit away an afternoon in Mousey's Bar—vanished now—on Avenue C and drink slowly through the day until evening hit the pavement. In those days, I'd bring Mousey my check and take a few dollars in cash for walking money and film stock, and leave him the rest for me to draw against the bar. The bar being my endless draw, calling me to my little round table by the window where I could read and look out on the street and go off and take a walk—and maybe shoot a roll of river and clouds—and return to find my cozy drink still waiting.
One killing, late July day, too hot to stay in Mousey's, I headed down to the East River to cool off and sit some while on my slatted green bench, facing the traffic of tugs and barges and all the giant freighters and the smaller floating life easing to and fro in the river's breeze. I'd go sit there under a sickly elm tree and imagine other rivers and their cities that I'd one day photograph. On that bench I would dream many things.
But I started dreaming even before I got to my bench, my head woozy and hot. The blaze of sun bakes your brains, unless you're wearing a straw hat with a high crown, one reaching to grate the belly of a sluggish cloud, say. I was hatless and on my way to my river bench, taking a shortcut across a rubble-filled lot of a burnt-out building on Avenue C, when I saw before me a clean, free-standing brick wall in the middle of the debris.
I had my camera out now, but not to shoot just another photo of a wall standing high in the rubble of an empty lot—plasterboard jutting like jagged ice floes among the splintered beams of a four-master smashed in the glistening sun of an arctic crush, a bathtub, beached among the flotsam, naked on its side, with an infant cypress tree spearing through its drain hole. Not the wall, but a movement within it captured me, the midday sun overhead blanching my vision so that all I saw was the center of the wall cleaving, slowly forming a pout of lips.
Something was parting through the lips and stepping its way out of the wall, a she. I thought it was the sun piercing through the crown of my head again, its spiking rays ready to fix me to the heavy ties of the earth while its white light blinded my eyes and heart. I'd just be lying there convulsing, waiting for the thieves to come and lift the change from my pockets and the camera from my belly. "Dig this fucker. What's that shit in his mouth, come?"
Me writhing there, humiliated, getting robbed, sightless among the pavement's sparkles, with that little fit inspired by the sun. But that fit didn't come over me. She did, out from the parting slit in the wall.
She walked toward me smiling, at ease among shards and rubble, as if treading the sweet moss of her private green pasture, ruling the turf and all life below its sky, her narrow shoulders pulled square and high, her hair a tangled cinnamon-red bush, a fiery red thicket. She throws back her head, pausing to address her shepherd. "Où est Louis? Où est-ce que c'est toi qui l'as?"
Another French kid, I thought. The kind who likes it down here in the alphabet avenues where the snow lasts all through winter and summer, hills of snow covering the grass in Tompkins Square Park and spilling over into the gutters. Even at the most raw locations they step politely, these folk, having been taught from birth to wipe their shoes on the doormat before touring the madhouse.
I did not know where Louis was. I did not know any Louis she might know.
"And you, is it that you have of it, perhaps?" she asks, still smiling and now in English.
The dodo! For her, I could have of it the anything she desired, perhaps. But she desired, as she quickly let me know, the morphine. Not my genre of dreams, the morphine. Me always trying to keep sober, but mostly slipping, fearing, and wanting to fall. No matter how I tried, I was still nursing my bottle at Mousey's, and sipping tequila alone at my apartment late at night when the lonely walls needed speaking to.
"And what of cocaine?" She inquires.
"Non plus," I answer, testing the range of my French.
Quel disappointment on her face. More beautiful, more blue-eyed, more the adolescent than when she stepped through the wall just moments before. I went up and down a little list, curious to test whether she cared for other druggy possibilities. Of speed, speedballs, V's, Quaaludes, your general stock of uppers and downers, angel dust, meth, dollies, heroin, crack, she did not sing. Glue, paint thinner, marinated old socks, not a warble. Not very à la mode, she. Didn't even know what I was talking about, though I could see I was amusing her with my jargon, the lingo I had picked up in the street of dated novels.
No, morphine. That was her simple dope. The drug of yesteryear, where she seemed just to have stepped out from: heavy green divans, palm plants in blue porcelain pots, thick purple brocade curtains snuffing out the light and air from the street, the city, the world; candles flickering wearily their anemic fin de siècle flames; she's splayed on the bed, pillows puffed about her, on the night table a crystal of water laced with laudanum—for the nerves; on a silver tray, a single lily in a lilac vase, a syringe, its blood-flecked needle still moist, warm. She's drowsy, half asleep, smiling, dreamy. She's dreaming in a century poised for its end, and she floats in its embrace as it carries her over the bridge of human time to the brink of another century's death.
We walk. Her dress, long, white, and cinched at the narrow waist, a late-19th-century costume from an antique store (gone now) on Avenue B and Tenth Street, maybe. I'm dressed in the common rags of the day, heavy-soled boots made to last, khaki trousers baggy and thick—as I wear them in all seasons—a blue cotton shirt with pockets wide enough to harbor a small trunk, a carpenter's shirt I'd bought from the Salvation Army store.
No morphine. And thus, no transactions or conversation between us of the druggy or of any sort. Leaving, for the moment, the grounds of our discourse to retreat out there where parallel lines marry, leaving us to walk side by side, already an old, affectionate couple, with the open day spread before us to fill as we liked.
I was ready to walk all the compass points, each direction another hope-filled prospect stretching to the end of our lives. I was ready, already, to live with her and share the common dish, to make children—should she want—and bring home the bacon, if need be, and share the daily fate, even boredom, and to keep with her to death and in the reaches beyond, twin spirits holding hands up there in a sky of stars and planets, or to become a pair of companionate hawks in our iron love nest atop the Brooklyn Bridge.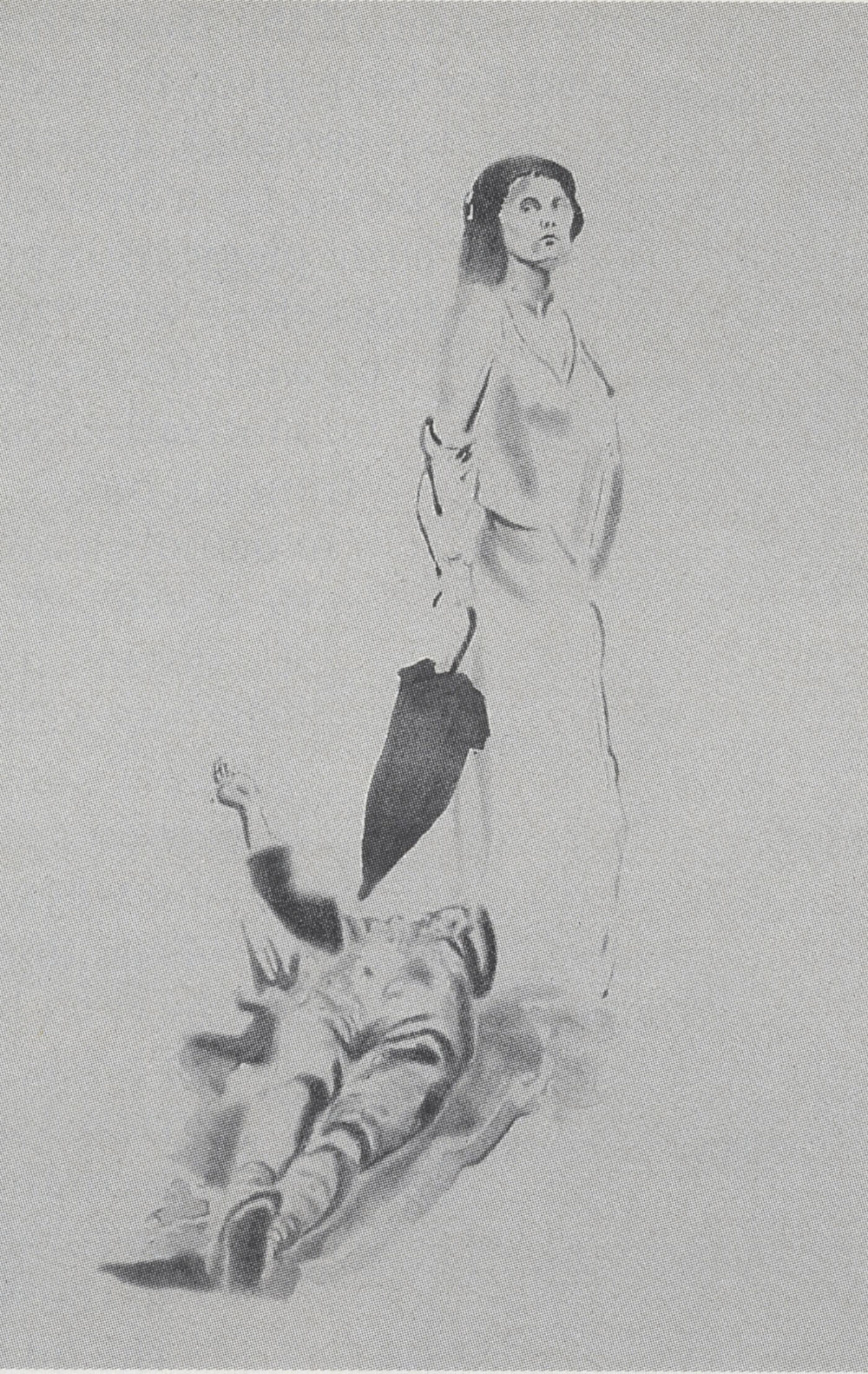 Or for love's mad sake, I'd drink with her at Mousey's or even at home. Matching shot for shot. Day and night drinking, and early dawn drinking, and watch her shoot morphine 'til room and bed and street and the tip of Manhattan spun off into the Atlantic and floated away to deposit us in France, or from whatever fairy land she had come.
"Where we going?" I ask, noticing she has my hand and that we are walking in circles.
She shrugs. "Sais pas"
"Come with me, then," I say.
"Why not." Her English was improving with each step. "You are a gentleman, I conceive."
"Perhaps," I say. "And you, if you're a crazy woman, tell me now, because I'm ill from crazy persons."
When she speaks, she doesn't look into my face or eyes, she's already won them. It's my little Minolta that's fascinated her. Does she want it, and my dollars, too, I wonder? But her regard does not last very long, she's soon marveling at the street and the buildings and at the river beyond us.
Without my realizing it, we're standing in front of Mousey's, where, I suggest, we step in for a drink. She makes a clicking sound and shakes her head.
"Let us go chez toi."
Ah! now I get the drift. She's wants to hook me, this loony angel. So what, I think. I'd rather drown swimming in her than flap around free, my gills burning in the solitary air. So now we swim the blocks, she a graceful sidestroke, dress streaming in the airy flow, me doing the dog paddle, house keys between my teeth.
We're chez moi, tout de suite, top floor, under the hot tar roof, and into my broiling crèche, furnished with miraculous simplicity, a chair for myself and another for company, and ample enough to accommodate a sluggish cat and his companion mouse.
Her smile's gone. The shoulders cave in slightly. A morsel of disappointment crosses her lips.
Is it that she does not like my flat?
"Pas du tout. It has its negligent charm. A little like Vincent's," she says sleepily.
Her face collapses as she says that. I show concern. But nothing is wrong, she adds reassuringly. I should not derange myself for her. Only, she's un peu fatiguée. She's grown tired. From our little stroll under the hammering sun, perhaps? Or from climbing the six-flight walk-up?—each landing a plateau of checkered linoleum clouds. Or is she spent from her trip through the wall or from wherever else her journey had begun?
Oh, oui, bien sûr, she's vraiment fatiguée and desiring a bath. (Which she'd postpone, of course, and take sometime later, if I would only conduct her to certain desirable stuff.)
The architects of the tenements down here had planned it so that the poor may dine and bathe at the same time; the bathtub's planted in the kitchen, for convenience's sake. I quarter fill it, too nervous to wait for the drowsy water to climb higher on its porcelain wall, and fearful she might suddenly freshen up and, with the same whim that had decided her to visit me, now wish to vanish from me. But there's no need to fear. In a zip, she undresses before my eyes. She's a mass of underclothes—no wonder she's tired. Who wouldn't suffer heat exhaustion from all those petticoats and shifts, camisoles and clothy things. Eventually, she strips down to her true size. Skinny size. Long limbed and smooth—youth-sized and immortal.
I take her with my eyes, then step toward her with my arms stiffly extended. But she shrugs her squared shoulders, as if to say, "Friend, be calm, go easy, I'm not here for you." And I back off, thinking, Yes, of course, now that she's here, we have all the world's time, a slow decade or two before us.
She slips into the tub and motions for me to wash her. I soap and sponge her down, the milky water flowing down her creamy neck and shoulders, trickling over her needle-tracked thin flanks. It's clear to me now that I was washing away the film of her past, the apricot patina of the 19th century.
Frederic Tuten's novels include The Adventures of Mao on the Long March (to be reissued this spring by Marion Boyars), Tallien: A Brief Romance, Tintin in the New World, and Van Gogh's Bad Café, published this March by William Morrow.
Originally published in
Featuring interviews with Tim Roth, Amy Hempel, Emmylou Harris, Matthew Ritchie, Wallace Shawn, Christian Wolff, Gilles Peress, Kendall Thomas, and George Walker.