Utopian Benches: Francis Cape, Richard Torchia, and Daniel Fuller by Rachel Reese
Rachel Reese talks to artist Francis Cape along with curators Richard Torchia and Daniel Fuller about Cape's Utopian Benches exhibition.

Discover MFA Programs in Art and Writing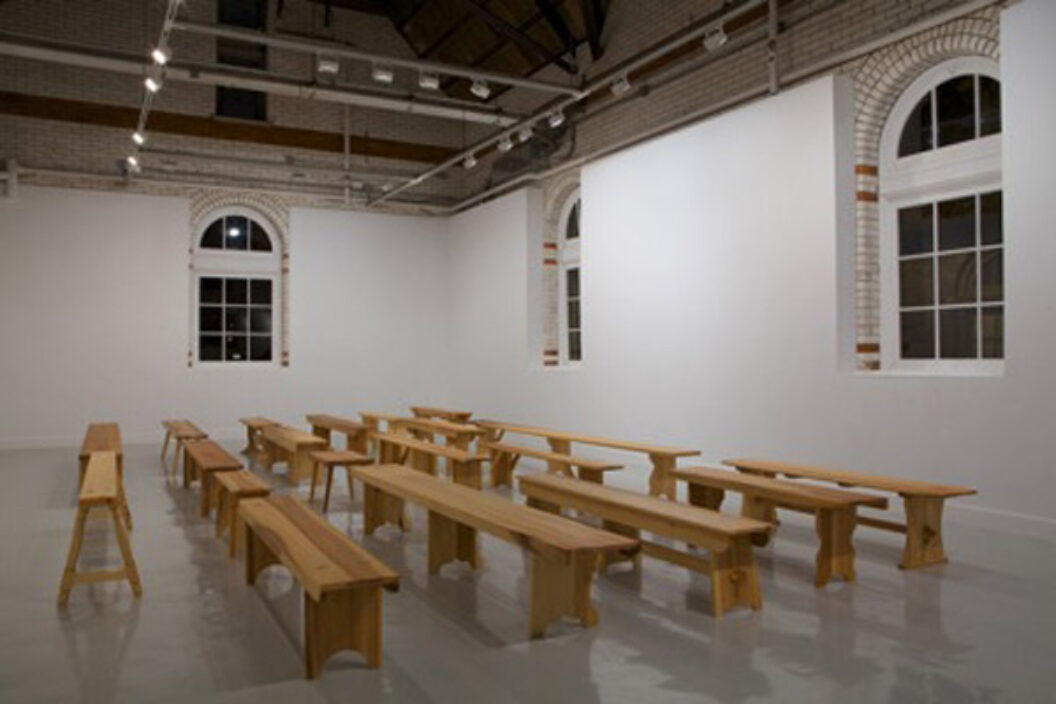 During the winter of 2011, Francis Cape transformed the gallery at Arcadia University into a place for conversation with his exhibition Utopian Benches. The British sculptor returned to his woodworking roots to beautifully reconstruct twenty benches originally designed for American utopian communities—many measurements were obtained from his own on-site visits and research. A small publication, we sit on the same bench, produced on occasion of the exhibition, outlines the communal societies from which the benches were sourced and includes notes from Cape's personal visits to selected communities. Utopian Benches focuses on benches designed for 19th-century American utopian communities with a craft tradition—most famously the Shakers—but also includes the Amana Inspirationists, the Zoar Separatists, and the Harmony Society. Cape recreated benches intended for many uses—in some instances, for communal kitchens or meal halls, and others, for meeting halls.
I had the opportunity to speak with Cape and Arcadia Gallery Director Richard Torchia about this new body of work. Utopian Benches travels to the ICA at the Maine College of Art in Portland, Maine this June, where it will remain until August. Daniel Fuller, Director of the ICA at MECA, spoke with me about this iteration of the project and how Utopian Benches might change with this new audience.
Rachel Reese Hello Francis, Richard, and Daniel! I'd like to start by speaking on Utopian Benches at Arcadia and how the exhibition was initiated. Richard, how did you propose the exhibition to Francis? Or was it vice versa? And, in response, when did you begin your research of these utopian communities, Francis?
Francis Cape After I finished the work Home Front, which, among other things, considered the now-dead link between furniture design and social idealism, I wanted to find out what happened to the social idealism of the arts and crafts movement when it came to America. William Morris is variously described as socialist, anarchist and utopian. There was no one like that in the arts and crafts here, but there was all of that in the utopian communities.
Without knowing what I was doing at that stage, I had made four benches by the time Richard talked to me about doing the show. I'll let him tell how that came about. So I had started reading about the communes in a leisurely sort of way already. Then as we put together the idea for the show I got going and started researching in earnest.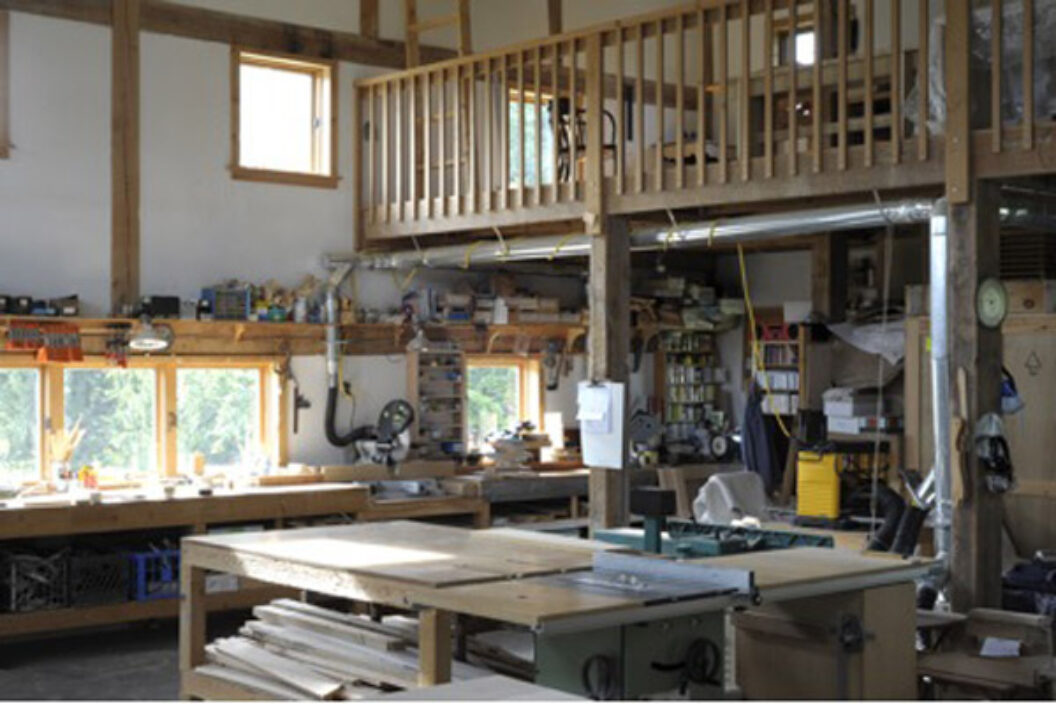 Richard Torchia I first heard about the benches at a lecture Francis gave at the University of the Arts in the summer of 2010. During the Q&A, he talked about them as works for which he had not yet established a context. I found this a curious departure from Francis's earlier approach to making furniture-based objects and installations, whose scale and proportions were derived from the dimensions of the interiors in which they were to be presented. The challenge of identifying an effective context for these benches appealed to me. Francis and I started a discussion about how they could be exhibited at Arcadia and how the benches, as a group, might establish a setting for themselves. Arcadia's proximity to the Ephrata Cloister—the bench from which Francis was already familiar with—suggested a possibility for more research and engagement, and the conversation proceeded from there.
RR What were some reactions to your presence, project, and research when conducting on-site visits in these communities, Francis? Did you encounter or overcome any skepticism from community members?
FC Almost without exception both my project and I were welcomed with enthusiasm. Contemporary communards believe in the life they have chosen and are generally keen to share their experience. The slight exception was Twin Oaks. My guide and all I spoke to were personally warm and helpful, but I did detect some aversion from others to what I understand is a continuous stream of curious visitors. When I visited historic sites, I found their custodians glad to share their enthusiasm with a fellow traveler.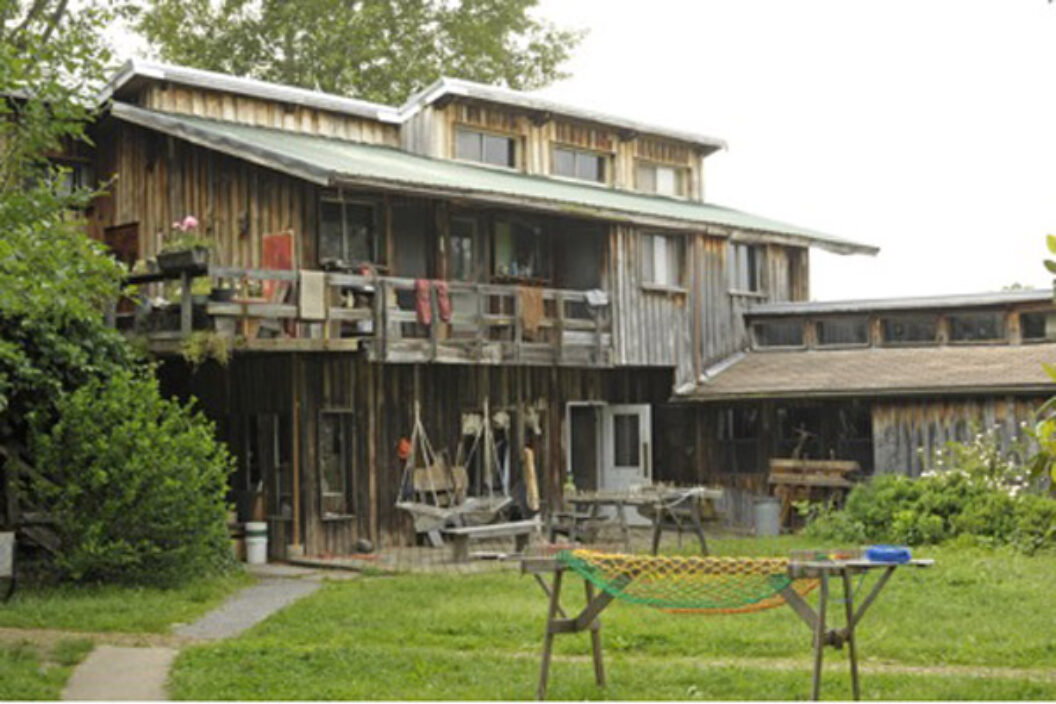 RR With your benches I keep coming back to intent and function—the benches were built and intended to be used, yet there are different intentions for different communities. Can you talk on some of these variations of intent? Were the benches a transformative moment from suggesting functionality—as in past work—to actually being functional sculpture? And you wanted them to be functional according to their intent—the gallery was available for groups and communities to come and use the benches for collective meetings, discussions, etc.
FC I was and am interested in the intent the communes share, rather than their differences. They share [an emphasis on] communal living, and with that, they chose to value sharing over individual profit or pleasure. This required a degree of separation from the mainstream, so another thing [they have] in common is their setting themselves apart physically as well as in intent from that mainstream.
As to the transformative moment, it was more the visible moment in an ongoing transformative time. It began when Bush was re-elected in 2004, and I found I could not go on making art about art. The Bush White House's use of language to conceal rather than to reveal led me reject all falsehood: false wood in the form of the mdf I had been using; cover ups in the form of painting; and most of all, illusion. I was talking with a colleague whose thesis is that artists have found illusion to be anathema since the early twentieth century. I guess I'm a late starter.
So for the benches to be real, they had to be sat upon … what better way [for them to be used] than to be shared while talking about sharing?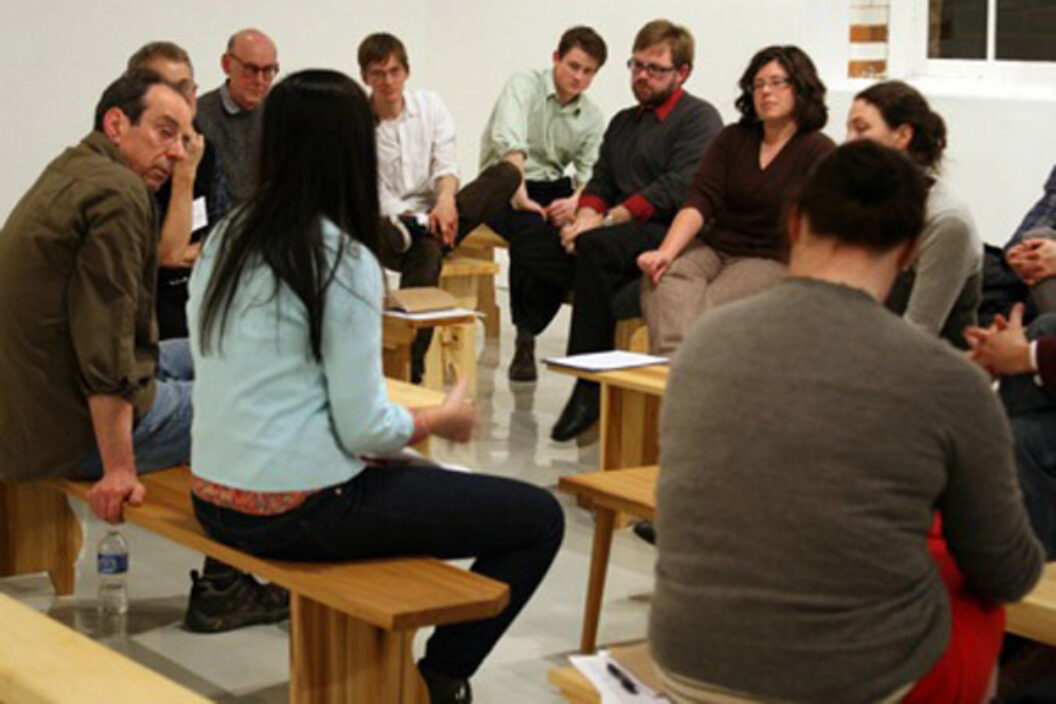 RR Do you feel there was a mirroring between the making of your Utopian Benches and the benches they represent? Do you consider your own hard work and craftsmanship necessary to reflect upon the utopian values of harmony, possibility, and social equalities in these communities? In other words, do you believe it takes honest work to make honest work?
FC True craft is humble, egalitarian, anonymous. So, yes, my craft practice does reflect on the values espoused by these communal societies. The paradox is that it goes out under the banner of my individual artist's name—a contradiction I have yet to resolve. I do believe it takes honest work to make honest work, though neither needs to be the work of the hands.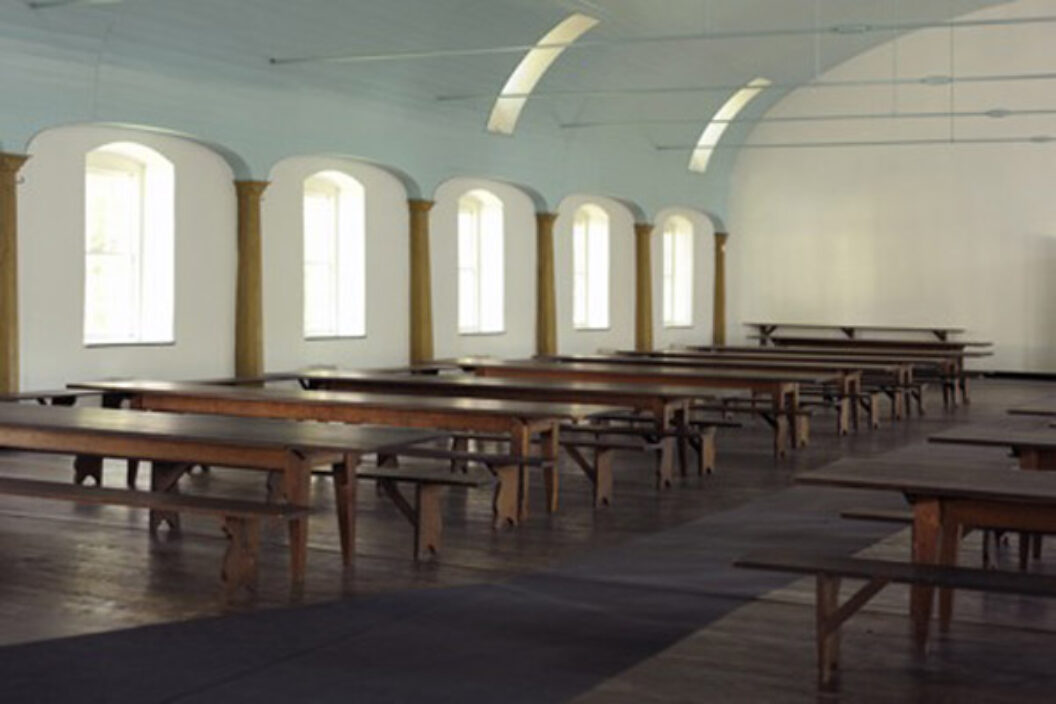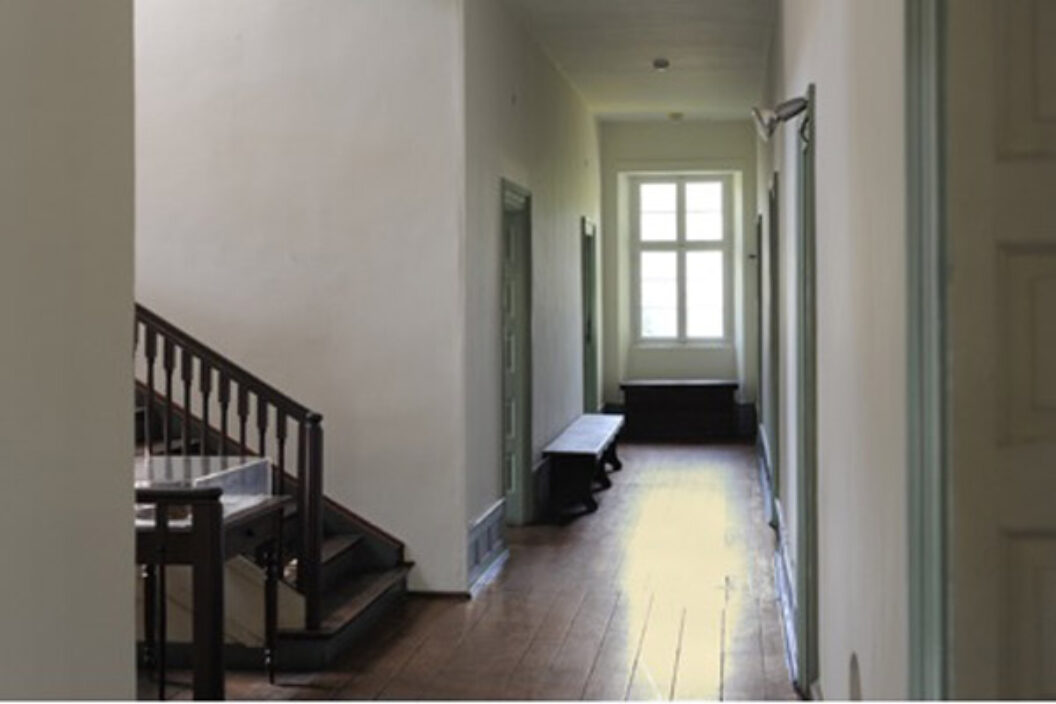 RR You are a trained woodworker and constructed the Utopian Benches from poplar sourced near your studio in upstate New York. Was there a considered leveling or unification in the value scale imposed on these communities and their respective intentions [for the benches] by using the same wood and finish for each?
FC No. My reason for using poplar is entirely separate from anything to do with the communities, or even with this project specifically. I've been using it for a few years now, and my reasons for doing so are firstly that it is not a decorative wood—and so avoids association with Craft with a capital C—and secondly that it is fast growing and therefore counts as a renewable resource. As to any consideration of unification, I refer back to my answer above—that for this project, I am concerned with values the communes shared in the way of communalism, rather than their differences.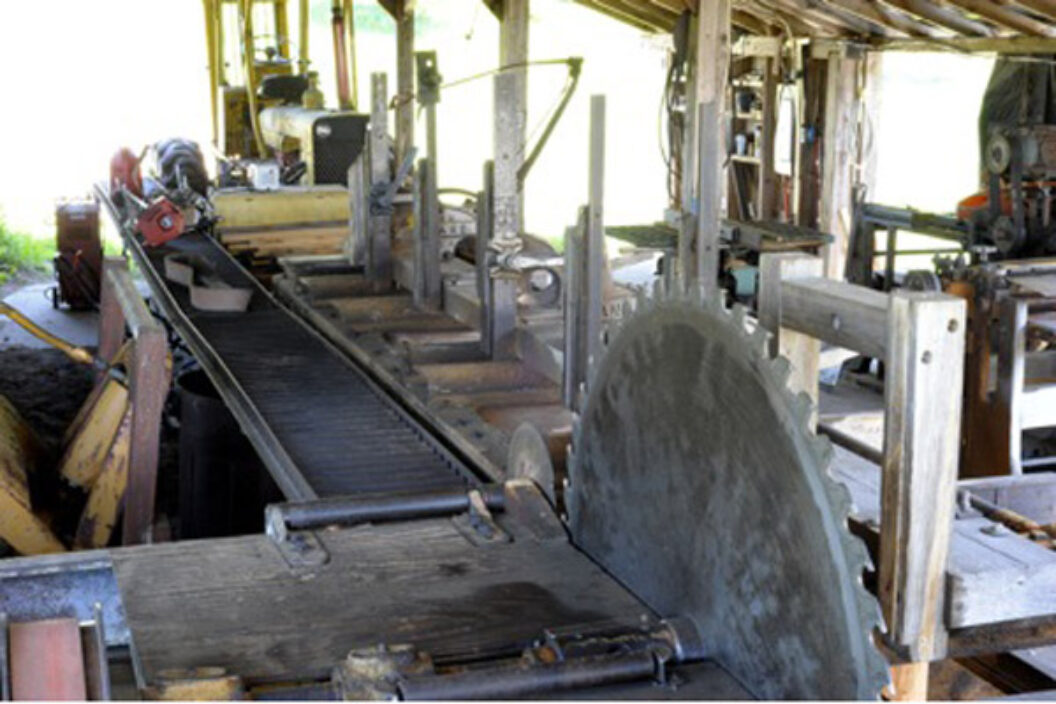 RR Richard, the gallery at Arcadia—which is housed in a renovated power plant built in 1893—temporarily revealed and restored three arched windows over which walls had been built thirty years ago. Was this the first time the windows have been utilized in such a way, and was it yours or Francis's decision to reveal them, or both? The effect was so sublime and peaceful—we visited on a bright, beautiful day and sunbeams were streaming across the walls and over the benches. I was enjoying such a warm moment, holding my new baby in the sun in such a comforting and inviting space!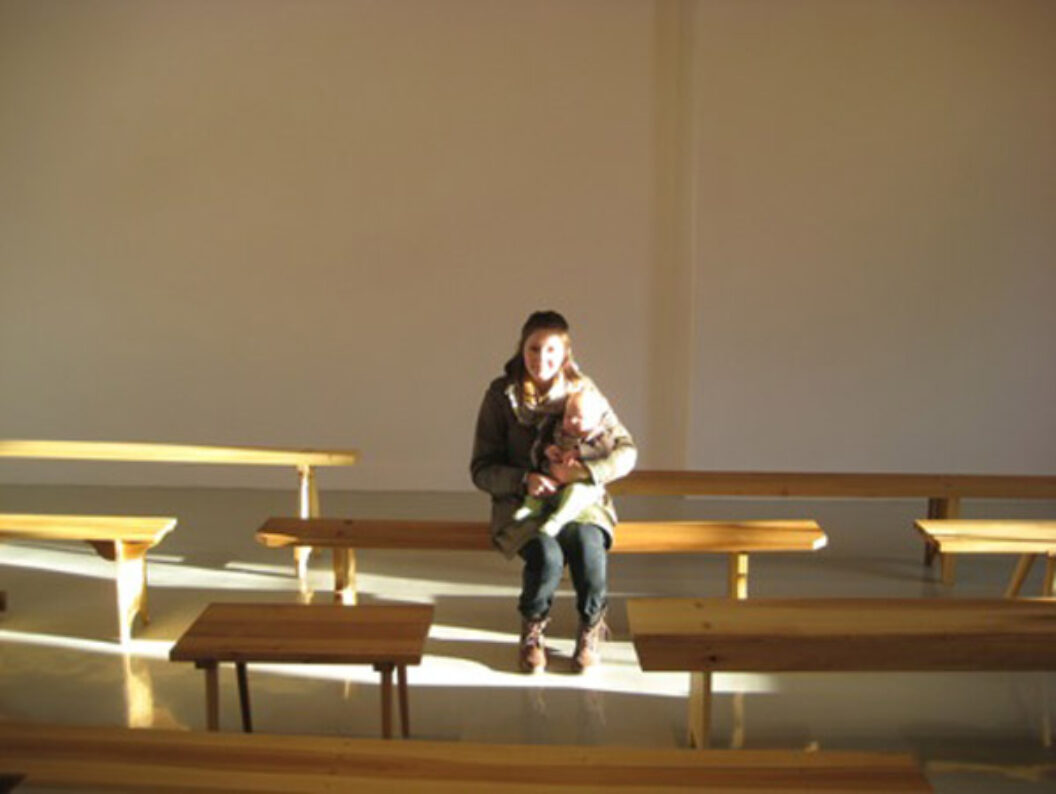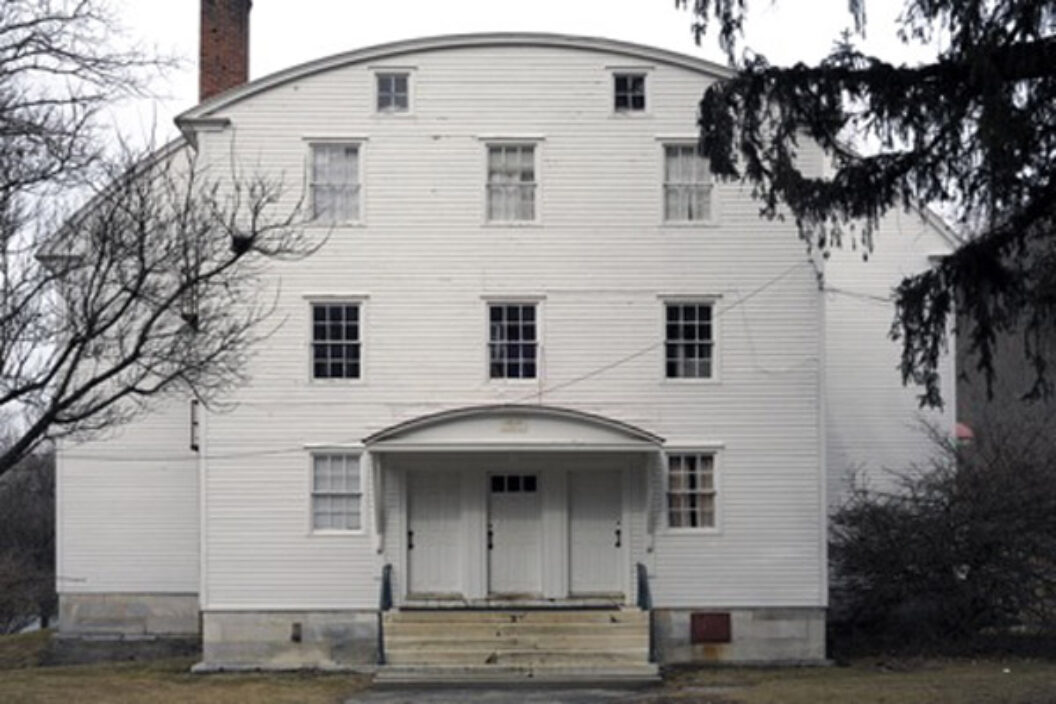 RT I'm glad you visited on a bright day. In the afternoon, the sunlight on the benches warmed the poplar and scented the gallery with the fragrance of linseed oil, with which Francis had varnished them. This was only one of many unforeseen consequences of exposing the windows. The idea to uncover them was entirely Francis's. He proposed the notion during his first visit to the gallery and I liked it immediately. The windows had not been opened since they were first covered to transform the space into a gallery in the early '80s. Revealing them restored the room's original relationship to daylight and transformed the gallery into something resembling a 19th-century meeting house. Being able to see the benches—and how they were being used—from outside the building created a transparency that felt appropriate. For those familiar with the gallery space, the newly opened windows offered a disorienting surprise that contributed to the welcoming impression made by the benches. Many urged us to keep the windows open after the show closed, which was very tempting.
RR The Benches will visit the ICA at the Maine College of Art in Portland, Maine, from June 13 to August 5. How do you foresee this iteration of the project evolving in this exhibition space versus Arcadia's?
FC Being about communalism and sharing, the project will be adopted by each venue, and each venue will schedule its own program of conversations and events, using the project's conceptual framework to discuss common concerns. In addition, the second section of the booklet, "Communal Societies Local to this Site," will be rewritten by each venue for their own location, bringing their own history and present of communalism into the light. In other words, I see the work continuing as a collaboration—a communal effort—between myself and [the venue]—in this case, Daniel Fuller and the good folks of Maine. I myself will travel to Maine a couple of times during the course of the show, both to join in conversations while I'm there, and to visit the Shaker Community at Sabbathday Lake, where I will make measured drawings in order to build a "Maine" bench to add to the gathering.
RR Daniel, can you talk about how the collaboration began with Francis and Arcadia?
Daniel Fuller In many ways our addition to the tour was incredibly serendipitous. This summer the Maine College of Art will be hosting the annual Furniture Society Conference and 500 woodworkers will be descending on Portland. Matt Hutton, our program chair for Woodworking & Furniture Design, approached me last year about organizing an exhibition that would be in harmony with ICA @ MECA programming and also relevant to the conference. We instantly thought of Francis. Less than two weeks later, I received an email from Richard about the possibility of the show traveling up to us. It was absolutely perfect timing, so I jumped at the opportunity.
RR Is there going to be any supplemental programming along with the exhibition?
DF In regards to supplemental programming, we certainly want to utilize the benches as an open space, and will have a number of events—talks, screenings, etc.— throughout the summer. The first, and one that I am incredibly excited for, will be a conversation between Francis and Brother Arnold Hadd, one of the last three living Shakers. Brother Arnold lives at the Sabbathday Lake Shaker Village, where Francis will be creating a new bench.
RR Francis, do you have any other projects or exhibitions upcoming in the near future? Are the Benches traveling to other locations after this summer?
FC As I write—May 2012—three of the benches are participating in the exhibition House Arrest at Franklin Street Works in Stamford, CT, where [Franklin Street] has also written its own "Local" section for the booklet, and held conversations on those benches. Another four are visiting Camphill Village Kimberton Hills, which is a community in Pennsylvania from which I sourced two of the benches. While visiting to install the small exhibition there, I worked with members of their estate crew to develop benches they can build from their felled lumber for use around the grounds.
The benches will reconvene in June to travel to Portland. After that, they will all go to the Tang Museum at Skidmore College to be a part of an exhibition and series of talks and events on the Constitution, organized by Ian Berry in collaboration with the faculty of Skidmore College. The Tang is already collecting material for their rewrite of the "Local" section. In October, three of the benches will leave their fellows at the Tang to participate in a weekend conference run by the Communal Studies Association, which will be held at the Oneida Community Mansion House.
I am delighted and heartened by the enthusiasm with which Terri Smith of Franklin Street Works, Daniel Fuller at the ICA, and Ian Berry at the Tang—along with their staffs and communities—have embraced the collaborative, communal aspect of the work. I hope that as we talk with further possible venues, it will become less and less my work and more and more theirs.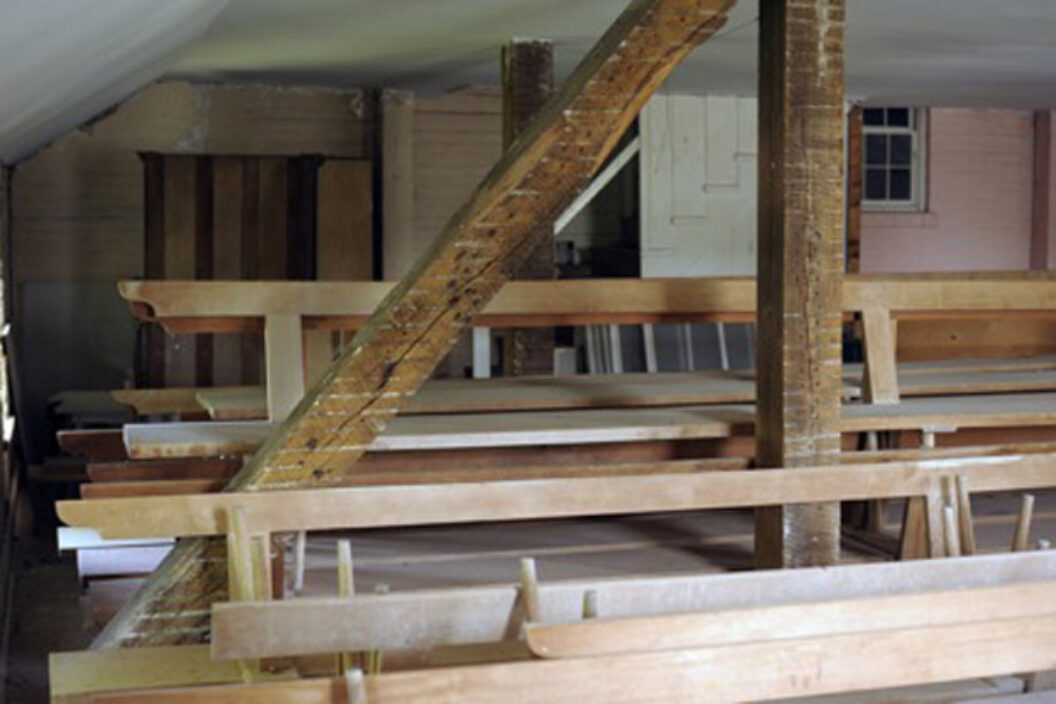 *Communal societies represented by Utopian Benches:
Ephrata Cloister
Shakers
Snow Hill Nunnery
Separatists of Zoar
Society of True Inspiration in Amana
Hutterites
Church Communities International, Woodcrest
Twin Oaks
Camphill Village, Kimberton Hills *
Rachel Reese produces a free quarterly publication of artists' writings called Possible Press concurrently with Possible Projects, an exhibition space. She has just relocated with her family to Atlanta, GA.