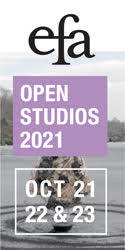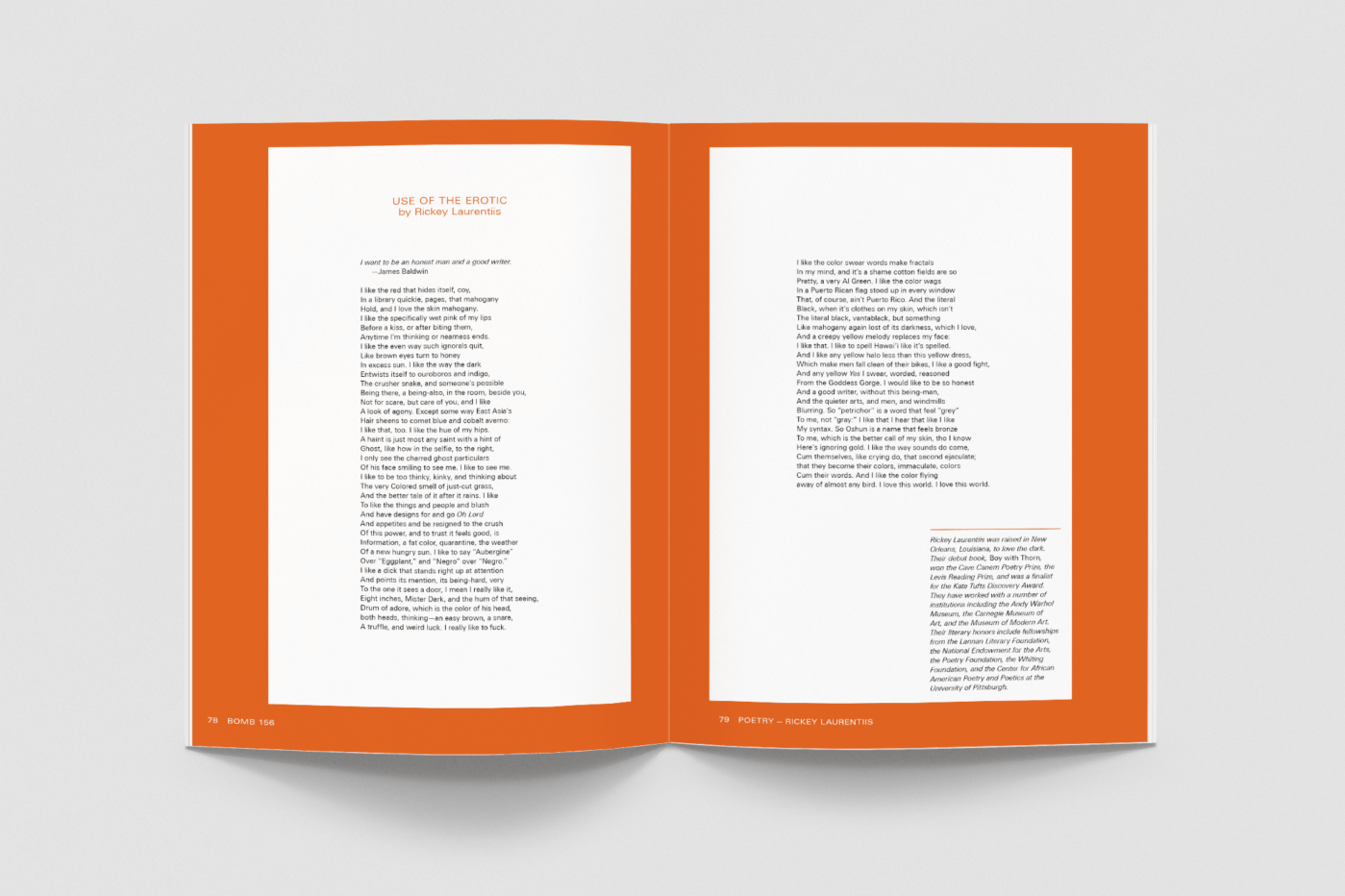 I want to be an honest man and a good writer.
—James Baldwin
I like the red that hides itself, coy,
In a library quickie, pages, that mahogany
Hold, and I love the skin mahogany.
I like the specifically wet pink of my lips
Before a kiss, or after biting them,
Anytime I'm thinking or nearness ends.
I like the even way such ignorals quit,
Like brown eyes turn to honey
In excess sun. I like the way the dark
Entwists itself to ouroboros and indigo,
The crusher snake, and someone's possible
Being there, a being-also, in the room, beside you,
Not for scare, but care of you, and I like
A look of agony. Except some way East Asia's
Hair sheens to comet blue and cobalt averno:
I like that, too. I like the hue of my hips.
A haint is just most any saint with a hint of
Ghost, like how in the selfie, to the right,
I only see the charred ghost particulars
Of his face smiling to see me. I like to see me.
I like to be too thinky, kinky, and thinking about
The very Colored smell of just-cut grass,
And the better tale of it after it rains. I like
To like the things and people and blush
And have designs for and go Oh Lord
And appetites and be resigned to the crush
Of this power, and to trust it feels good, is
Information, a fat color, quarantine, the weather
Of a new hungry sun. I like to say "Aubergine"
Over "Eggplant," and "Negro" over "Negro."
I like a dick that stands right up at attention
And points its mention, its being-hard, very
To the one it sees a door, I mean I really like it,
Eight inches, Mister Dark, and the hum of that seeing,
Drum of adore, which is the color of his head,
both heads, thinking—an easy brown, a snare,
A truffle, and weird luck. I really like to fuck.
I like the color swear words make fractals
In my mind, and it's a shame cotton fields are so
Pretty, a very Al Green. I like the color wags
In a Puerto Rican flag stood up in every window
That, of course, ain't Puerto Rico. And the literal
Black, when it's clothes on my skin, which isn't
The literal black, vantablack, but something
Like mahogany again lost of its darkness, which I love,
And a creepy yellow melody replaces my face:
I like that. I like to spell Hawai'i like it's spelled.
And I like any yellow halo less than this yellow dress,
Which make men fall clean of their bikes, I like a good fight,
And any yellow Yes I swear, worded, reasoned
From the Goddess Gorge. I would like to be so honest
And a good writer, without this being-man,
And the quieter arts, and men, and windmills
Blurring. So "petrichor" is a word that feel "grey"
To me, not "gray:" I like that I hear that like I like
My syntax. So Oshun is a name that feels bronze
To me, which is the better call of my skin, tho I know
Here's ignoring gold. I like the way sounds do come,
Cum themselves, like crying do, that second ejaculate;
that they become their colors, immaculate, colors
Cum their words. And I like the color flying
away of almost any bird. I love this world. I love this world.
Rickey Laurentiis was raised in New Orleans, Louisiana, to love the dark. Their debut book, Boy with Thorn, won the Cave Canem Poetry Prize, the Levis Reading Prize, and was a finalist for the Kate Tufts Discovery Award. They have worked with a number of institutions including the Andy Warhol Museum, the Carnegie Museum of Art, and the Museum of Modern Art. Their literary honors include fellowships from the Lannan Literary Foundation, the National Endowment for the Arts, the Poetry Foundation, the Whiting Foundation, and the Center for African American Poetry and Poetics at the University of Pittsburgh.
Originally published in
Our summer issue features interviews with Mel Kendrick, Azareen Van der Vliet Oloomi, Kader Attia, Arthur Jafa and Dana Hoey, Quntos Kunquest, Katiana Rangel, and Anne Anlin Cheng; fiction by Jenzo DuQue, Dylan Landis, Anthony Veasna So, and Sophie Hoss; nonfiction by A.V. Marraccini; a comic by Ronald Wimberly; poetry by Arthur Solway, Rickey Laurentiis, and Alina Stefanescu; an essay and portfolio by Kalup Linzy; an archival interview with Suzan-Lori Parks; and more.