Unstable Solids: Diana Al-Hadid's Delirious Matter by Rebecca Rose Cuomo
Dialectics of mass and void.

Discover MFA Programs in Art and Writing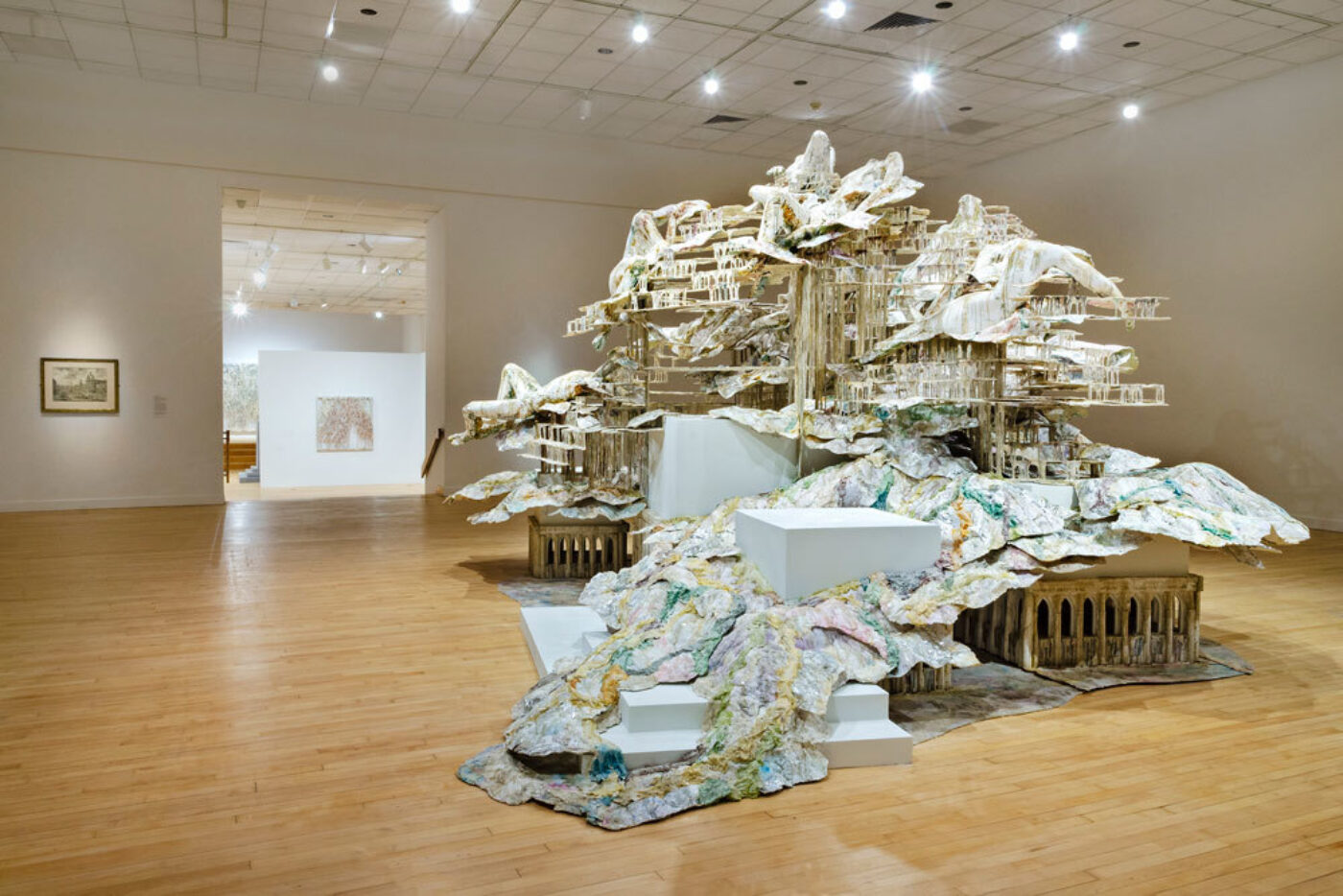 It is the apparent in-betweenness, the sense of transition, that is most striking about Diana Al-Hadid's exhibition Delirious Matter at the Bronx Museum of the Arts. Al-Hadid's sculptures seem to melt or harden, caught in a chemical phase change from one state to the next. Whether things are passing from solid to liquid or vice versa is unclear. Her work is a reminder that the material world is unfixed and unstable—that matter, time, and space are alterable entities, subject to topological distortions, dilations, and transformations. Things are not what they are, but what they are becoming.
In Mortal Repose (2011) is a bronze sculpture of a headless woman whose lower body drips and dissolves down the stepped concrete plinth that supports her languid figure. Notably, the woman's feet are intact. They rest dainty and bare at the pedestal floor. Dressed in contemporary clothing, she is grounded in an eternal present, elegantly modern and self-aware in limpidity. The lost-wax casting process is fossilized in eloquent pours of liquefied metal cascading over cement. Sculpture merges with base, present flows into past. Bronze has a special way of preserving the past. It was during the Bronze Age, third in the development of material culture, that humans began working with metal. Writing was introduced then, as were the wheel and the plow. Much of what is known about these ancient civilizations is through depictions that survive in bronze. The technique employed by Al-Hadid is similar to the one used by sculptors working four thousand years ago.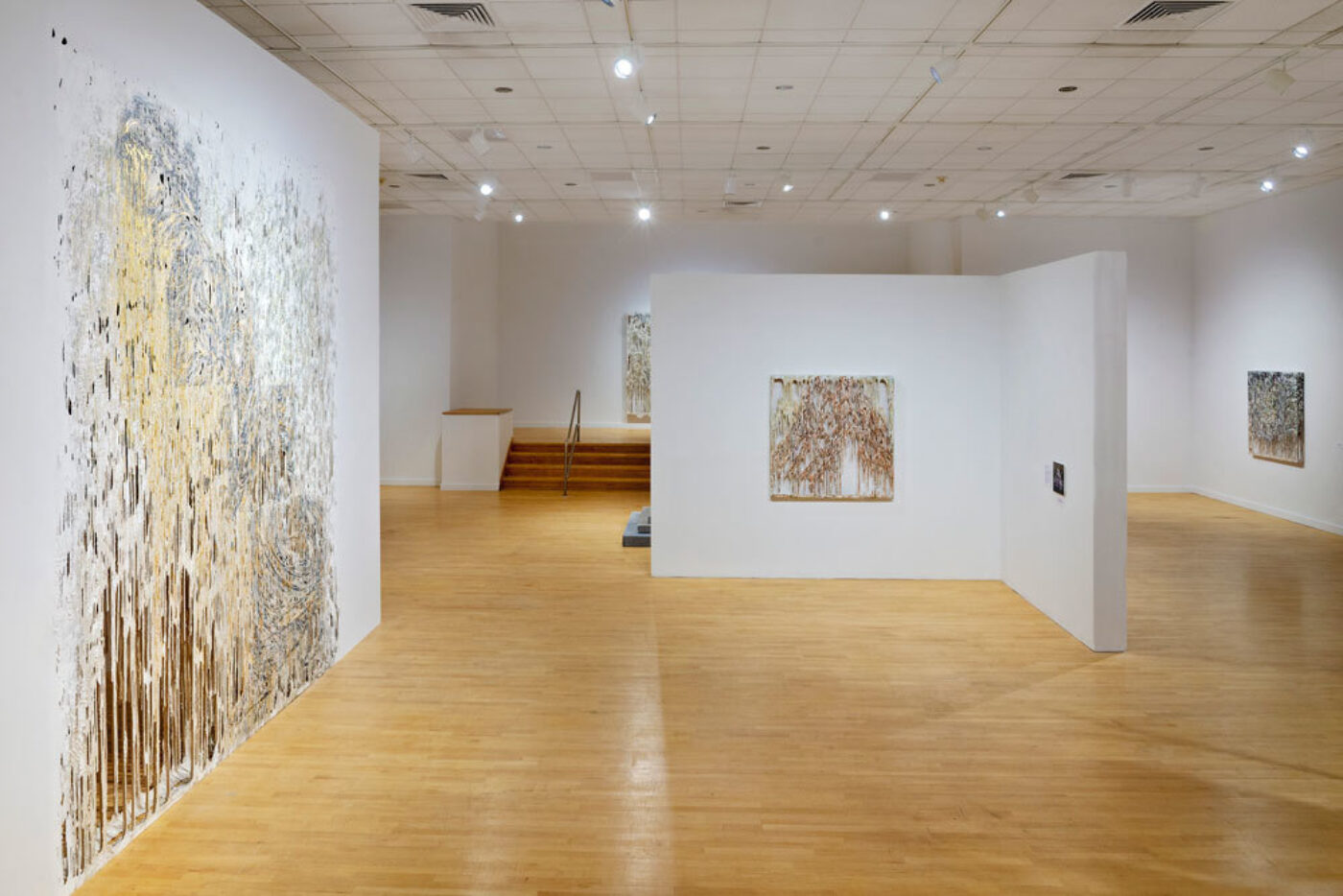 Mob Mentality (2014), on the wall opposite In Mortal Repose, is a sculptural painting of sorts: a paradoxically diaphanous yet muscular object made of polymer gypsum, fiberglass, steel, plaster, gold leaf, and pigment. It is one of five such panels constructed through controlled drips and pours in which the solution is layered and worked to achieve the desired effect. This is where the direction of events could be confused. Despite the additive nature of the process, the surface seems subjected to corrosion, perhaps even burning—the product of violent subtraction, as if stripped down to its quiddity. The project appears to unsubstantiate the structure. Diffuse vertical striations trace the contours of an incorporeal volume, an internal depth illuminated by translucencies—the interplay of light and shadow through a lattice of congealed matter. It is in fact an accumulation, a growth, an object on the border. The porosity of Mob Mentality makes it hard to see.
This technique reaches a crescendo with Al-Hadid's installations. The Sleepwalker (2014) is a panel inset in the architectonics of the room, becoming part of the wall itself and creating a corridor to a smaller gallery behind. Dense with cross-cultural and trans-historical references, the subject is Gradiva, "she who walks," the young woman from an ancient Roman bas-relief who became a muse for novelist Wilhelm Jensen, Sigmund Freud, and the Surrealists. Seen from the front, Gradiva is sectioned into four parts positioned in a downward slope, emphasizing movement. Her image is luminous and ethereal behind a veil of gold leaf, the vision of a lucid dream. Shadows cast by stalactitic spills animate the other side of Gradiva's wall. This spatial passage offers an opportunity to reflect upon how natural and artificial landscapes influence and inform embodied experiences.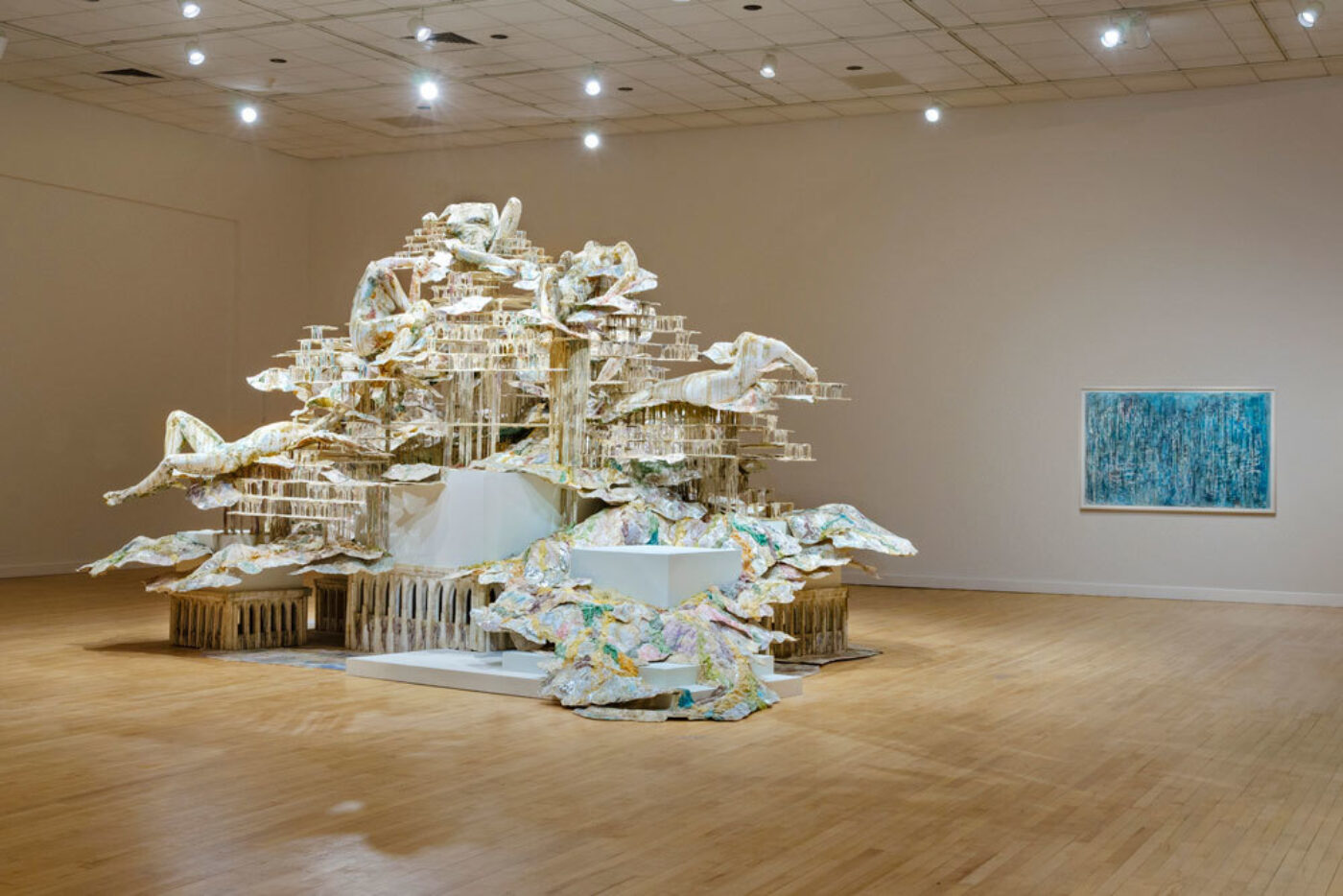 Al-Hadid sources from history, literature, the natural and social sciences, and memory to investigate intersections that materialize through exchange and appropriation. Exploring entanglements between the environment, built forms, the human body, and imagination, she reveals how they are fluid and changeable, instilled with distinct ways of knowing. Nolli's Orders (2012)—perhaps the most impactful work in the show due to its scale and visual intricacy—is a monumental sculpture inspired by Giambattista Nolli's eighteenth-century map of Rome. Nolli's ichnographic plan revolutionized mapmaking standards, describing the city with unparalleled accuracy and detail. He reoriented the topography to magnetic north, showing his use of a compass to guide his gestures. He graphically distinguished between public and private space, engaged dialectics of mass and void, interior and exterior to produce a more experiential representation of urban space. Al-Hadid heightened the experiment, lifting it from two to three dimensions so that the work exists in a continuum of undulating, multifaceted planes. Figures extracted from Northern Renaissance and Mannerist paintings are planted on levitating ledges of frozen liquid. Like a baroque fountain at the heart of a piazza, the sculpture activates the gallery by encouraging visitors to move around it while challenging the certainty of what they perceive. Forms that initially appear whole reveal themselves to be ghostly shells and fragments from different angles. Superimposed and suspended, Nolli's Orders seems displaced from time and space, elusive and out of reach. Al-Hadid's practice discloses a reality of secretions, layered and complex—slow and destined to become heavy.
Diana Al-Hadid: Delirious Matter is on view at the Bronx Museum of the Arts until October 14.
Rebecca Rose Cuomo is a writer and art historian based in Brooklyn.