Unresolved Futures: Nadim Choufi Interviewed by MK Harb
A digital film speculates colonies in the desert.

Discover MFA Programs in Art and Writing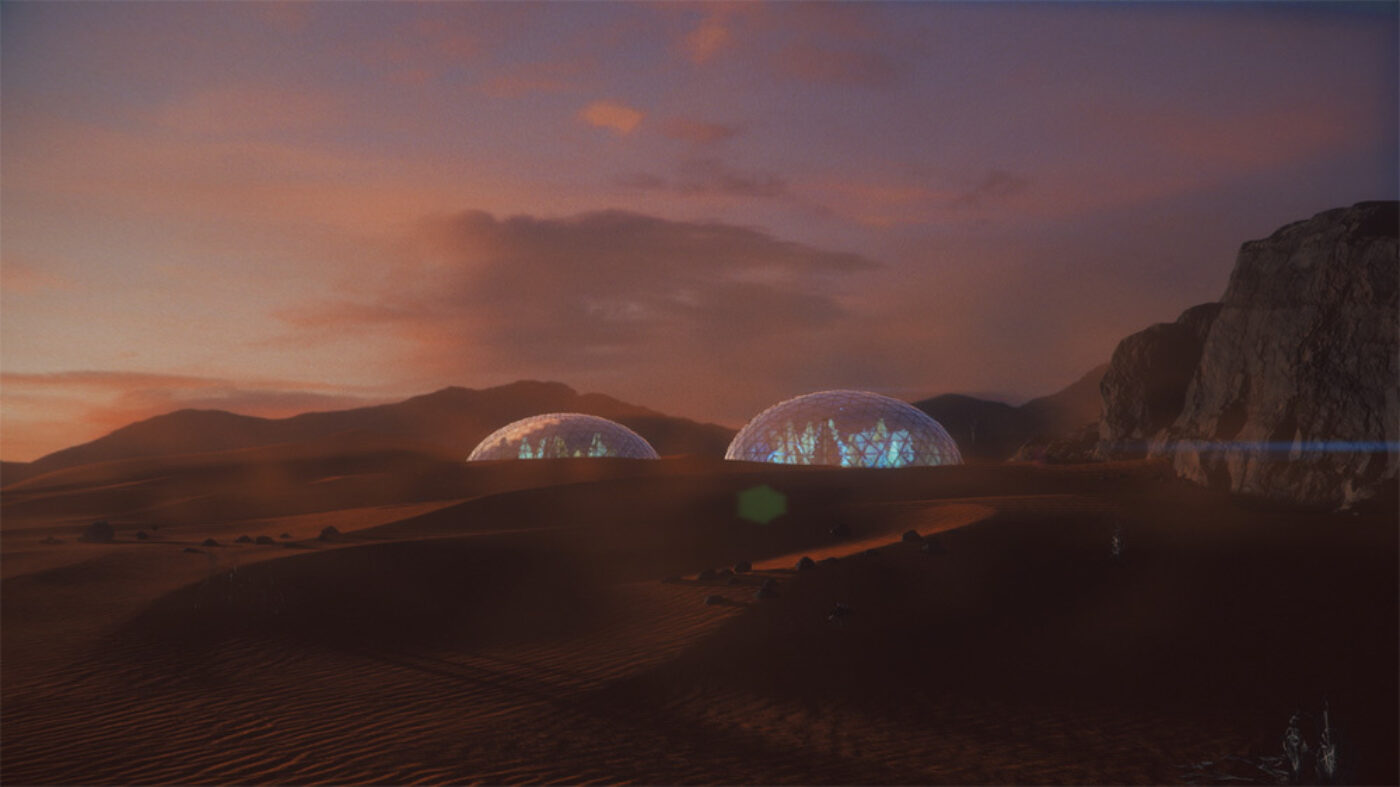 What role does the cinematic medium play in our late capitalist reality? Cinema ranging from German Expressionism to Soviet science fiction often speculated on the future and its modalities. How can we deliberate on our collective future in a present moment riddled with extinction anxieties and technologies invested in corporate profit?
Nadim Choufi, a Lebanese artist awarded the 2020 Art Jameel Commissions: Digital, engages in such intellectual speculations in his short film The Sky Oscillates Between Eternity and Its Immediate Consequences. Watching his film and its haunting aesthetics, I find a provocative irony in witnessing sentient beings speak of their life in an unknown and "efficient" colony. One cannot help but think of our current lived experience which is surrounded by marketing platforms that incessantly invite us to "live" and "optimize" our best self.
Existentialist in its questioning, Choufi's film narrates a near future in which life is drained of living and transformed into a looping cycle of efficient and automated existence. Martin Heidegger spoke of Dasein when reflecting on the particular human experience of being and encountering. In Choufi's film, this beingness is unresolved, and those living on the colony have the uncomfortable stillness of a cyborg.
—MK Harb
MK Harb Your short film narrates an eerily still life on a futuristic colony where the viewer can't discern if it is a world that has become or is becoming. Hence, I am curious about your choice of the word "oscillates" in the title?
Nadim Choufi Oscillation is used to convey an infinite repetitive motion, omitting what drives the motion or the friction that will slow it down. Conventionally, it is defined as swinging backward and forward like a pendulum. I find the reference to a pendulum to be fitting as the work is about time and the exploitation of time. When I say time, I mean life cycles, biological clocks, and environmental cycles as a foundation for the future of "sustainable" smart cities.
The oscillation in the title blurs the separation of the future from the present and is an entry point to the ways planning an eternal future dictates the present. It also gives way to unexpected oscillations, where perfect planning does not accommodate different modes of living, yet it produces new material and life that make such plans reach their breaking point. In many ways, it's how our circular global economy led to the current pandemic that shut it off, at least momentarily.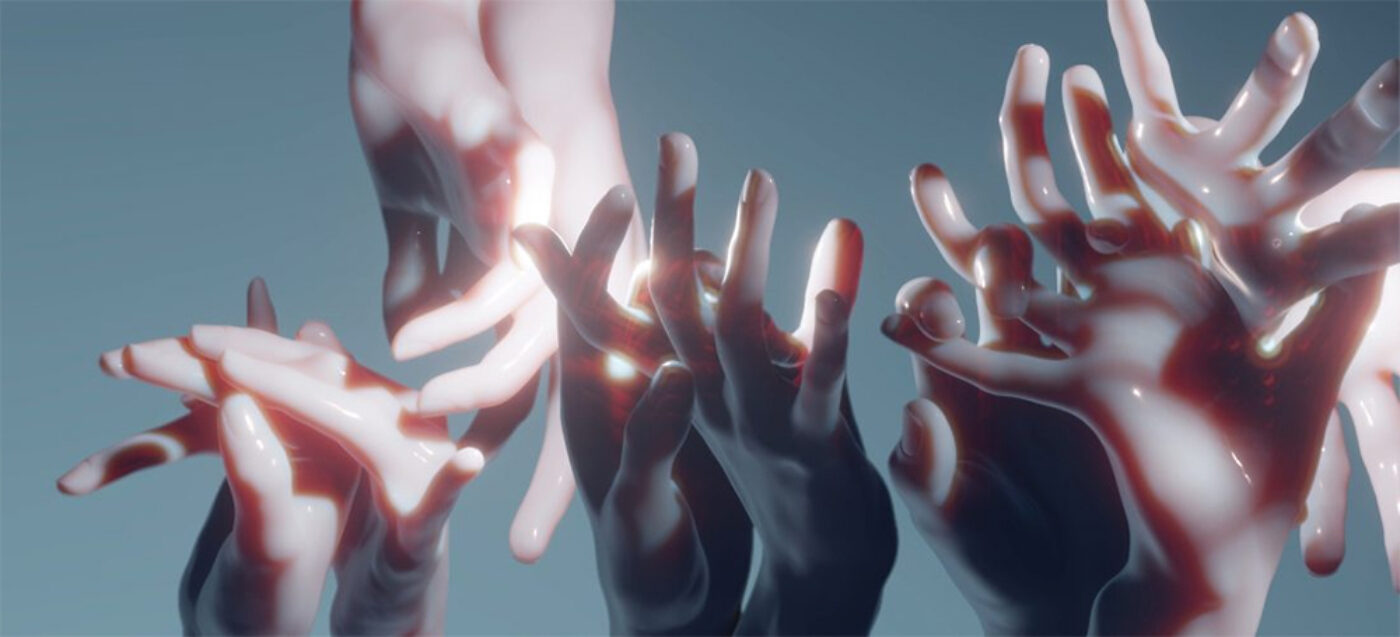 MKH "The uncertainty was too expensive for our survival. Yet I want to walk you home, but there is too little of night in here to do so." These haunting lines in your dialogue narrate the hazards of uncertainty for the efficiency of the colony. Can you reflect more on the dangers of a "mistake" in this future?
NC I came back to this line a lot while writing the script. Isn't it chance that makes our essence? Similarly, a closed world in the face of ecological crises takes a universal solution to remove chance from living by reducing all of life to a looping combustion cycle. Your carbon dioxide needs X units of a plant to turn it back into your next breath. Anything not accounted for, a different plant species, is considered a mistake and won't be selected to be in the colony. This "mistake" occurs not only in this colony but also on our planet and in our present. Whole ecologies are being wiped out because they don't adhere to a certain level of efficiency. Forests are being erased for large-scale farms that grow only a couple of crops.
I'm still unsure what these lines do, but they want to risk a set definition of life for the openness of one night to feel alive, even if it crashes a whole world.
MKH In your film, you discuss optimum energy, life duration, and extraction on the colony, which makes me think of our current age when the neoliberal mantra of "optimizing your best self" looms large. How much of the self is drained in this colony in order to provide "maximum" and "collective" optimization?
NC The colony takes it a step further by removing the membrane between self and collective optimization. If you are not constantly at your best self, you are a malfunction in the colony's ecosystem. It is a giant womb, and you are connected through a two-way umbilical cord, but the womb does not aim to reproduce life more than it aims to reproduce operating conditions.
MKH The beings in this colony seem to lack a sentience and an ability to encounter feelings, be it bodily or emotional. Can you tell us more about their subjectivity?
NC The film plays the visuals of architectural and governmental projects that display a problem-free future. People are rendered into such images to occupy them in a carefree manner. The film delves into that by defining the stock beings through their tasks instead of their subjectivity. Such optimal projections rely less on actually experiencing this future and more on working to keep the promise of such a future alive. However, as a preemptive method to better understanding this dynamic, these renderings are disrupted by the voiceovers of two invisible protagonists delving into their bodily experiences and feelings of living in this colony.
MKH Time and place are collapsed in your film, and the narrative focus is on the possibilities and limits of the future. How much of your research draws on current investments in Mars exploration and renewable energy, be it in the Arabian Peninsula and beyond?
NC Recently, my research is focused on space programs within the region and beyond. Many of our adopted "sustainability" goals, such as closed energy loops, originate from them. Also, they act as a clean slate to start over, maybe too clean, in that they reflect a lot of thinking that such innovations try to forgo. For example, both renewable energy and colonizing other planets are proposed as solutions for a post-oil future, yet both are treated as infinite, like oil, waiting to be drained.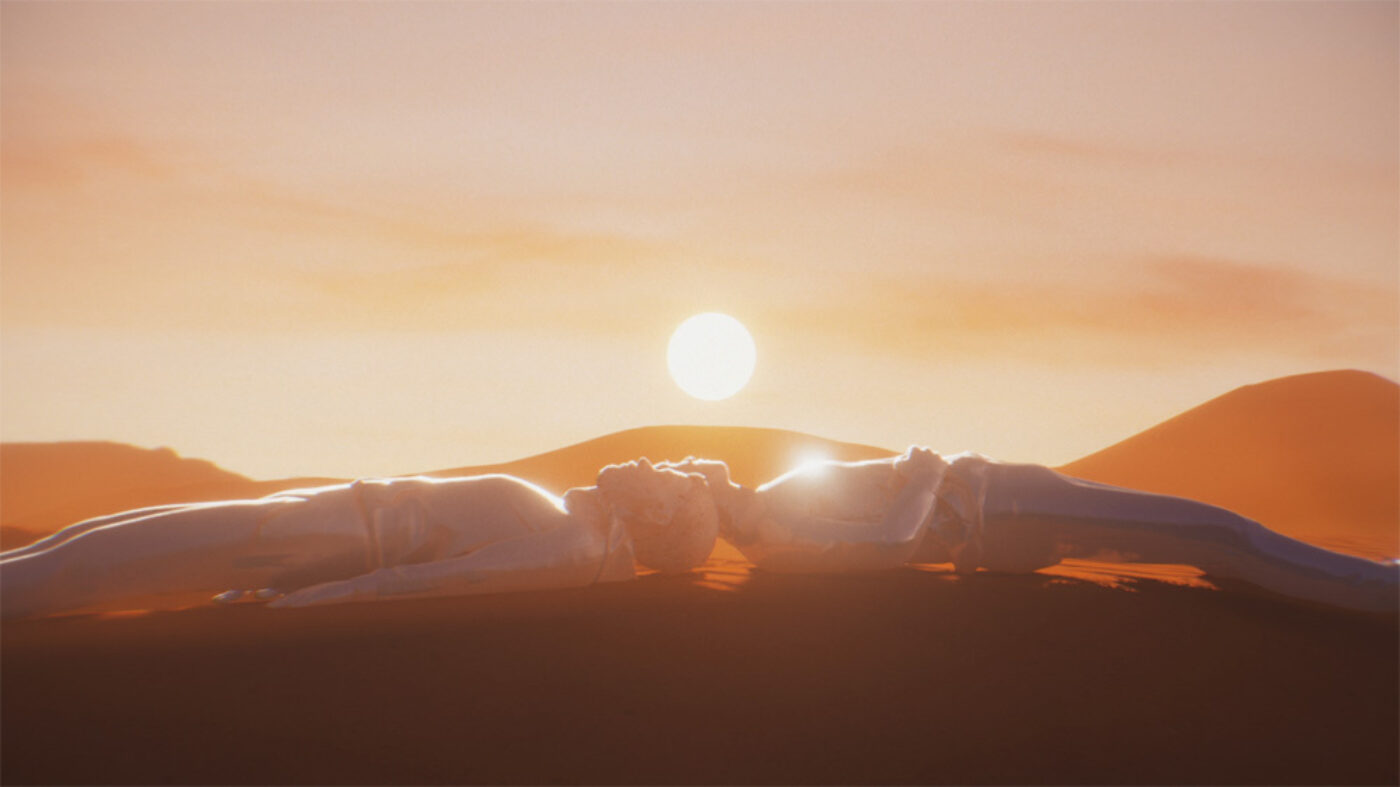 MKH In this extractive and automated world where the beings have become "functional" and "replaceable," what is the future and role of labor?
NC I think our labor, the labor of other organisms, and the labor of machines will be connected in many ways that we might not want or will refuse at a later stage. Labor could very much be the new nature in a sense. The connectivity of labor might be invisible yet with a great deal of infrastructure. You know how the internet supposedly brings us closer? I think there will be a level of connectivity in our labor that will bring us too close, maybe to a tipping point.
Nadim Choufi's The Sky Oscillates Between Eternity and Its Immediate Consequences can be viewed on the Art Jameel Art Centre website until September.
MK Harb is a writer and an Editor at Large at Asymptote Journal. He received his Master of Arts in Middle Eastern Studies from Harvard University. His work is published in the The Times Literary Supplement, Hyperallergic, Art Review Asia, Asymptote, and Jadaliyya.