Unerased History: Provocations: Anselm Kiefer at The Met Breuer by Jonelle Mannion
An exhibition of works on paper by the major German artist.

Discover MFA Programs in Art and Writing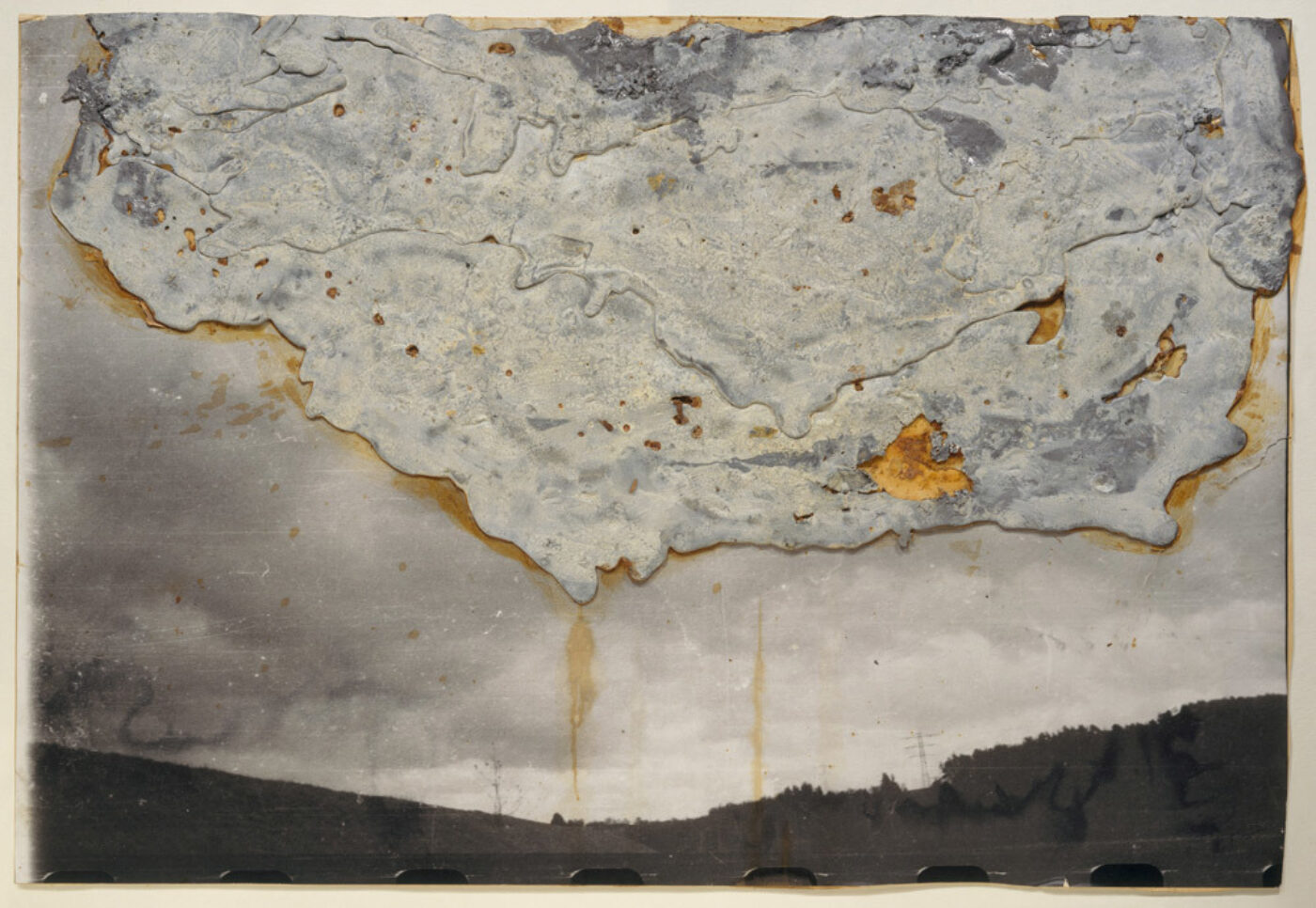 The lyrics of the German national anthem, "Das Lied der Deutschen," were originally the words of an 1841 poem written by an exile in Heligoland, keening for a unified Germany. A line referring to "The Belt," a narrow waterway between northern Germany and Denmark, and one of four bordering the German-speaking world, is now edited out of the anthem, having become associated with the Nazi party's sinister nationalistic zeal. Tellingly, this outtake is the line of the poem that interests Anselm Kiefer, a line whose tree rings tell of shifting ideologies. In his painting, Hoffmann von Fallersleben: The Belt (1977–78), the severe face of the poet von Fallersleben glows from a dark hillside on a starry night, gazing over the luminous trickle of "Der Belt"—the scene evoking a mystical Mount Rushmore.
In Provocations: Anselm Kiefer at The Met Breuer, an exhibition of thirty-four works on paper and one painting, Kiefer's conversations with history range in scale from the local—he was born in 1945 Germany—to the cosmic, with the earth often serving as a gateway between the two. The landscape in Der Belt, naively rendered in black-and-white paint and pencil, remembers more than we do, or more than we would like to. In Midsummer Night (1980), a bushel of ferns is painted in white gouache and acrylic over a dark photo collage. Ferns, the first trees, are celebrated by Kiefer for their primal intelligence and deep memory. Their spores were used in Midsummer Night rituals in Germany; as a result, the plants have witnessed such rites change hands from pagan to Christian traditions. 

Kiefer's imperative to remember is more notoriously associated with his treatment of Holocaust symbols, in particular his 1969 series of Nazi salutes—a gesture made illegal in postwar Germany—painted from photographs he took of himself in his father's Wehrmacht uniform. One is rendered here in watercolor and charcoal, banal and unapologetic on a drab country road. A diminutive, pock-inflected landscape titled Sick Art (1974) echoes the 1937 Nazi propaganda exhibition Degenerate Art, which gathered 650 works of modern art considered un-German. One senses that Kiefer dwells on such fascist gestures so that history doesn't move in circles as a consequence of having its footsteps erased.
In Miracle of the Serpents (1985), torn serpent forms rise tall against a mess of white shellac streaks and drippings on a black photographic backdrop. The collage draws upon the Old Testament story in which God grants Moses and Aaron the power to turn their staffs into snakes for use in battle. The wall text indicates that the incongruous metallic object jutting down from the top of the frame is a photographic cut-out of an Art Deco light fixture, describing it as "a futuristic manifestation of heavenly presence." Chillingly, this improvised godhead clearly resembles a warhead missile—the new deity for which the serpents unfurl their dance of devotion. 
In an adjacent photo-collage work entitled Heavy Cloud, from the same year, a mammoth lead cloud appears to buzz and seep with radioactive juice, a dirty orange rust visible where it gapes open. The shellacked substance leaks onto the bleak silhouette of land below, its horizon faintly dotted with electricity pylons. Kiefer made these 1980s works during the controversial NATO stationing of tactical nuclear missiles in Germany, when human actions were weighted not against divine retribution, but the potential for nuclear catastrophe. While the paradox of the work's title makes some light of a weighty subject, Heavy Cloud is an image that suffocates with doom.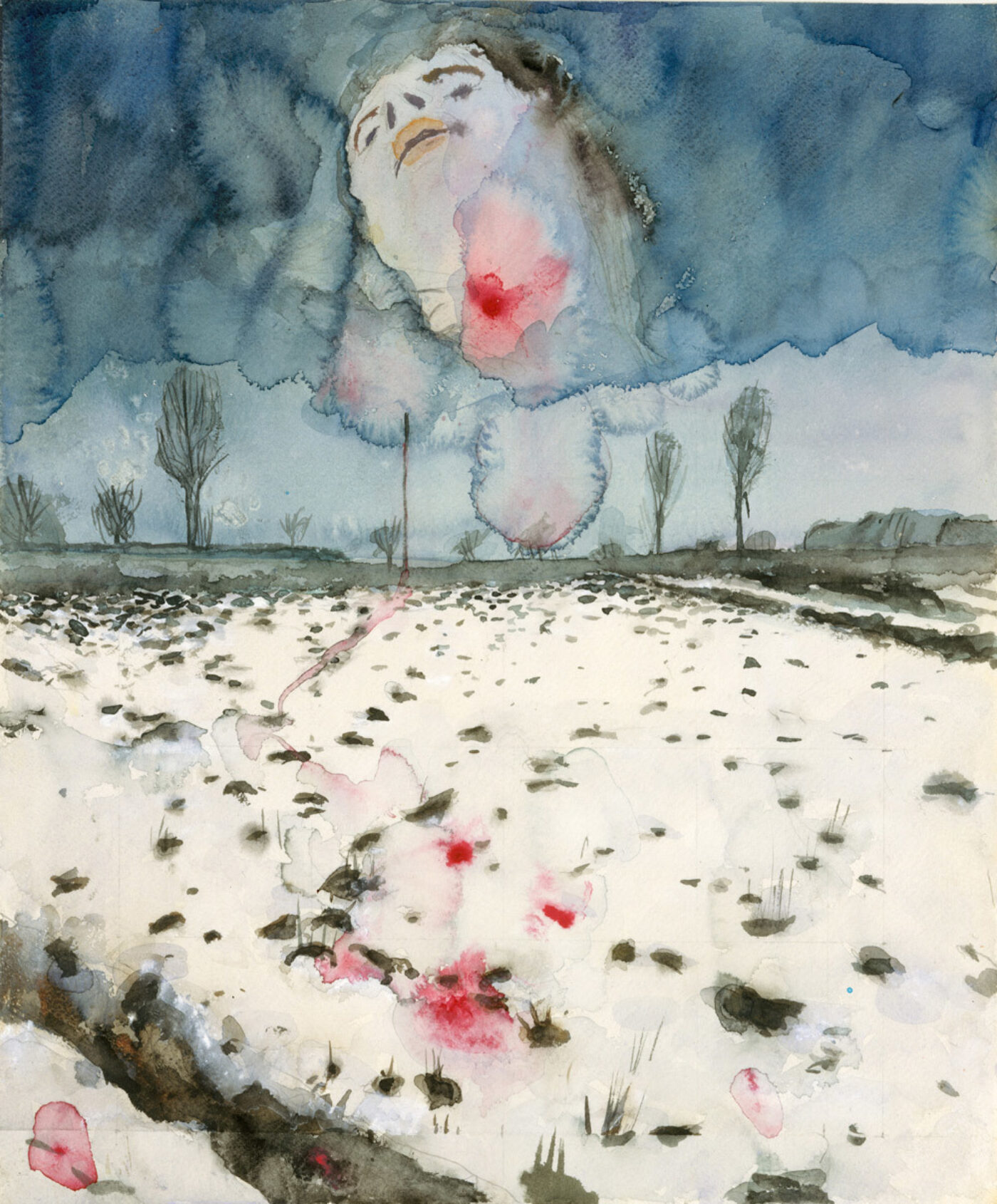 Kiefer draws on Kabbalistic spirituality in works like Aziluth (2004), and viewers zoom out even further with him. A sky busy with ethereal activity hangs heavy over an earthly beach scene peppered with ant-humans. Swirls of shellac hold up a collaged stairway ascending through the four realms of the Tree of Life toward Aziluth, the realm closest to divine light, while the beach, and our physical stratum, falls beneath Asiyah, the lowest of the spiritual worlds—that most burdened with material density. Kabbalah philosophy teaches that each of these levels exists both universally and within individual consciousness, and can be accessed there despite our physical forms. The process of ascension is one of spiritual reflection and growth, a slow unchaining from earthly cycles.
What is most provocative about Provocations is not necessarily that some of the first images viewers see are a Nazi salute and a floating head dripping pink blood from a bullet wound (Winter Landscape, 1970). Rather, it is Kiefer's indiscriminate culling of material cast into history by censorship or criminalization, or—as with the Kabbalah's spiritual worldview—more subtly demoted within cultural consciousness by the new religion of materialist science. The scandal, if there is one, is in his neutral treatment of these gathered materials as history's polished pebbles, each equally worthy of pocketing. His ethics, if he has one, lies in his refusal to move on. 
Provocations: Anselm Kiefer is on view at The Met Breuer in New York City until April 8.
Jonelle Mannion lives in Brooklyn. Her writing has appeared in The Brooklyn Rail, The Los Angeles Review of Books, and Art Monthly Australia, among others.