Unattainable Models and Personal Utopias: Zuzanna Czebatul Interviewed by Isabel Parkes
Shaping space and architecture.

Discover MFA Programs in Art and Writing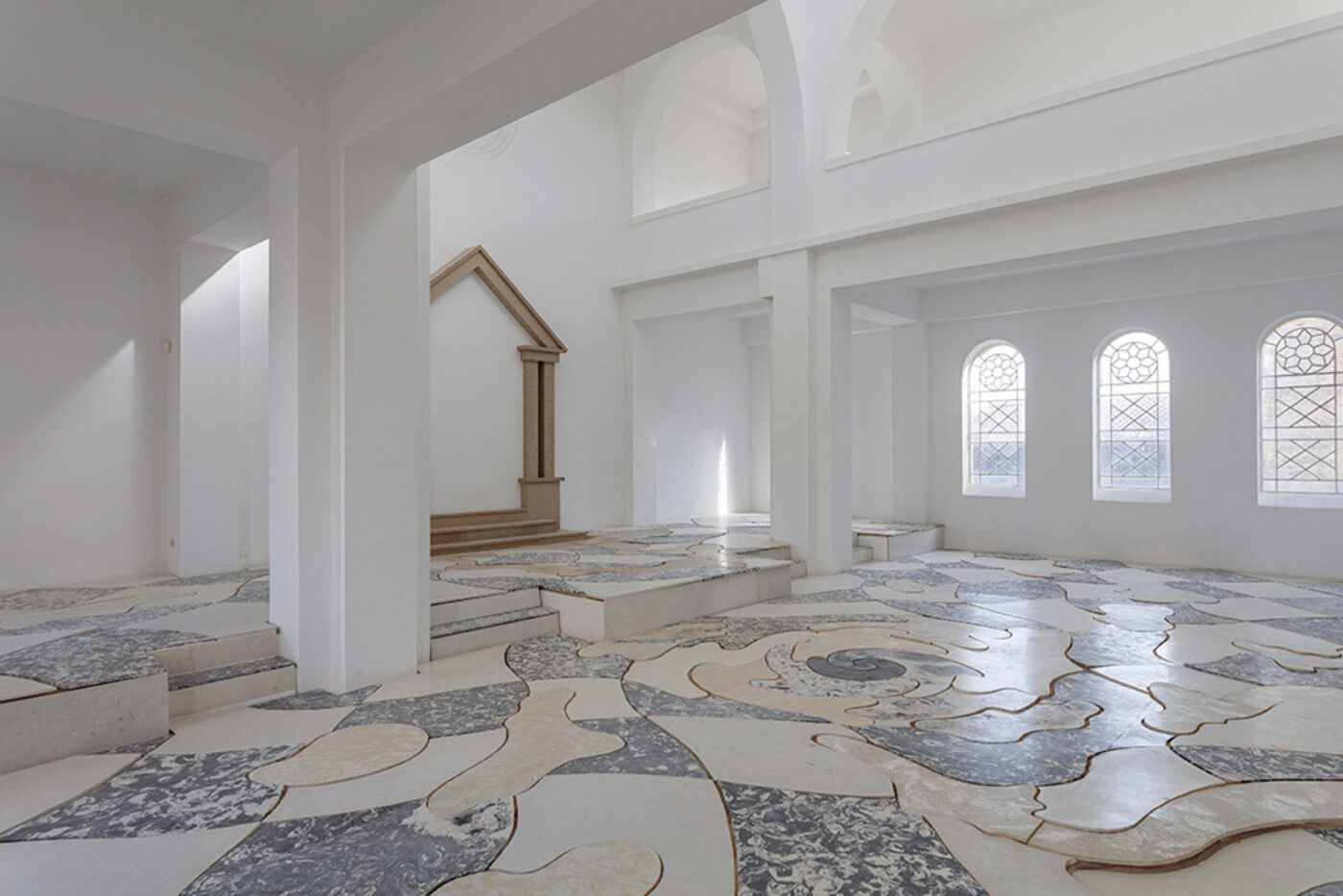 Zuzanna Czebatul interrogates how both monuments and movements take shape. She often relies on familiar architectural and commemorative forms such as columns, pedestals, and busts which she builds up in order to better break down. At times, including for her current solo exhibition, The Singing Dunes, at the Centre d'art contemporain la synagogue de Delme in Delme, France, she empties spaces in order to amplify what's already there. Her work's wide range of materials and final formats speak to her drive to make art that carries contradictory messages of ephemerality and persistence, creation and decay, fluidity and form in an effort to better approximate the precariousness of lived experience. Her influences derive from a strong sense of personal politics as much as an interest in subcultures formed online or in clubs, both spaces in which she is active. We talked in Berlin about her latest work, the way that things seem to stay still yet move constantly, and how her own biography informs what she does.
—Isabel Parkes
Isabel Parkes What was the starting point for The Singing Dunes?
Zuzanna Czebatul The starting point was the site itself, a synagogue built in 1881, destroyed by the German army during World War II, and rebuilt in the 1950s. After its final service in 1978, it faced permanent closure; by the early '90s, the building was converted into a space for contemporary art. During my first visit, I was drawn to the building's atmosphere, and I decided to leave the ground floor as empty as possible by creating a floor work that echoes the architecture's past.
IP How does the floor installation do that?
ZC The original tiles in the synagogue were black and white octagons, which I simplified into squares. The pattern developed replays the building's remaining elements: its Torah Ark, windows, and entrance columns. Everything seems to morph toward the center and spiral into a vortex. To me this embodies the movement and inherent fluctuations that accompany the passage of time.
IP The combination of finding a center and being in flux seems like an abiding interest of yours. As a sculptor, how do you find form for these opposites?
ZC I try to pose current and future questions by looking at bygone ones. Translating this process into a rigid object that is brought to life by the body, by my body and or animated by a viewer, feels like creating a simulation with fixed anchor points—historical, cultural, and political references.
IP What are examples of other such anchor points? Where do you seek inspiration?
ZC I'm consistently fascinated by Greek antiquity as it manifests in art and epos, and as it represents both a certain Western norm and a totally unattainable model. Another longtime inspiration is rave and techno culture. Examining notions of autonomy, freedom, and community building—for example, in techno's early days, as well as its commercialization and depoliticization by a largely white mainstream—helps me to formulate personal utopian concepts. But with The Singing Dunes, my initial draw was to the history of the institution, which I felt spoke to my own biography as a migrant.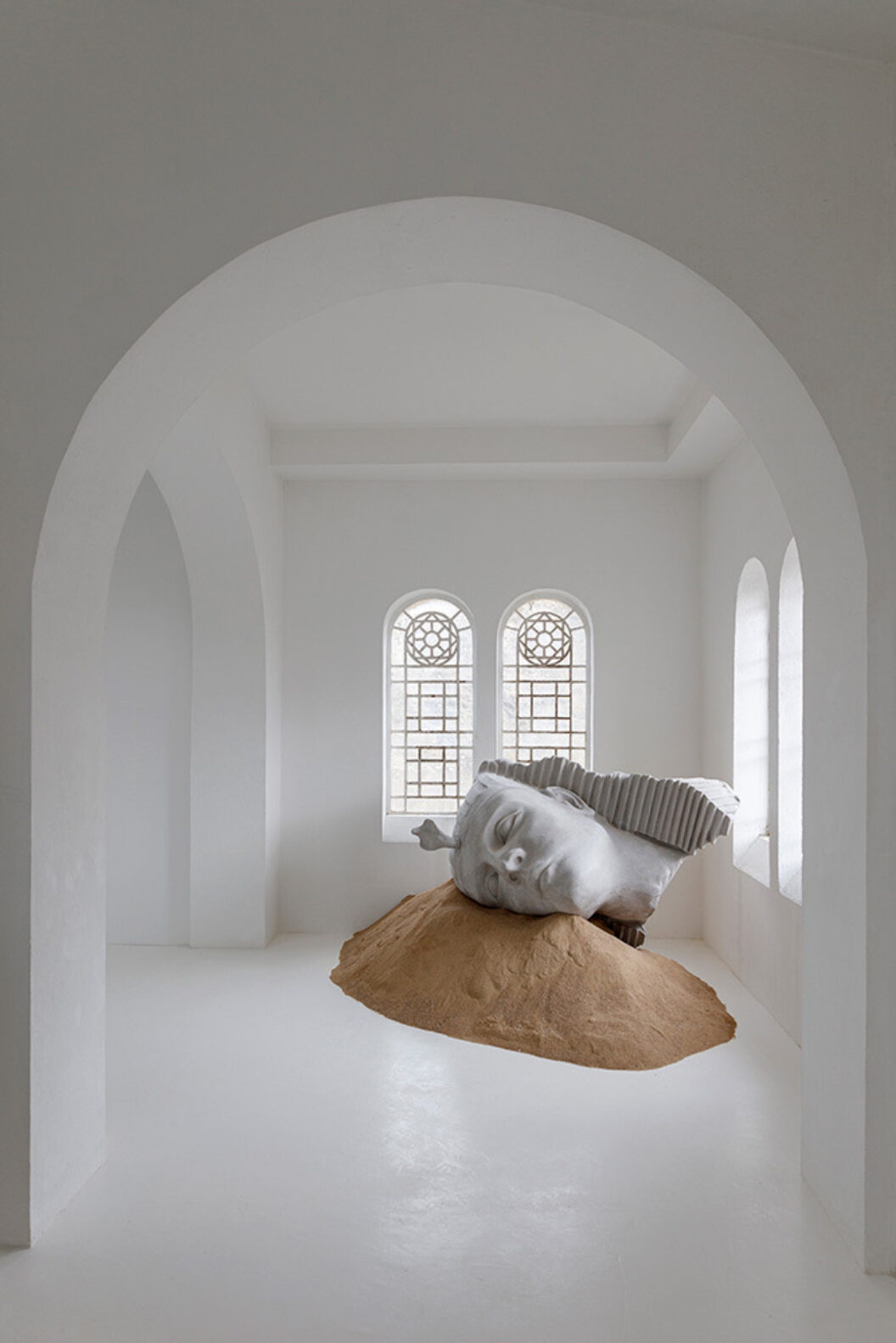 IP Where do elements of your personal history come through?
ZC The title of the show refers to the roaring sound sand produces as it, in the form of entire deserts, moves. The exhibited sculpture series, Their New Power (2020), is a deconstructed replica of one of the many sphinxes from the silent-movie blockbuster The Ten Commandments (1923) which takes on the Exodus story. An entire Egyptian city was built for the film, and in the face of logistical problems part of the set was left and buried in the desert once the shoot was finished. Even today, forgotten props are excavated in California's deserts.
I think my interest in chains of cultural migration has grown out of my own migration as a child, born in Poland amid the fall of the Iron Curtain. My relationship to systems was shaken early on and fueled my interest in transitions.
The twentieth century alone reveals a high density of changes worldwide. We know great empires disintegrated, and nation-states emerged, flourished briefly, then vanished. World wars twice transformed the international system, and all but a few countries experienced at least one revolution. Mass communication, expanding participation in politics, the rise of new political issues, the threat of nuclear war, and innumerable developments constantly upend political landscapes. I think the sculptures in this show contemplate those transitional moments, while the floor, Vortex (New Day Coming), depicts the institution's own historical transformation, which is still happening.
IP The notion of personal utopias feels related to the kind of transformation you describe.
ZC Personal utopias are essential means through which we formulate alternatives to inefficiency and find solutions to problems. People who say, "The system we have isn't perfect, but it's the best we're going to have," are people who don't have or can't imagine utopias.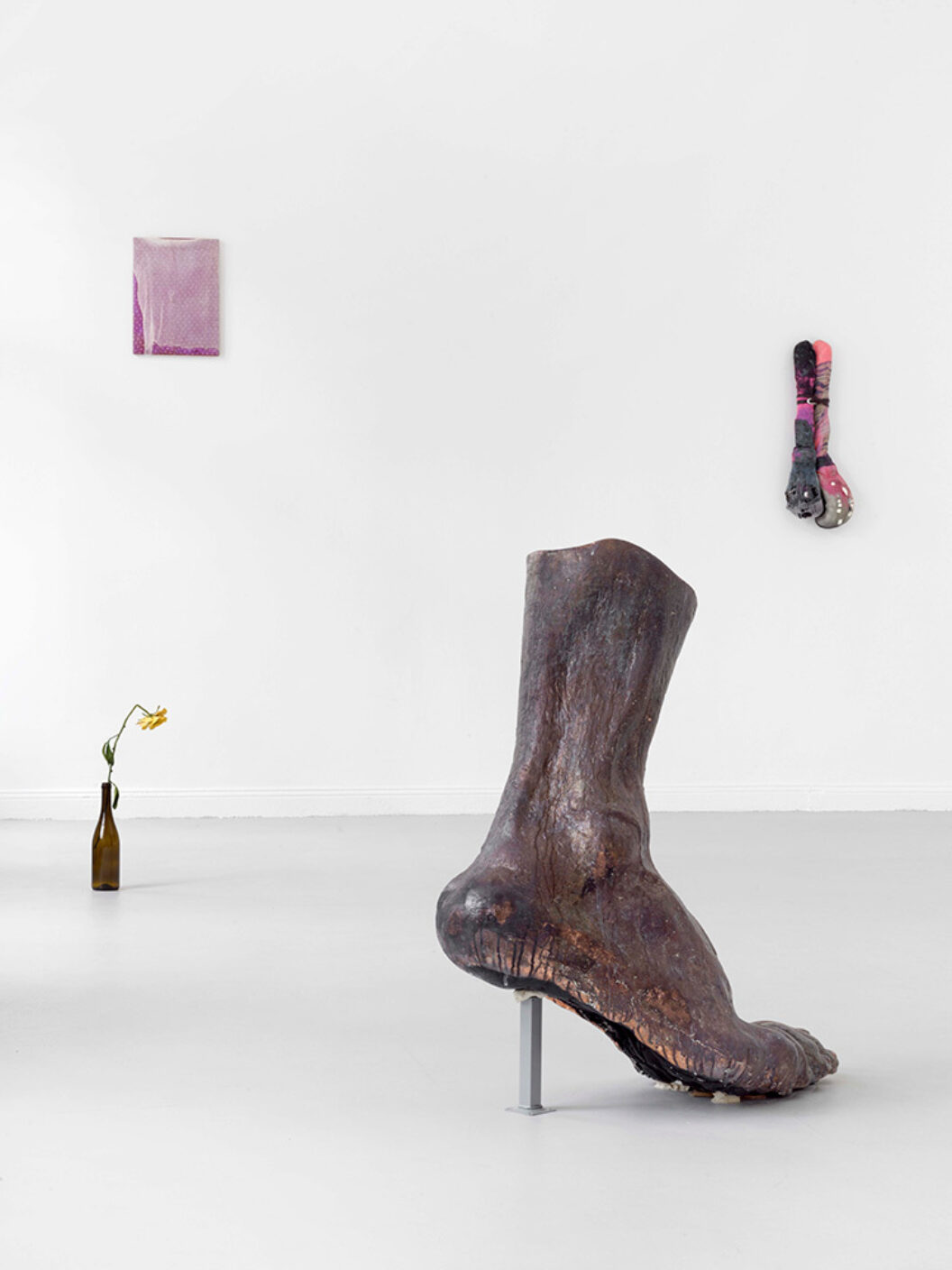 IP Do you consider yourself an optimist?
ZC More of an optimistic pessimist.
IP How are you approaching making work now, amid the pandemic?
ZC During the first months of lockdown I mostly read and researched rather than produced anything. I personally had more reasons not to go to the studio than to spend time there. COVID-19 and the many, multi-layered global movements currently taking shape offer a bold reminder of the impact of our lifestyles and interconnectedness. The answer to the question of whether we can ever go back to normal is clearly no.
I'm facing a busy fall and winter because spring programs that were postponed across Europe are now restarting. Currently, I'm expanding existing series for a couple of group exhibitions, and hopefully soon—if the pandemic allows—I'll bring new works into the world for solos in Paris, Vienna, and Erlangen. How I will respond to the first half of this answer—becoming an active member of an artistic community operating within and beyond the contemporary art-market paradigms—is currently a huge task for me. Ideally, I would produce less, with more time. Moving my work into public realms remains something I aspire to.
IP At a moment in which algorithms continue to specify the scope of individual experience, what do you think your art offers a wider public? How do we move past the spectacular aspects of "public art" as thinly veiled social media content and into something that actually engages or moves people?
ZC My work is often seen to be related to notions of democracy because of its various references to pop as much as its juxtaposition with forms that read as "high culture." In today's late-stage capitalism, art's central concern should be to critique power while still offering joy. Maybe my work is a symptom of the crisis of the form, which fails to escape its dichotomy of being socio-political and self-referential.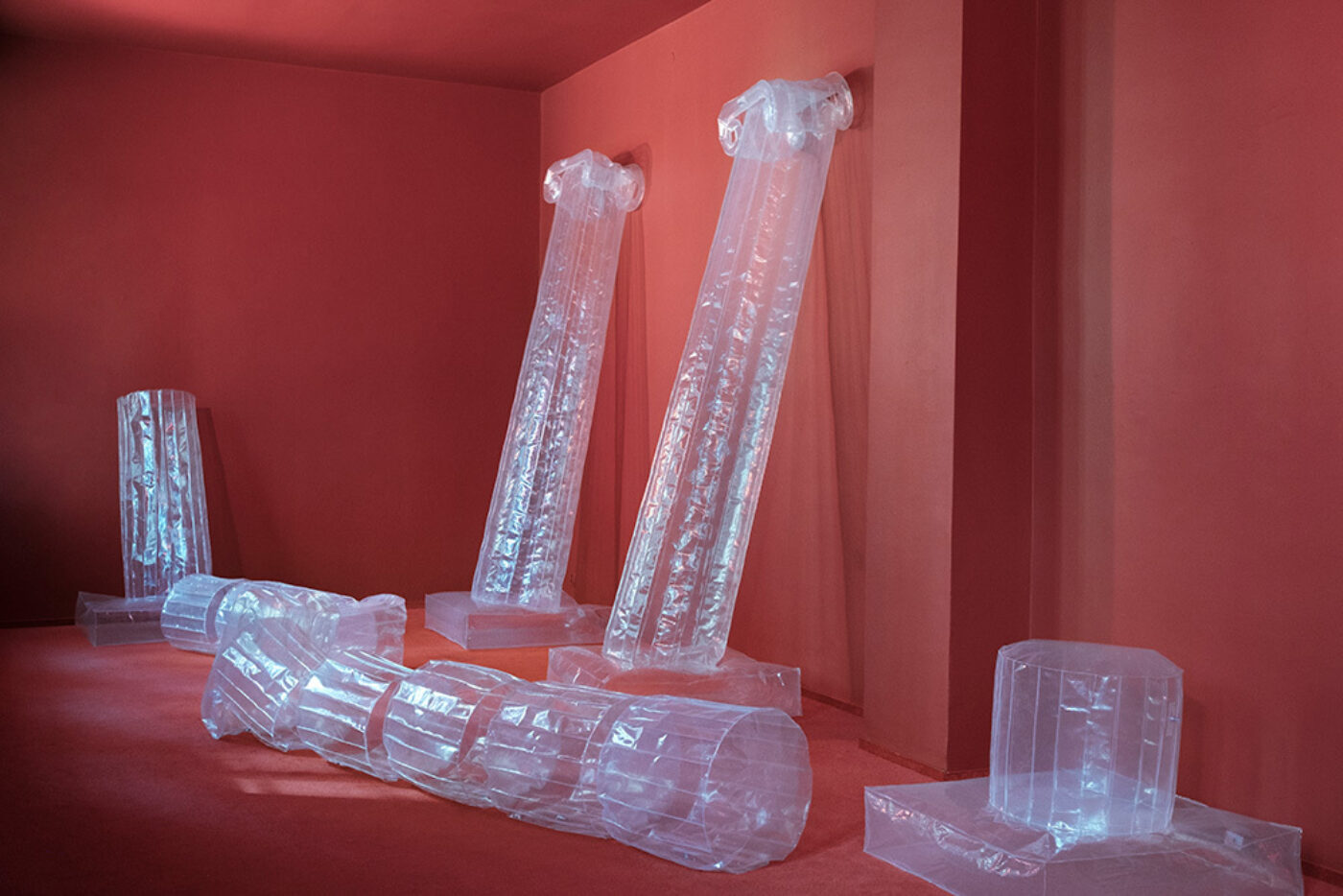 IP And also the crisis of art in late-stage capitalism, steered by a market that leverages subjectivity and criticality.
ZC The art market's mild self-reflections, be they regarding its white-male dominance or its role in the late-capitalist state of the world, are performances of self-criticism. In some cases, they are quite effective in the media. The art system, bloated by financial capital, has become delirious and cynically disenchanted. I expect that in the near future the rifts between institutionally relevant art and art as a commodity will deepen. Ephemeral, digital, and collaborative art practices will be created alongside design objects with a dash of content. I am curious to see where the former will go in terms of formulating effective solutions for community building and interdependence, and how we as artists will think against the grain.
IP Where are you currently looking for utopias?
ZC In science fiction, from writers like Ursula K. Le Guin, and in anarchist theory. Also in a new project I am launching together with the writer Kate Brown and artist Leon Eisermann. The Artist Charity Aid Network (ACAN) is a digital platform that connects artists with buyers by way of a donation from each. Artists are invited to donate an artwork to the network; an interested buyer donates a sum to a charity of the artist's choice; and the buyer's proof of donation secures the acquisition of the work. Works by Lena Henke, Elif Erkan, Przemek Pyszczek, Real Madrid, and many others can be acquired below market prices. In this way, artists can more directly translate our work into a currency and a monetary contribution that I, for example, wouldn't otherwise be able to make. On the other end, people have the opportunity not only to buy a unique work or an edition, but also to support organizations that are tackling important current issues. I see this kind of undertaking as an experimental way to share and distribute resources and directly connect contemporary art with political, ecological, and social activism.
Zuzanna Czebatul: The Singing Dunes is on view at Centre d'art contemporain la synagogue de Delme in Delme, France, until September 20.
Isabel Parkes is a British American curator and writer.