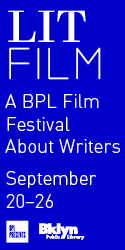 Frail Better
      Rosalyn Drexler's
      Marilyn Pursued by Death
      and other fragments of industry like

Virginia Overton's logs with the milled sides out
tree side in, arranged like close friends in a tight circle

her forested containers
rust-lidded
her pig's haunch hanging
roasted and cured    rotating
      in the refrigerated air

agitated scraps, kinship system of abstractions
operators, agents, and appliers 
lingering among
cascades of tense bright looks
chilly wavelets, silked-up jetsam

this art sitting right in front of the door
sometimes standing
occasionally lying down
expectant
a decoction a 
tincture of violence

like me, the art says,
you wander fields of unknowing 
in the care of professionals
Acquisition of the Magic Agent
Epidemios: among the people.
As for her, old torments had left their mark.
She wandered and soon found herself at the arcades among the tourists though she may
as well have been in the middle of
the ocean.
She passed a tattered old woman selling caricatures near the bridge.
A bulging, ancient trunk next to the artist's chair caught her eye.
Secret lives were trying to escape the desolate box.
The drawings on display, they were good, they were not
ridiculous.
She decided to have one done, why not? She had a few bucks left and
preferred an empty pocket.
The drawing caught her weariness, her plainness, but did not mock.
Bored, a spectacle-glutted family looked on
holding tiny flags.
Sitting for the artist, she was contemplative, calm.
It felt good to be closely looked at, to be seen, by the old artist.
She thought of the routines of her predecessors.
She paid the old woman and asked her to keep the drawing, to put it in the box.
The artist accepted, unsurprised. Her trunk was full of such likenesses,
entrusted to her.
But now she wandered on to the brackish heaving sea.
A man laughed nearby: that's a fucking fishless acid bath.
My sins belong to me alone, she replied, but he did not hear.
Miranda Mellis is the author of Demy-stifications (forthcoming), The Spokes, None of This Is Real, Materialisms, and The Revisionist. She coedits The Encyclopedia Project and teaches at Evergreen State College.
Originally published in
Featuring interviews with Steffani Jemison, Amitav Ghosh, Curt Stager, Ron Athey, Stephin Merritt, Rita Ackermann, Bryan Hunt, David Levine, Hari Kunzru, Sjón, and George Saunders.