Two-Way Gaze: Devan Shimoyama's Cry, Baby by Jessica Lanay
Radically imagined safe spaces for black queerness.

Discover MFA Programs in Art and Writing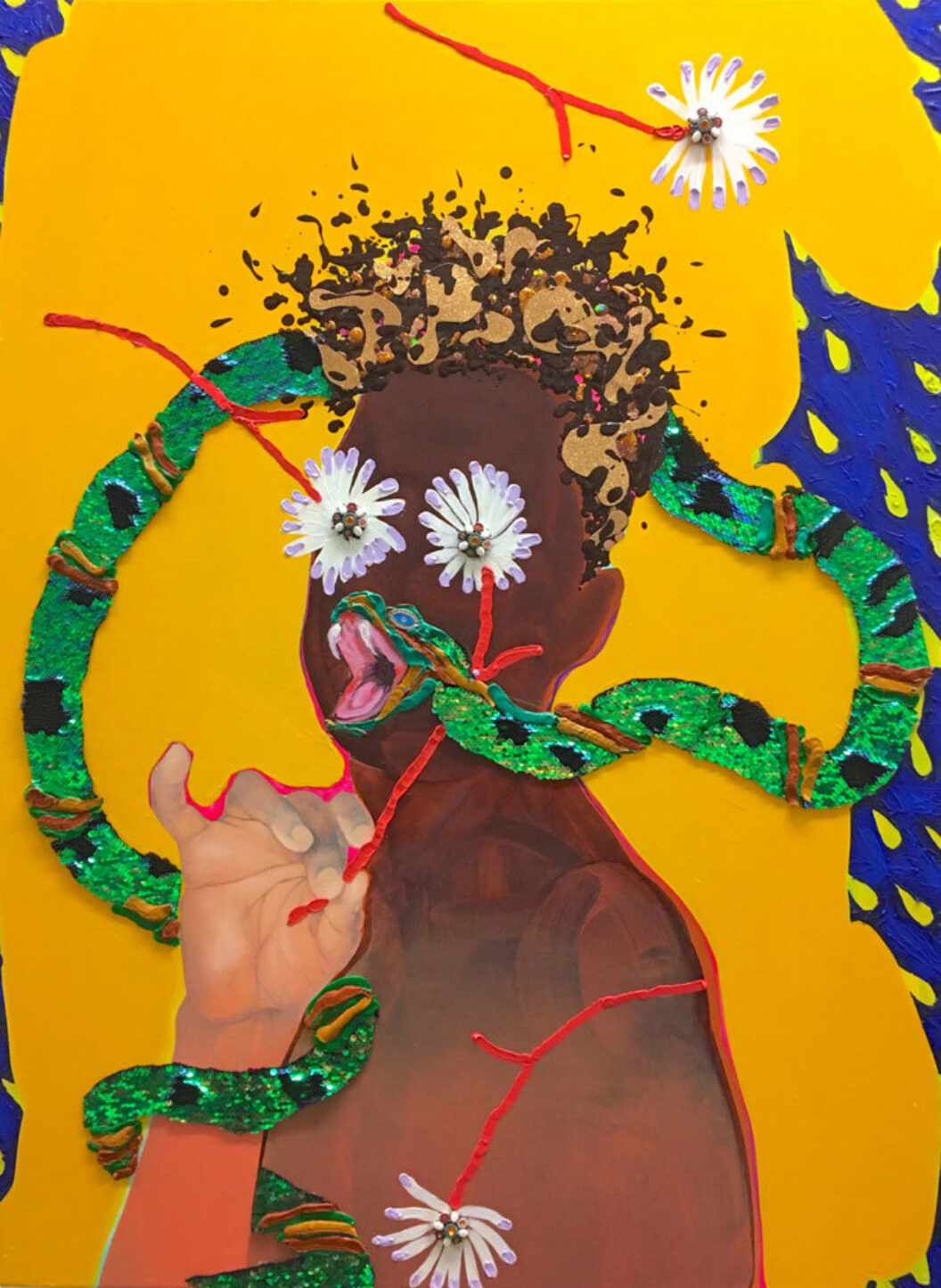 Devan Shimoyama's solo exhibition Cry, Baby at the Andy Warhol Museum is an artscape of coruscating protagonists: there is not a painted figure absent a halo of neon light. All eyes in the work on display are bejeweled or long-lashed, which intensifies the figures' gaze at the viewer. In a brief video at the entrance of Cry, Baby, Shimoyama speaks to the opulences contained in his work. He also points to expressions of affluence in black America's fashion, interpreting the aesthetic as a human desire to appear "to be much more than one feels they are." The content of Shimoyama's work pushes this presentation one step further; it is also about exploring, even if only in the imagination, the attempt to be every permutation of a self that an individual human contains.
Surveying Shimoyama's multimedia capabilities as an artist, the show includes painting, photography, and sculpture. The painting Weed Picker (2018) is curated front and center. The solar plexus of the exhibition, it is the expression of a symbolic world of self-actualization and self-care. A bearded figure crouches on the cusp of a wildflower-specked, electric-green hill. With eyes wide, the protagonist observes the viewer from beneath a brown hat while wearing lime-hued sport shorts and a t-shirt bearing the names of the female characters from the popular 1990s television show Living Single. The painting simultaneously synthesizes an external world that threatens the black, queer body and a private world that celebrates it. The In the Moonlight series (Sudden Darkness, Sudden Flight, 2016; Before the Strike, 2017; Moon Twins, 2017) features benighted figures outlined in voltaic yellow against a black-glitter background. The large leaves included in all of the paintings in this trio refract turquoise and sometimes pink tears within a tropical space lush with the fertility of those tears. In works like CTRL II (2018) and Anthony II (2018), the viewer encounters a sacral ritual of self-care. The barbershop scenes Shape Up and Trim (2017), Tasha (2018), and Cookie (2018) show young black men with pink-and-white flower eyes crying citrine tears represented by glass gems. These and other portraits by Shimoyama act as windows into the interiority of the figures represented.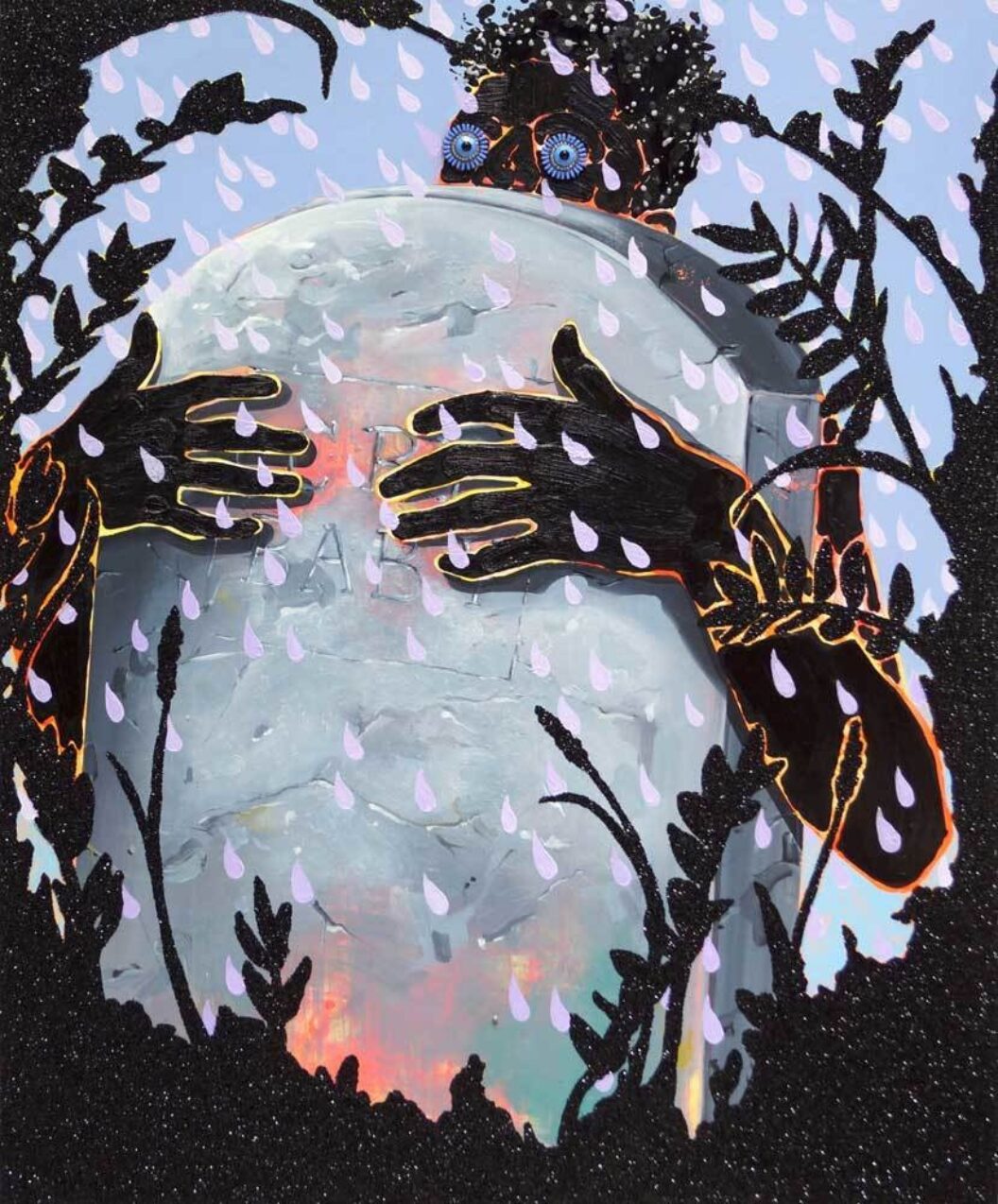 An assiduous layering of color and image is augmented by a careful application of pearls, flowers, and lace. This assemblage process is reflected in Shimoyama's sculptures for Tamir Rice and Trayvon Martin in which two swings and a hoodie are shielded in hot-red, blush-fuschia, and powder-pink gardenias, lilies, and roses. The flower-shod objects add a dimension of the feminine to these young men who were murdered because of racist imaginings of hypermasculine identity. The sculptures recall the act of mourning—a mourning often publicly expressed by black women—by turning the space of loss into altars, perhaps inviting what would be considered "masculine" resistance into a feminized space of mourning.
This formidable exhibition tenses against the didactics. The terms "mythical" or "fantastic" are used as descriptors for the protagonists. Designating the figures "mythic" results in the black body being referred to as fantastical in its ability to withstand pain or suffering; yet it also suggests that the black body in its societally perceived excess or lack can be classified as inhuman. In the opening video, Cry, Baby's curator, Jessica Beck, states that Shimoyama's paintings do not "necessarily have a black protagonist." This perspective does not seem to gel with the the work on display, which signifies the blackness of the figure through its inclusion of domestic symbols and spaces, as well as popular black beauty brands. Skin in Shimoyama's work is not a container for race but for light, personhood, and desire. The introductory wall text muddles a clear gesture in the artwork to question racialized gender binaries. It wants to annotate the heuristic in Shimoyama's work but instead simplifies it by clinging to binaries the artist means to complicate.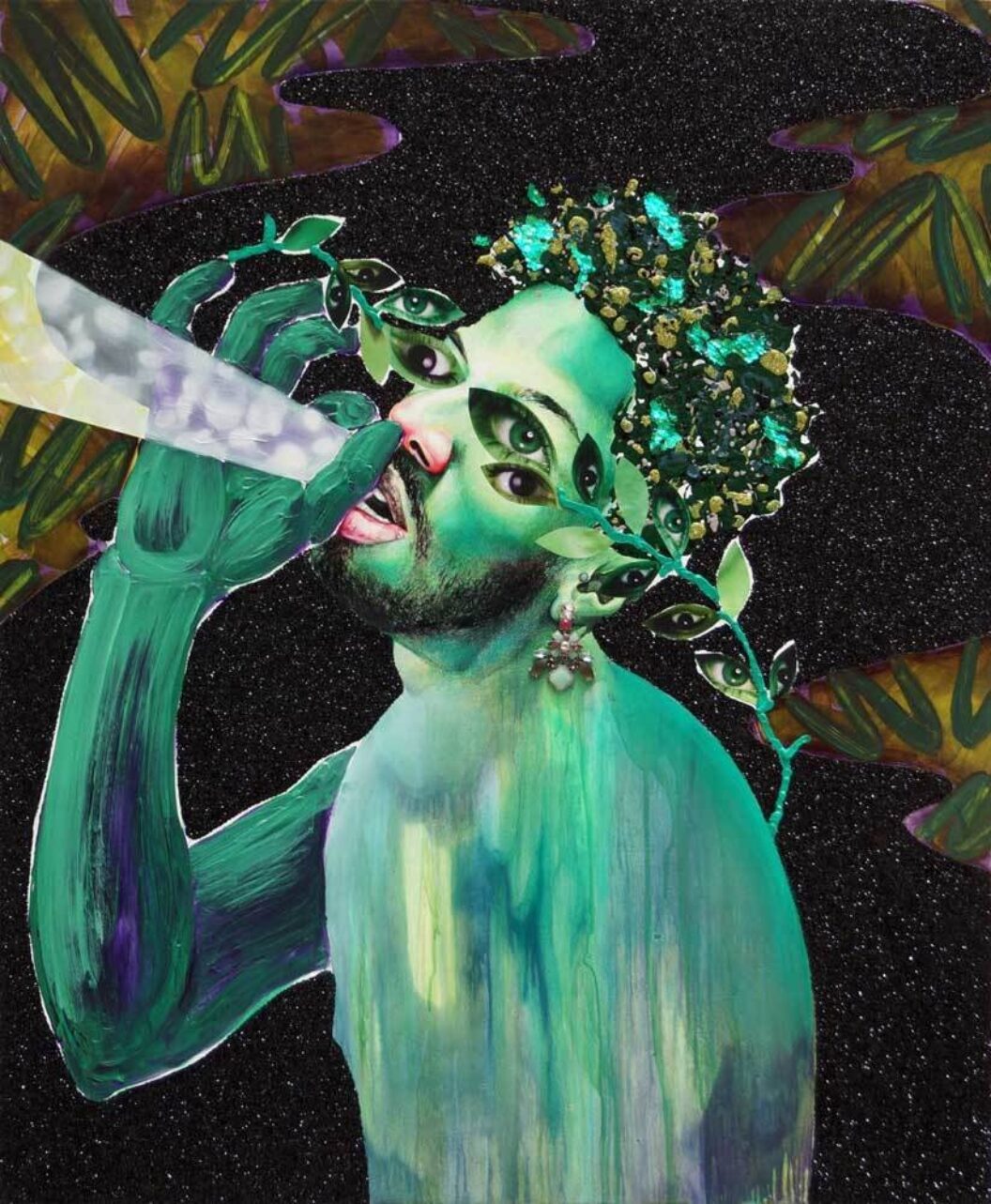 Shimoyama has created a divine series of doorways that open onto radically imagined safe spaces for black queerness. Against a disturbing mythic ur-text of clean racial and gendered categorizations, the emergence of these glitter-peppered figures is a breathtaking rebuttal to harmful and sometimes deadly categories. Shimoyama's work demonstrates that topographies of interiority can barely be contained, and in their material and immaterial freedom and wildness they manifest a reality that is always beautifully operating against restriction.
Devan Shimoyama: Cry, Baby is on view at the Andy Warhol Museum in Pittsburgh until March 17.
Jessica Lanay is a poet, short fiction, and art writer. Her work focuses on architectures of interiority, escapism, history of psychoanalysis, and Southern culture. Her poetry has appeared in Sugar House Review, Fugue, A Bad Penny Review, The COMMON, Indiana Review, and The Normal School. Her short fiction was most recently published in Tahoma Literary Review and Black Candies. A short autobiographical essay was published in Salt Hill Journal. Her art writing can be found in BOMB and ArtSlant. She is a Callaloo, Cave Canem, and Kimbilio Fellow.