Discover MFA Programs in Art and Writing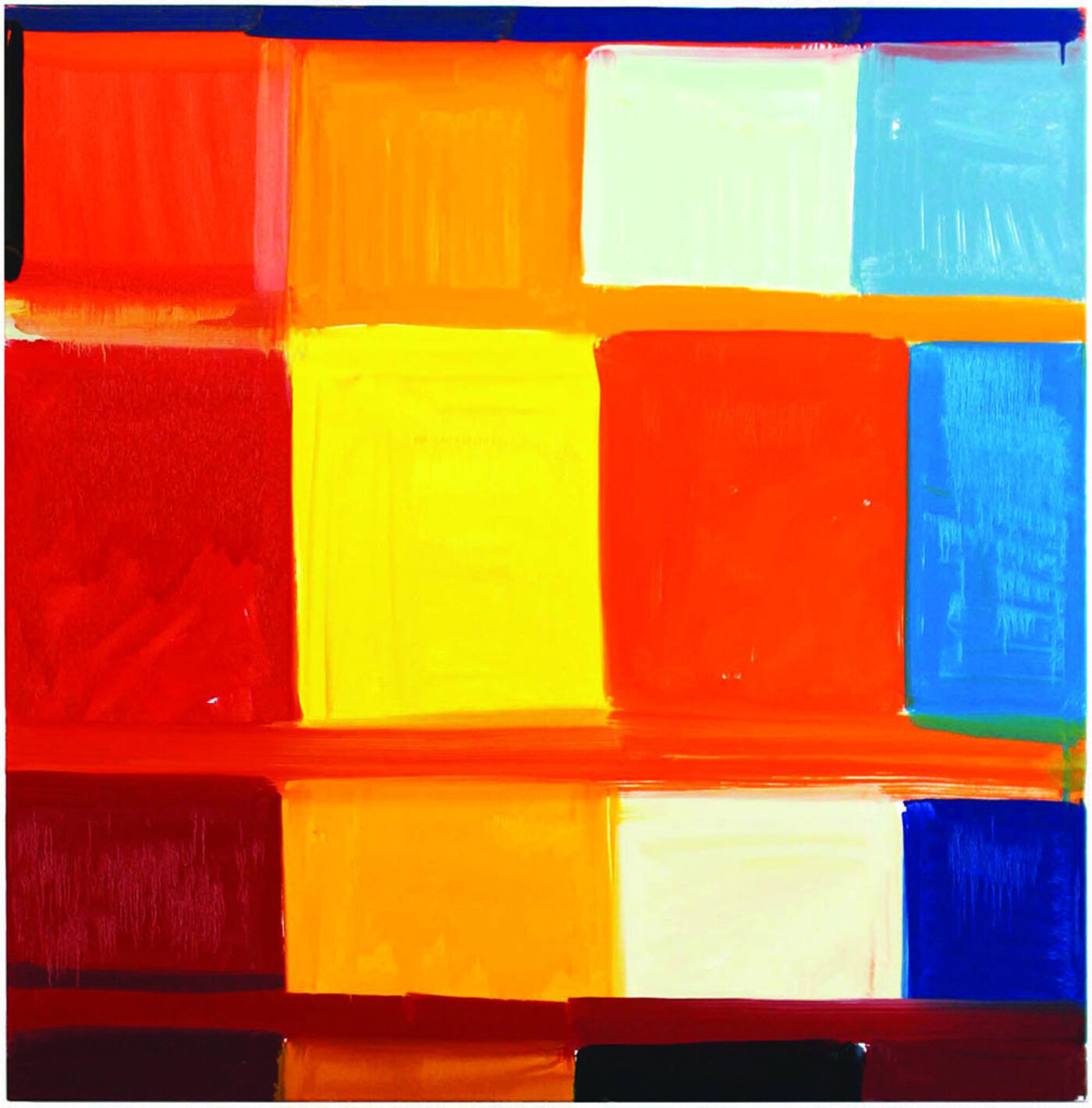 I would like to bring to the reader's attention the existence of two books—intimately related—yet as different as night and day. But first I must pull a quote out of a piece of (ostensible) junk mail. In the latest Carnegie Hall calendar, tucked away within a blurb for an upcoming performance of Beethoven's Pastoral, I came across the following bit of cautionary advice: "All painting in instrumental music, if pushed too far, is a failure." What exactly did the great German composer mean? Was he speaking out of his own frustration—or was he perhaps admonishing a rival? We know that Beethoven did not mean, painting, per se. Tone painting, in which musical sounds imitate nature—birds, babbling brooks, approaching storms, etc.—was apparently a hot 19th-century topic. The technique was considered possibly degenerate yet, if used with moderation, it might fulfill a useful purpose, that is, help create a healthy balance between chaos and the absolute. But a subtextual question remains: How does one push painting, yet alone music, too far?
Peter Schjeldahl, writing in the New Yorker about Dance the Orange, Stanley Whitney's Studio Museum in Harlem show, asserts, "Analogies between music and painting are often strained. But drawing equivalents in Whitney's style to, say, the harmony-shredding melodies of Ornette Coleman is fairly irresistible." Robert Storr's catalog essay for the same show begins: "Synesthesia, a utopian correlation of the arts at the level of sympathetically resonating sensation and experience, has been with us for a long time." Storr will go on to mention Scriabin, Monk, and Bach (among other things). His essay is appropriately titled, The Sounds He Sees. The Harlem museum's show closes Oct 25, 2015. It borrows its title—again, Dance the Orange—from a Whitney painting, which in turn borrows its title from a Rilke sonnet.
Anyone who spends time with Whitney's work will be struck by the visual rhythms, harmonies, and modalities. Some of the titles make the musical connections obvious: Do Wop, Hip Hop (2006); Thelonious (2008); Moondog (2011). In an oddly related connection, the first thought I had while holding the Dance the Orange show's catalog was that it's precisely the same size as an album cover. Its particular thickness and confounding whiteness brought to mind, in fact, the Beatles' White Album.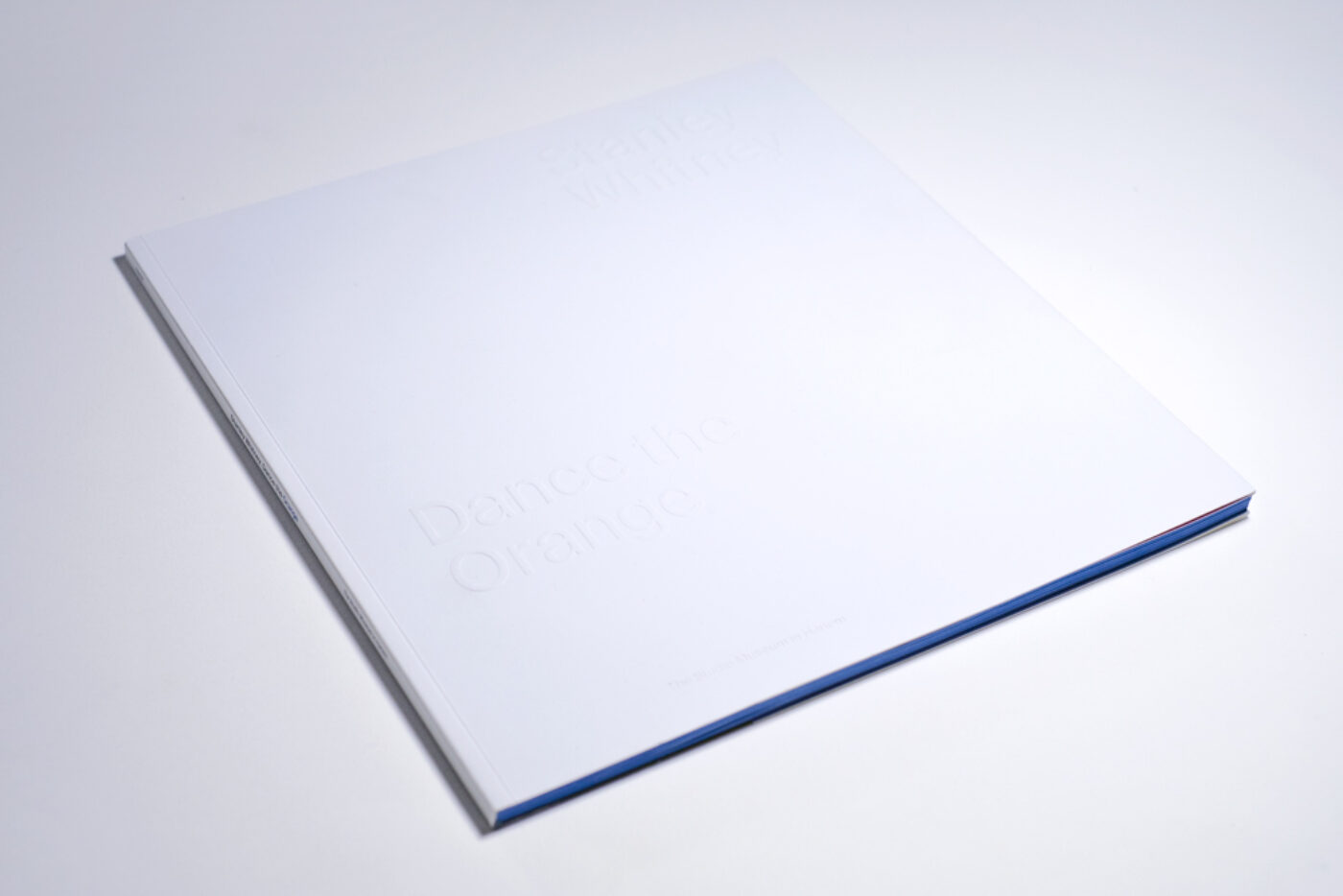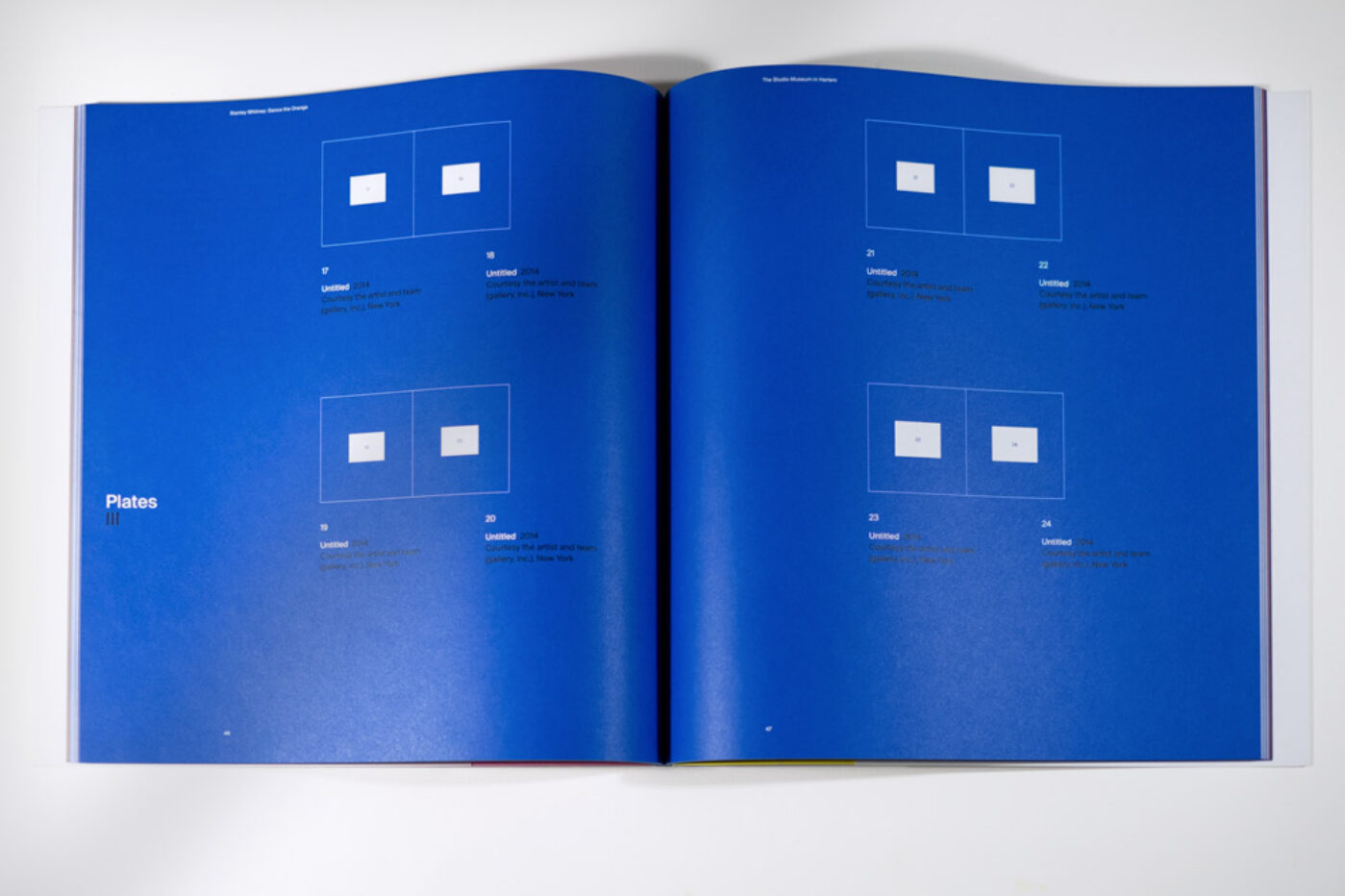 Why would a designer choose an all-white, image-free, textless cover for a book devoted to the luxuriant color of Stanley Whitney? Wrong question. On closer inspection the cover itself is not textless. Stanley Whitney's name and the book's title appear on the front; the "Studio Museum Harlem" appears verso. The names are embossed—white on white. This detail activates the fingers. (This is not synesthesia.) There's also a hint of the color to come: the edges of the book pages are sky blue—sandwiched between the cover's whiteness. Open the book's flap-jacket and, again, no image, nor text but—yes—more pure color: soft bubble-gum pink on the left, cadmium red on the right. The next half-dozen pages follow suit—square monochromatic sheets of blue, green, yellow, purple, etc. The book's design firm is called OCD. That stands for the Original Champions of Design. Their numerous clients include the Cooper-Hewitt, Saks Fifth Avenue, and the Girl Scouts of America.
The grid has been a fundamental Whitney motif since the early '90s. The beauty of Whitney's grids resides in the way they reject the stridently modernist "grid" mandate. Grids do not generally wobble, smear, or dissolve in passages of freeform expression. (I wonder if Whitney has ever titled a painting Off the Grid?) OCD's Dance the Orange book design, on the other hand, respects the grid in a truly obsessive-compulsive manner. The catalog has four sections of plates. Prior to each section, two facing pages of schematic diagrams appear. These are comprised of white squares, rectangles, and thin white lines on a blue background. They signify the layout of the reproductions on the pages to come. Call it a reverse blueprint. The textual information (such as titles, dates, and provenance) doesn't muck up the aesthetic of the stand-alone images. But more ingenious: normally nondescript data actually becomes part of the book's visual balance.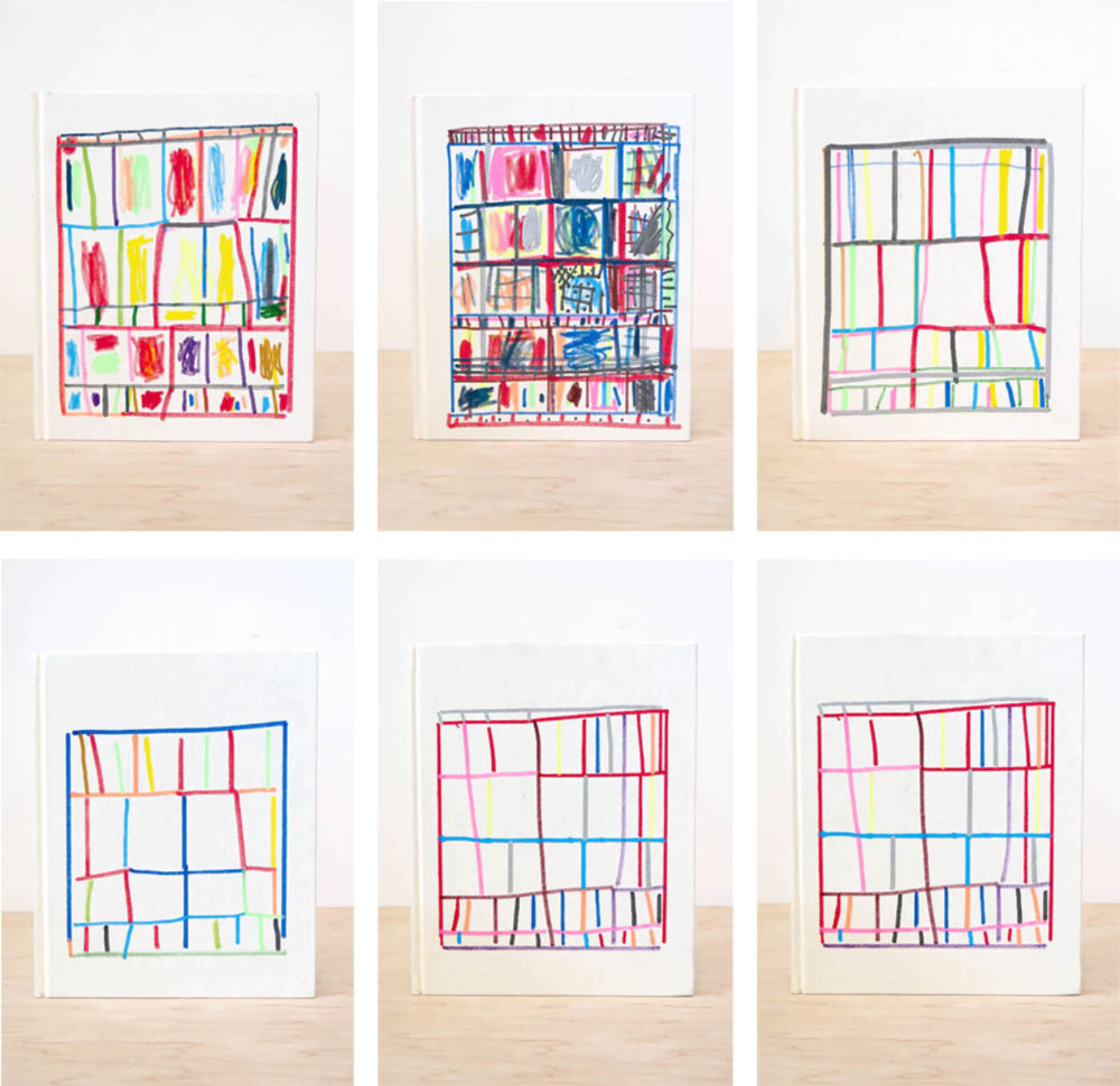 Dance the Orange is an 88-page softcover that resembles, as I mentioned, a gatefold sleeve. The Karma hardcover, titled simply Stanley Whitney, is 440 pages. It's more like a brick. It is also textless—and perfectly so. Published in an edition of 500 copies—with a simple and elegant white-letters-on-deep-red cover—it is, alas, sold out. But there's hope for the obsessive. There may be a handful of limited-edition white-cover copies available. Each of these has a unique cover drawn by the artist. (Karma, by the way, is a dangerous bookstore. Do not go there expecting to leave with wallet intact.) I was curious how Whitney produced the covers. He's currently travelling in Japan but answered a few brief questions via email.
Chris Chang What was the book cover procedure?
Stanley Whitney I worked on the drawings one by one. I do one and then react to that, which leads to another. It's endless. The project took six to seven months.
CC Music was also part of this process?
SW As always, I listen to music when I work in the studio. There is no one artist I start with, it depends on the day, my mood, or it can be random. I have music on my phone. I bluetooth it to my speakers and off I go. The music is like the color, always there. I just have to get the right rhythm and space in the work. I am the music as I work. 
CC Full disclosure: They had two copies of the limited edition at the Gagosian bookstore. I bought one—even though I couldn't afford it. After staring at if for a few days it occurred to me that you had used a ruler for three of the four border edges. That, I think for you, is unusual. I mentioned this to José Freire [director at Team gallery] and he was also perplexed.
SW No rulers ever used; sometimes I get a straight line.
Whitney's Harlem show—and its catalog—is comprised of 29 paintings and works on paper. They date from the last seven years. The Karma book, with well over 300 paintings and drawings, is arranged chronologically, beginning with an untitled black-and-white, India-ink-on-Mylar work from 1978. The Harlem book is sublimely focused. The Karma tome, with its career development and trajectory (not to mention prolificacy), is overwhelming.
Karma also has its own gallery space. They held a related Whitney exhibition earlier this summer. The selection and installation was very different yet complementary. In the main room five earlier paintings (1992-1996) were hung. The same characteristic grids were discernible, but instead of the sheer blocks of color seen in Harlem, the forms at Karma were much looser—the application of paint more reminiscent of Whitney's drawings. In the front office eighty-four (!) small works were hung, salon-style, on one wall. This installation—more like a summation—achieved what may be the apex of Whitney's grid-ness.
Most people who know Whitney know he works while he listens to music. I did not know, until I read Lauren Haynes' essay, This Orange, That Blue, in the Harlem catalog, that he paints like most people write: "He begins each work with a single block of color in the upper left-hand corner," says Haynes. He then proceeds, moving right, to the next block, then the next, adjusting as he goes, repainting (editing), until the row is finished. And then he moves down to the next, beginning again, left to right. Punctuation becomes an interesting question. Could each painting form the equivalent of a single sentence?
After spending time with the Karma book, moving back and forth through its seemingly endless array of images, a visual pattern emerged that I had not previously noticed. All of the grids, blocks, rows, and columns—especially because of Whitney's structural use of horizontal bands bisecting the color—began to resemble, at least to my eye, shelves. Specifically bookshelves. For a "writer" of paintings this makes a lot of sense. (The handful of small yet startling black-and-white gouaches, arranged on one Harlem Museum wall, I now think of as the clearest example of the shelf motif.) Abstract shelves overstuffed with abstract books—all somehow created, dedicated, or related to Whitney. Dance the Orange or the companion Karma tome could be buried in there somewhere.
Beethoven's thoughts about pushing music too far are still a bit puzzling. I assume he would be taken aback by something like Stockhausen's Helicopter String Quartet—but that's just conjecture. Perhaps thinking of painting as mere mimesis is the problem. As suggested above, the abstractions of Stanley Whitney may very well have genetic ties to, or could at least take inspiration from, Beethoven's string quartets. But, contra Beethoven, Whitney is definitely not pushing painting too far, that is, to the point of failure. It's not that way at all. Whitney just may be the greatest tone painter yet.
Chris Chang writes about film and art and is BOMB's online film and performing arts editor