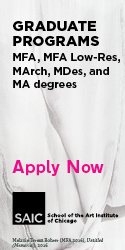 snow, washington square park

I found the toilet igloos; inside, wood.
Semblance of the forest upending
the frost when you fell on me—
two kite satyrs in the tree.

The workers were gathered like kinder,
bottles in the glow of the glass
as it fell.

smoke, sex, smoke, sex, smoke, sex:

the girls' version by the sawhorses I thought I knew.
Frisk, the stunned white quiet,
tires bellying up to the curbside so.

The wrinkles come, the wrinkles go—
                white tracings sift
Mr. Bones and me.

(And they all looked out
on the snow descending,
struck by the soft
light of its rending.)
white girl's exiles

Pittsburgh

"No, it's fop. Not sap, fop." "Yeah?—
what century you be blazing in?"
He wanked it twice, for effect.
The bugeyes flared and rolled.

Westport

It was that beverage service!
It even provided the wrong
condiments
and a truckload of calories.

Rochester

Uwanga, uwangalayma
uwanga. The red locust,
from the palm of her hand,
spun out over checkerboard turf.

Wilton

There might be a festoon with which to salve—
perhaps ministrations and some unfolding things—
that will expiate the wrecks you wrought.
What sanguine heads the tufts adorn.

Sudbury

Unguent. A nail flies softly on a cheek,
the candle sputters and then carries on.
He steered the International Carryall
through the wooded, winding roads.

Bennington

Mrs. Ainsworth clicks across the
gallery floor as the Buick pulls up
and three smelly kids run into the minimart
for all-beef sticks.

Woodstock

She was wearing the shiny gold baseball
jacket with the word Trésor like
handwriting across the back and leopard
spots across the lapels.

Chicago

The clutch had stuck on the Outer Drive. "Oh,
Perseph—oh dear, you do me so like shaking."
The left turn light had shorted twice. "Your
lap is where I'm pricking. Doll."

New York

So? Whine and be pissy. The abrupt
bud in the Hawaiian grove, the cheap chiseler
in the monkey suit, the filaments beneath the sill:
What made me, what I will.
Susan Wheeler's first collection of poetry, Bag 'o' Diamonds, published by the University of Georgia Press (1993), was chosen by James Tate to receive the Norma Farber First Book Award of the Poetry Society of America (1994), and was short-listed for the LA Times Book Award in poetry. Her work has appeared in The Best American Poetry anthology and in the 1994 Pushcart Prize. She teaches creative writing at Rutgers University and at The New School for Social Research in New York City.
Originally published in
Featuring interviews with Frances McDormand, A.M. Homes, Padgett Powell, Tina Girouard, William Pope. L, Butch Morris, Malcolm Morley, Jafar Panahi, and John Elderfield.