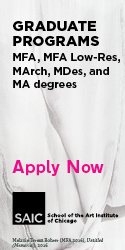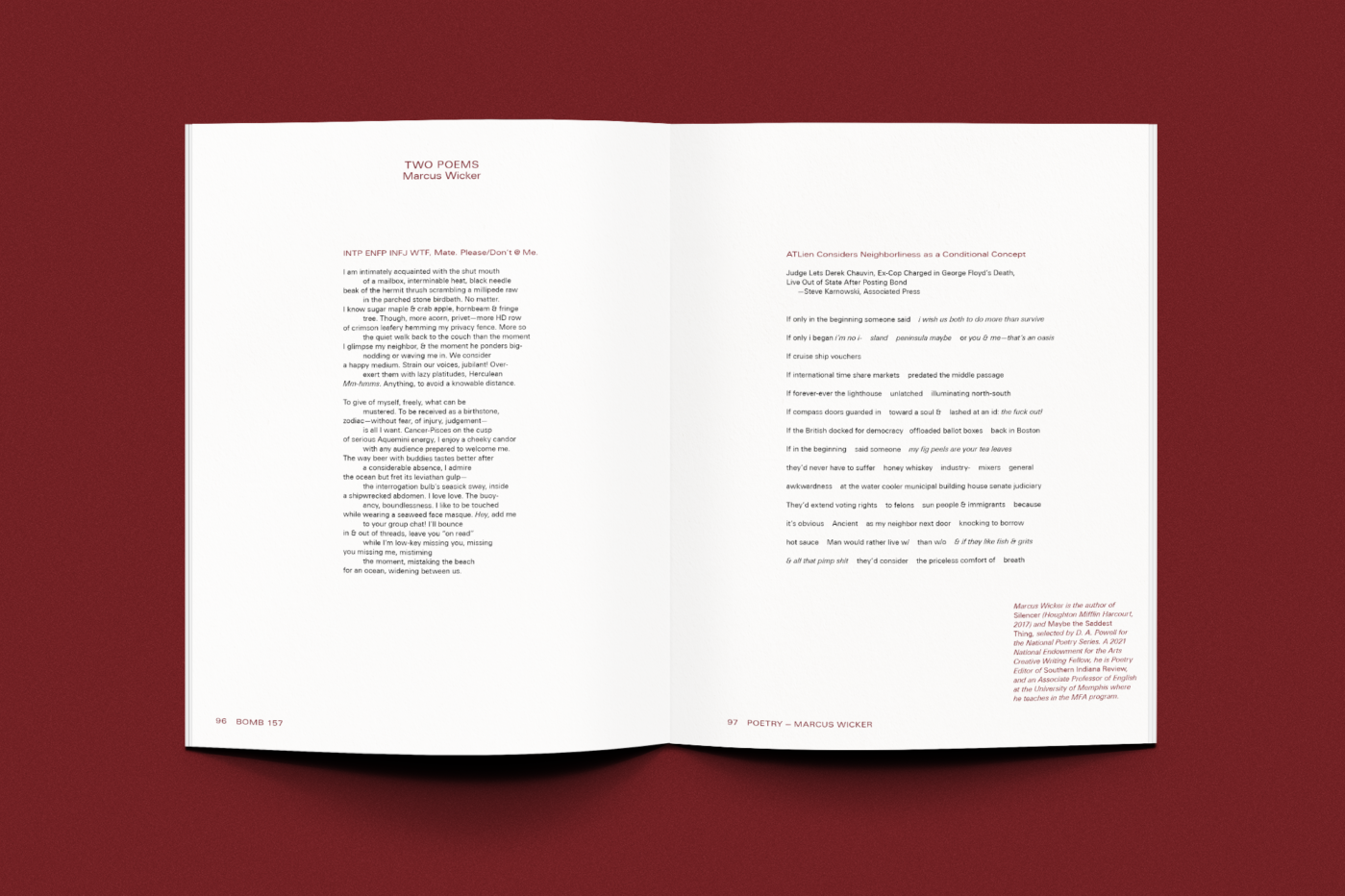 INTP ENFP INFJ WTF, Mate. Please/Don't @ Me.
I am intimately acquainted with the shut mouth
of a mailbox, interminable heat, black needle
beak of the hermit thrush scrambling a millipede raw
in the parched stone birdbath. No matter.
I know sugar maple & crab apple, hornbeam & fringe
tree. Though, more acorn, privet—more HD row
of crimson leafery hemming my privacy fence. More so
the quiet walk back to the couch than the moment
I glimpse my neighbor, & the moment he ponders big-
nodding or waving me in. We consider
a happy medium. Strain our voices, jubilant! Over-
exert them with lazy platitudes, Herculean
Mm-hmms. Anything, to avoid a knowable distance.
To give of myself, freely, what can be
mustered. To be received as a birthstone,
zodiac—without fear, of injury, judgement—
is all I want. Cancer-Pisces on the cusp
of serious Aquemini energy, I enjoy a cheeky candor
with any audience prepared to welcome me.
The way beer with buddies tastes better after
a considerable absence, I admire
the ocean but fret its leviathan gulp—
the interrogation bulb's seasick sway, inside
a shipwrecked abdomen. I love love. The buoy-
ancy, boundlessness. I like to be touched
while wearing a seaweed face masque. Hey, add me
to your group chat! I'll bounce
in & out of threads, leave you "on read"
while I'm low-key missing you, missing
you missing me, mistiming
the moment, mistaking the beach
for an ocean, widening between us.
ATLien Considers Neighborliness as a Conditional Concept
Judge Lets Derek Chauvin, Ex-Cop Charged in George Floyd's Death, Live Out of State After Posting Bond
—Steve Karnowski, Associated Press
If only in the beginning someone said i wish us both to do more than survive
If only i began i'm no i- sland peninsula maybe or you & me—that's an oasis
If cruise ship vouchers
If international time share markets predated the middle passage
If forever-ever the lighthouse unlatched illuminating north-south
If compass doors guarded in toward a soul & lashed at an id: the fuck out!
If the British docked for democracy offloaded ballot boxes back in Boston
If in the beginning said someone my fig peels are your tea leaves
they'd never have to suffer honey whiskey industry- mixers general
awkwardness at the water cooler municipal building house senate judiciary
They'd extend voting rights to felons sun people & immigrants because
it's obvious Ancient as my neighbor next door knocking to borrow
hot sauce Man would rather live w/ than w/o & if they like fish & grits
& all that pimp shit they'd consider the priceless comfort of breath
Marcus Wicker is the author of Silencer (Houghton Mifflin Harcourt, 2017) and Maybe the Saddest Thing, selected by D. A. Powell for the National Poetry Series. A 2021 National Endowment for the Arts Creative Writing Fellow, he is Poetry Editor of Southern Indiana Review, and an Associate Professor of English at the University of Memphis where he teaches in the MFA program.
Originally published in
Our Fall 2021 issue features interviews with Rabih Alameddine, Lileana Blain-Cruz, Suzanne Jackson, Candice Lin, Kevin Morby, Naudline Pierre, and Diane Williams; an essay from Hafizah Geter; short stories from Akil Kumarasamy, Harris Lahti, Holly Melgard, Edward Salem (winner of BOMB's 2021 Fiction Contest), Adrian Van Young, and Diane Williams; a comic from Ricardo Cavolo; nonfiction from Hugh Ryan; poetry from John Keene and Marcus Wicker; a portfolio by Manthia Diawara; and Nam Le's newly hand-annotated interview from 2009.