"Sex Goddess of the Western Hemisphere" and "Ingeborg: Mistress of the Dark" by Maggie Estep.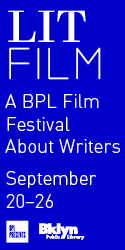 Sex Goddess of the Western Hemisphere
l am
THE SEX GODDESS OF THE WESTERN HEMISPHERE
so don't mess with me,
I've got a big bag full of SEX TOYS,
and you can't have any
'cause they're all mine, 'cause I'm
THE SEX GODDESS OF THE WESTERN HEMISPHERE
"Hey," you may say to yourself,
"who the hell is she tryin' to kid,
she's no SEX GODDESS."
But trust me,
I am—if only for the fact that I have
the unabashed gall to call myself
A SEX GODDESS, after all,
it's what so many of us
have at some point thought,
we've all had someone
who worshiped our filthy socks
and barked like a dog when we were near
giving us cause to pause and think:
"Hey, I may not look like much, but deep inside,
I am a SEX GOD."
Only we'd never come out and admit it publicly,
well, that is, you'd never come out and admit it publicly,
but I will, because I am
THE SEX GODDESS OF THE WESTERN HEMISPHERE.
I haven't always been a SEX GODDESS
I used to be just a mere mortal woman
but I grew tired of the pathological implications
of SEXUALITY as they manifest in our culture,
I grew tired of the late night 900 number ads
where 3 BODACIOUS BIMBETTES heave cleavage into
the camera's winking lens and sigh:
"BIG GIRLS, OOOH, BLONDE GIRLS, OOH, BAD GIRLS, OOOH,
YOU KNOW WHAT TO DO, CALL 1-900 UNMITIGATED BIMBO,
      OOOH."
Yeah, I got tired of the OOOH, OOOH, OOOH, OOOOH
I got fed up and I put on my combat boots
and hit the road with my big bag full of SEX TOYS
that were an important part of my SEX GODDESS image
even though I would never actually use my SEX TOYS,
'cause my being a SEX GODDESS, It's not a SEXUAL thing
It's a POLITICAL thing, I'm a POLITICAL SEX GODDESS
I don't actually have SEX, No, I'm too busy
taking care of important SEX GODDESS business,
yeah, I've got to go on Donahue and Dennis Miller
and make boatloads of MONEY
off my own inane brand of pop PSYCHOLOGY
because my pain is different
because I am a GODDESS
and when I talk, people listen.
Why?
Because, you guessed it,
I AM THE SEX GODDESS OF THE WESTERN HEMISPHERE
and you're not.
Ingeborg: Mistress of the Dark
So
I'm lying in bed, right
It's hot,
insufferably hot
mosquitoes buzz and prick at my naked flesh
SLAP
Blossoms of squashed bug blood gel on my thigh
and suddenly, it comes to me,
WHAT I WANT FROM LIFE
I WANT
TO GROW FANGS
Stainless white
razor sharp
I want to be
a VAMPIRE
but not just any
VAMPIRE, no
a POLITICALLY CORRECT VAMPIRE
An AVENGING ANGEL OF THE UNDERWORLD
My name will be
INGEBORG, MISTRESS OF THE DARK
a BALD BITCH GODDESS
tiny torso
no hair
long, muscle-bound legs
and those fangs
those fangs
those fangs
to DIE FOR
And you know what I'll do?
I'll seep through the plumbing of Aryan Nation Headquarters,
come up through the toilet and, just as some Skinhead
           troglodyte
fits his pimpled buttcheeks on the fudge-streaked toiletbowl
rim, I'll sink my fangs into the pale flesh of his pock-
           marked
ass, sucking blood and yellow ooze into my hollow canines,
gulping it down as if it were
the filling in a rich, French, pastry
I will be energized then
empowered by
the GOO THAT REFRESHES
So
I'll swoop down South and scale bare walls into the homes of
            Pro Lifers and,
with precise strokes of my
HUGE RUSTY GYNECOLOGICAL TOOLS
I'll perform delicious surgery
implanting dozens of FOETUSES
into the bellies of Pro Life wives and daughters and dogs,
I'll festoon their rooms in condom balloons with SMILEY
VAMPIRE FACES painted on them
and then
I'll laugh and laugh my BALD BITCH GODDESS LAUGH
then tell myself: "Ingeborg, you've done a good nights work."
And I'll rub myself on the head
then wink off to a cemetery where I'll snuggle up in a coffin
with A CORPSE OF MY CHOOSING
maybe Baudelaire
or John Belushi
or Miles Davis
I'll wrap my arms around his rotten carcass and say:
"Hi, Honey, I'm home."
Maggie Estep is a writer/performer and frontwoman for the band, I Love Everybody. She performs at PS 122, CBGB's, St. Mark's Poetry Project, Nuyorican Poets Cafe and has made several TV appearances. She has written for Exquisite Corpse, Red Tape, BOMB and The Village Voice. She is currently working on a book of crime fiction.
Originally published in
Featuring interviews with Richard Serra, Steve Buscemi, Neil Jordan, Tom Zé by David Byrne & Arto Lindsay, Sue Williams, Sarah Schulman, Ralph Lee, Coco Fusco & Guillermo Gómez, Don Scardino, Jeff Perrone, and Walter Hill.