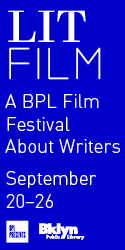 Hell's Bells
for John Branscum
Inside me the many things I should not have done
keep up a steady ringing, tinnitus, the medical term
and I try to comfort myself that I am no longer
doing those things, most of them at least,
that I have become another man with a new face
not new of course but altered
more frayed and crumpled and hopeful
more trustworthy to others because of the fraying
or the hope, and have for some time
been set on the path, as they say, though I hear Paul
loud and clear when he says The good I would do
I do not, and the evil I would not
I do—in a sense have joined a lineage
of wakeful self-doubt, without which no waking
beyond the self is possible
so that sometimes for moments I am permitted
to sit with a dying friend without fear
to sweep up the shattered bowl without resentment
or when my daughter begs for a ride to the video rental
not slam down the paper but simply rise
and lift the ring of keys from its hook
hearing as I turn that pleasing toss of music
and all these thoughts and actions by grace help quiet
somewhat the incessant ringing
A Break in the Heat
I'm trying to write jacket copy for a book I don't love
but can think of nothing beyond the soggy curled
edge of my own mind so I give up and go out
walking one sulphurous block for a grande iced
decaf and find the concrete tables outside Days Café
empty for once the hard-core chess and tattoo
crowd elsewhere I find myself wondering where
and what they do instead of hanging listless hip maybe
Springer on the tube maybe I'm being unfair
as usual who gives a shit it's so hot guilt melts
and coming back home my shirt a darker shade of sweat
the sweet row of pansies that borders my neighbor's
yard deflated now the color baked out
a micro riot of dopey ants meanders cracked dirt
losing its hold on roots and the crazy guy who sings
hours at the bus stop rain or shine not there either
I don't wonder about him he's god's own publicist I only miss
his gospel licks his walnut voice the see-through air
Jeffrey Skinner's new book of poems, Gender Studies, will be published in January 2002 by Miami University Press. His poems have appeared or are forthcoming in American Poetry Review, Georgia Review, and Kenyon Review. He has been chosen as the 2002 Poet-in-Residence at the James Merrill House in Stonington, Connecticut.
Originally published in
Featuring interviews with James Casebere, Raimund Abraham, Julia Wolfe, Mary Robinson, Barry Hannah, Jonathan Franzen, and Barbet Schroeder.