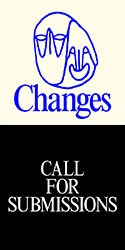 Antique
Newly carved
Of wood and ivory,
A cacique praised me.
The cacique's friends
And their wives praised me,
Played music praising
My ivory face
And my gown of wooden lace.
Quite suddenly it seems,
This house is empty
And in my gown
Of aged lace, I listen
To relics
Of chanted music.
Untitled
If all I'd leave you be a poem
I'd write about the time
we walked a street, you lost a shoe,
and hurried back for it.
Flat and black, it lay on a pavement, face up,
while people passing by took care not to crush it.
Slipping it back on you said: My shoe is soft inside,
and your foot was white against it.
Joy Dayrit is a journalist, poet, and short story writer. She teaches creative writing to children at a Montessori school in Manila.
Originally published in
Featuring interviews with Gus Van Sant, Trisha Brown, Bernard Cooper, Francine Prose by Deborah Eisenberg, Mike Bidlo, Rob Weiss, Han Ong, Chen Kaige, Lawrence Chua, and Garry Lang.