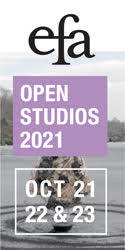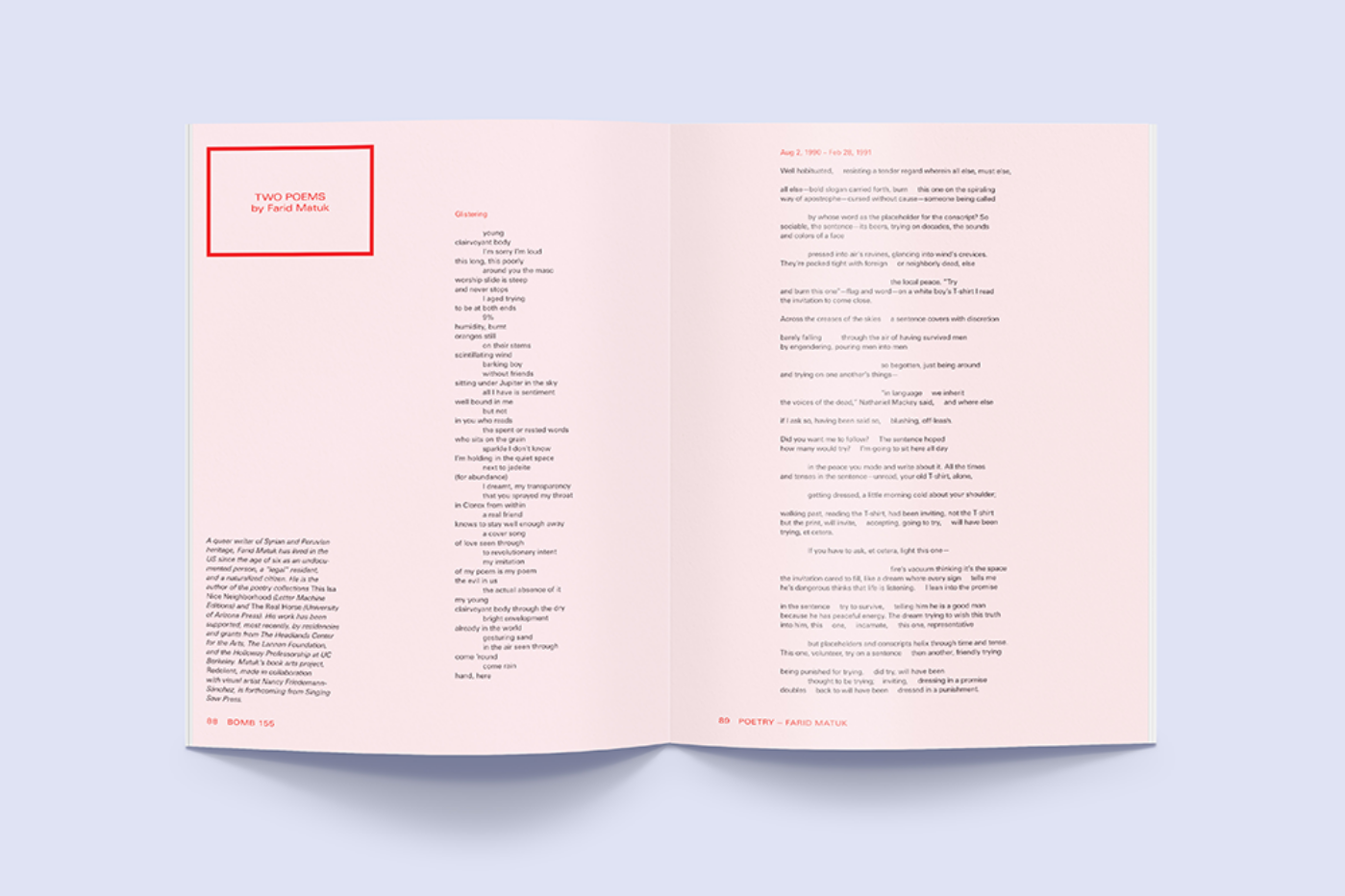 young
clairvoyant body
I'm sorry I'm loud
this long, this poorly
around you the masc
worship slide is steep
and never stops
I aged trying
to be at both ends
9%
humidity, burnt
oranges still
on their stems
scintillating wind
barking boy
without friends
sitting under Jupiter in the sky
all I have is sentiment
well bound in me
but not
in you who reads
the spent or rested words
who sits on the grain
sparkle I don't know
I'm holding in the quiet space
next to jadeite
(for abundance)
I dreamt, my transparency
that you sprayed my throat
in Clorox from within
a real friend
knows to stay well enough away
a cover song
of love seen through
to revolutionary intent
my imitation
of my poem is my poem
the evil in us
the actual absence of it
my young
clairvoyant body through the dry
bright envelopment
already in the world
gesturing sand
in the air seen through
come 'round
come rain
hand, here
Aug 2, 1990 – Feb 28, 1991
Well habituated, resisting a tender regard wherein all else, must else,
all else—bold slogan carried forth, burn this one on the spiraling
way of apostrophe—cursed without cause—someone being called
by whose word as the placeholder for the conscript? So
sociable, the sentence—its beers, trying on decades, the sounds
and colors of a face
pressed into air's ravines, glancing into wind's crevices.
They're packed tight with foreign or neighborly dead, else
the local peace. "Try
and burn this one"—flag and word—on a white boy's T-shirt I read
the invitation to come close.
Across the creases of the skies a sentence covers with discretion
barely falling through the air of having survived men
by engendering, pouring men into men
so begotten, just being around
and trying on one another's things—
"in language we inherit
the voices of the dead," Nathaniel Mackey said, and where else
if I ask so, having been said so, blushing, off-leash.
Did you want me to follow? The sentence hoped
how many would try? I'm going to sit here all day
in the peace you made and write about it. All the times
and tenses in the sentence—unread, your old T-shirt, alone,
getting dressed, a little morning cold about your shoulder;
walking past, reading the T-shirt, had been inviting, not the T-shirt
but the print, will invite, accepting, going to try, will have been
trying, et cetera.
If you have to ask, et cetera, light this one—
fire's vacuum thinking it's the space
the invitation cared to fill, like a dream where every sign tells me
he's dangerous thinks that life is listening. I lean into the promise
in the sentence try to survive, telling him he is a good man
because he has peaceful energy. The dream trying to wish this truth
into him, this one, incarnate, this one, representative
but placeholders and conscripts helix through time and tense.
This one, volunteer, try on a sentence then another, friendly trying
being punished for trying, did try, will have been
thought to be trying; inviting, dressing in a promise
doubles back to will have been dressed in a punishment.
A queer writer of Syrian and Peruvian heritage, Farid Matuk has lived in the US since the age of six as an undocumented person, a "legal" resident, and a naturalized citizen. He is the author of the poetry collections This Is a Nice Neighborhood (Letter Machine Editions) and The Real Horse (University of Arizona Press). His work has been supported, most recently, by residencies and grants from The Headlands Center for the Arts, The Lannan Foundation, and the Holloway Professorship at UC Berkeley. Matuk's book arts project, Redolent, made in collaboration with visual artist Nancy Friedemann-Sánchez, is forthcoming from Singing Saw Press.
Originally published in
---
Our spring issue features interviews with Tiffiney Davis, Alex Dimitrov, Melissa Febos, Valerie June, Tarik Kiswanson, Ajay Kurian, and Karyn Olivier; fiction by Jonathan Lee, Ananda Naima González, and Tara Ison; poetry by Jo Stewart, Farid Matuk, and Joyelle McSweeney; a comic by Somnath Bhatt; an essay by Wendy S. Walters; an archival interview between Barbara Kruger and Richard Prince; and more.