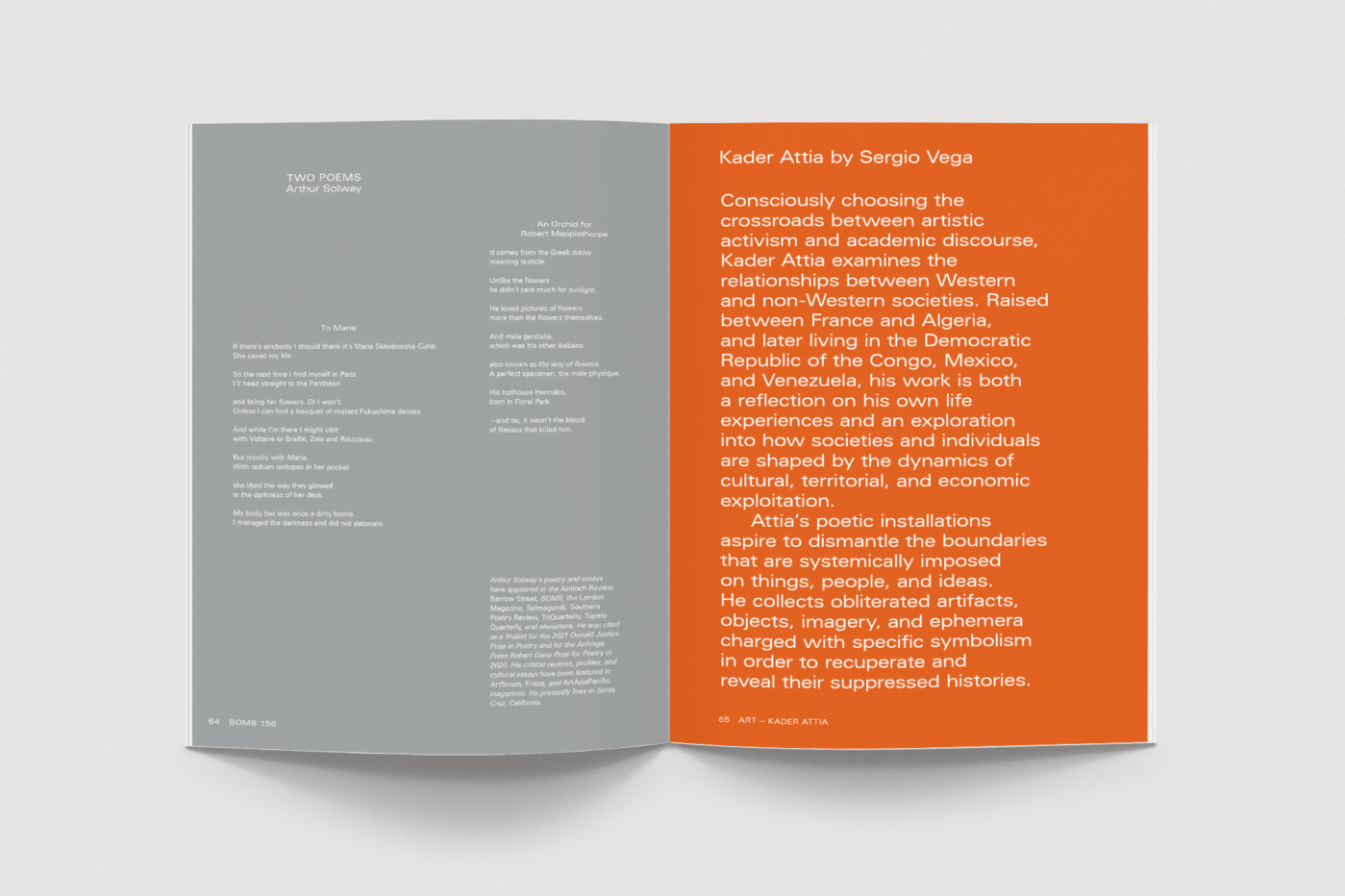 An Orchid for Robert Mapplethorpe
It comes from the Greek órkhis
meaning testicle.
Unlike the flowers
he didn't care much for sunlight.
He loved pictures of flowers
more than the flowers themselves.
And male genitalia,
which was his other ikebana
also known as the way of flowers.
A perfect specimen, the male physique.
His hothouse Hercules,
born in Floral Park
—and no, it wasn't the blood
of Nessus that killed him.
If there's anybody I should thank it's Marie Skłodowska-Curie.
She saved my life.
So the next time I find myself in Paris
I'll head straight to the Panthéon
and bring her flowers. Or I won't.
Unless I can find a bouquet of mutant Fukushima daisies.
And while I'm there I might visit
with Voltaire or Braille, Zola and Rousseau.
But mostly with Marie.
With radium isotopes in her pocket
she liked the way they glowed
in the darkness of her desk.
My body too was once a dirty bomb.
I managed the darkness and did not detonate.
Arthur Solway's poetry and essays have appeared in the Antioch Review, Barrow Street, BOMB, the London Magazine, Salmagundi, Southern Poetry Review, TriQuarterly, Tupelo Quarterly, and elsewhere. He was cited as a finalist for the 2021 Donald Justice Prize in Poetry and for the Anhinga Press Robert Dana Prize for Poetry in 2020. His critical reviews, profiles, and cultural essays have been featured in Artforum, Frieze, and ArtAsiaPacific magazines. He presently lives in Santa Cruz, California.
Originally published in
Our summer issue features interviews with Mel Kendrick, Azareen Van der Vliet Oloomi, Kader Attia, Arthur Jafa and Dana Hoey, Quntos Kunquest, Katiana Rangel, and Anne Anlin Cheng; fiction by Jenzo DuQue, Dylan Landis, Anthony Veasna So, and Sophie Hoss; nonfiction by A.V. Marraccini; a comic by Ronald Wimberly; poetry by Arthur Solway, Rickey Laurentiis, and Alina Stefanescu; an essay and portfolio by Kalup Linzy; an archival interview with Suzan-Lori Parks; and more.