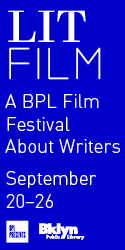 Vendor of Sweets
You seek her out in the noonday sun,
all your pores flowering sweat.
Under the arches at the corner
of Mabini and Harrison she squats,
sucking a brown wad of tobacco.
The corners of her mouth glisten
with saliva, pleasuring the wind-borne
smell of fish and scallions
from an open-air cafe.
Above the tattered mat
bearing a syllabary of wild roots
and charms—snakebone, powders
of venomous color, dried
flowers the size of balled-up
fetuses—her eyes float deep
in their leathered pouches:
one bright, one moonless.
Just once, briefly, you pass
your hand across your navel.
She understands the heat
that billows unbidden to your cheeks,
the clasp of metal new
around your finger.
Very swiftly (so you must pay attention)
she thumbs a twist of dry leaves, a stump
whorled almost in recognizable
configurations of passion.
Each night you scrape a little
of the fibrous bark into your lover's tea.
Each night you steep the leaves
and loosening limbs in tepid water,
inhaling and releasing scent
into the warm room.
Tendrils of hair quicken, the heart
begins its discomposing rhythms.
Beneath night's unlidded eye
the crush of berries on moist flesh
trickles from neck to breast,
through parted thighs.
Farewell
All morning long I have savored
the thought of this repast
arriving on boats of light
balsa wood—the fragile
strips of color,
the fragrant names
bundled in rice and sun-
dried seaweed,
mustard a sharp rosette
melting on my tongue.
A universe implodes
on the plate as smoke
trails over our heads
and the rattle of tin
resounds
in a faraway
kitchen.
We drain our cups,
rest our fingertips
on the brown straw mats
as if on skin,
knowing this moment
like the lake just beyond
the scrim of vision
resists translation.
How easy to forget,
to slide into your arms
without resistance
the way fish trust
their bodies to
undercurrents.
But we don't speak
of how we won't see each
other again, of how
the wind in my ears rises
from my country,
humid and insistent.
Here come the warm
towels offering erasure,
a way to blot the last
traces of salt and oil
so, undamaged,
we can float
free of each other.
Like the girl in the folk
tale I wonder
what it will feel like
to be turned away from Heaven
for holding back one
grain of rice
under my tongue.
Ma. Luisa Aguilar-Cariño is the author of Cartography and Other Poems on Baguio. On leave from the University of the Philippines at Baguio City, where she teaches English, she is in the doctoral program in Creative Writing at the University of Illinois in Chicago.
Originally published in
Featuring interviews with Gus Van Sant, Trisha Brown, Bernard Cooper, Francine Prose by Deborah Eisenberg, Mike Bidlo, Rob Weiss, Han Ong, Chen Kaige, Lawrence Chua, and Garry Lang.