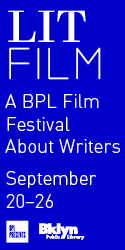 This Sun
I train my train into this city of mud and brick and collide
with my sis, her friends clanging their blood bells around me,
the city itself smeared in Rybicki rouge—all those bricks
humming their energy fields inside each mason's palm.
God how this city necks my neck with its fur coat of bricks;
those red hot dawns I dip my bushel basket
into heaven's own fire and drench it down over rooftops
and power lines and steaming beds; pouring that fire
across the grass and concrete grids of streets.
I flick my smitten fingers over the flaming beds,
lift in one palm what we call sun, tow it in
my oxen's cart slowly out over the world, my hand
to my own mouth blowing kisses back at those red bombs,
blowing kisses back at all those hearts exploding in my nest.
Letter to Bob Hicok
It's hard to wait for Monday mail to send this. I'm wanting to forgo the postal
pony and attach these words to a Detroit brick, wanting to snap that brick
through your window, feather crash your floor with embers or words. I'm wanting
to snatch a hold of the sun, that white beard of dandelion, and blow a snowstorm
along Ann Arbor streets for you to twirl your umbrella in. You're singing, "Isn't it a
lovely day to get caught in the rain," as Fred and Ginger swirl out of white powder
and powder swirls around a telephone pole. I'm blowing on the dandelion sun
until ragtop convertibles and coffee cups and mouths fill up with dandelion con-
fetti, that pillow fight of a love note swirling around out there, that hidden
language snowing always around the edges of what is said.
Now you're gathering one palmful of sun and scanning the page of your own
hand. You're tearing pages out of that book that's hidden in all things, the book we
stain with our leaky hands; tearing paragraphs out of trash can lids and robin's
nests; tearing sentences out of wrists with their cursors pulsing red. You're blowing
so finely on the print that all that dandelion lint clears away. You're on a street
corner all over the world with those holy tablets in your lap, and you're reading
them out loud to anyone who will listen.
John Rybicki's first book of poems, Traveling at High Speeds, was published by New Issues Poetry Press. His stories and poems have appeared in the North American Review, The Quarterly, Ohio Review, Quarterly West, and Field. He is completing work on his second book of poems, Fire Psalm.
Originally published in
Featuring interviews with Robert Mangold, Brian Tolle, Robert Pollard, Carl Phillips, Colson Whitehead, Kenneth Lonergan, and Guillermo Arriaga.