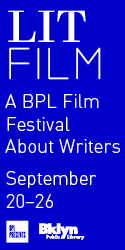 Thought Experiment: The Chinese Room*
Heroes, typically, are drunk. Drunk on logs and floral dresses, and mud.
Mud-drunk, like their fathers, they halt at the river where the eddies pool,
and throw things. Jelly-red seeds of pomegranates land in the flow, then
school like budding fish.
Like fish, fathers are sent to school, where they inspect their souls by
parting the navel with a pair of dice. The dice, transparent, magnify the
soul, and multiply it by a number from two to twelve. (Two is the mark of
a superhero, but everyone assumes it's twelve. Even the dice.)
This is why drunkenness matters, and agreement. Decades pass from
father to son, along with mistakes. In August, wet leaves cover the banks.
The boys, never learning a taste for surprise, hunker down to their
theories; the rivers rise like adjectives swallowed by names.
* in which one, enclosed in a box, feasts on symbols and rules and acquires an imaginary tongue to fool the natives.
Thought Experiment: Mary in the Black-and-White Room*
Some things lock in competition, like an earthquake and a kiss. While a
decision is waiting to be made, neither side of the argument progresses.
The earthquake, though eager to prove its claim, shows valiant restraint;
the kiss? It knows the power of bitten tongues.
Such stand-offs as these precede most gains (stance of knowing too
much and fearing too late). The tongues, shaking along with the house, say
nothing shattering at all.
With progress, not only earthquakes but kisses will be predicted. The last
fine line between feeling and fact will choose a good point, and end.
Flattery will continue to make us immoral in the difficult years between
the first word and the lost.
* in which Mary, herself a palette of grays, inhabitant of a universe void of color, gains access to the complete scientific story of what makes red red—and reads it.
Anna Moschovakis lives in Brooklyn, New York. She is currently working on her first collection of poems.
Originally published in
Featuring interviews with Robert Mangold, Brian Tolle, Robert Pollard, Carl Phillips, Colson Whitehead, Kenneth Lonergan, and Guillermo Arriaga.