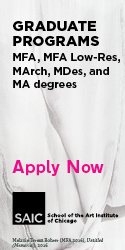 God Conscience the Build and Destroy Lesson
Dedicated to Tribal Bros. Music & The Brothers GRIMM—
1
We build names based on divinity,
then lose our minds to the very brands
we think can save us.

2
At sixteen, I wanted to know how it felt to be a God.
At twenty-five, I'm doing life with two children nine years of age

 
why eye stare at you so much

If your words should suddenly grow wings
and my ears are too slow to net them,
my eyes would be forced to catch
the things you say. So, I'm practicing.
Originally published in
Featuring interviews with Tim Roth, Amy Hempel, Emmylou Harris, Matthew Ritchie, Wallace Shawn, Christian Wolff, Gilles Peress, Kendall Thomas, and George Walker.