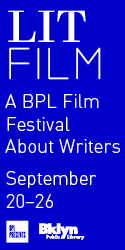 Frankenstein

Knock the zoo out of your eye, the sand dollar with dried
babies or dried money inside. All along this beach the
view is the same. It's you waving from a pastel balcony,
and everyone knows you're the kind of woman who can
cook family chicken. A sparkling pan of vision with an
abundance of front and sides is an array reserved for the
moneyed, so here's a 1920s man on a postcard. They
always wore suits then even when the vision is of him,
waving from a cart of grapes. In the American Avalon
this is the cart of conveyance and he is the dead I carry
to the paradise of my collections.

When the vision is of a society matron decked out for
an Arabian Nights charity function the ghosts that
stomped her grapes into wine dwell here. We don't want
to waste cake so the stripper pops out of a hat instead.
At the party to celebrate free speech and humor through
flippancy you say Listen, didn't mean to come off as a
preachy pornographer, and then we hug, our arms
encircling like balletic islanders. Why celebrate notions
anyway, or achievements? Why collapse onto the grass
reading a book about the Kickapoo Indians who lived
in this very section of Illinois? Perhaps exactly where
the mailbox is they too set out tokens to friends. That the
tokens may've been dried squirrel kidneys is excessively
factual, and how can this addition to knowledge
substitute for a party anyway? The fact that Brezhnev's
widow admits she fell for him because of his eyebrows
is a better substitute, but won't there be a Day of the
Dead party or some kind of party some time in the
future? Our myths are about to stagnate like James
Baldwin, and our visions are contained in a drawer.

What you need is an infantry of desires to ransack your
life, to get you bloody before the grape cart comes to
trundle you off to the beach you'll never leave. Even in a
dump there is the mirage that saves you, the glass in the
ugly houses that can redden, the fresh new interesting
piano and flute music that can come out of some of
them. Then a voice suggesting a reputation built around
a canopied bed doles out the last shred of its Southern
strength and you hear it but then it's gone. Wanting is
chronic. The ratio of longing to actual splash in the pool.
It's a conspiracy the idea of beauty. The condition of the
sky is distributed unequally, but at least it's sky you can
breathe. If this old notion of beauty stopped being invis-
ible and rotated around you like a stranger doing the fire
dance would you collapse? Maybe one packet of splendor
per day set onto your lap like a puppy.
 

American Avalon

Frankenstein naps on a golden bed
covered by a floral quilt
handstitched as he is handstitched

He dreams of making a gigantic sandwich
the tense moment of triumph coming when finally
he gets both hands to work at once

He dreams of picnicking in a glistening meadow
recently cleaned by a biology class
dreams of riding there on top a glistening Harley

He sees himself this way or else
prone in black leather
glamorously handcuffed inside his electric dungeon

Tomorrow he'll rise arms first from his golden bed
trying to piece together the images of his dreams
into an incontestable memory

When he stumbles toward you
will you slowly teach him your name
or will you quickly distribute fire?
Connie Deanovich is the author of Watusi Titanic (Timken 1996) and editor of B City. Her poems appear in New American Writing, Parnassus, and portions of her Alfred Hitchcock poem series are in see (from the Ansel Adams Center for Photography in San Francisco). A 27-section poem documenting the lunar and imaginative cycles, The Spotted Moon, has appeared in Hambone, Phoebe, Chain, The Washington Review, and The Columbia Poetry Review. Most recently Gas: High-Octane Poetry has published her work on time, porno stars, and the universe.
Originally published in
Featuring interviews with Tim Roth, Amy Hempel, Emmylou Harris, Matthew Ritchie, Wallace Shawn, Christian Wolff, Gilles Peress, Kendall Thomas, and George Walker.