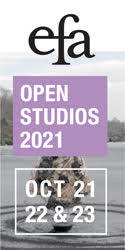 Rituals of Marriage
I.
Unlike mint, you don't
stay on the tongue.
More like water,
rain that needs salt.
What haunts the mouth
is not rage's sugar
dissolving, but the taste
of us evaporating.
II.
Someone has toyed
with the history.
Was it you?
Events rearranged,
my good dolls broken.
Who took liberties,
sat in the chair,
decided not to eat?
Who left warmth
in these sheets?
Everything here
was to stay cold.
Suburban Life
A table of spiders
passing business cards,
cursing wind
and upended brooms,
stories of bad business.
The fat one in the corner
tries to keep them all
laughing, spinning
exaggerations,
making fun of prey.
—Tom Healy is the chair of Creative Time and president of Fence magazine. His poems and criticism have appeared in Salmagundi, the Yale Review, the Paris Review, and other literary journals and anthologies. He is a new contributing editor at BOMB.
Originally published in
Featuring interviews with Olafur Eliasson, Ellen Phelan, Percival Everett, Francisco Goldman and Esther Allen, Ben Katchor and Alexaner Theroux, Jorgen Leth and Ann Mette Lundtofte, Michael Bell, and Mauricio Kagel.