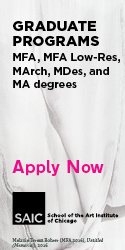 A Bridge, a Remarkable Bridge
In-between waters frozen or boiling,
a bridge, a remarkable bridge that's hidden,
but it spans over its own handwritten
      manuscript,
over its own suspicion of its ability to pilfer
parasols from pregnant women,
with pregnancy of a question conveyed on the
      back of a mule
impelled to accomplish the mission
that is to elongate or alter gardens into alcoves
where children lend their curls to waves,
because waves are as mannered as God's
      yawning,
like the games of gods,
like the nautilus covering a village
with its dice-thrown, half-scored
inflection, and of animals crossing
the bridge with the latest Edison
safety bulb. The light bulb, happily,
blows out, and onto the other side of the
      worker's face,
I entertain myself by placing pins,
for he was one of my loveliest friends
and I secretly envied him.
A bridge, a remarkable bridge that's hidden,
bridge that was a byway for drunks
who claimed they required a diet of cement,
while, lion-hearted, the poor cement
surrendered its riches as depicted by a miniaturist
because, mind you, on Thursdays, bridges
busy themselves as a crossing for deposed kings
unable to forget the last chess game played
between a whippet whose microcephalia is
      reiterated
and a great wall that crumbles
like a cow's skeleton
seen through a skylight, geometrical and
      Mediterranean.
Led by astronomical numbers of ants
and by a camel made of smoke, a great silver
      shark
must now cross the bridge,
in point of fact it's only three million ants
that in a momentous hernia-producing buoy
lift the silver shark at midnight
across the bridge as if it were another ousted king.
A bridge, a remarkable bridge, hence its hidden,
honey-colored armature, maybe it's the Sicilian
      vespers
painted on a small poster
painted also with a great crash of water
when it all ends in the saline silver
we have to cross despite the silent swollen
armies that have sieged the city without silence
because they know I'm there
and I saunter and I see my wounded head
and the immutable squadrons exclaim:
It's a beating drum,
We lost my fiancée's favorite flag,
I'd like tonight to drift into sleep poking holes
      in my sheets.
Remarkable bridge, my mind's matter,
and the drumrolls nearing closer home,
thereafter I don't know what happened, but it's
      midnight now,
and I'm crossing what my heart feels is a
      remarkable bridge.
But the back of the remarkable bridge can't hear
      what I'm saying:
that I was never able to feel hunger
for since I was blinded
I've placed in the middle of my bedroom
a great silver shark
from which, meticulously, I break off pieces
I roll into the shape of a flute
that the rain amuses, defines and
      congregates.
But my nostalgia is endless,
because such nourishment endures a stern
      eternity,
and it's likely hunger and jealousy
can only replace the great silver shark
I've set at the center of my room.
But no hunger, no jealousy, not this animal,
a favorite of Lautréamont's, ought to cross alone and
      conceited
over the remarkable bridge, because the goats of
      noble Hellenic descent
displayed their flute collection at the last interna-
      tional
exhibit, of which today an echo lingers
in the nostalgic morning prone to pilgrimage,
      when the sea's torso
gives way to a small green bedspread and verifies
      its cabinet
of pipes, where so many bats have been set
      aflame.
Carolingian roses burgeoned on the edge of a
      crooked rod.
In the fourth quarter of midnight, a cone
      of water
formed by mules sepulchered in my garden reveals
that the bridge wants to fashion such exquisite
      belongings.
Little hands of ancient idols, absinthe infused
      with the rapture
of high-soaring birds that mollify the part of the
      bridge
supported over squashy cement, almost
      jellyfish-like.
But now to salvage my head it's time
for metallic tools to be stunned mirroring
the danger of drool now shaped into shellfish
      glazed
by the acid of unpardonable kisses
the morning tucks into a new change purse.
Does the bridge, turning, only envelop
the mistletoe and its olive-colored tenderness,
or around the hump and scratched violin
that grates the side of the leaking bridge?
And morning's campana can't even transform
the pink flesh of the unforgetting mollusk
into dental notches of the glazed shellfish.
Remarkable bridge, unbridled bridge
that nuzzles boiling waters,
and sleep an onslaught to the flesh until it's
      rendered soft
and the edge of unexpected moons resounds to
      the end with mermaids
oozing their latest seaside proclivity.
A bridge, a remarkable bridge, it's hidden,
waters boiling, frozen, surging
against the last defensive wall
to ravish the mind, the single voice
crosses the bridge again, like the blind king
who, unbeknownst to him, has been deposed,
and he dies mended tenderly to the allegiance
      of night.
Old Surrealist Ballad
When the rivulet swells with lashing
snaketails and the piano with its backside turned
displays its shoes shining like the night
when it sinks, a sagging armchair whose old wicker
strands are still a plaything for the boy with a big head
Taking shelter from a slice of violin melon
the dancers bump their heads and perspire sawdust
and midnight is as bored
as a chessboard leaned against a blackboard
I had no plan to go, but my keychain was missing
the enormous lock the dog that always follows me
until it goes off licking the back of its leg
The violin like an arm covered with frogs
began releasing drops of evaporated honey
The chief's canoe crossed the crystal lake
at the stroke of two in the morning
and those who woke up danced with those who were sleeping
The woman we waited for is here and I hid
like a hypocrite behind a child's box of pencils
which lent me their yellow fingers
and scraps of the accordion like a grapefruit packed in syrup
I used to save tears like bread crumbs
to throw into the pool of sissified alligators
When the doughnut began to puff
the patent leather definitely squealed
and the chiefs canoe was filled with crystal shards.
 
20 September 1975
Translated from the Spanish by Roberto Tejada.
Originally published in
Featuring interviews with Brooke Alfarmo, Stanley Greaves, Santiago Sierra, Erna Brober, Jorge Volpi and Martin Solares, and Jesus Tenreiro-Degwitz and Carlos Brillembourg.